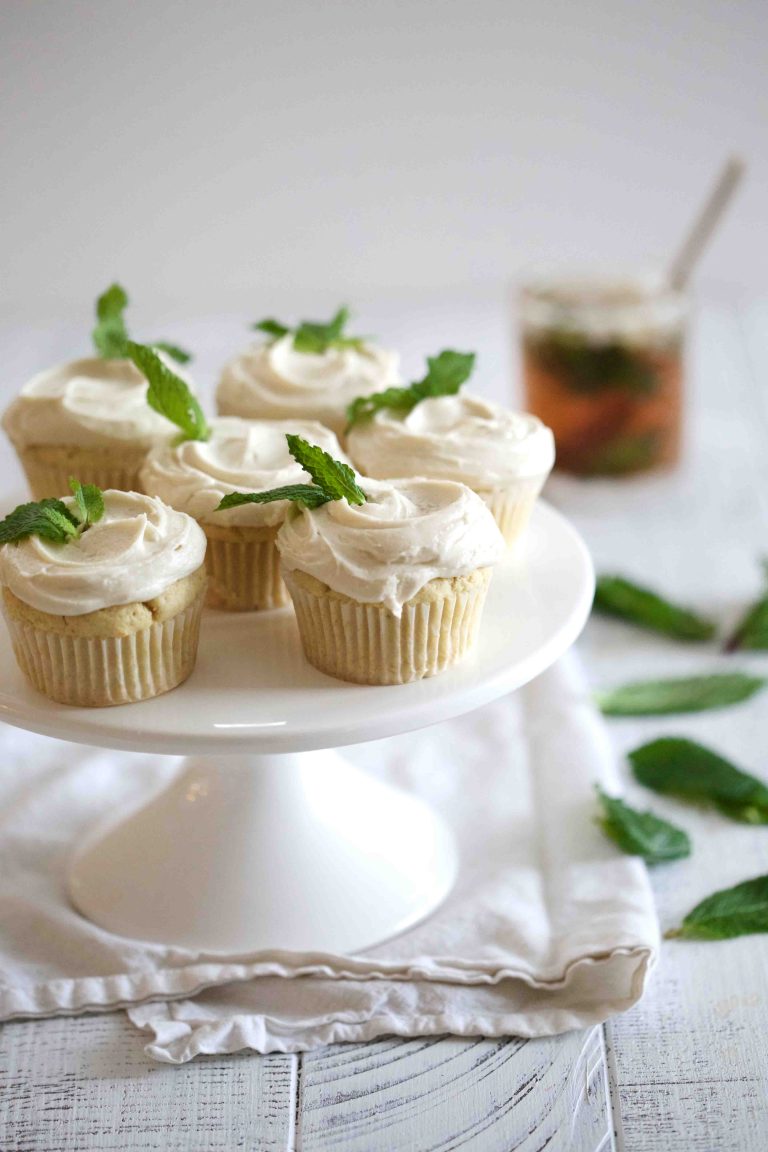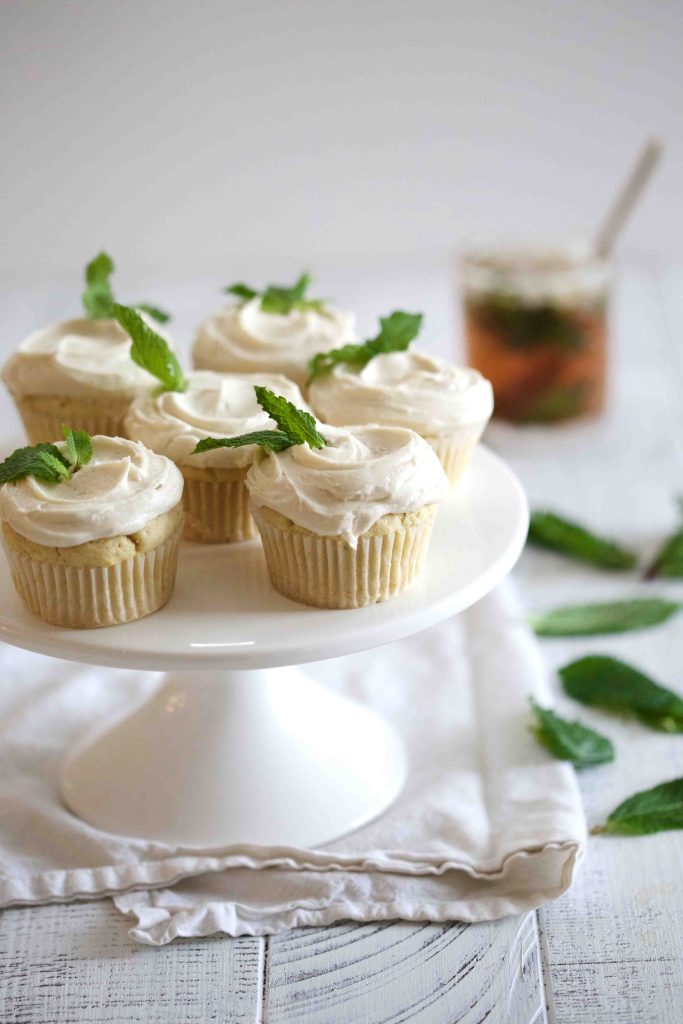 Are you a Kentucky Derby Fan? Do you like to put on your biggest hat and cheer along as the horses trot around at full speed? Truth is- I'm really not. It's not that I don't LOVE large hats- (I do, ) or even the thought of cheering on my favorite horse, (that sounds fun too,) I've just never seen the Derby. But- I do love love love me a good Mint Julep. (It may be one of my favorite cocktails ever.) And the thought of a day where a Mint Julep is the traditional drink seemed worthy of it's own cupcake. (Don't you think?)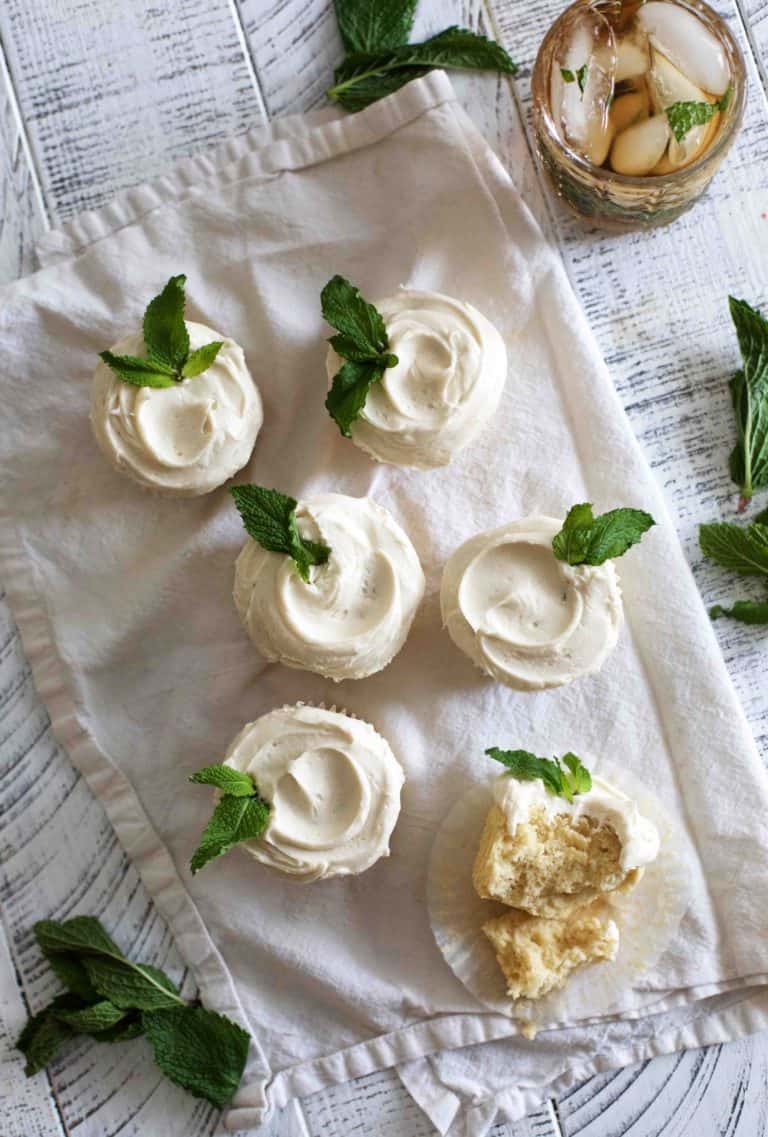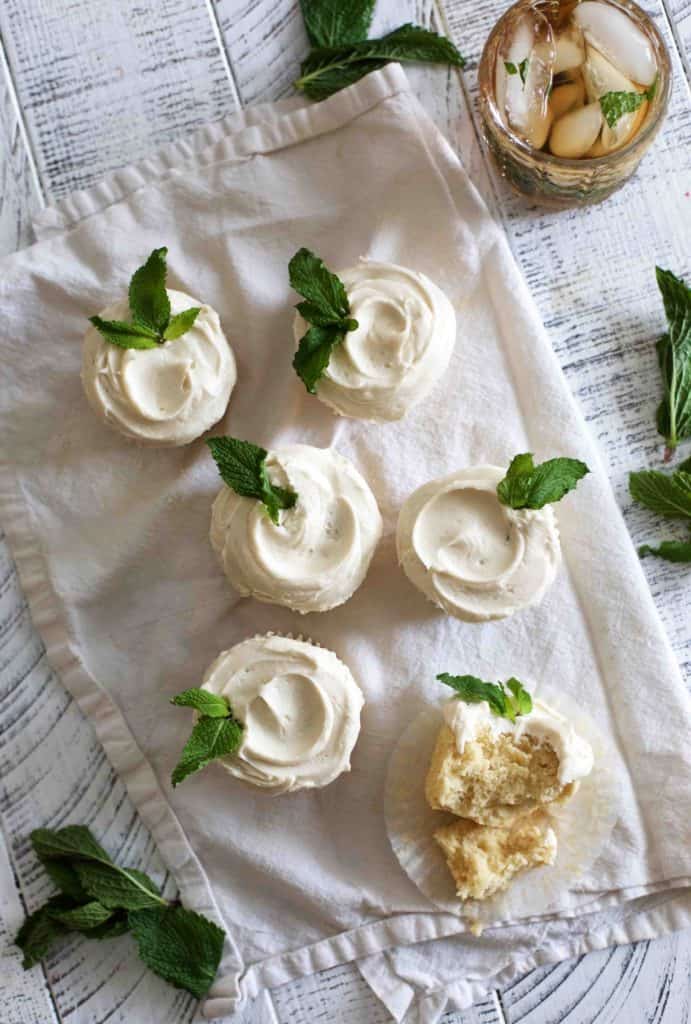 The recipe for these is pretty simple. It starts with cupcake batter spiked with bourbon and pure mint extract. Once the cupcakes are cooled, I pricked the tops with a fork and brushed on some extra bourbon for good measure. The fluffy frosting was also infused with bourbon and mint, giving the whole cupcake a perfectly boozy quality. These would be perfect for a Derby Day party this Saturday or just a day you want a really delicious cupcake!
Update- I shot a video making these cupcakes for ABC news! Check it out here!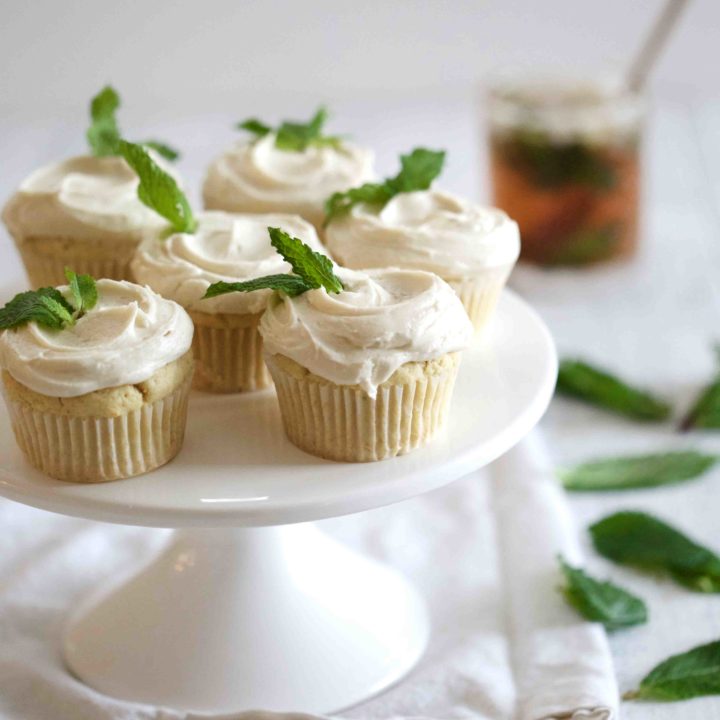 Mint Julep Cupcakes
Ingredients
1 cup butter
2 cups sugar
1 teaspoon pure vanilla extract
1 teaspoon pure mint extract
4 eggs
2 3/4 cups flour
3 teaspoons baking powder
1 teaspoon salt
1 cup milk
1 cup of bourbon (or whiskey) (plus extra for tops of the cakes.)
frosting:
2 sticks of butter (softened)
4-6 cups of powdered sugar
1/2 tsp mint extract
1 tablespoon bourbon
1/4 cup of milk or cream
Mint leaves for garnishing
Instructions
Preheat the oven to 350º F, line 24 cupcake tins with liners and set aside.
In a small bowl, combine salt, baking powder, and 1 3/4 cups of the flour.
In a large bowl, beat the butter, sugar, eggs, and extracts in a large mixing bowl until creamy. Gradually beat in the flour mixture until just combined. Add the milk and bourbon to the batter, and then the remaining flour (1 cup). Don't over-mix!
Divide batter equally amongst the 24 tins. Bake for 25-30 minutes, or until a toothpick inserted in the center of a cupcake comes out clean. Let cool.
Once cool, prick the tops of each cake with a fork and brush tops with bourbon.)


For Frosting:
Whip the butter until creamy and pale. Add the powdered sugar a cup at a time until thick and paste-like. (You may not need all 6 cups.)
Add the extract and bourbon and then the milk- 1 tablespoon at a time until frosting is thick and creamy. Add additional powdered sugar or milk if the frosting is too wet or dry.
Swirl or pipe frosting onto cupcakes and garnish with a mint leaf or straw. (Optional.)
Cupcake recipe adapted from Hostess with the Mostess.