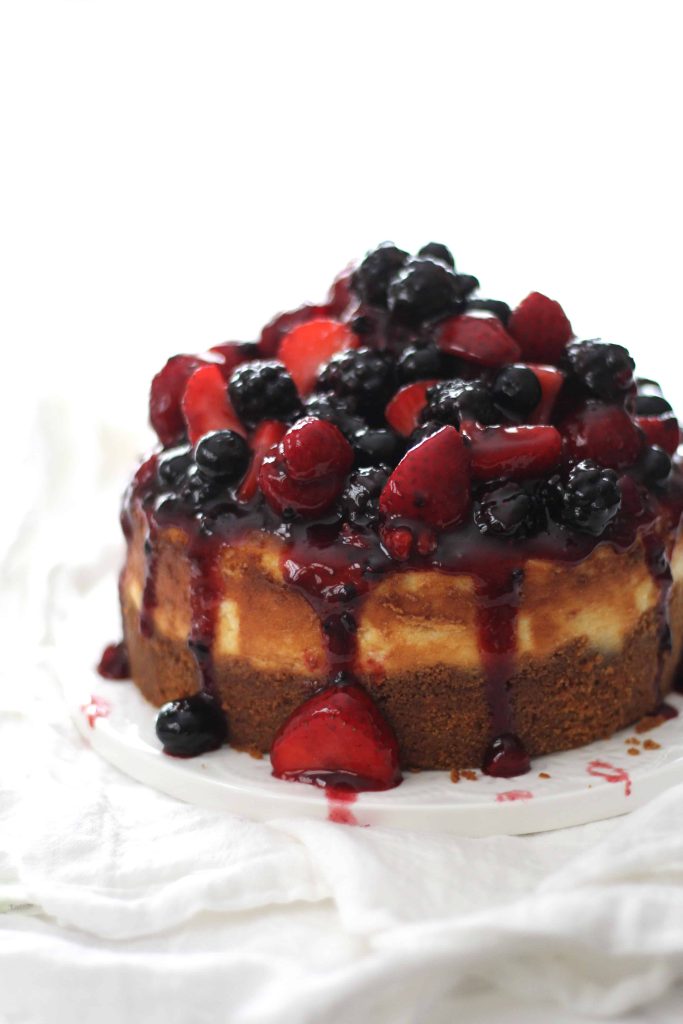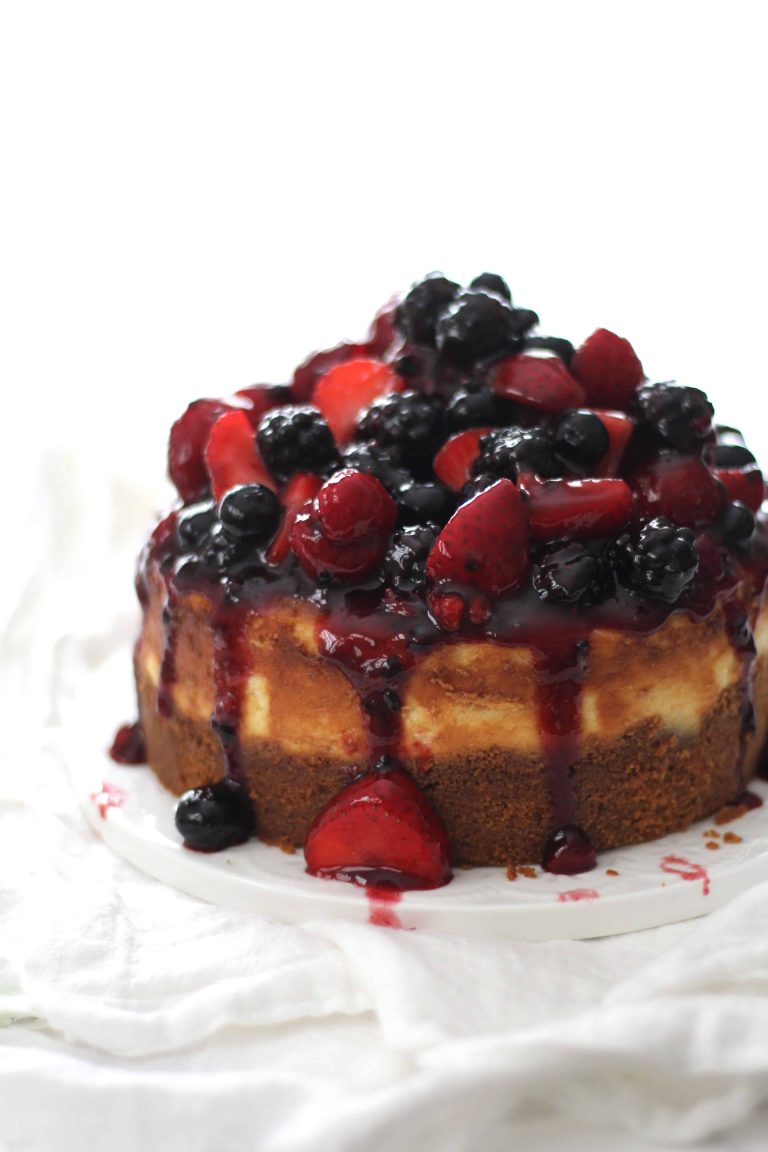 Oh this cheesecake you guys. I have made some delicious cheesecakes before but this is by far the best. My sweet Mom, who has mostly given up sweets, came over to celebrate her birthday yesterday weekend, (which is still such a novelty that she can just drive down after 10 years of living on the other side of the country.) I told her I just had to make her something and if she was gonna eat dessert one time, for her birthday, what would she want it to be? Without hesitating she said cheesecake so I had to make it happen.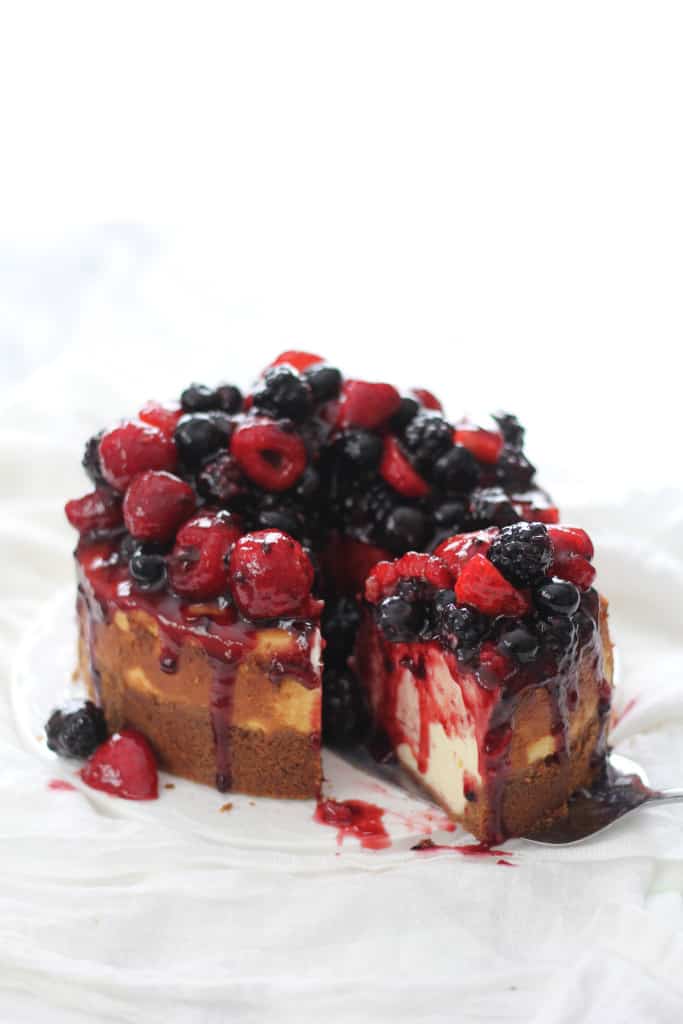 I ended up getting some gorgeous seasonal berries from the farmer's market over the weekend as well, so I dreamed of a thick, creamy cheesecake with mounds of juicy berries on top. I didn't make it too sweet, just enough, and figured the berries would add a refreshing touch making this a perfect late summer dessert.
I have to note that while berries are the perfect topping to cover up any cracks that often occur on homemade cheesecake, this wonderful recipe didn't even have any! Yup that's right- this cheesecake was smooth and beautiful even before I added all the topping. It's definitely a recipe I'll be using again, it's a perfect base for all sorts of creative additions. The key is baking it low and slow, and then letting it cool gradually with the oven turned off. I had that moment of peeking in, sure to see a huge deep crack in the middle, but happily found it smooth and perfect. PS- if you don't want to turn our oven on to make this and heat up your home, this No Bake Cheesecake would be awesome with this topping as well!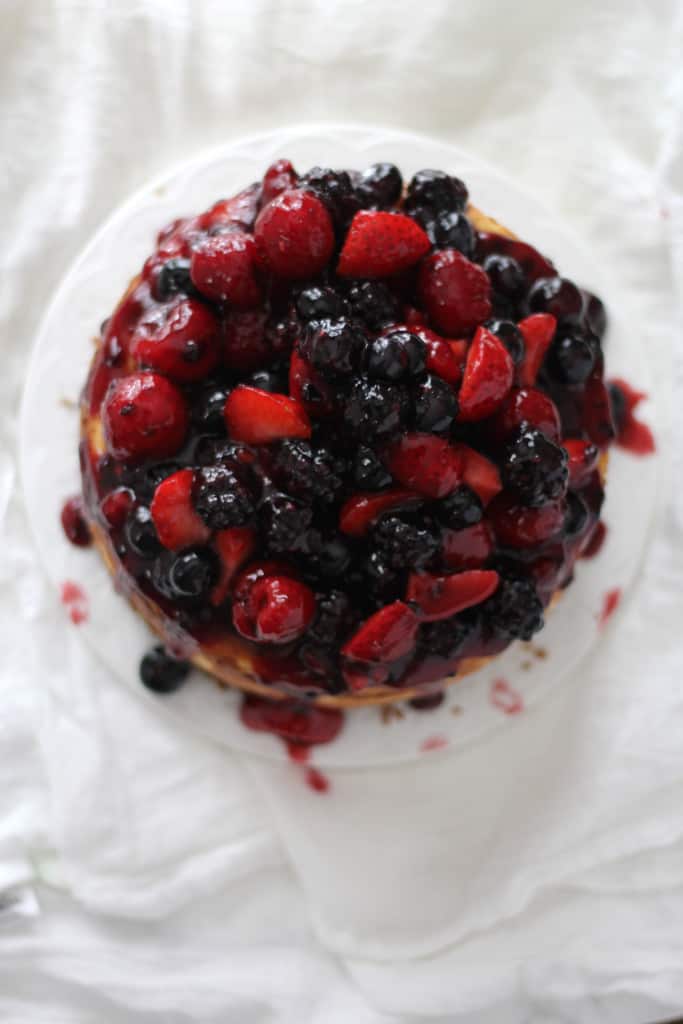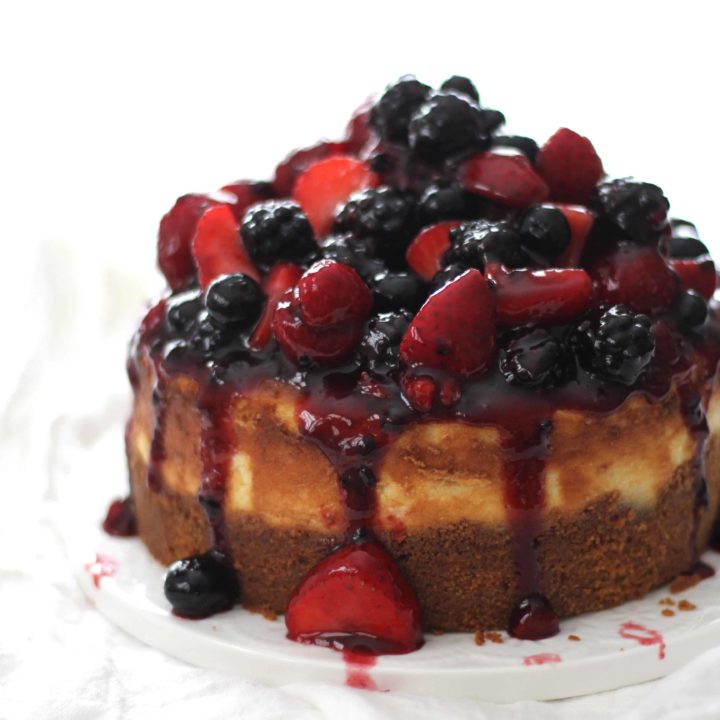 Mixed Berry Cheesecake
Yield:
1- 7 inch cheesecake
Ingredients
For the Crust:
8 graham crackers, crushed
4 tablespoons of butter, melted
For the Filling:
1.5 lbs. of cream cheese (3, 8 oz packages) room temperature
1 cup sugar
3 eggs plus one yolk, room temperature
1 1/2 teaspoons vanilla extract
zest of 1 lemon
2 tablespoons sour cream
Topping:
2/3 cup jelly (not jam any red or berry flavor would work- I used blackberry jelly)
3 cups fresh berries, cut in half if too big.
Instructions
Preheat oven to 350F. Combine the graham cracker crumbs and butter until moistened. Press into the bottom of a 7 inch spring form pan, bringing it up and inch or so along the sides.
Bake for 8 minutes and allow to cool. Increase heat to 450F.
In a large bowl of a mixer fitted with a paddle attachment, mix together the cream cheese and sugar until fluffy and smooth.
Add the eggs and yolk, mixing well, but only until just combined. (don't over-mix!)
Add the vanilla, lemon zest and sour cream and mix on low speed until smooth.
Pour batter into the cooled crust. Bake for 12 minutes, and then reduce head to 225F. Bake for 60 minutes. (The cake will still be wobbly in the middle.)
Turn the oven off and leave it ajar, letting the cheesecake cool for 30 minutes inside the oven. Let it cool for another 2-3 hours in room temperature and then cover and cool in the fridge for at least a couple hours or overnight.
For the berry sauce:
Add the jelly to a small saucepan and let it thin out and melt a bit. Add the berries and gently toss to coat. Pile the berries on top of the cheesecake, chill until ready to serve.
Notes
*I wanted a small but thick cheesecake so I used a 7 inch springform. If you'd prefer to use a 9 inch you don't have to change the recipe, but the cheesecake just won't be as thick. I do suggest adding 2 extra graham crackers and 2 tablespoons of butter to the crust

Recipe adapted from: The Food Network