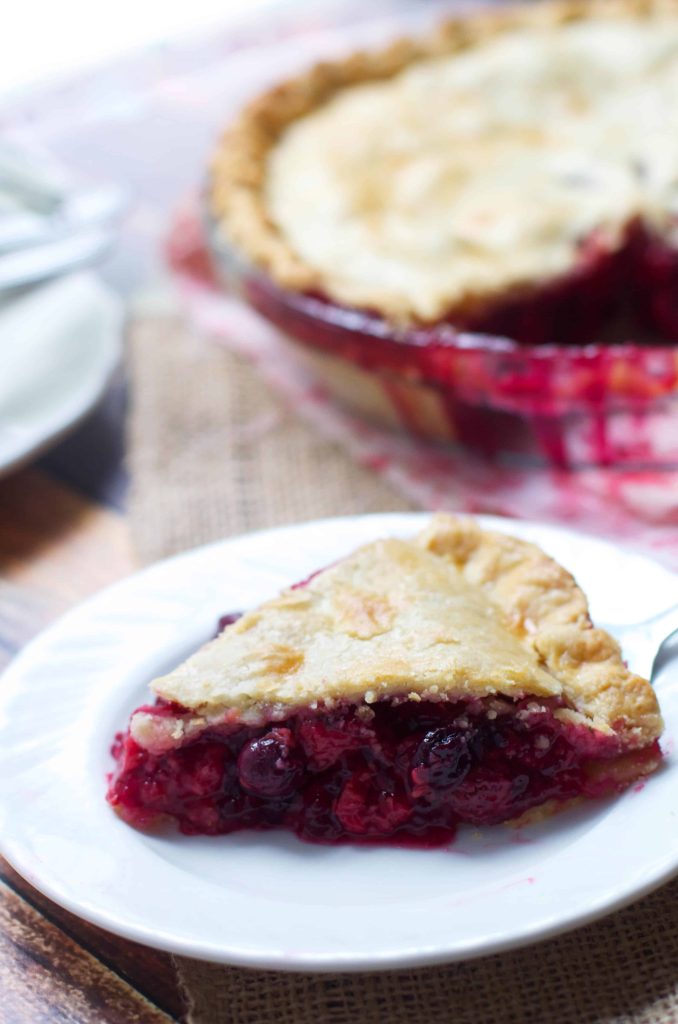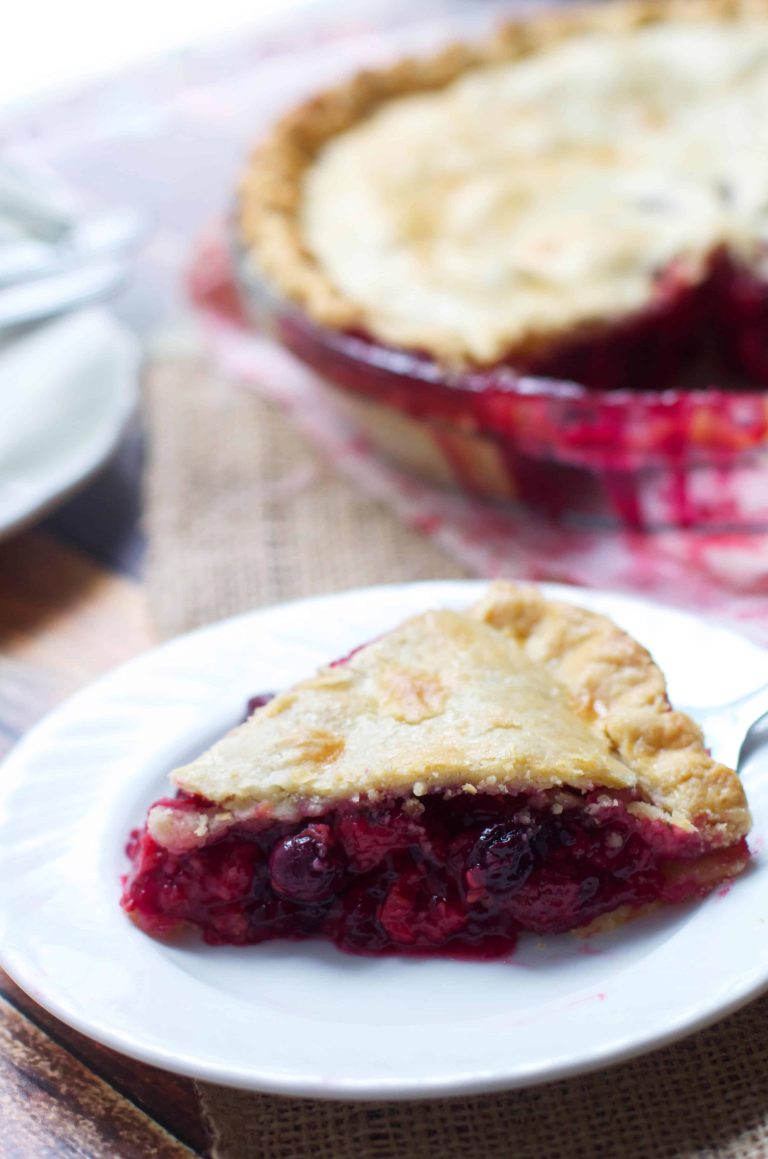 I love pie so much. Honestly (and I know I say this a lot,) I think it is my favorite type of dessert. I love cakes, cupcakes, puddings, and cookies like the next girl, but pie just gets me every time. Give me a flaky crust, a thick fruit filling with a dollop of whipped or ice cream and I'm in heaven. (I also love cream pies, custard pies, chess pies etc- I don't discriminate!)
In fact, lately I have been dreaming of opening my own pie shop- a cute little store front that only sells one thing- PIE- slices, whole you name it I sell it. For now it may just be a pipe dream- but someday maybe I'll be posting about a little store front all of my own. Who knows!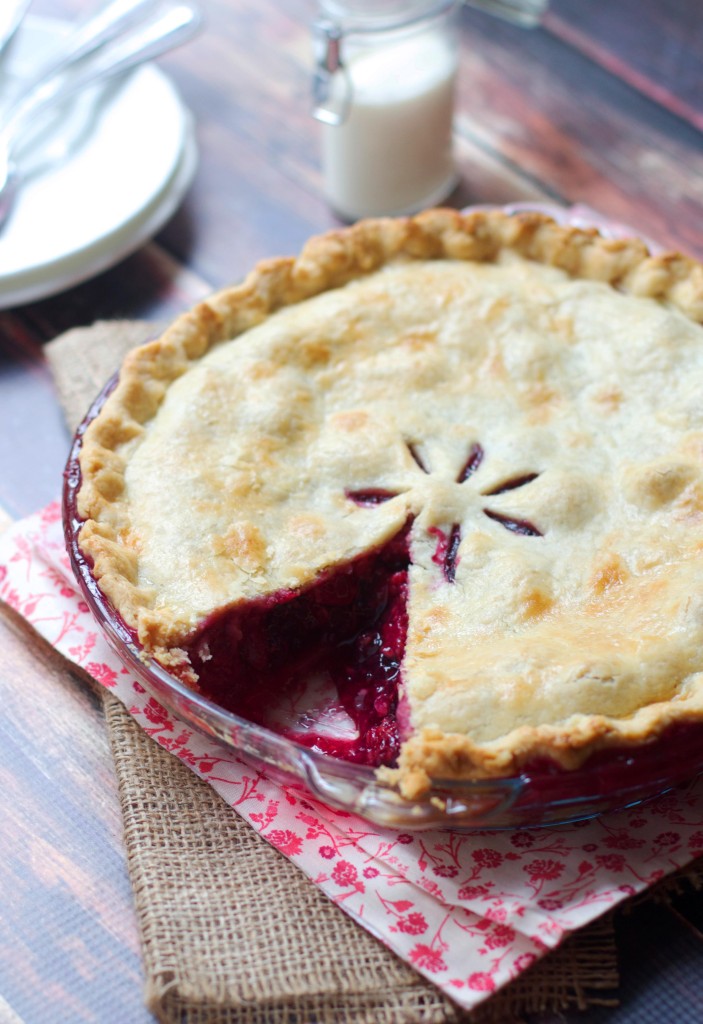 Anyway- come summer months, I would be making this tart and juicy berry pie left and right. It's to die for. It's full of strawberries, raspberries, blackberries and blueberries. It isn't even a little soupy and the filling is thick and perfect. The key to the perfect filling is the thickener I've been blabbing about for ages- instant tapioca. Just go out and get some already!! If you like summer fruit pies (especially berries, but peaches are juicy too,) it's the absolute best thickener. I've found it at the regular grocery store, but recently I bought 6 big bags on Amazon. (I figure everyone I know who likes baking needs this in their lives so I bought in bulk.)
This pie is summer on a plate to me. Tons of juicy berries, not too sweet, and a flaky melt-in your mouth crust, (that doesn't get soggy from a watery, soupy filling!) I made this for Andy's birthday earlier this week and it was gone within 24 hours. (Because fruit pies are totally acceptable as breakfast food- though we did share a little bit.) I plan to make lots more pies this summer so I hope you're up for that!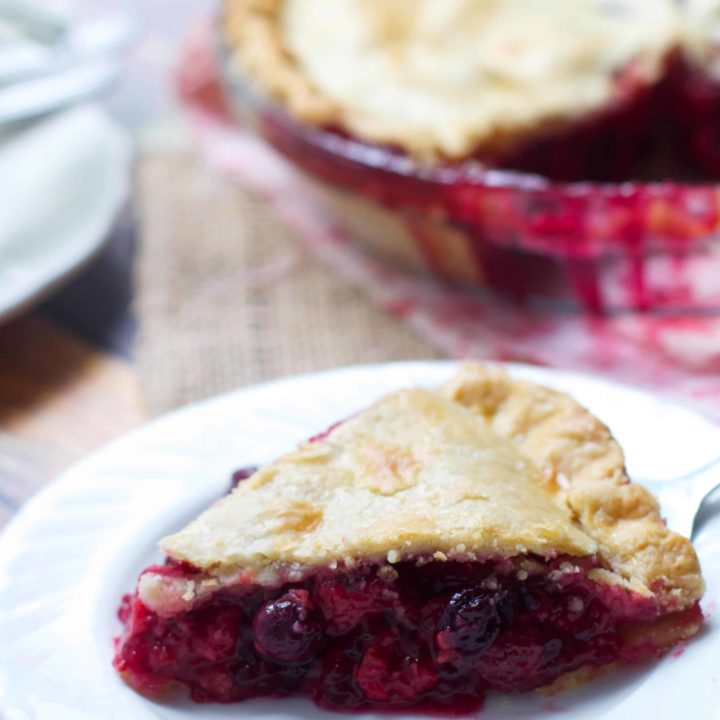 Mixed Berry Pie
Ingredients
1 double Pie Crust, chilled
7 cups of berries, I used an equal combo of strawberries, raspberries, blackberries and blueberries
1/4 plus 1 tablespoon instant tapioca
1 cup sugar
zest of one lemon
heavy cream for brushing on the crust
Instructions
Preheat oven to 425F. In a large bowl gently toss the berries with the tapioca, sugar, and lemon zest- set aside.
Roll one of the Pie Crusts out to an 11 inch round and drape it into a 9 inch pie dish. Pour the berries into the crust. Roll the second half of the crust out and drape it over the top of the berries. Crimp the edges and trim away an excess.
Use a paring knife to make a few slits in the top of the crust.Brush the top and edges of the crust with heavy cream.
Bake at 425F for 15 minutes and then reduce the heat to 350F. Bake for another 35-40 minutes or until the crust is golden.
Let the pie cool before slicing. (The cooler the pie, the more solid the slice will be!)
Nutrition Information:
Yield:

1
Serving Size:

1 grams
Amount Per Serving:
Unsaturated Fat:

0g