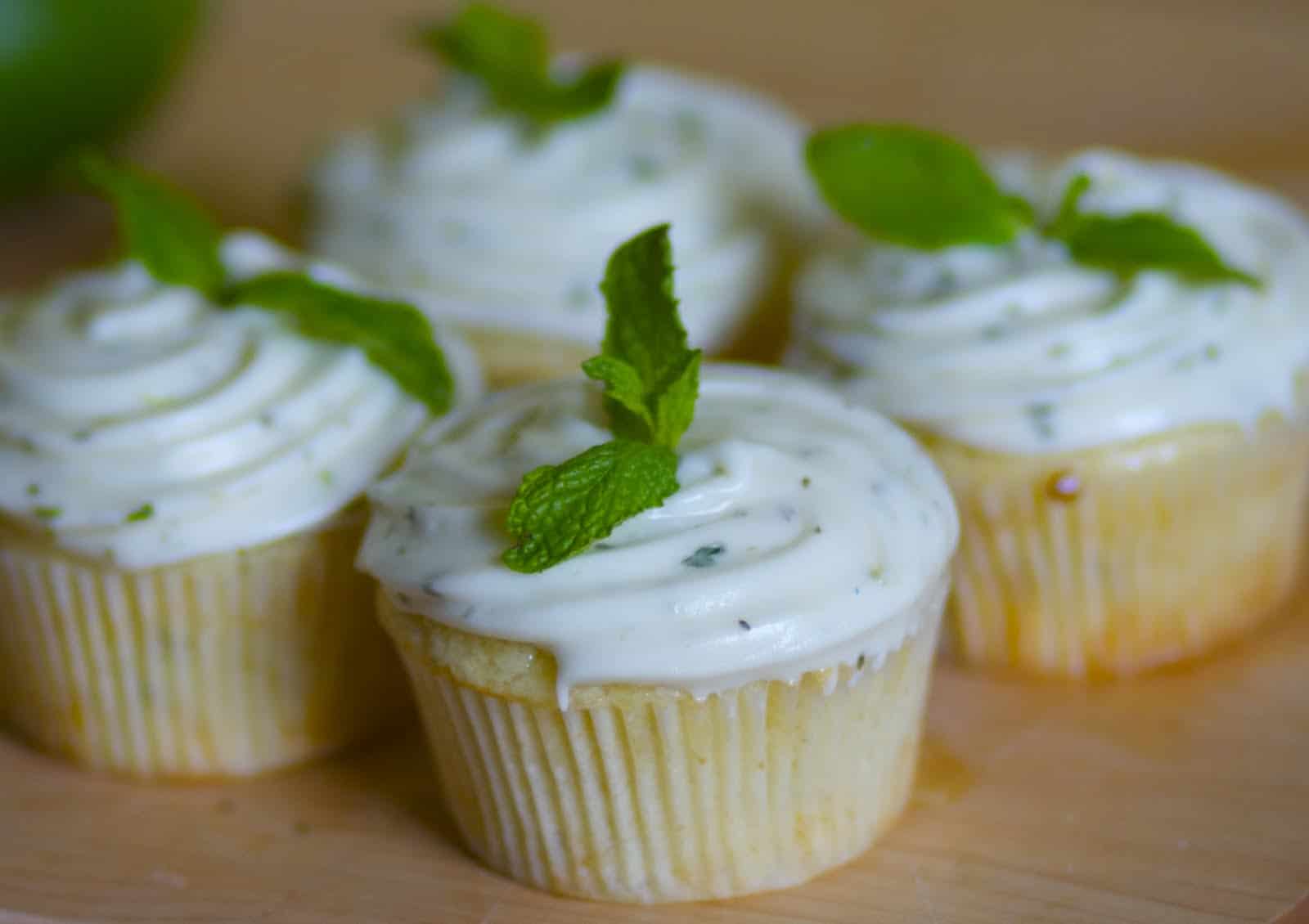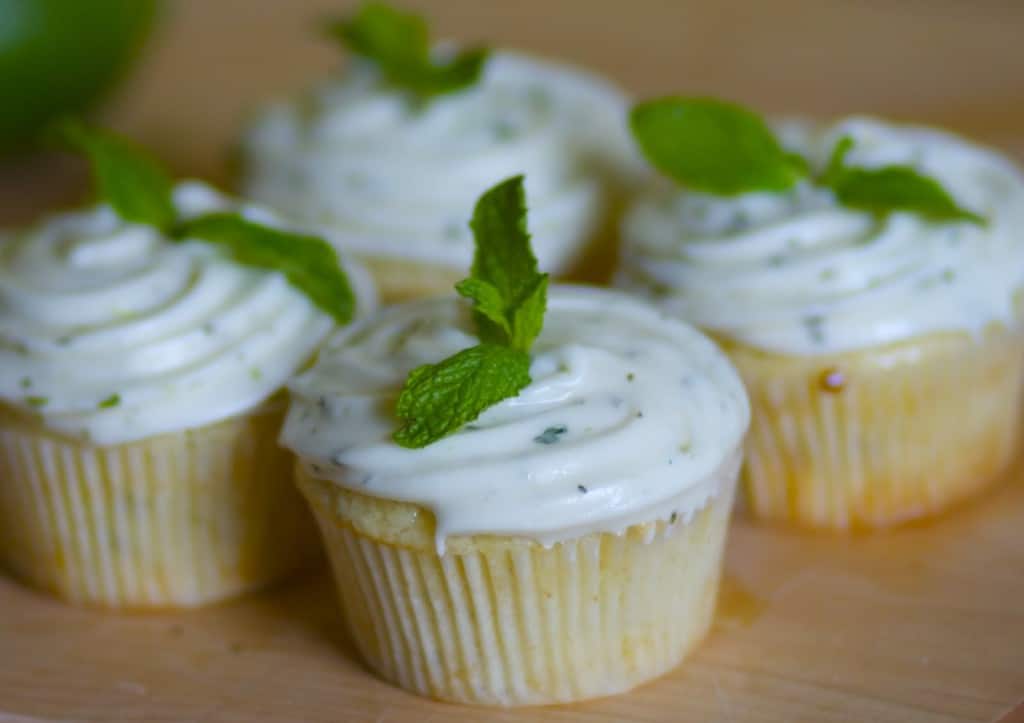 Come summertime, I always miss living back in Wisconsin. Things like BBQs and pool parties are just too rare in a city where no one really has yards or pools. When I visit my parents, I love knowing that a back porch is there waiting for me whenever I want it. Here in NYC, I have to make up for lack of outdoor space by hanging outside at various restaurants. bars and parks. As soon as it gets warm out, it seems to be all about which places have outdoor seating! Though I'd prefer my own back yard, I have grown to love sitting outside somewhere with a cool drink watching the diverse crowd walking by….
No summer drink is more refreshing to me than a Mojito. Tart lime and fresh mint seem to be the perfect combination when the air is thick and an icy beverage is in order. My inspiration for making these simply came on a day when all I wanted was to drink one. I loved the Strawberry Margarita cupcakes so much that these seemed like a great next choice! I actually used the same lime cupcake recipe and jazzed it up with some fresh chopped mint and a rum glaze. Topped with a Minty-Lime cream cheese frosting, these cupcakes were the perfect mix of light and decadent. Cheers!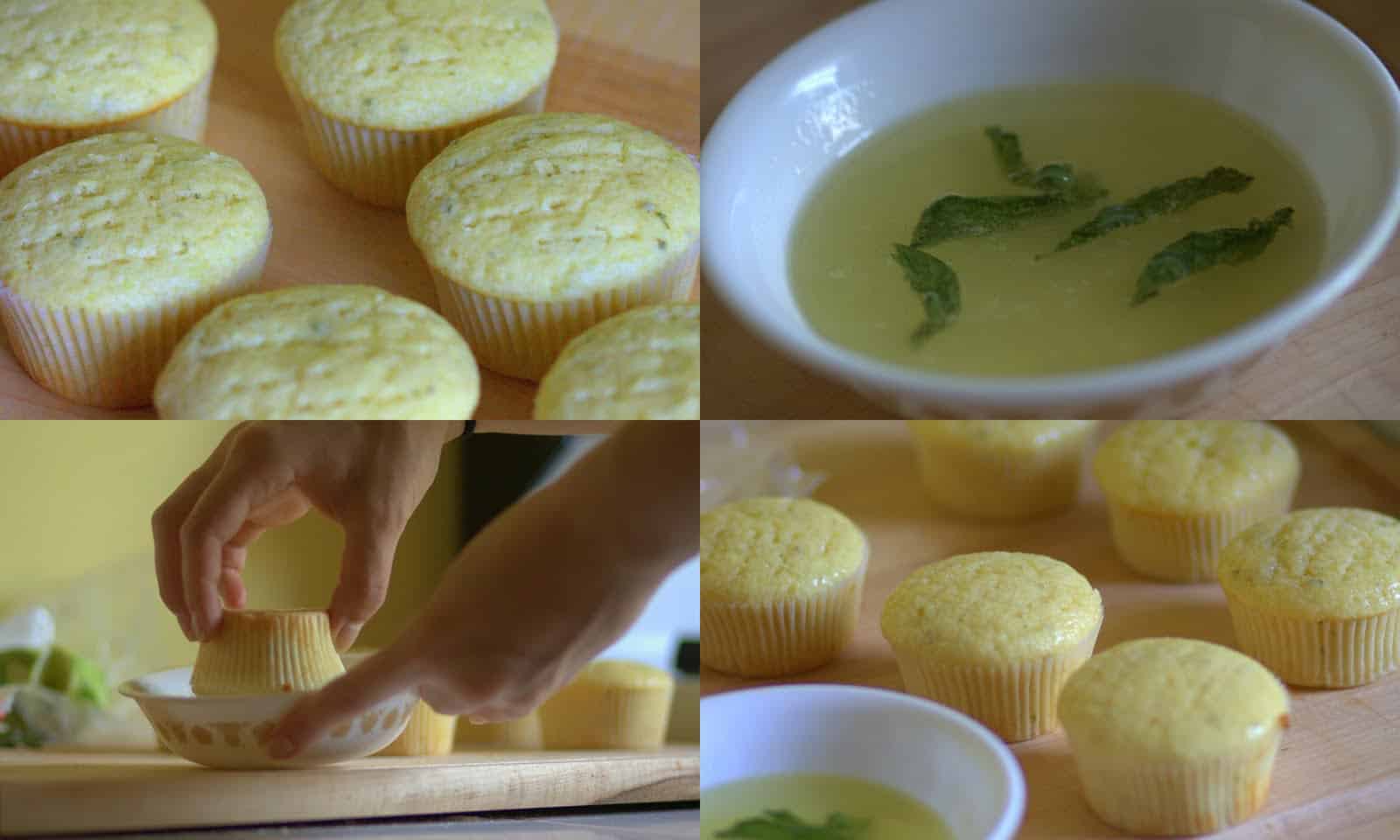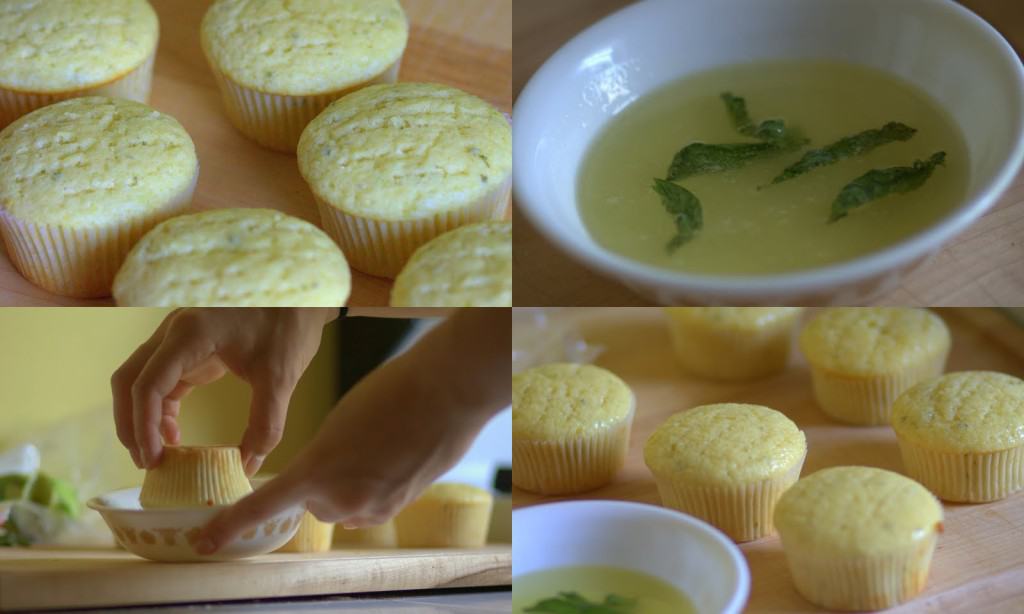 Mojito Cupcakes
Creating some holes in the cupcakes with a fork and then dipping the tops into the rum syrup really lets it soak into the cake, giving each bite a perfect boozy touch.
Ingredients
1 1/2 cups all-purpose flour
1/2 tbsp. baking powder
1/4 tsp. salt
1/2 cup 1 stick unsalted butter, at room temperature
1 cup sugar
2 large eggs, at room temperature
2 limes, zested and juiced
1/4 tsp. vanilla extract
1/2 cup buttermilk
1 tablespoon fresh mint chopped, use food processor of possible
Rum Syrup:
1/2 cup sugar
1/8 cup water
2 tablespoons butter
1/4 cup rum
5 Mint Sprigs
Frosting:
1 8 ounce package cream cheese, softened
1/4 cup butter
2 tablespoons lime juice
2 teaspoons lime zest
2 tablespoons chopped mint
1 teaspoon rum
5 cups confectioners' sugar
Mint sprigs for garnish, optional
Instructions
To make the cupcakes: preheat the oven to 325? F. Line a cupcake pan with paper liners.
In a medium bowl, combine the flour, baking powder and salt; stir with a fork to blend. In a large bowl, cream together the butter and sugar on medium-high speed until light and fluffy, 3-5 minutes.
Blend in the eggs one at a time, mixing well after each addition and scraping down the sides of the bowl as needed. Beat in the lime zest, lime juice, chopped mint and vanilla. With the mixer on low speed, mix in the dry ingredients in three additions alternating with the buttermilk, beginning and ending with the dry ingredients. Beat each addition just until incorporated.
Divide the batter between the prepared cupcake liners, filling each about ¾ full. Bake 20-24 minutes, or until a toothpick inserted in the center comes out clean. Let cool in the pan 5-10 minutes, then transfer to a wire rack to cool completely.
For syrup: In a small saucepan, combine sugar, water and butter over medium-high heat. Bring the mixture to a boil, stirring often. When the butter is melted and the sugar is dissolved, remove from the heat. Carefully add 1/4 cup of rum and mix until incorporated. Add the zest of 1 lime and 3 sprigs of fresh mint, and let the syrup infuse for 5 minutes.
Frosting:
Beat cream cheese, butter, lime juice, lime zest, and rum together until smooth and fluffy.Add confectioners' sugar in 2 additions. Beat until creamy. Add more icing sugar or juice as needed for easy spreading.
Assembly:
Using a fork, poke holes in the top of each cupcake once cool. Dip the top of each cupcake in the rum syrup and allow to cool. Spread or pipe icing on as desired. Garnish with a mint leaf. Enjoy!
Nutrition Information:
Yield:

12
Serving Size:

1 grams
Amount Per Serving:
Unsaturated Fat:

0g
Cupcakes: Adapted from Martha Stewart
Rum Syrup: Adapted from
Two Peas Blog