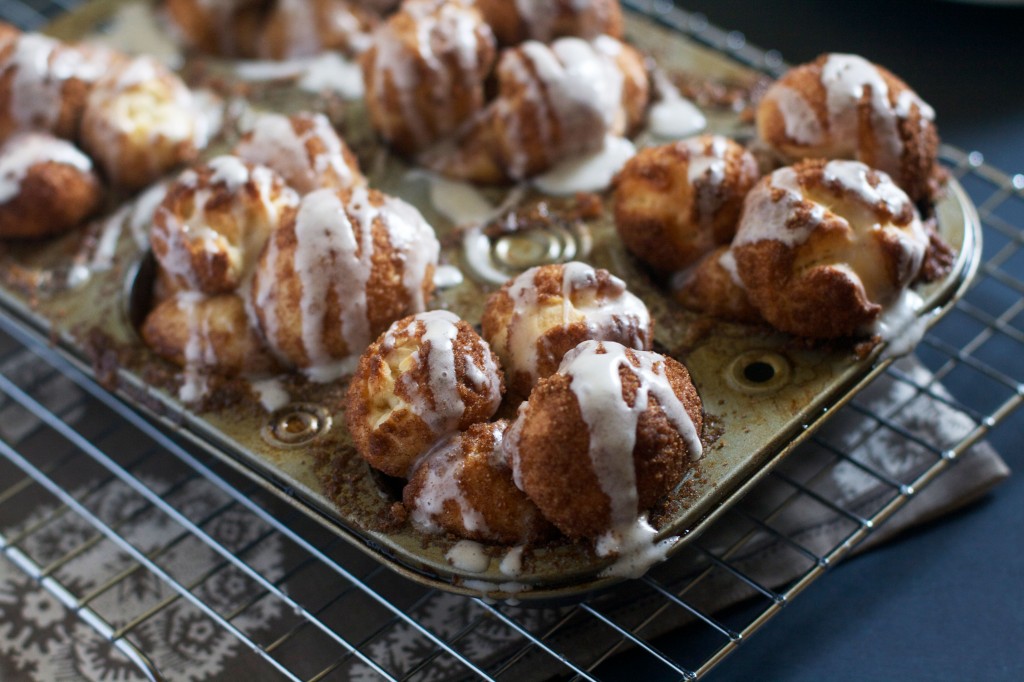 Have you ever made monkey bread? I honestly and truly believe it may be the first thing I ever baked- seventh grade- home ec. class and a can of biscuit dough. I'm also pretty sure we "baked" them in the microwave? It's possible. Not familiar with monkey bread? I've decided t's basically like the inside of a cinnamon roll. Rounds of soft dough are dunked in butter and rolled in cinnamon sugar and then baked together. I mean sound's pretty similar right? I've been thinking that I needed to make a for-scratch version of this for ages and thought a muffin-sized version would be fun. (Normally it's made in a bundt pan but the muffin tins were cute as can be!)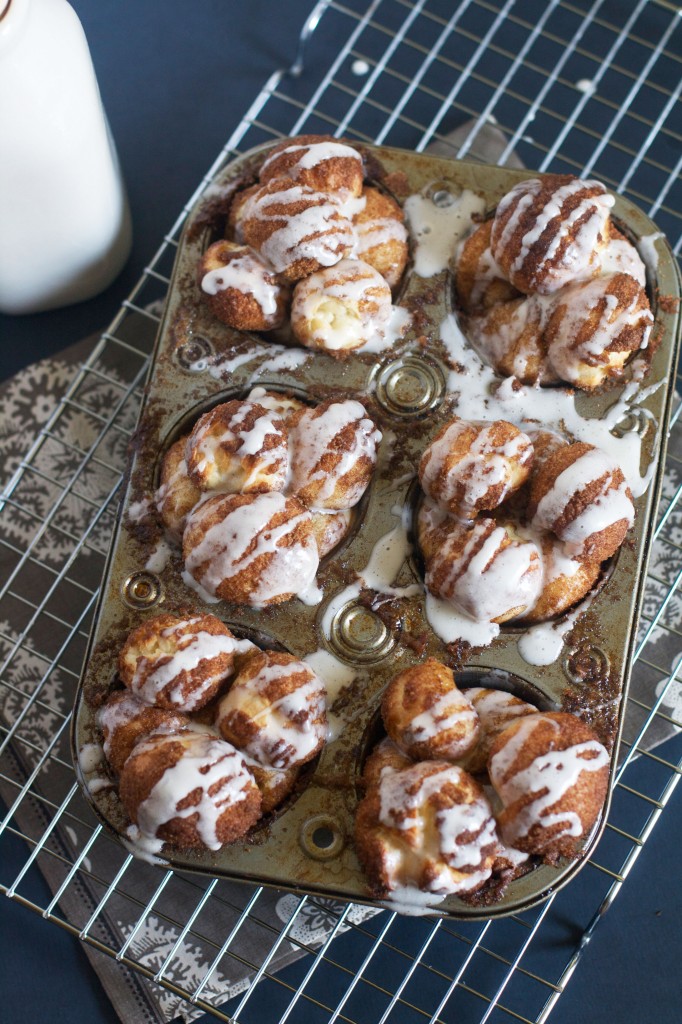 Now if you follow me on instagram you know this- but I actually posted a funny picture of these before and after baking. I may have stuffed a few too many dough balls into each muffin well which resulted in over-flowing monkey bread madness. I edited the recipe accordingly (and may have just eaten all the extra pieces that didn't fit in!) What I love about these is that while they stick together like muffins should- each little bubble of cinnamon sugary goodness can be picked off one at a time, making it really easy to have "just one more."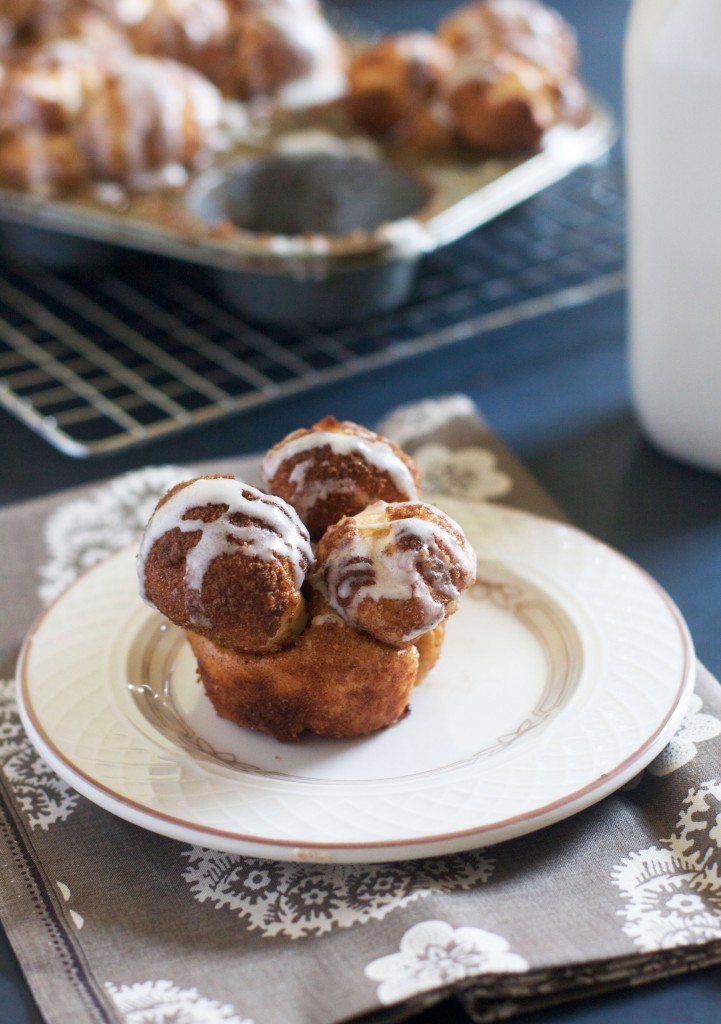 The texture of each little bite of dough was soft and almost doughnut-like covered in a perfectly sweet cinnamon sugar crust. Caramel sauce would have been delicious over these, but I opted for a simple vanilla glaze. Wouldn't these be a perfect addition to a Mother's Day brunch spread? I actually really longed for little ones to help me make these as it's the perfect process to have a helper for. You know some little hands to dunk the dough in butter and roll in in cinnamon sugar? Wouldn't that be cute?? …. Ok I digress. :)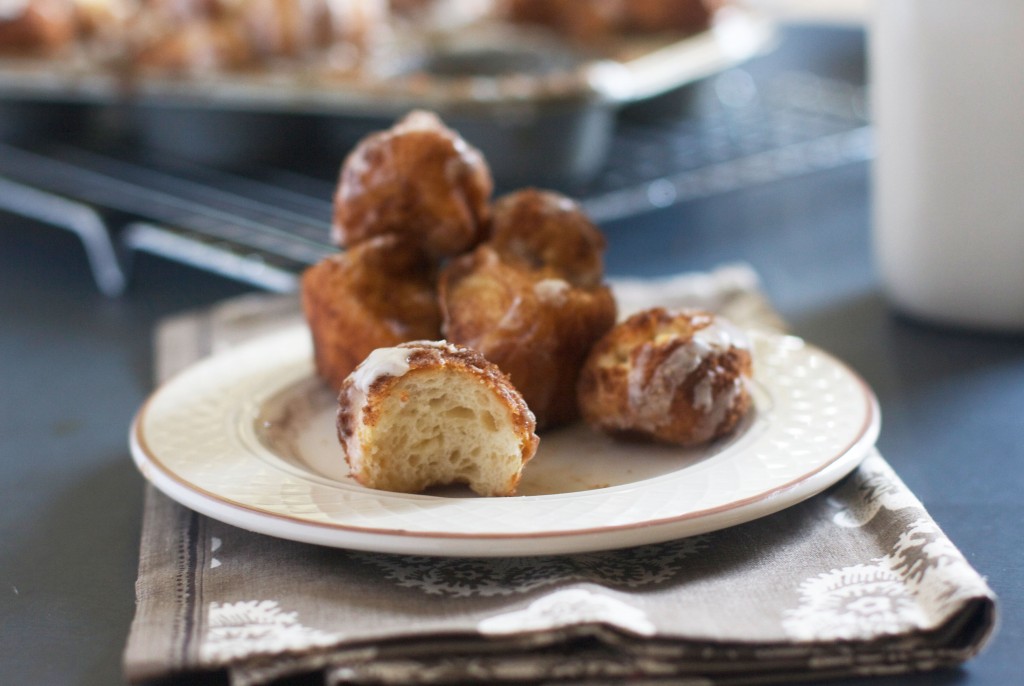 Monkey Bread Muffins
Prep time:
Cook time:
Total time:
Ingredients
Dough:
¾ cup milk
¼ cup butter
3¼ cups all-purpose flour
1 (.25 ounce) package instant yeast
¼ cup white sugar
½ teaspoon salt
¼ cup water
1 egg
Coating:
¾ cup brown sugar, packed
1 tablespoon ground cinnamon
6 tablespoons butter, melted
Glaze:
½ cup powdered sugar
½ teaspoon vanilla extract
2-4 tablespoons of milk
Instructions
Warm the milk in a small saucepan until it bubbles (or the microwave), then remove from heat. Mix in butter; stir until melted. Let cool until lukewarm.
In a large mixing bowl, combine 2¼ cup flour, yeast, sugar and salt; whisk together. Add water, egg and the (cooled) milk mixture; beat well with an electric mixer. Add the remaining flour, ½ cup at a time, using a wooden spoon to stir well after each addition. (dough will be too thick and sticky to use the mixers at this point.)
When the dough has just pulled together, turn it out onto a lightly floured surface and knead until smooth, about 5 minutes. (dough will spring back when lightly pressed.)
Cover the dough with plastic wrap and let proof for 45-60 minutes in a warm place- until doubled in size.
Grease or spray 12 muffin tins- set aside. Combine brown sugar and cinnamon in a small bowl.
When dough has proofed, transfer it to a lightly floured surface and use your hands to spread it out into a large rectangle. Use a pizza cutter or bench scraper to cut the dough into 1-inch squares.
Form each little square into a ball-like shape by pinching the four corners under tightly. Dunk each one in the butter and then roll it in the cinnamon-sugar. (If you don't have a helper for this step- I found that using one hand for the butter and one for the dry mixture helped keep them separate.)
Fill each muffin well with about 6 dough balls- pressing them together slightly as you go. Cover prepared muffin tins with a clean dish towel and for a little more proofing- 20-30 minutes.
Preheat oven to 375F. Bake for 15-20 minutes or until puffy and golden. Cool on a wire rack until ready to glaze.
For the glaze:
In a small bowl whisk the glaze ingredients together, starting with 1 tablespoon of milk and adding more as needed for your desired glaze consistency. Drizzle over the warm muffins and enjoy!!
Recipe adapted from my favorite 90-minute Cinnamon Rolls