Ok correction- this post is of my last two weeks via instagram. I'm not sure how long I'll keep this little "segment" going on for, but I'm making an effort to post a bit about me and my life in addition to delicious recipes. I always love getting to know the person behind the blog so hopefully maybe you do as well? :)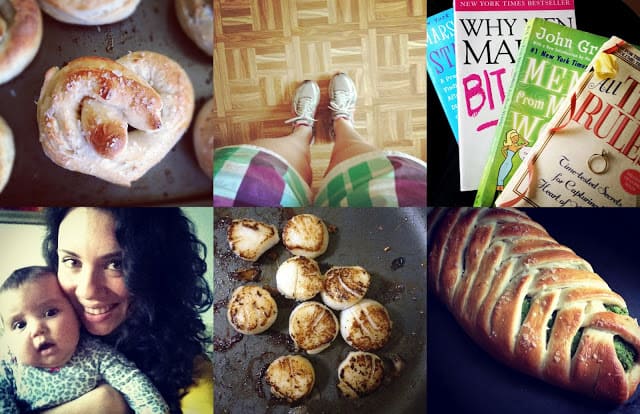 Top Row: 1-Homemade Soft Pretzels were the first thing I baked post-Vegas. 2- I am running the Brooklyn Half next weekend so this has been my uniform most days recently. 3- When cleaning out my bookshelf I realized I own a hilarious amount of single-girl self help books. Embarrassing but true. These ended up in the "give away" pile, but I kept "He's Just Not That Into You" because that one is just good sense.:)
Bottom Row: 1-Snuggles with my friend Hiba's little nugget Madeline. 2- Mastering Seared Scallops at home (my fave.) 3- And a braided bread masterpiece I can't wait to share!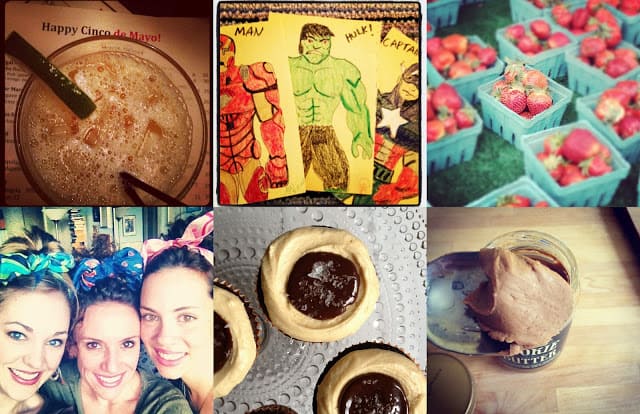 Top Row: 1- Passionfruit Margarita for Cinco de Mayo 2- After seeing The Avengers I got a little carried away with some crayons. 3- The season's first strawberries at the Union Square Greenmarket. Yes!
Bottom Row: Hillary Whitney's laundry hair-do for a viewing of the movie "Beaches" with my girlfriends. Can you believe I've never seen it? (Sob.) 2- Dark Chocolate Salted Caramel Cupcakes. (Recipe coming Monday!) and 3- Cookie Butter. Sigh….my life may never be the same. Have you tried it? It's amazing!!!
Have a wonderful weekend! Happy Mother's Day to all the Mamas as well!
xoxo
Audra