Naked Chocolate Peanut Butter Layer Cake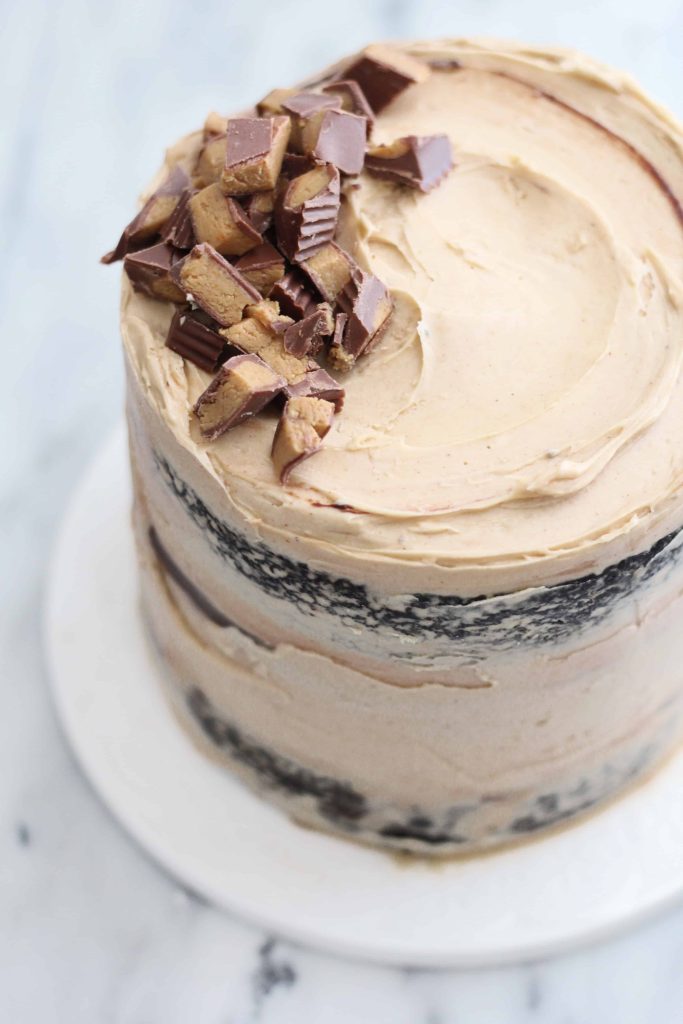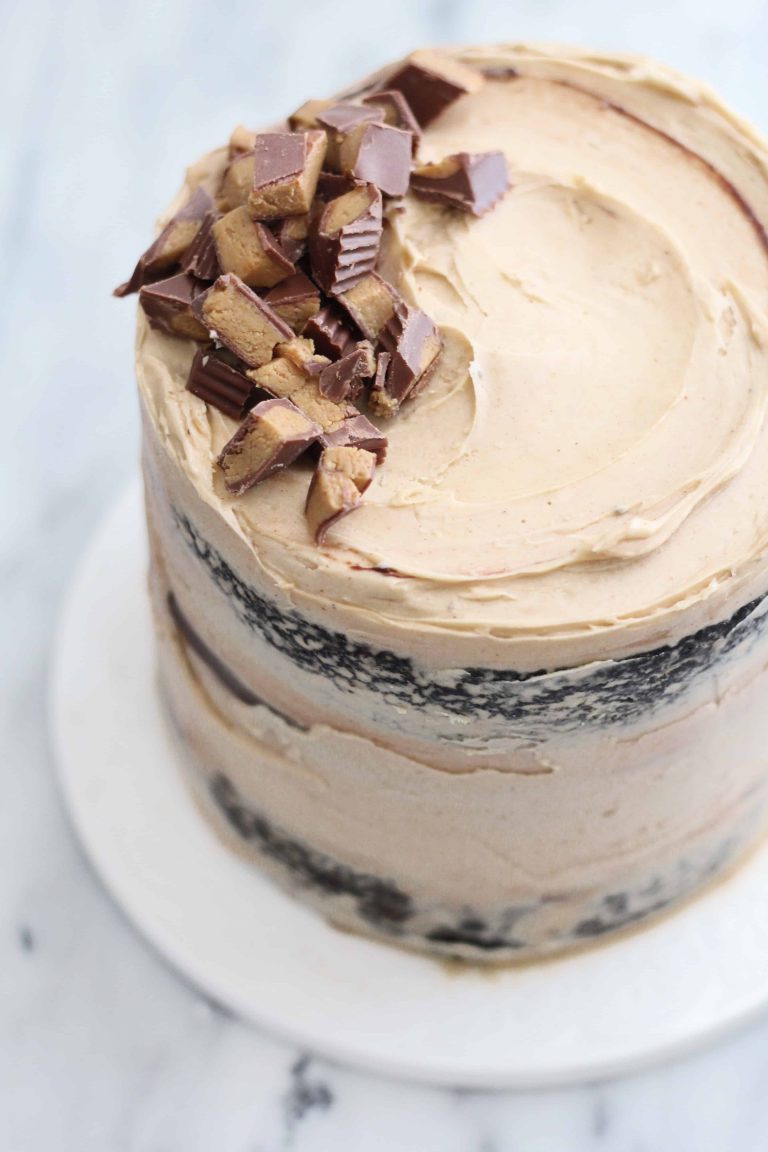 Oh man this cake! Andy only has one 40th birthday, and since his was this past weekend, I think it more than deserved a show-stopping cake. It's been too long since I've actually taken the time to bake something beautiful and rich and I knew this cake had to be it. Andy pretty much gave me free reign to get creative and make what I wanted, and I knew this flavor combo wouldn't disappoint.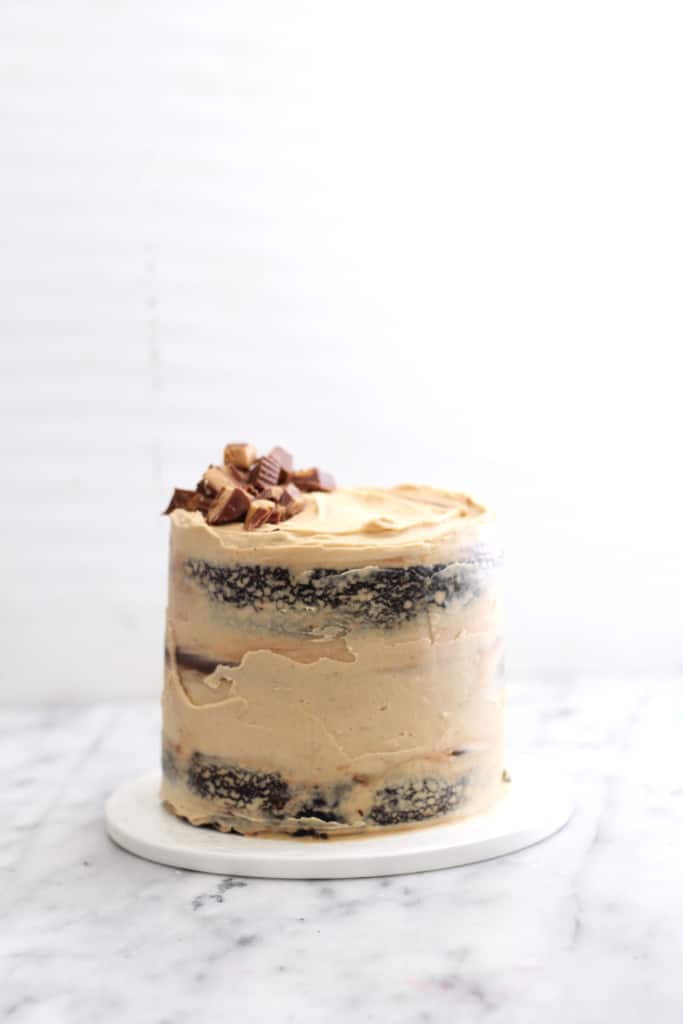 My favorite basic chocolate cake is layered with rich chocolate ganache and fluffy peanut butter frosting. I chose to make a naked cake because I'm so obsessed with the look of them, but many different options would work for this. The cake could be made in a bundt pan with the frosting slathered on and the ganache poured on top. Or, you could frost it more traditionally, frosting it all perfectly smooth and then once again pouring the ganache on top. Whatever you decide, if you are a chocolate/peanut butter lover I know you'll adore this cake.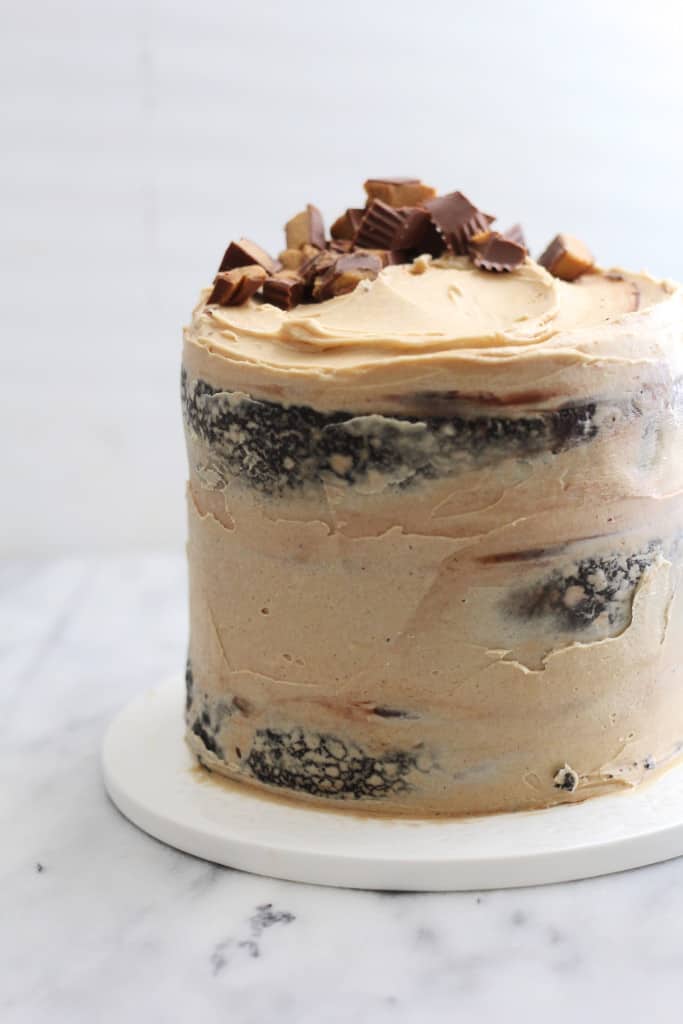 The "naked cake" style really couldn't be more easy. After filling the cake with ganache and frosting you basically take a frosting spatula and scrape it around the whole thing, adding a teeny bit of frosting to the edge while still keeping it raw-looking. I like using a turntable for this. It makes the whole thing so smooth and easy to do, but you could probably manage without. What do you think? Do you like this style of cake or prefer a more traditional frosting method?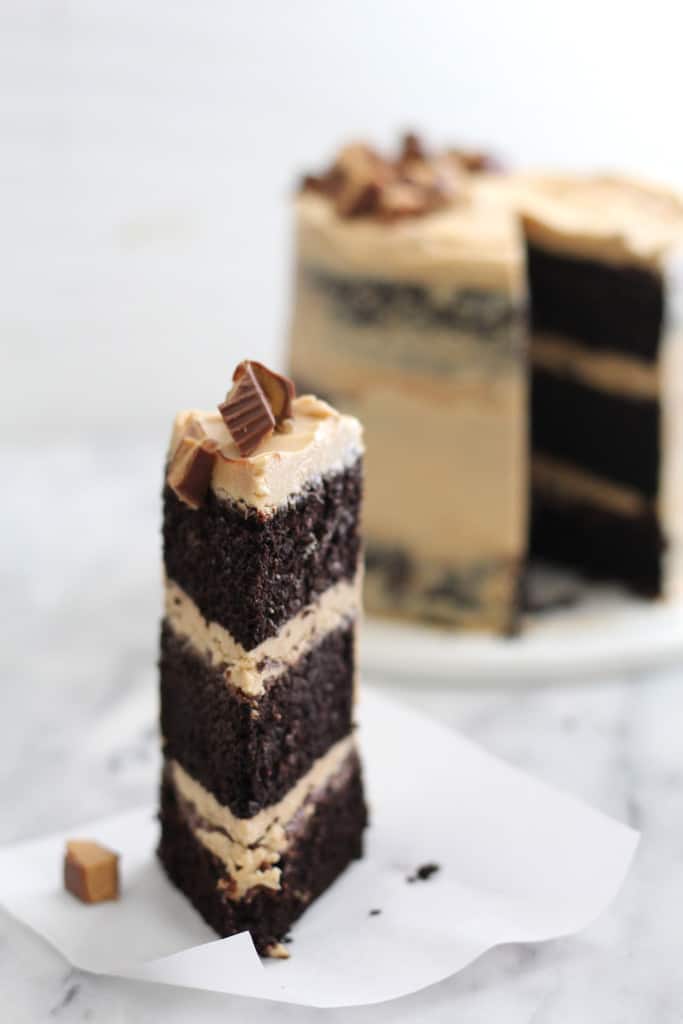 Thanks for your patience as I still figure out my life with two kids. Things in our lives are changing a lot in the next few months, more on that later, (I update a lot about my day to day on Instagram.) You'll be happy to hear that I have another awesome recipe planned for later this week though, so stay tuned. In the meantime- go make this cake! :)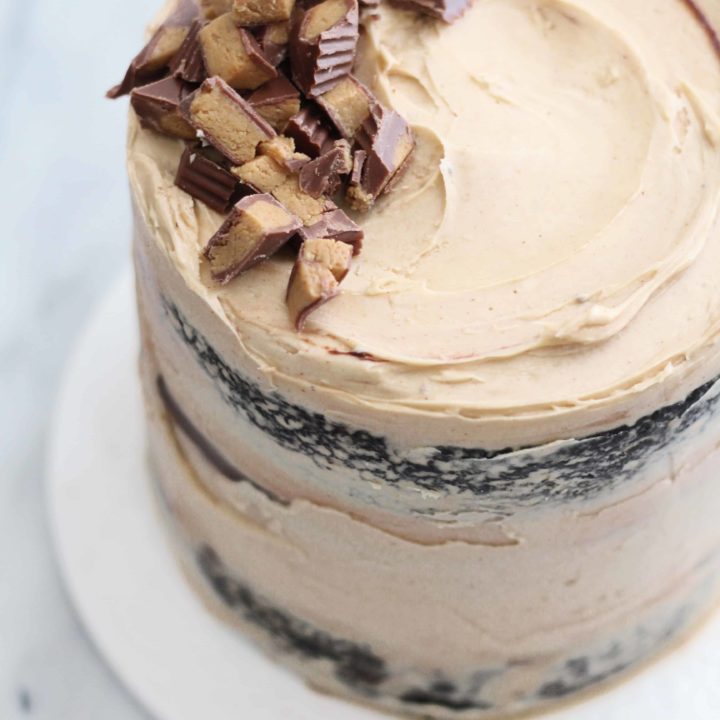 Naked Chocolate Peanut Butter Layer Cake
Ingredients
For the Cake:
1 cup plus 2 tablespoons unsweetened cocoa powder*
2 and ¼ cups all-purpose flour
2 and ¼ cups sugar
2 and ¼ teaspoons baking soda
1 teaspoon baking powder
1 teaspoon salt
3 large eggs
1 cup plus 2 tablespoons warm water
1 cup plus 2 tablespoons buttermilk
4½ tablespoons safflower oil
1½ teaspoons pure vanilla extract
For the Frosting:
12 tablespoons of butter, softened (1 1/2 sticks)
1 cup creamy peanut butter
3 cups powdered sugar
1/4 cup heavy cream, whipped to stiff peaks
For the Ganache:
4.5 oz dark chocolate, chopped
1/2 cup heavy cream
peanut butter cups to garnish (optional)
Instructions
For the Cake:
Preheat oven to 350F.
Grease and flour your cake pans, lining with a circle of parchment paper. (This can be 6, 8 or 9 inch pans, I would use at least 3 pans if doing 6 inch though.)
In a large bowl, whisk together the flour, cocoa powder, sugar, baking soda, baking powder and salt.
Stir in the water, buttermilk, oil, vanilla and eggs, continue to stir until batter is smooth.
Divide batter amongst the pans and bake for 25-35 mins, or until a cake tester inserted into the middle of the cake comes out clean. Set aside to cool.
For the Ganache:
Place the chocolate in a heat-proof bowl. Bring the heavy cream to a simmer on the stove-top, and then pour over the chopped chocolate. Whisk until smooth. Allow to cool and thicken before using. (I pop mine in the fridge or freezer.
For the Frosting:
Cream together the butter and peanut butter until smooth. Gradually add the powdered sugar until well combined. Fold in the whipped cream until frosting is smooth and fluffy.
To assemble:
Using a serrated knife, level each cake layer, slicing off the "domed" top to make it even. Place the bottom later on a piece of parchment paper on a cake turntable (if you have one.)
Spread a layer of ganache over the first layer of cake, sticking it into the fridge or freezer if needed to firm it up. (I stuck the whole cake into the fridge between each frosting layer.)
Follow with a layer of frosting, then another layer of cake, more ganache, more frosting etc. Add some frosting to the outside of the cake, smoothing with a spatula. Top with chopped peanut butter cups.
Notes
* Base cake recipe adapted from Martha Stewart