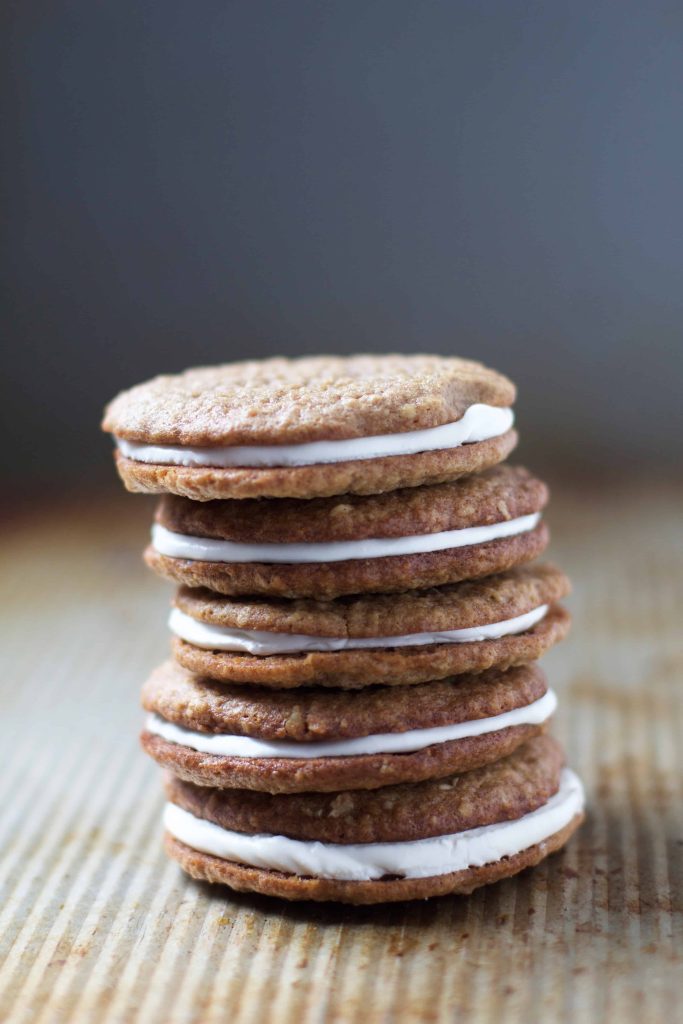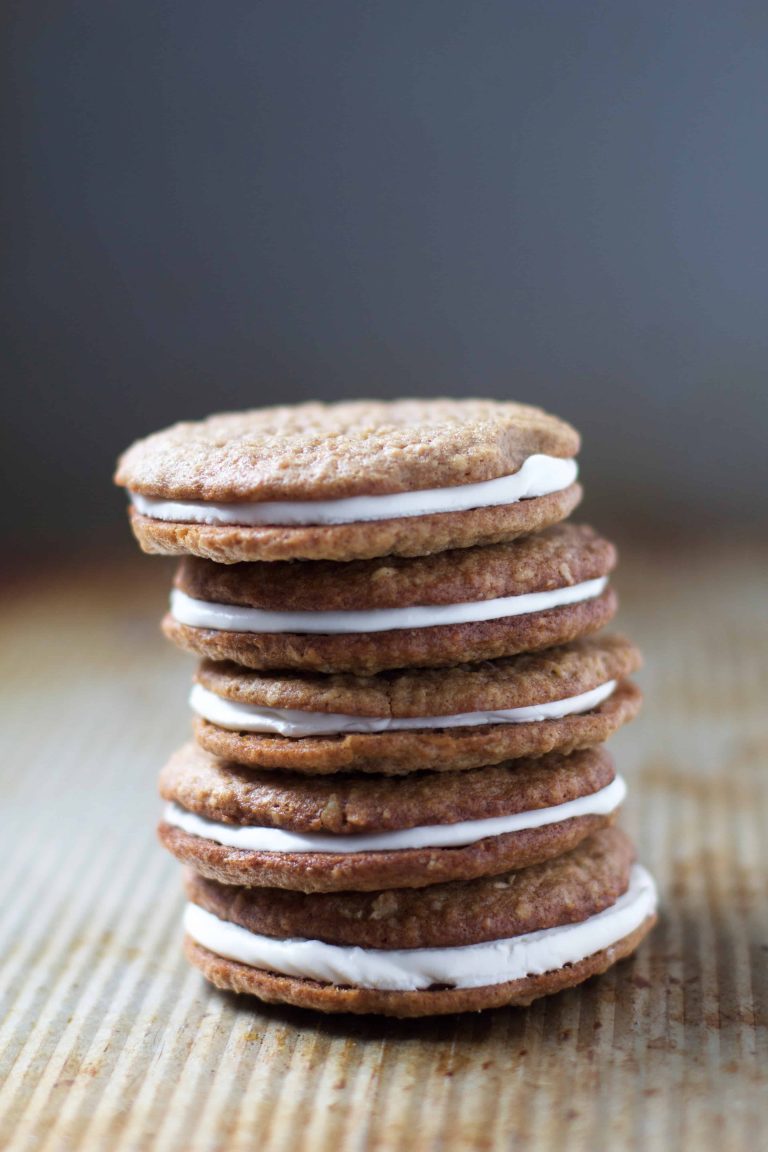 I woke up the other day craving a Little Debbie's Oatmeal Creme Pie. This is kinda weird because it's not like I had these a lot growing up. In fact I've probably had about 10 of them ever in my life, but earlier this week I just had to have one. I was craving that bite of chewy cookie with creamy, gooey filling. Once I had my mind set on making them- I got started experimenting with recipes until I got it right.
There are lots of recipes for these classics on the blog-o-sphere, but this one was by far my favorite. I wanted something easy- no crazy ingredients or steps, but also perfect flavor-wise. These were super chewy with slightly crisp edges. The marshmallow filling was simple but spot-on, making the cookies even softer & more chewy as they sat.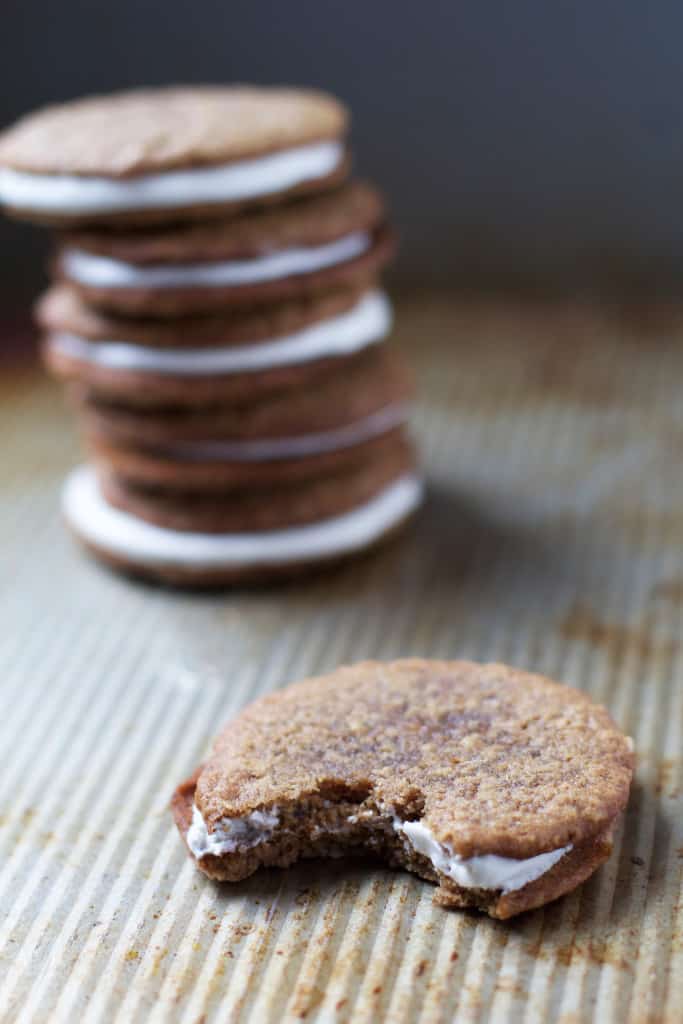 If I'd had a little more time, I definitely would have made my marshmallow fluff from scratch, but the store bought stuff works in a pinch. (Annie has a great recipe for a from-scratch version if you'd like.) I actually tried making these 3 times in one day and this was the version that I liked best. Unfortunately though by the time I actually finished these and was happy with them, Hugo was up from his nap and all up in my grill. He just couldn't keep his chubby paws off these. Within seconds he officially had his first bite of something I've baked (not counting his fruit-sweetened birthday cake,) and now it's all over. I had to eat the rest of my cookie in hiding- eating in front of him now would just be cruel don't you think?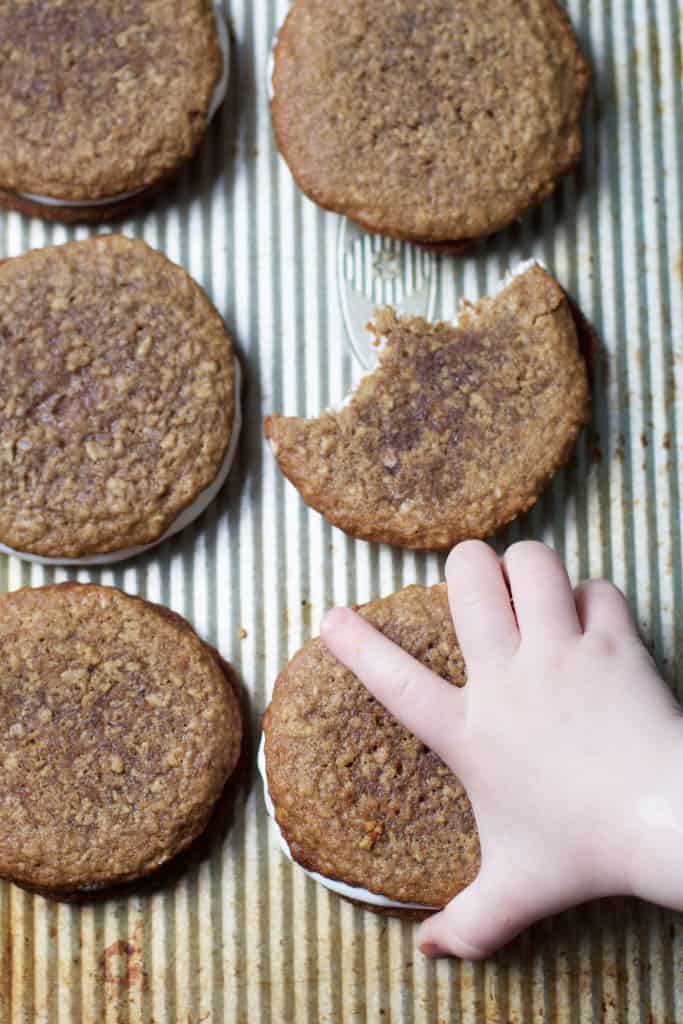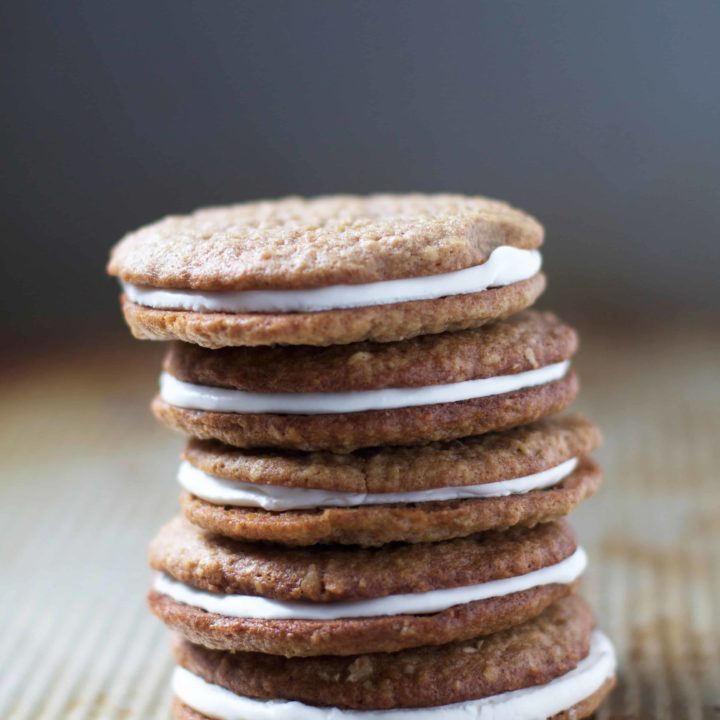 Oatmeal Creme Pies
Ingredients
1 cup butter, softened (2 sticks)
3/4 cup dark brown sugar
1/2 cup sugar
1 tablespoon molasses
1 teaspoon vanilla
2 eggs
1 1/2 cups flour
1/2 teaspoon salt
1 teaspoon baking soda
1 ?8 teaspoon cinnamon
2 teaspoons unsweetened cocoa powder
1 1/2 cups quick oats*
For the Filling:
2 cups of Marshmallow Fluff
1 stick of butter
1-2 cups of powdered sugar
1/2 teaspoon vanilla extract
Instructions
Preheat oven to 350F. In the bowl of a stand mixer fitted with a paddle attachment cream together the butter, sugars and molasses.
Add the vanilla, and eggs, one at a time.
Sprinkle the flour, salt, baking soda, cinnamon, and cocoa over the batter and mix on low until just combined. Add the oatmeal and use a spatula to fold it in until combined.
Drop tablespoon-sized rounds of dough on a parchment or sil-pat lined cookie sheet 3 inches apart (they will spread!)
Bake for 8-10 minutes or until the edges are just golden. (Don't overbake, the cookies will seem under done in the middle.)
Repeat with remaining dough and cool baked cookies on a wire rack.
For the Filling:
Cream together the butter and marshmallow fluff until smooth and fluffy. Add the powdered sugar and vanilla and mix until well-combined.
Spread of pipe filling into the cookies and store in an airtight container.
Notes
* If you don't have quick oats, pulsing some regular ones in your food processor will work too! Recipe adapted from: Food.Com
Nutrition Information:
Serving Size:

1 grams
Amount Per Serving:
Unsaturated Fat:

0g