Ocean-themed Vanilla Cupcakes for Broadway's "Anything Goes"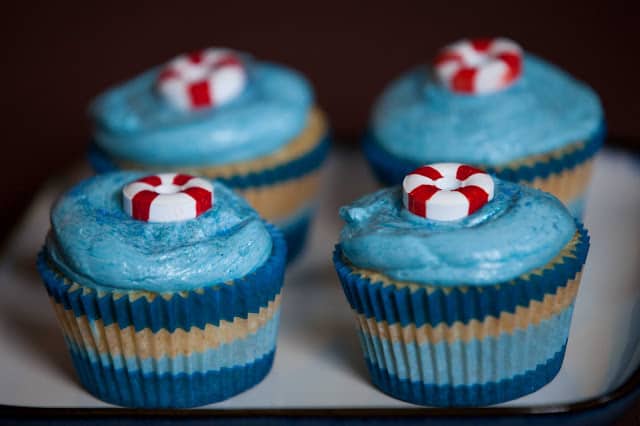 Two weeks ago my dear friend Laura Osnes asked me to help her with a little project. See, she is an amazingly talented Broadway performer and her current show "Anything Goes" was opening soon. The show takes place on a ship and she wanted to make maritime-themed cupcakes for opening night. We have always loved baking together, and I was so excited to put our heads together and come up with something creative and awesome.
We decided on a simple vanilla cupcake housed in ocean-esque liners. The frosting was basically just buttercream with a little cream cheese added in to make the texture creamier. We added a bit of royal blue gel food coloring to get the perfect sea-blue tint we were going for. On our baking-store-excursion we also got blue baking glitter which gave the frosting a lovely sparkly look. To top them off, we made life preservers out of white life savers and a red food marker. (Yes those exist!)
I love a basic vanilla cupcake because it leaves so much room to make it special. In the future, you will probably see many variations of this cupcake. I hope they always turn out as pretty and well-themed as these did. And they tasted amazing too!
We were lucky that her talented photographer husband Nate was around so he snapped these photos. (He is also the one who took the picture of me at the top of the site!) I have such talented friends…go see Laura and the rest of the sensational cast in Anything Goes!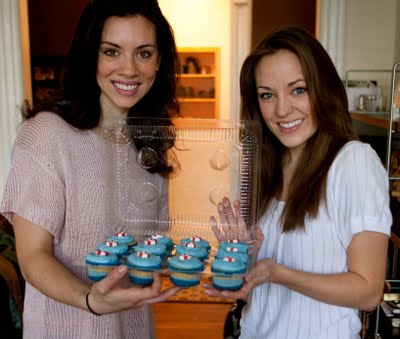 Ocean-themed Vanilla Cupcakes for Broadway's "Anything Goes"
Ingredients
1 1/2 cups self-rising flour
1 1/4 cups all-purpose flour
1 cup unsalted butter, softened
2 cups sugar
4 large eggs, at room temperature
1 cup milk
1 teaspoon vanilla extract
Frosting:
6 oz Cream Cheese
1 1/2 stick Butter
1 tsp Vanilla Extract
2-4 cups powdered sugar
Instructions
In a small bowl, add the flours; stir to combine; set aside.
In a large mixing bowl, cream the butter using an electric mixer on medium speed until smooth.
Add the sugar gradually and beat for 3 minutes or until fluffy.
Add the eggs, one at a time, beating well after each addition.
Add the dry ingredients in three parts, alternating with the milk and vanilla.
With each addition, beat until the ingredients are incorporated but do not overmix.
Spoon the batter into the cupcake liners, filling about 3/4 full.9 Bake in a 350° oven for 20-25 minutes.
Cool the cupcakes in the tin for 15 minutes.
Remove cakes from the tins and cool on a wire rack before icing.
For Frosting:
Cream butter and cream cheese with an electric mixer fitted with paddle attachment.
Mix in Vanilla
Add powdered sugar one cup at a time until you reach your desired consistancy.
Nutrition Information:
Yield:

2
Serving Size:

1 grams
Amount Per Serving:
Unsaturated Fat:

0g