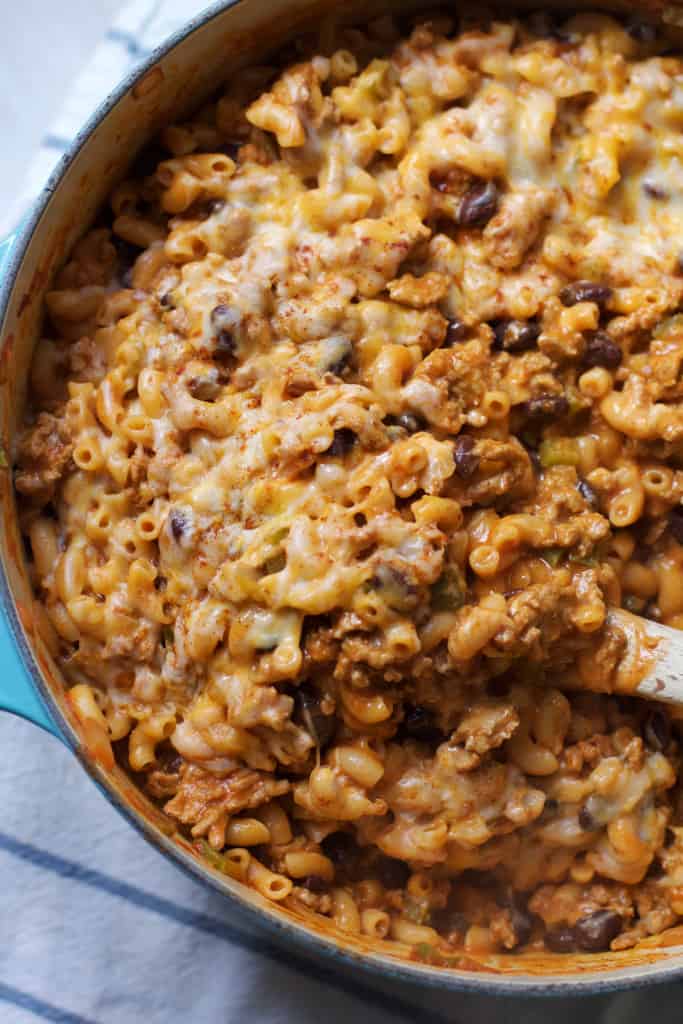 You guys there isn't much to say about this meal. It is simple. It is easy. It can be thrown together in no time and it is good. Like most comfort food, it is cozy and homey and delicious. Best of all- the whole family will love it. I'm basing this statement on how quickly Hugo devoured his portion, asking for "more more more!" in sign language, and also the report from my neighbor that her 4 and 2 year olds ate every bite. (They just had a new baby so I gave them some too, another perk of the meal- it freezes and travels well!)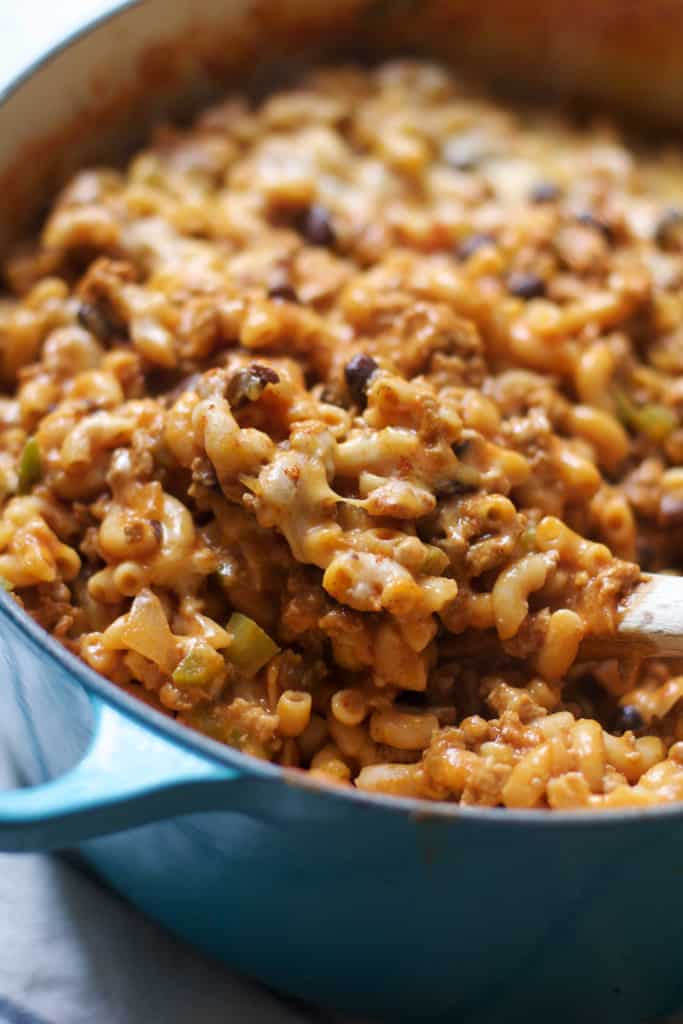 I just can't get enough of these simple, one-pot dinners. They make my life so easy. I can spend a short amount of time prepping a meal that will feed us for days. And when Hugo loves something this much, I feel extra relieved that I have him taken care of for a meal or two.
Like most meals of this nature, there really is a lot of room left for your own interpretation. I used ground turkey, but of course beef, chicken or just extra beans instead are all fine. You could use more peppers, more beans, or leave those things out. I think of the recipe as a great base meal, wonderful as is, that you should feel free to tweak here and there based on your own preferences. This is definitely a new family favorite- I hope you like it too!
One Pot Chili Mac and Cheese
Ingredients
1 large onion, small diced
2 tablespoons of chili powder
2 tablespoons of cumin
1 tablespoon of spoked paprika
2 cloves of garlic, minced
2 lbs ground turkey (beef or chicken would work too)
2 bell peppers, small diced
1 15 oz can of black beans, rinsed and drained
2 15 oz cans of tomato sauce
16 oz of elblow macaroni
2 cups of shredded cheese (we used cheddar and some jack)
Instructions
In a large pot or dutch oven heat 2 tablespoons of oil on medium high until hot. Add the onions and spices, and cook for 3-5 minutes until soft. Add the peppers and garlic, and cook for a couple minutes more, or until the onions are starting to brown and the garlic is fragrant.
Add the ground turkey. Break apart with a spoon and cook, stirring frequently, until all the meat is cooked through.
Into the pot add the beans, tomato sauce, 4 cups of water and the macaroni. Raise heat to high, and bring to a boil. Once boiling, reduce to a simmer and cook for 8-12 minutes, or until the macaroni is cooked.
Stir in the cheese until melted. Enjoy!