One-Skillet Cheesy Enchilada Bake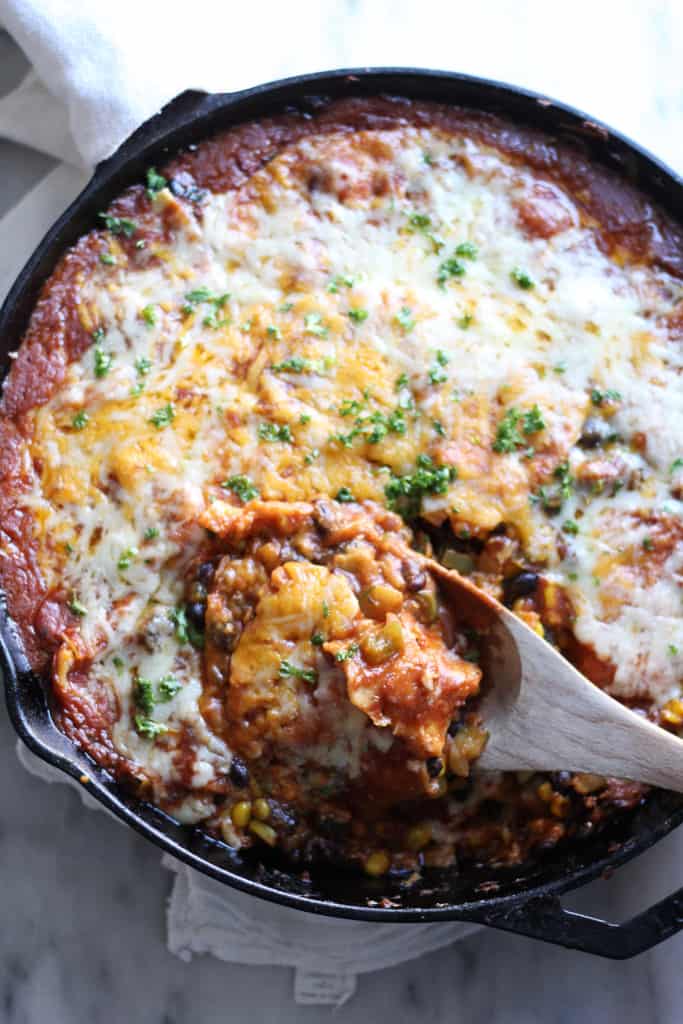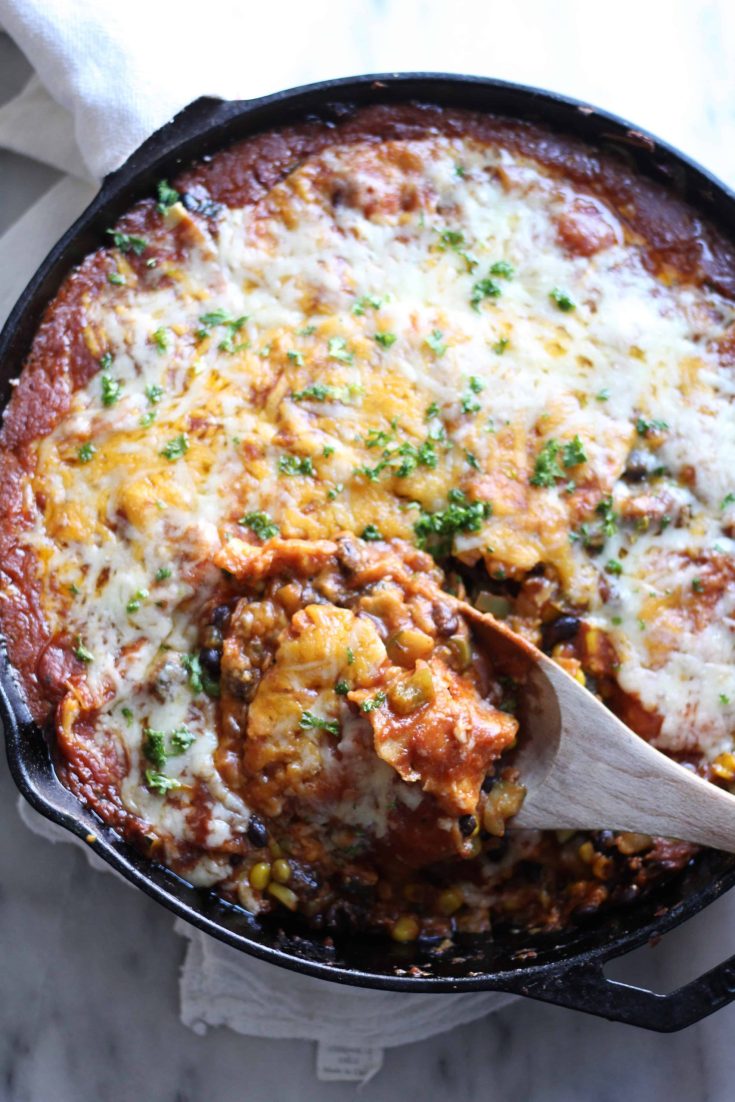 You know I'm always looking for fast, easy-to-prep, one pot dinners and this my friends, is a fabulous one. Earlier this week my brother in law Aaron, (who we have taught Hugo to call Uncle Jesse because Full House,) took Hugo for the afternoon. Fiona was happily zoned out in the baby swing, and I took advantage of the free time to make a real dinner for the fam. We've been slacking on veggies lately so I wanted it to be full of those, as well as some black beans for protein. I love eating vegetarian once in awhile and this was the perfect chance. Enchiladas are one of my favorite meals, but I couldn't deal with the extra step of rolling/assembling, so decided a layered, lasagna-like dish would be perfect.
I sauteed the veggies, (peppers, zucchini & corn in my case,) with some onion and spices, added the beans, and then layered the whole dish with corn tortillas, homemade enchilada sauce and cheddar cheese. Other than the 15 or so minutes it took to chop the veggies, this meal was so so simple. (And you can totally use store-bought enchilada sauce, I just can never find it at my local one and making it from scratch is super easy.)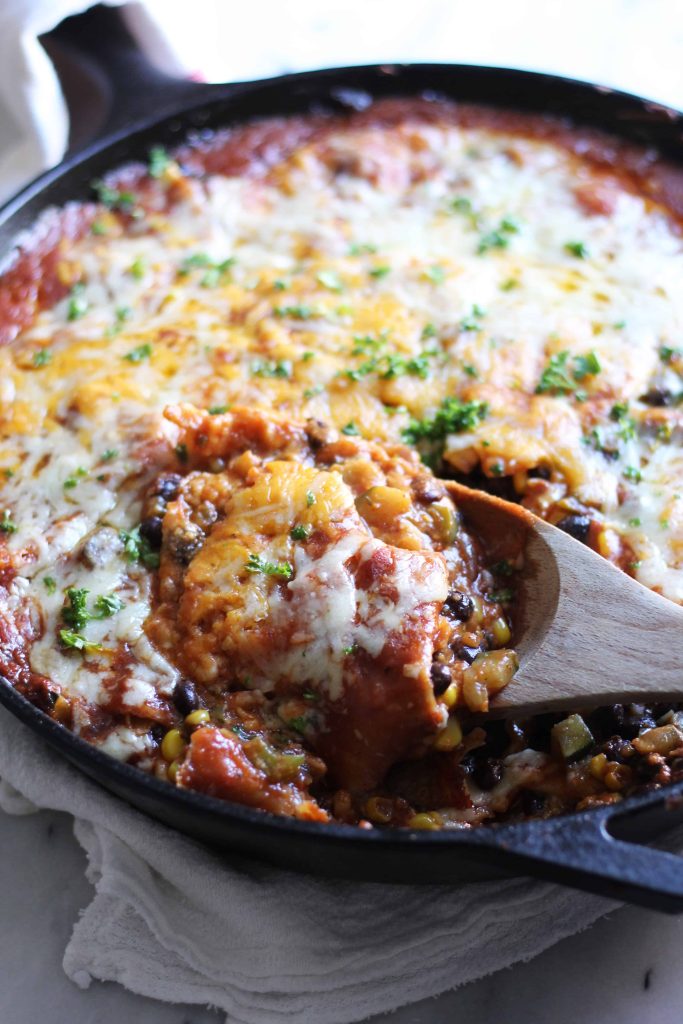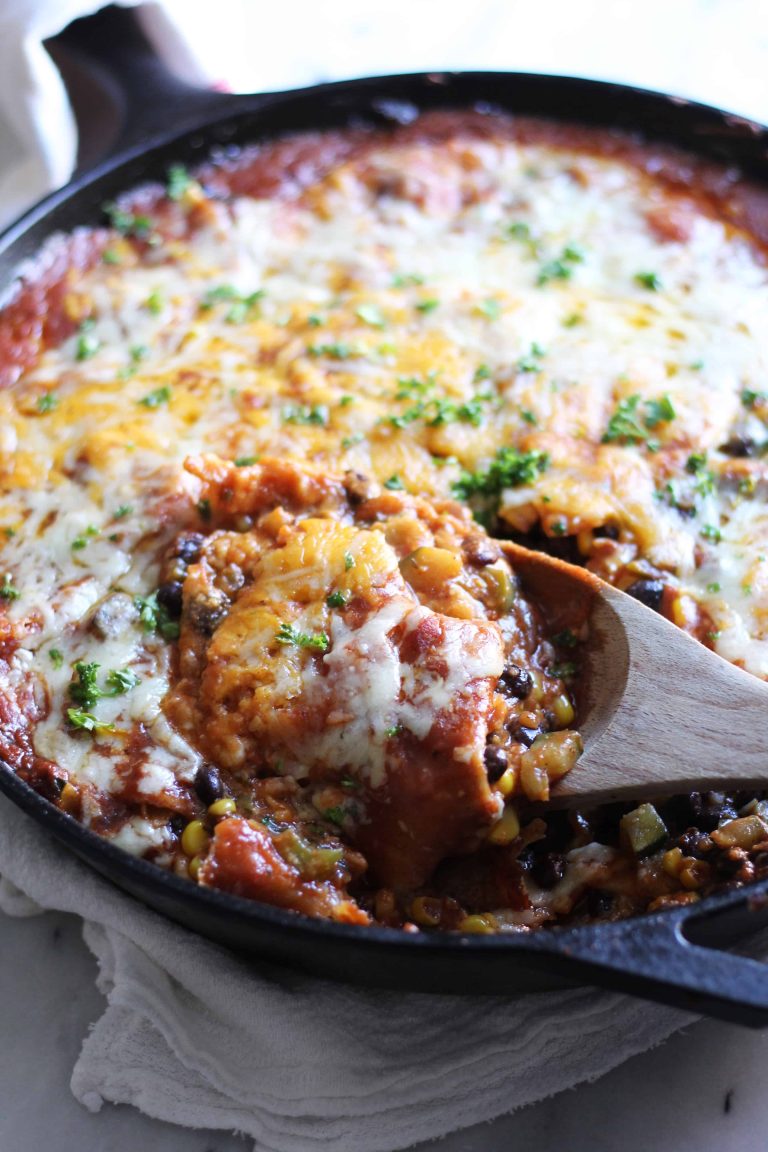 This meal could easily be made with whatever filling items you have on hand. Ground beef or turkey would be great, some leftover shredded chicken would work too, or any other veggies you feel like throwing in. I really love this concept- the flavor of enchiladas without and extra fuss or time. Served with some guacamole and a salty margarita- this would be fabulous and easy Cinco de Mayo dish don't you think? (I mean any excuse for a margarita really am I right?) Happy weekend!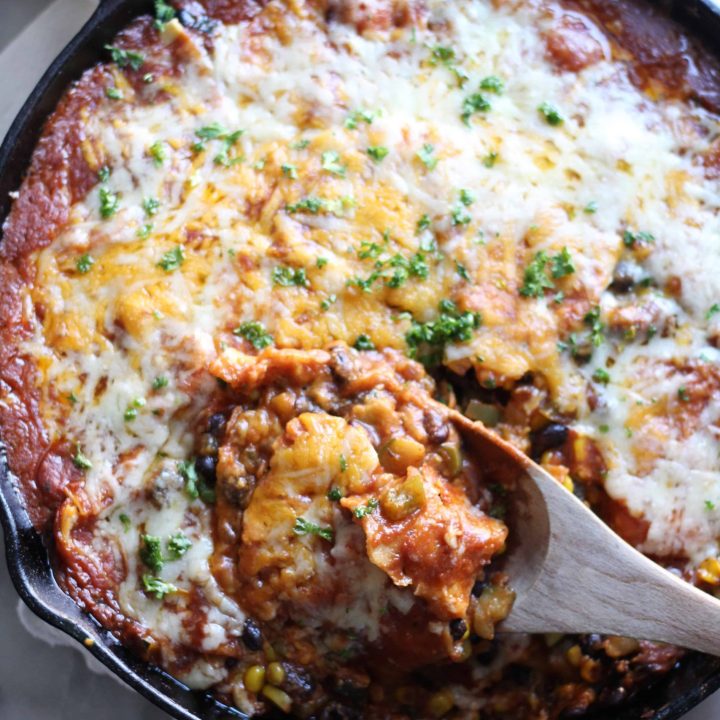 One-Skillet Cheesy Enchilada Bake
Ingredients
1 onion, diced
1 bell pepper, diced
1 zucchini, diced
1 cup corn (I used frozen)
1 15 oz can of black beans, rinsed and drained
2 tablespoons taco seasoning
3 cups enchilada sauce*
10 corn tortillas, cut into quarters
3 cups shredded cheddar, or jack cheese
Instructions
Preheat over to 375F.
In a large skillet, sauté the onion in a little olive oil for 5 minutes over medium-high heat. Add the peppers and zucchini and continue to cook until soft and golden- another 5-10 minutes.
Add the beans, corn, and taco seasoning and stir to combine, cooking for another 5 minutes. Add salt & pepper to taste.
Transfer the bean mixture to a bowl. (No need to wipe out the skillet.)
Spread a layer of enchilada sauce into the bottom of the pan, and spread out 1/3 of the tortillas. Top with more sauce until tortillas are covered with a thin layer. Add half of the filling and half the cheese.
Repeat one more time, layering sauce, tortillas, more sauce, and more filling. Top with a final layer of tortillas and the remaining cheese.
Cook for 15-20 minutes, or until the cheese is bubbly and golden.
Notes
*Enchilada Sauce from All Recipes. I doubled this recipe and it was perfect with a little extra. You could also use store bought.