Packers-themed Superbowl Treats!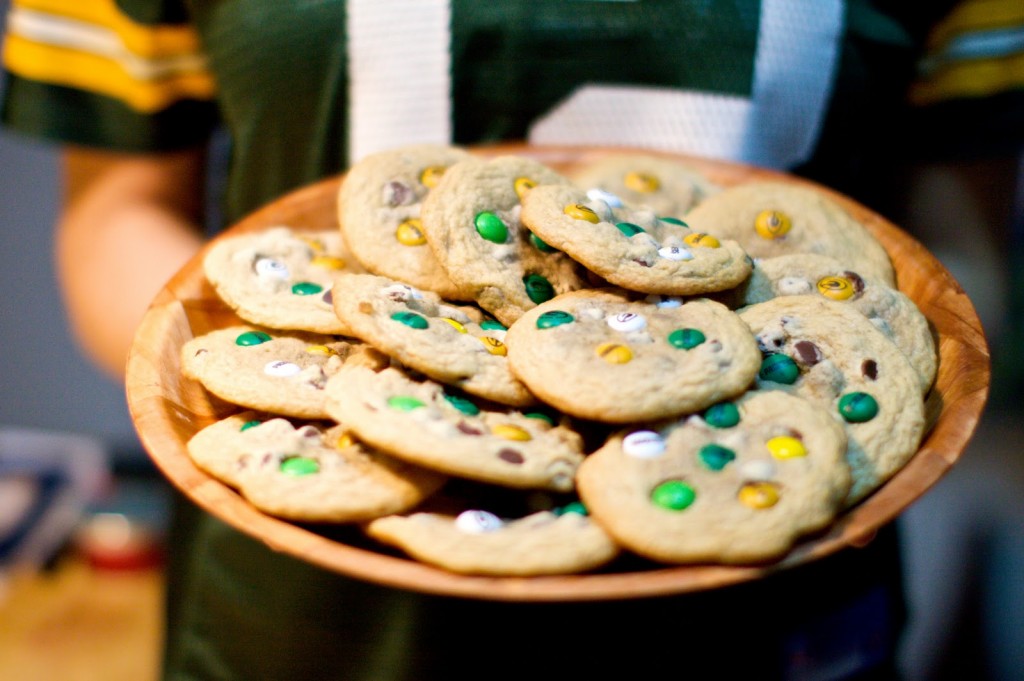 Hello Blogesphere! This is my first entry of my blog dedicated to all my culinary adventures. One week ago my beloved Green Bay Packers won the SUPERBOWL! As I am a die hard fan, I wanted to make some delectable treats that showed my team spirit. I decided to make my semi-famous chocolate chip cookies with some amazing Packers M&Ms I found here. I also wanted to make something savory so I chose deviled eggs on a bed of arugula!
My favorite choc-chippers are actually a variation of the Tollhouse Recipe with a couple small alterations. I like using salted butter, no nuts and a little extra vanilla. Enjoy!
My Semi-Famous Chocolate Chip Cookies. (With M&Ms)
Ingredients
2 1/4

cups all-purpose flour

1

teaspoon baking soda

1

teaspoon salt

1

cup

(2 sticks)

salted

butter, softened

3/4

cup granulated sugar

3/4

cup packed light brown sugar

1.5

teaspoon vanilla extract

2

large eggs- room temperature

1 1/2 cups semi sweet chocolate chips

1 cup of M&Ms

Directions
PREHEAT oven to 375° F. COMBINE flour, baking soda and salt in small bowl. Beat butter, sugars and vanilla extract in large mixer bowl until creamy. Add eggs, one at a time, beating well after each addition. Gradually beat in flour mixture. Stir in chocoalte chips. Drop onto parchment paper-ed cookie sheet in rounded tablespoons. (Or use a cookie scoop) BAKE for 9 to 10 minutes or until golden brown on edges. Right after they come out of the oven press the M&Ms into the top. (4/5 each cookie.) I just cool these on my counter top on the parchment paper, but you may use a wire rack as well. NOTE: I was using special design M&Ms so when I tried adding them before baking the Packers logos all melted off :(. But if you are using regular M&Ms it is perfectly fine to press them onto the cookie dough before baking!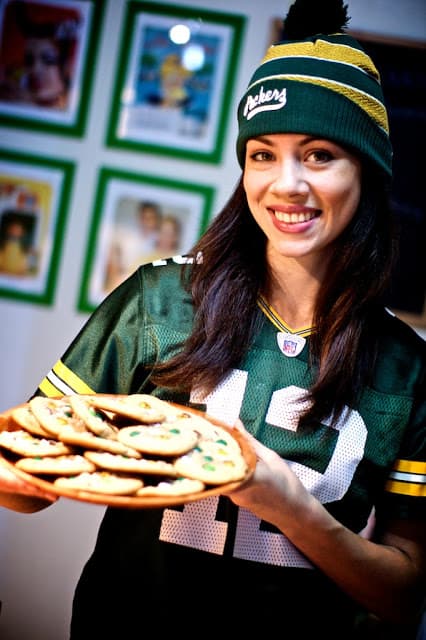 For my other Green Bay Packers-themed Superbowl treat I opted for a crowd pleaser: Deviled Eggs! Instead of getting too creative, I used a tried and true family recipe. I don't love biting into crunchy onion so I chose to grate in on my microplane for all that scallion-y flavor without the texture.

Simple but Delicious Deviled Eggs
One dozen hard-boiled eggs peeled and rinsed off
One cup Hellman's mayonaise
One bunch of green onions
Sea Salt and Fresh Pepper to taste
1 tsp Red Wine Vinegar
Cayenne Pepper (for garnish)
Cut eggs in half length-wise and scoop yolks into mixing bowl. Add mayo and blend on low/med speed with an electric mixer until creamy. Using microplane or other grater, shave down the green onions and add to yolk mixture. Add vinegar, salt and pepper and mix by hand until combined.
Arrange empty egg-whites on a tray or plate and using a pastry bag with a star tip- pipe in the yolk mixture. Sprinkle with cayenne pepper!
*Sidenote: These lasted on that tray for a VERY short time :)