Parmesan Rosemary Crackers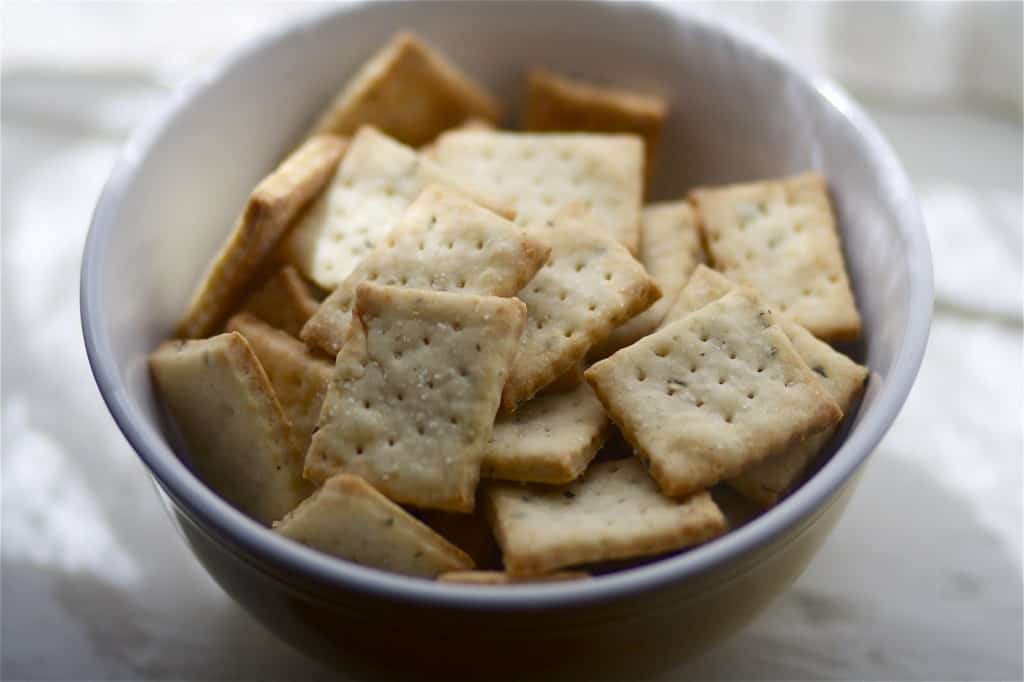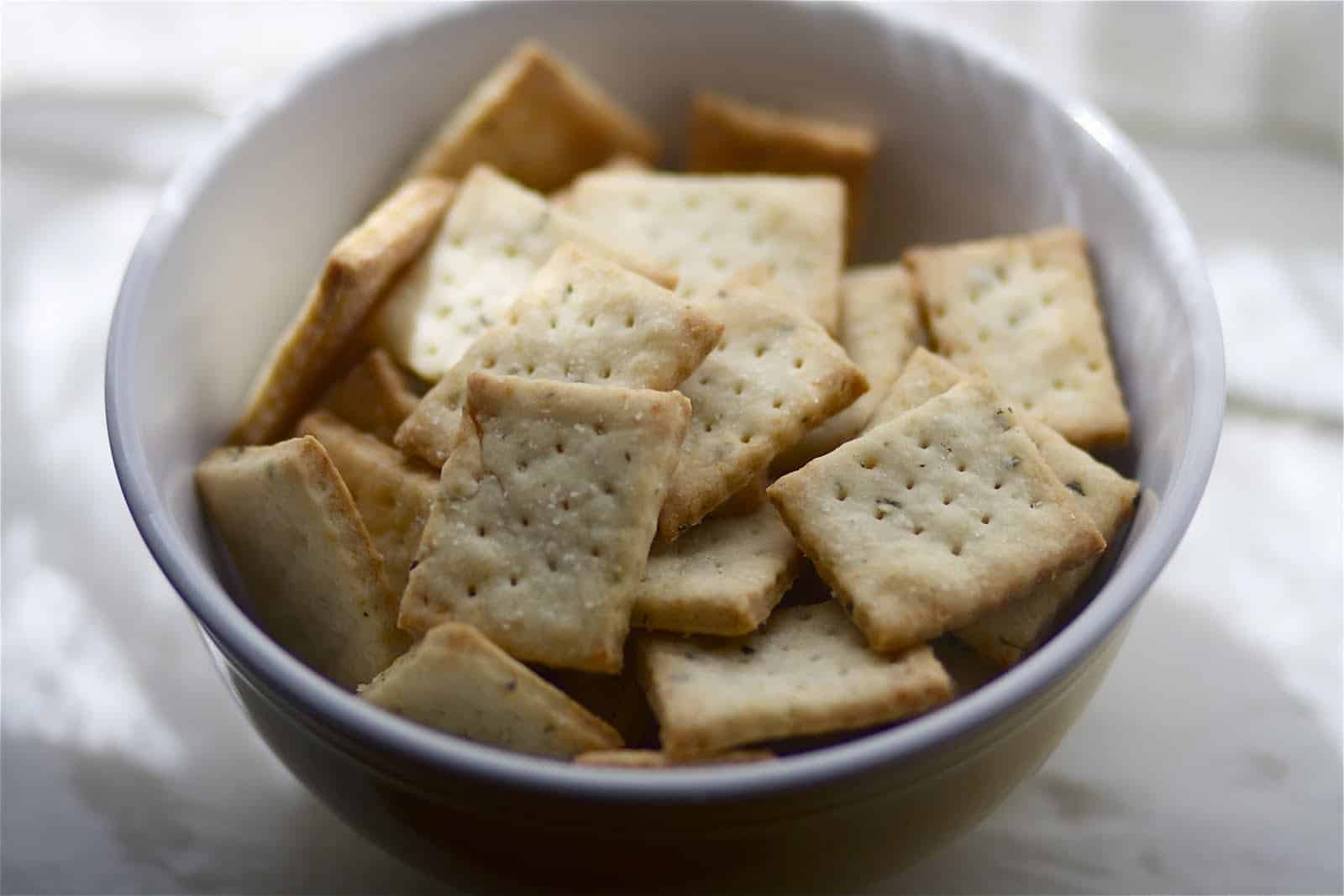 Snacks and Appetizers could be my dinner every night. Finger food, tapas, hor'dourves, small plates whatever you call them I like them a lot. In fact, though my blog as been primarily sweets, I am going to try to post a new savory snack every week. And then precede to eat the whole thing by my self.
These crackers are perfect for any dip, spread or cheese plate, (also amazingly good all by themselves.) Full of rosemary, fresh grated parmesan and topped with sea salt, these crackers are addicting. I made them for my book club and we dipped them in crab dip, white bean spread and tzatziki and the dips lasted longer than the crackers.
These babies are simple to throw together and go from ingredients on the counter to crackers in your mouth under 30 minutes, (you may want to allow them to cool, I did not!) The original recipe didn't have rosemary but I think it was a great addition. Any other herbs or spices or cheeses could also be good, I'd like to try them again with garlic, oregano, or maybe just lots of cheddar. Enjoy!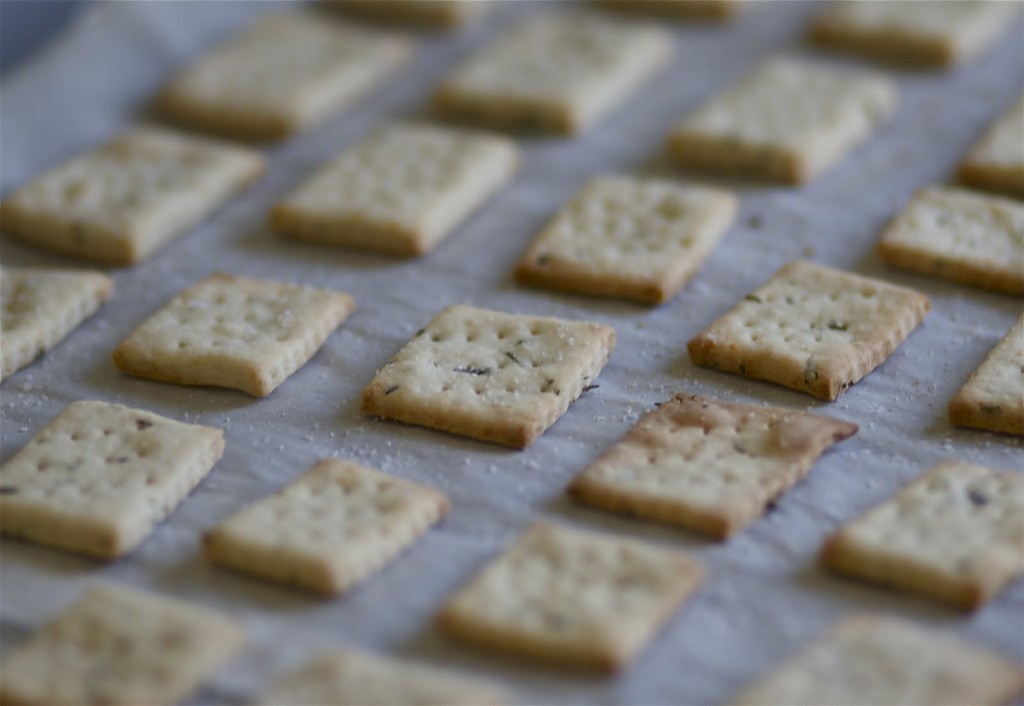 Parmesan Rosemary Crackers
1 batch- about 30 crackers
Print this Recipe
1 cup all-purpose flour, more as needed
1/2 teaspoon salt
1/2 cup finely grated fresh Parmesan cheese
3 sprigs of rosemary (with the herb removed from the stem.)
4 tablespoons unsalted butter
1/4 cup cream or half-and-half, more as needed
Coarse salt, pepper, sesame or poppy seeds or whatever you like for sprinkling (optional).
Heat oven to 400°F. Line a baking sheet with parchment paper or lightly dust with flour.
Put flour, salt, cheese, rosemary and butter in bowl of a food processor. Pulse until flour and butter are combined. Add about 1/4 cup cream or half-and-half and let machine run for a bit until a dough forms. If it does not come together, add more liquid a teaspoon at a time, until mixture holds together but is not sticky. (I only needed the ingredient levels as listed to pull the dough together.)
Roll out dough on a lightly floured surface until 1/4-inch thick or even thinner, adding flour as needed. From here, form them into individual crackers (I went for 1 1/2-inch squares cut with a fluted pastry wheel) and bake them 1/2 inch apart on your baking sheet (the method I used) For either method, stab all over with a fork and sprinkle with salt or any other toppings you are using.
Bake until moderately browned, about 12 minutes. Cool on a rack; serve warm or at room temperature or store in a tin for a few days.
Note: These get a little soft when stored in a container. If you are baking them less than a day in advance, it is Ok to leave them uncovered to maintain their best texture.
Adapted from Smitten Kitchen