Peanut Butter and Jelly Sandwich Cookies
Hello! I've been busy the last week- traveling around on the West coast and now back to Eastern time still having a hard time adjusting. I must be the worst person on the planet when it comes to time changes- it always takes me days to feel normal again. Plus- I started my baby registry the other day and I have been a bit obsessed. It's really pretty incredibly fun but also stressful and confusing. I want the least amount of "stuff" as possible as we live in an apartment and I hate clutter. I'm trying to stick to the bare bones of baby things whenever I can. If you have any "must have" or "waste of space and money" suggestions please pass them on!
Anyway- it seems like the energy in the world shifts this time of year as the kiddos go back to school and we gear up for fall. I remember being so incredibly excited for my first day of school. I loved the school supplies, running to see my class list, and organizing my schedule. I seriously miss that feeling of excitement knowing that a new start was coming. (And I always had at least two first day of school outfits planned!)
For some reason, PB&J always gets me thinking of school starting. Maybe because it's what I had in my lunch most days, or maybe it's just the iconic flavor combo that makes me a bit nostalgic. Either way- I thought these would be the perfect back to school treat- two crisp and chewy peanut butter cookies with creamy peanut butter filling and a dollop of grape jelly. (I found some organic stuff at Trader Joes that is SO good and not full of artificial flavoring. Otherwise I would have used strawberry jam.)
To start- the peanut butter cookie recipe used here is my new favorite and really perfect. I'm always looking for that crispy edged, super chewy middle and this is it! I may or may not have eaten a few of them before making myself stop so I had some to fill with PB&J. The filling is the perfect touch of creamy peanut butter and fruity jelly that tastes like a little bit of childhood. I think I would be just about died if I found one of these in my lunch box instead of a sandwich!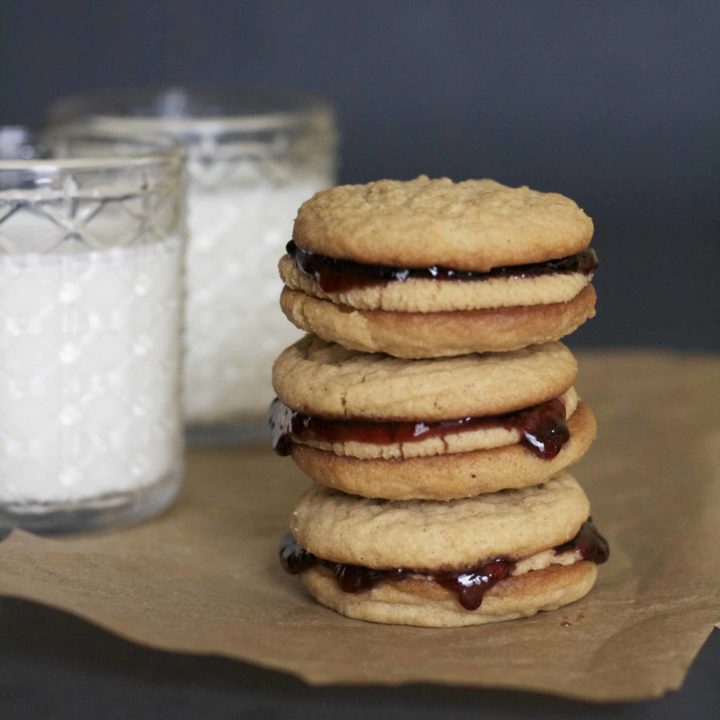 Peanut Butter and Jelly Sandwich Cookies
Yield:
1 dozen sandwich cookies
Ingredients
1 1/4 cups 6.25 oz unbleached all-purpose flour
1/4 tsp. baking soda
1/4 tsp baking powder
1/2 tsp salt
1 stick unsalted butter, softened
1/2 cup packed light brown sugar
1/2 cup sugar
1/2 cup creamy peanut butter
1 large egg
1 tsp. vanilla extract
For filling:
2 tablespoons unsalted butter, softened
1/4 cup creamy peanut butter
1 1/2 cups powdered sugar
2 tablespoons cream or milk
1/3 cup jelly or jam
Instructions
Preheat the oven to 350F. Line a baking sheet with parchment or a silpat- set aside.
Whisk the flour, baking powder, baking soda and salt together and set aside.
In a large bowl with an electric mixer, cream the butter and peanut butter together until smooth. Add the sugar and mix on medium-high speed until well combined- scraping the bowl as necessary. Add the egg and vanilla and mix well.
Gradually add the dry ingredients to the peanut butter mixer.
Use a small scoop or a roll dough into 1 inch balls. (If you are rolling not scooping you may need to chill the dough slightly.)
Bake for 10-12 minutes- the cookies won't look fully baked- (the edges should be golden.) Cool on cookie sheetings until set and then transfer to a cooling rack.
For Filling:
In a medium sized mixing bowl, beat together the butter and peanut butter. Add the powdered sugar and mix until dry and crumbly. Add one tablespoon of cream at a time. Mixture with be thick- but add another tablespoon of cream if needed.
Pipe onto one side of the cookie pairings and top with a little dollop of jelly in the middle. Smoosh the top cookie onto the filled side and push the filling to the edges.
Notes
Cookie recipe adapted from Baking Illustrated
Nutrition Information:
Yield:

1
Serving Size:

1 grams
Amount Per Serving:
Unsaturated Fat:

0g