Peanut Butter Banana Cream Pie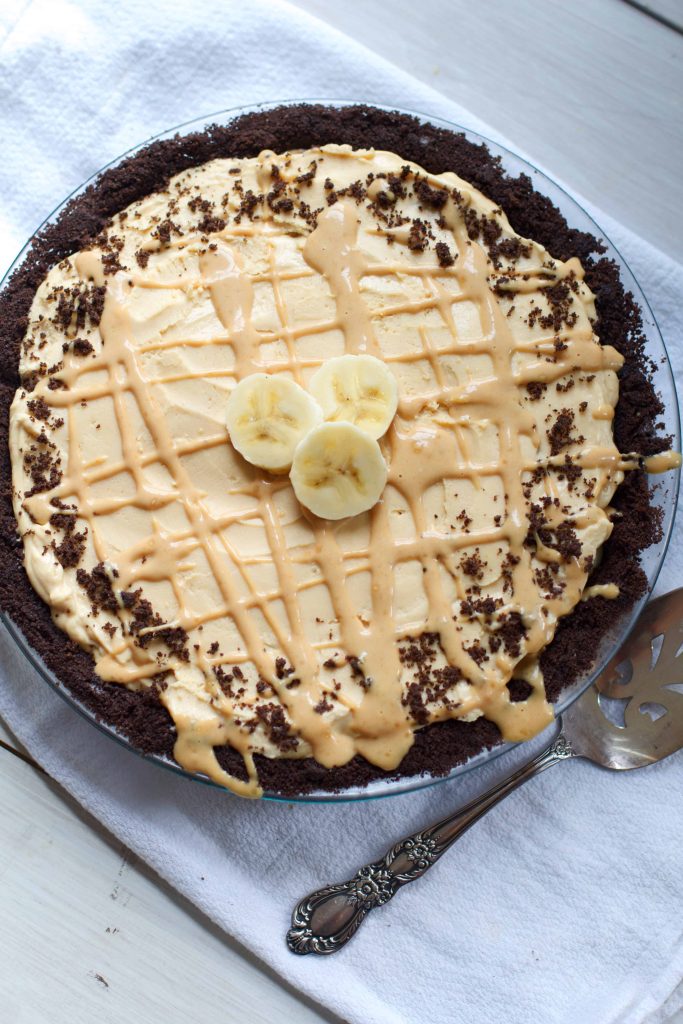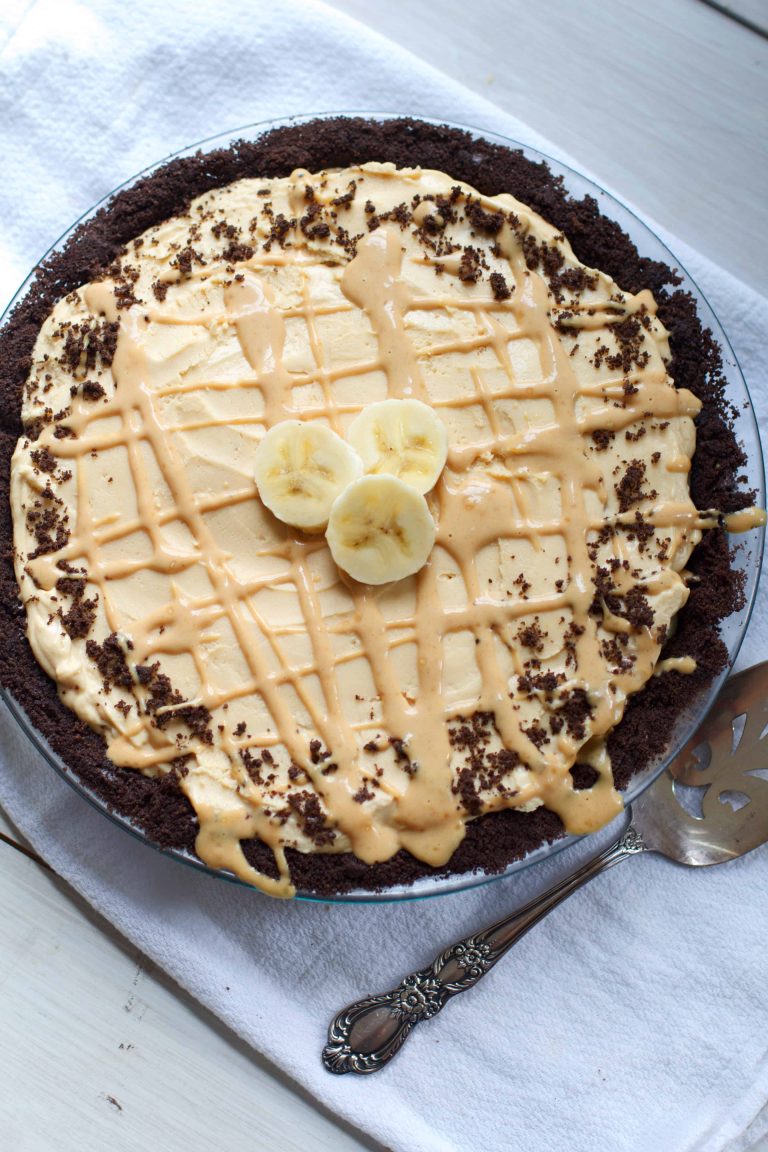 Are you ready for some Thanksgiving inspiration?? I am officially kicking on Thanksgiving week over here starting with the first of 3 pie recipes you'll get between now and T-day.
In store for you is a pumpkin pie, a delicious fruity one, and this chocolate, banana, peanut butter perfection.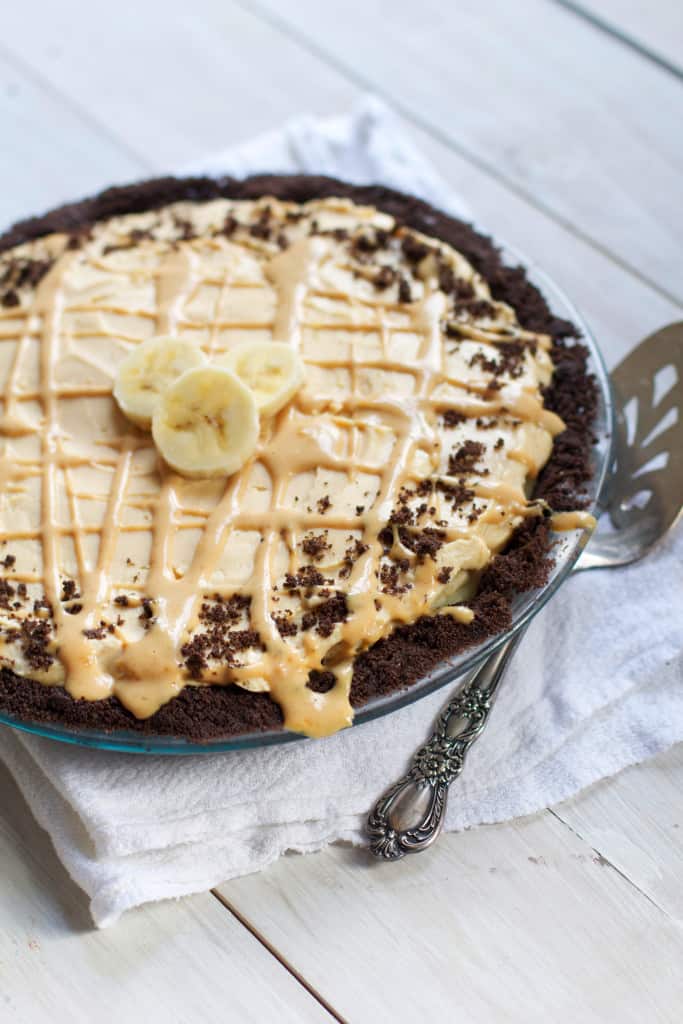 I love a classic no nonsense Banana Cream Pie, but thought jazzing it up with some chocolate and peanut butter wouldn't hurt anyone am I right?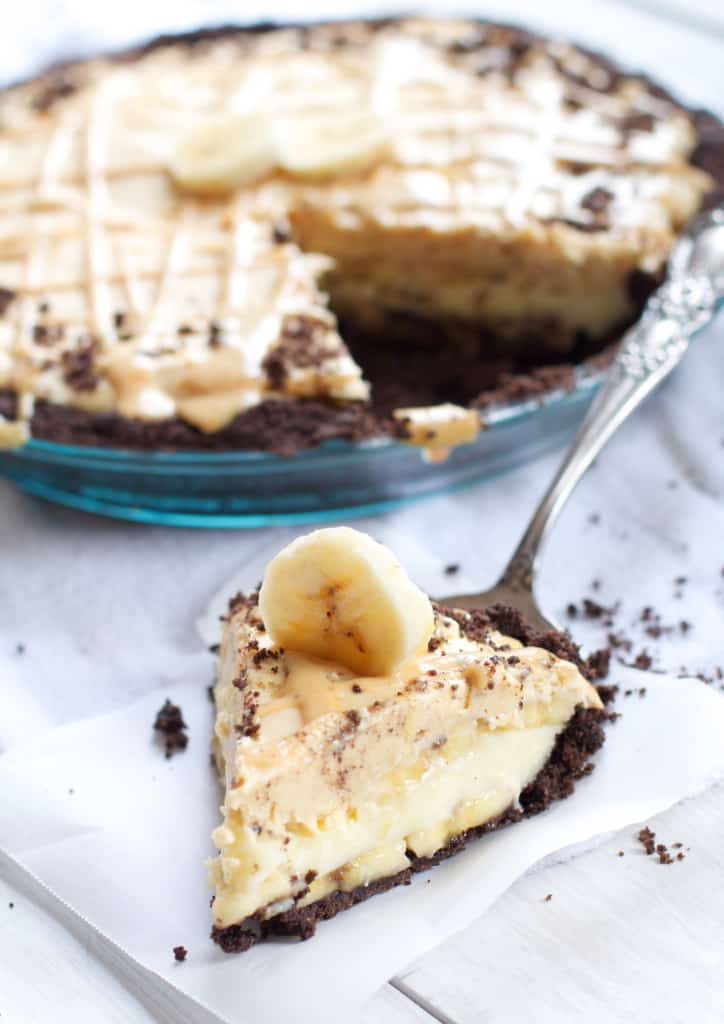 A chocolate cookie crust houses 4 layers of creamy pie goodness: banana slices, vanilla bean pudding, more banana slices, and peanut butter mousse.
This is just too good. It's a bit saltier than regular banana cream pie which I liked a lot. I also whipped up a quick peanut butter sauce as a topping which was the perfect touch.
Now I am someone who happens to love all types of pie, (really I do,) but for those who don't care for the traditional apple & pumpkin- this may be a fabulous addition to your Thanksgiving spread.
Stay tuned- lots more Thanksgiving goodies coming your way this week!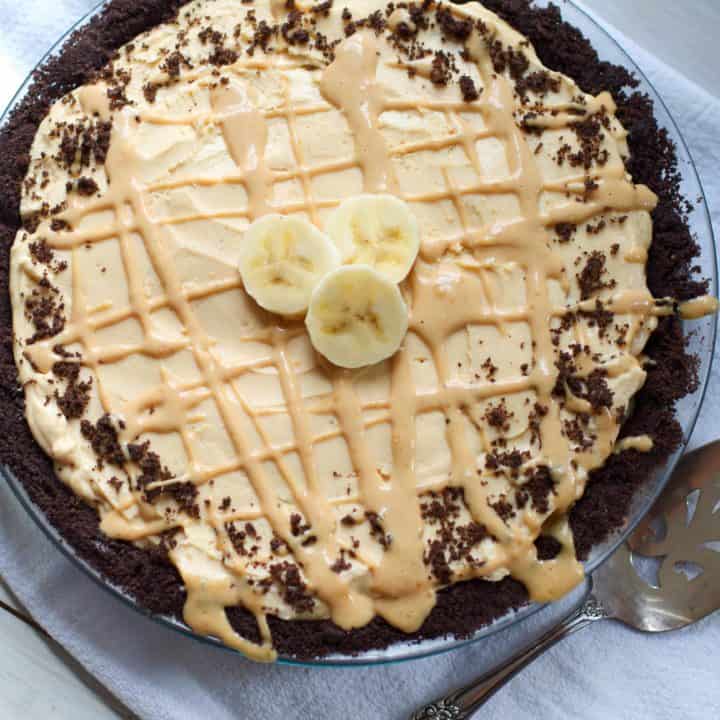 Peanut Butter Banana Cream Pie with a Chocolate Cookie Crust
Ingredients
For the Crust:
20-25 Oreo Cookies
3 tablespoons of butter
pinch of salt
3 ripe bananas
The the Pudding:
2 1/4 cups whole milk
2/3 cup sugar
3 egg yolks
1/4 cup cornstarch
1 teaspoon vanilla
1 tablespoon butter
Peanut Butter Mousse
3 ounces cream cheese, room temperature
1/2 cup powdered sugar
1 teaspoon vanilla extract
1/3 cup creamy peanut butter (do not use old-fashioned or freshly ground)
2/3 cup chilled heavy whipping cream
For Peanut Butter Sauce: (optional)
1 tablespoon peanut butter
1 tablespoon powdered sugar
1-2 teaspoons of milk
Instructions
For the Crust:
Place the Oreos in a large ziplock bag and crush them into fine crumbs with a rolling pin. Stir in the melted butter until the crumbs are moistened- stir in the salt.
Press the crumbs into the bottom and sides of a 9-inch pie dish. Bake at 350F for about 10 minutes or until set.
For the pudding:
Combine 2 cups of milk and the sugar in a medium-sized saucepan over medium heat. Stir together and heat until simmering.
Whisk egg yolks together and slowly pour about half of the milk mixture into it with one hand while whisking with the other until combined. Pour the egg mixture back into the pot with the rest of milk.
In a small bowl combine the remaining 1/4 cup of milk with the cornstarch until thick and combined. Pour it into the milk mixture and turn the heat back up to medium. Whisk constantly until very thick and bubbling like lava.
Remove from heat and stir in the vanilla and butter.
Allow the pudding to cool a bit as you prep the mousse.
For the peanut butter mousse:
Using an electric mixer, beat cream cheese and powdered sugar in medium bowl until smooth. Beat in vanilla, then peanut butter.
Whip cream in another medium bowl until firm peaks form. Fold large spoonful of whipped cream into peanut mixture to loosen, then fold in remaining whipped cream in 2 additions.
To assemble:
Layer the pie in the prepared crust as follows: Sliced banana, pudding, bananas and mousse. Chill for at least 3 hours or overnight.
For peanut butter sauce:
Melt peanut butter in the microwave until thinned. Whisk in powdered sugar and enough milk to thin it for drizzling. Drizzle the sauce over the pie before serving.