I realized something last week which was utterly shocking and embarrassing, and needed to be remedied immediately. I haven't posted a chocolatey recipe since June. JUNE. That is a really long time. It was actually Andy's Classic Chocolate Birthday Cake and I vividly remember having to cover my face with a dish towel during the frosting of it because my first trimester and chocolate didn't go together very well. The smell did horrible things for me, but since he wanted chocolate cake I made it happen for him. I suppose that memory kept me far away from chocolate all during the rest of my first and second trimester too, until last week when I really wanted some and realized that it has been so long. (PS- I am going to be in my third trimester in a couple weeks. That absolutely blows my mind.)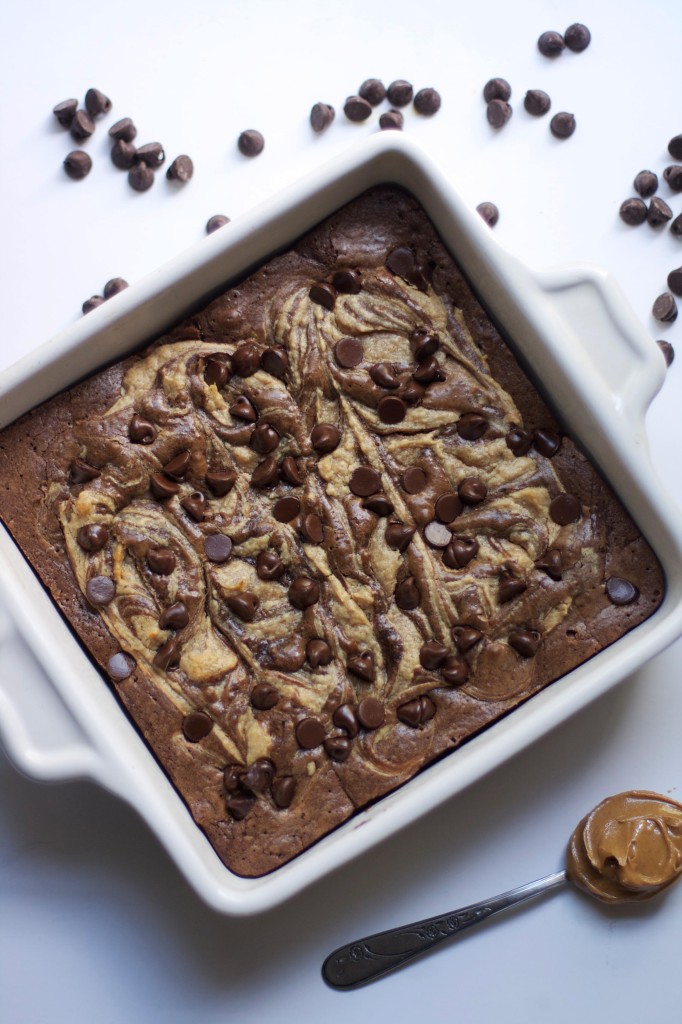 Ok- I just remember I did made chocolate croissants a few weeks ago, but those just had a small amount of chocolate, and last week I was craving something rich, fudgy and worthy of a 25-week pregnancy craving. Peanut butter cheesecake swirled into brownie batter seemed like the perfect way to go and I'm so happy with how these turned out. The pan didn't last long and it sure hit the spot when I really needed something rich and decadent. Peanut butter cheesecake batter is swirled into a great basic brownie recipe and topped with chocolate chips for an extra chocolate-y punch. These would be a sure-fire crowd pleaser for anyone who loves the classic flavor combo, (and really how could you not??)
Peanut Butter Cheesecake Brownies
Yield:
16- 2 inch brownies
Ingredients
Brownie Batter:
1 stick (1/2 cup or 4 ounces) unsalted butter, cut into pieces
3 ounces high quality dark chocolate, chopped
1 cup sugar
2 large eggs
½ teaspoon pure vanilla extract
⅔ cup all-purpose flour
1 tablespoon cocoa powder (dark is best)
Cheesecake Batter:
6 ounces cream cheese, softened
⅓ cup peanut butter
⅓ cup sugar
1 large egg yolk
¼ teaspoon pure vanilla extract
Topping:
½ cup semisweet chocolate chips
Instructions
Put oven rack in middle position and preheat oven to 350°F.
Spray or butter an 8-inch square baking pan.
Fashion a double boiler by resting a large heat proof bowl over a saucepan of simmering water. Add the butter and chopped chocolate and whisk occasionally until melted.
Remove from heat and stir in sugar, eggs, vanilla, and a pinch of salt until well combined. Whisk in flour and cocoa powder until just combined, and pour into prepared pan.
Make cheesecake batter:
Mix together cheesecake batter ingredients in a small bowl until smooth. Drop over brownie batter, (getting it all the way to edges, which I kinda failed at,) then swirl in with the back of a knife or skewer.
Sprinkle chocolate chips over the top of the swirled batters. Bake until edges are slightly puffed and center is just set, about 35 minutes. (You can serve these warm or room temperature, but I prefer them cold- and they slice much easier that way!)