Peanut Butter Chocolate Chip Mini-Muffins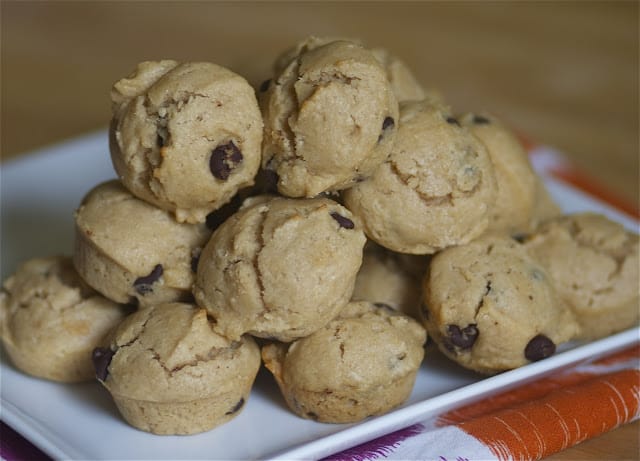 Sometimes when it comes to baking, I try to make something really extraordinary. You know, something unique, different and creative. Something that will catch the eye as being one-of-a-kind…… Sometimes though, I just want to perfect popular, classic recipes. And though I often feel pressure to be pushing myself to try new things, I have to remember that it can't hurt to get good at the basics.
Now you very well may have seen these muffins before. What's not to like? Peanut butter muffin with chocolate bits throughout. Quick, easy, fail-proof and a guaranteed crowd pleaser. I made these for another friend who just had a baby. I knew her husband loves this flavor combo and I figured it would be an easy snack to grab amidst feedings.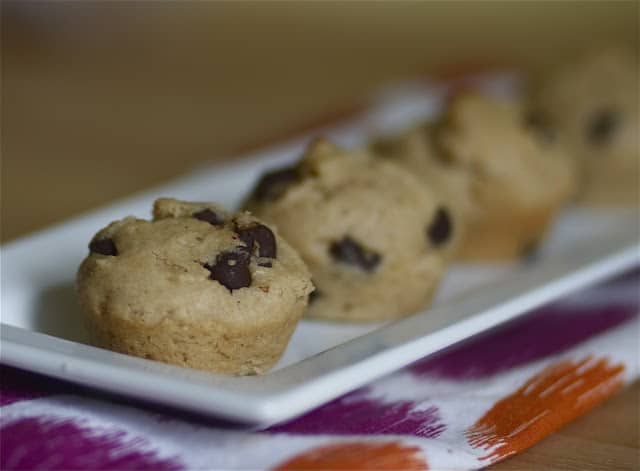 I really can't recommend this recipe enough. They look so rounded and crackly on top people will think you bought them at a bakery. I made these minis as I thought it would be easier for my new-parent-friends, but making 12 regular-sized muffins would be great too. If you are looking for something to bring to a brunch, pot-luck, bake sale etc. I think this is a great option that isn't too sweet but also very satisfying. Enoy!!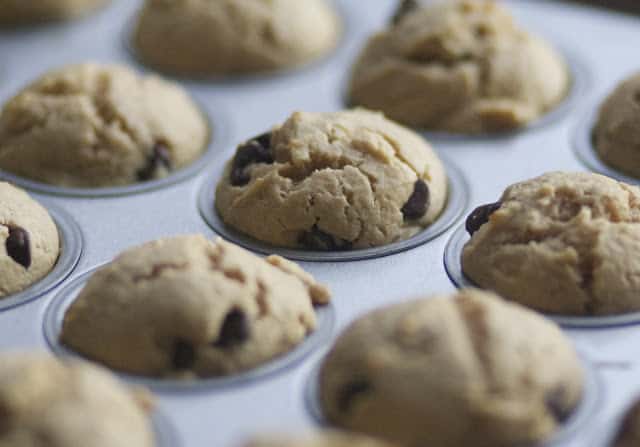 Don't these kinda look like little scoops of Ice Cream? :)
Peanut Butter Chocolate Chip Mini-Muffins
Ingredients
2 ¼ cups all-purpose flour
2 tsp. baking powder
½ tsp. salt
2/3 cup brown sugar
6 tbsp. butter, melted and cooled
½ cup peanut butter
2 large eggs
1 cup milk
¾ cup chocolate chips
Instructions
Preheat oven to 375°. Spray a 24-mini-muffin tin with cooking spray or use liners. (Or make 12 regular muffins.)
In a medium bowl, whisk together the flour, baking powder, salt and brown sugar. Set aside.
In a large bowl, whisk together the melted butter, peanut butter, eggs and milk until smooth. Add in the flour mixture and stir until just combined. Stir in chocolate chips. Divide batter evenly between prepared muffin tins, filling each to the top.
Bake for 13-16 minutes or until a toothpick inserted in the center comes out clean. Allow to cool for 5 minutes in the pan, then remove to a wire rack to cool completely. (Baking time will be longer if you make 12 muffins.)
Nutrition Information:
Serving Size:

1 grams
Amount Per Serving:
Unsaturated Fat:

0g