Peanut Butter Frosted Blondies with Brownie Hearts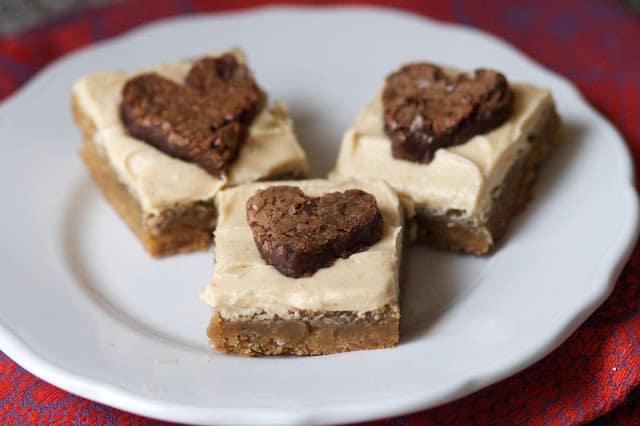 Sometimes an amazing recipe happens because of a huge disaster. You know- I have a brilliant idea, I start to whip it up, and then an hour later I'm almost in tears because nothing turned out quite right. Sometimes I end up throwing in the towel and weeping over burnt cookies (or whatever.) But other times, like with these babies, I reach into my baker's bag of tricks and come up with something that is actually even better.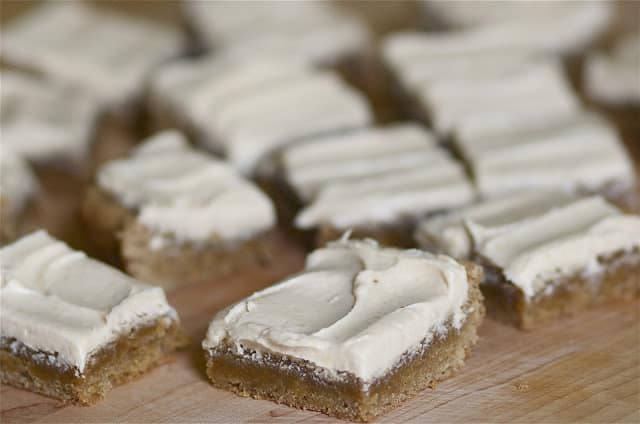 My goal was to make something like these. A pan of blondies, a pan of brownies- hearts cut out and swapped and just like that- a cute and festive V-day treat. In my case though, things didn't work out so well. The blondies were perfect, but the brownies were thinner and a cut-out swap situation wouldn't work. So, I whipped up some quick peanut butter frosting, slathered it on, and nestled in a little reject brownie heart. When I took a bite and got the whole brown sugar-under-peanut butter-under fudge thing happening in my mouth- I knew this was a recipe worth sharing.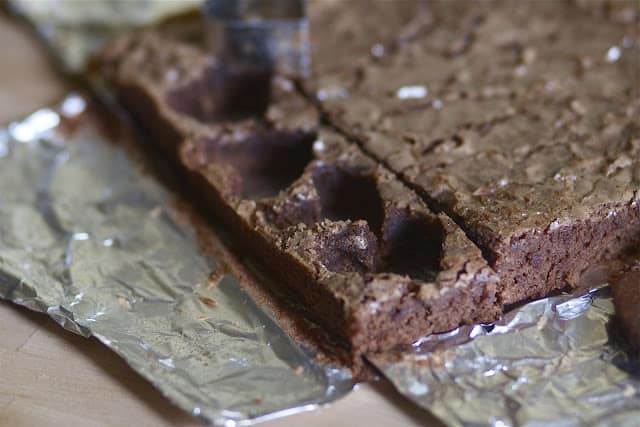 The crackly fudgy brownies were cut into cute heart shapes before being stuck on top of the creamy frosting. I used the thinner outer layer of the brownies, so the inside could be used for something else. (though I'm pretty sure you can find use for a bowl of brownie scraps.) Also- if your brownies are too thick to perch on top of the frosting, just slice it in half to make it a little thinner. (And then you get to eat the bottoms!)
See- not all V-day treats need to be pink and red. (though I like those too.) I can promise these will make your sweetheart love lots!
Peanut Butter Frosted Blondies with Brownie Hearts
Ingredients
Blondies:
1/2 cup of butter, melted
1 cup of tightly packed dark brown sugar
1 egg
1 teaspoon of vanilla
1/2 teaspoon baking powder
1/8 teaspoon of baking soda
Pinch of salt
1 cup of all-purpose flour
Brownies:
3 ounces dark chocolate, coarsely chopped
1 stick unsalted butter
3/4 cup plus 2 tablespoons sugar
2 large eggs
1 teaspoon vanilla
1/4 teaspoon salt
2/3 cup all-purpose flour
Peanut Butter Frosting:
1/4 cup butter, half stick
1/4 cup peanut butter
1 cup powdered sugar
1/2 tsp. vanilla
1 teaspoon of milk
Instructions
For the Blondies:
Preheat oven to 350°F. Line two 8×8-inch square baking pans with foil, with ends of foil extending over opposite sides of pan. Repeat with second piece of foil in opposite direction. Spray foil with cooking spray.
Whisk together the melted butter and sugar in a bowl.
Add the egg and vanilla extract and whisk.
Add the flour, baking soda, baking powder, and salt, mix it all together (don't over mix though)
Pour into one of the prepared pans and spread evenly. Bake for 20-25 minutes or until a toothpick comes out clean. Allow to cool.
For the Brownies:
Melt chocolate and butter together in the microwave in 30 second bursts, stirring between each until it is 90% melted; remove from heat and stir the mixture until it is smooth. Whisk in sugar. Whisk in eggs, one at a time, then vanilla. Add flour and salt together, stirring until just combined. Spread into prepared pan and bake for 25 to 30 minutes.
For the Frosting:
Cream the butter and peanut butter together using an electric mixer on medium high speed until light and fluffy. add the powdered sugar and mix until thick and well combined. add the vanilla and milk and mix on high speed until creamy and fluffy.
To Assemble:
Remove blondies from pan using foil tabs. Spread the frosting on evenly and cut into 16 squares.
Using a small heart-shaped cookie cutter, cut out hearts from the brownies, slicing in half to thin out if neccesary. Place one on each blondie. Store in an airtight container for 3-4 days.
Nutrition Information:
Yield:

16
Serving Size:

1 grams
Amount Per Serving:
Unsaturated Fat:

0g
Brownie Recipe adapted from Smitten Kitchen