Peanut Butter Sandwich Cookies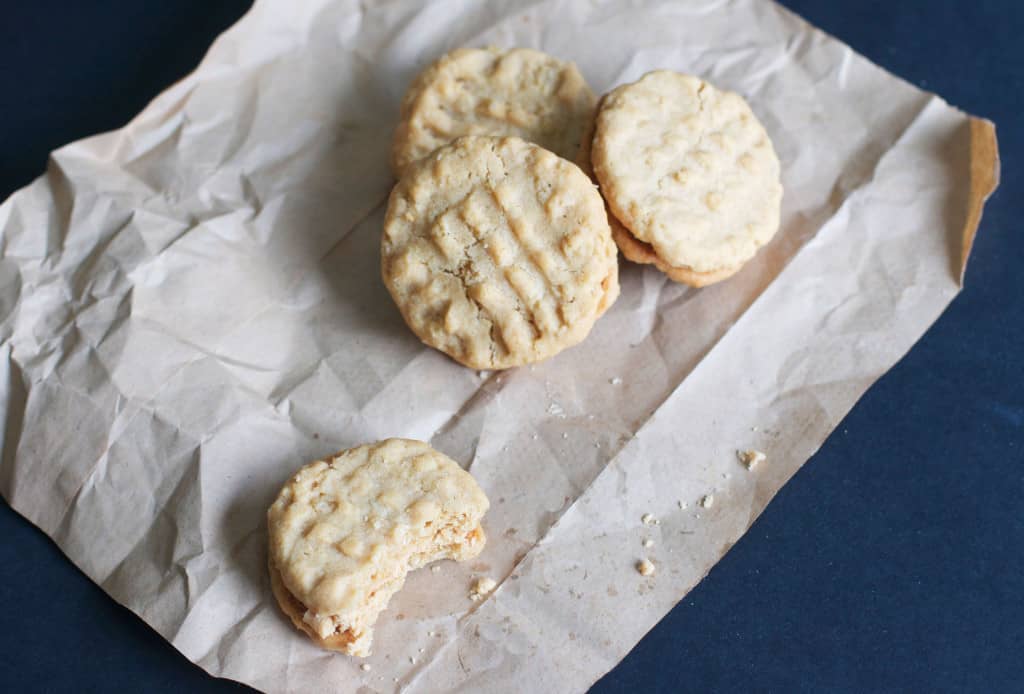 Every time I visit my parents during the winter months, I can usually expect to see the pantry lined with bright boxes of Girl Scout Cookies. That's a perk you get from living in a town where girls still come to the door, (like I did,) selling boxes of delicious-ness. I was able to get a couple boxes this from a sweet friend who is willing to ship, but I set my limits at 2 boxes. I had to.
I have a weakness for a bunch of flavors, (except for that new mango one, not a fan,) but there is no doubt as to what my mom has always loved the most. Even as these were baking, I found her with a small glass of milk with a few Peanut Butter Sandwich cookies soaking. (We call them Peanut Butter Sandwiches in Wisconsin, what are they in other places? Do si do-s?)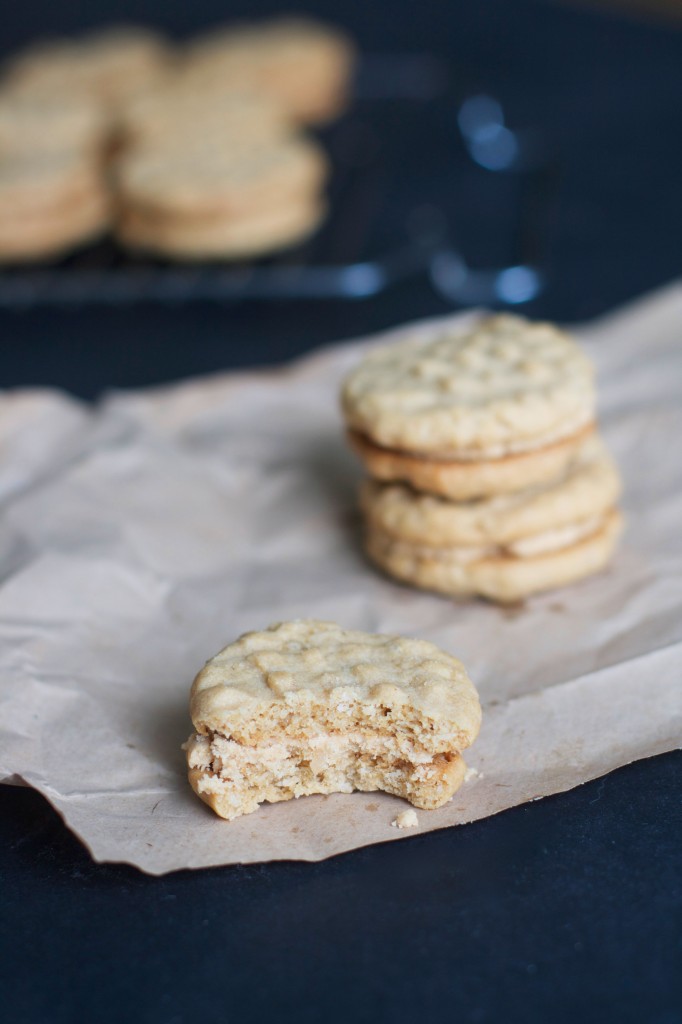 I couldn't wait to make my family a copycat recipe that tasted as better than the original, and were soft enough to not need any milk dunking! The cookie is soft with just a little outer crunch, and the filling is super thick and peanut buttery, and doesn't ooze out when you bite in! (A sandwich cookie must in my book.) These are easy as pie, and the perfect over-the-top peanut buttery treat for anyone as obsessed with the stuff as my family is!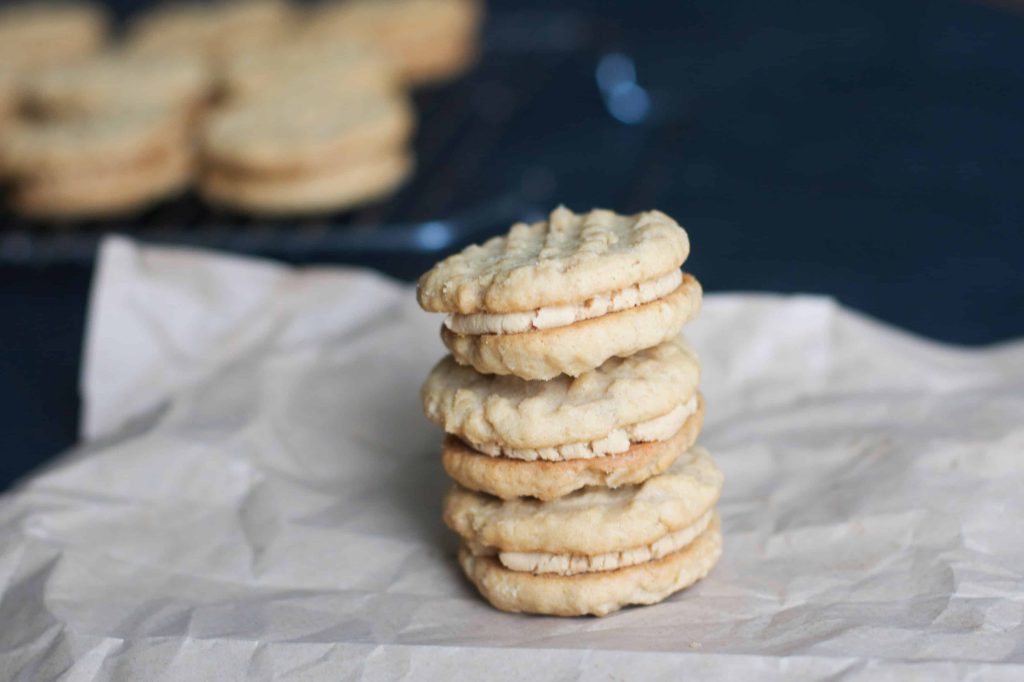 On another note- can it be my blogaversary every day? You guys are so kind with your comments, it truly has made my week. If you haven't entered my giveaway in honor of The Baker Chick turning two-do so here!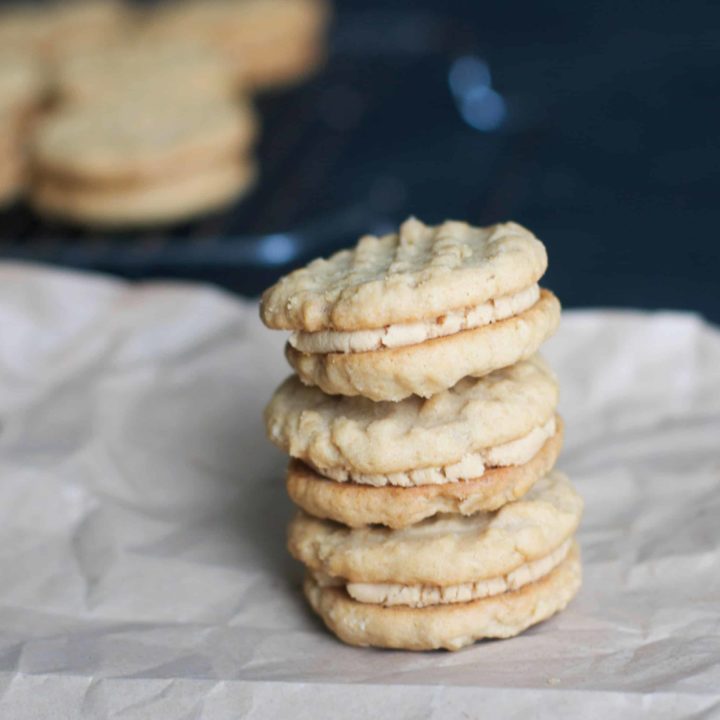 Peanut Butter Sandwich Cookies
Yield:
2 dozen sandwich cookies
Ingredients
1 stick butter, softened
1/2 cup creamy peanut butter
1/2 cup sugar
1/4 cup light brown sugar, lightly packed
1/2 teaspoon pure vanilla extract
1 egg
3/4 cup all-purpose flour
1/2 teaspoon baking soda
1/4 teaspoon baking powder
1 cup quick oats*
1/2 cup creamy peanut butter
3 tablespoons butter, softened
1 cup powdered sugar
2-3 tablespoons heavy cream
Instructions
Preheat oven to 350 degrees F.
In a small bowl, combine the flour, baking powder, soda and oats. Set aside.
Cream the butter and peanut butter together in a large bowl with an electric mixer on high. Add the sugar, brown sugar and vanilla and continue to beat until the mixture is fluffy. Add the egg and beat until combined.
Slowly add the dry ingredients and mix until just incorporated.
Roll or scoop batter into 1-inch sized balls, and use a lightly floured fork to make a criss-cross pattern. Make sure to leave about 2 inches between each cookie as they will spread a bit.
Bake in the top half of the oven until the cookies are golden, about 10 minutes. Cool on a wire rack.
For the Filling:
Cream together the butter and peanut butter. Add the powdered sugar and mix on high. Gradually add the cream until mixture is really thick and smooth.
To Assemble:
When cookies are cool, match cookie halves with similar sized-partners. Pipe a dollop of filling inside and use the other cookie to smush it to the edges.
Notes
*If you only have Old Fashioned Oats- you can make them "Quick" by just pulsing them in the food processor a bit to break them into smaller pieces.
Nutrition Information:
Yield:

2
Serving Size:

1 grams
Amount Per Serving:
Unsaturated Fat:

0g
Recipe adapted from: The Food Network