Peanut Butter Sweetheart Cookies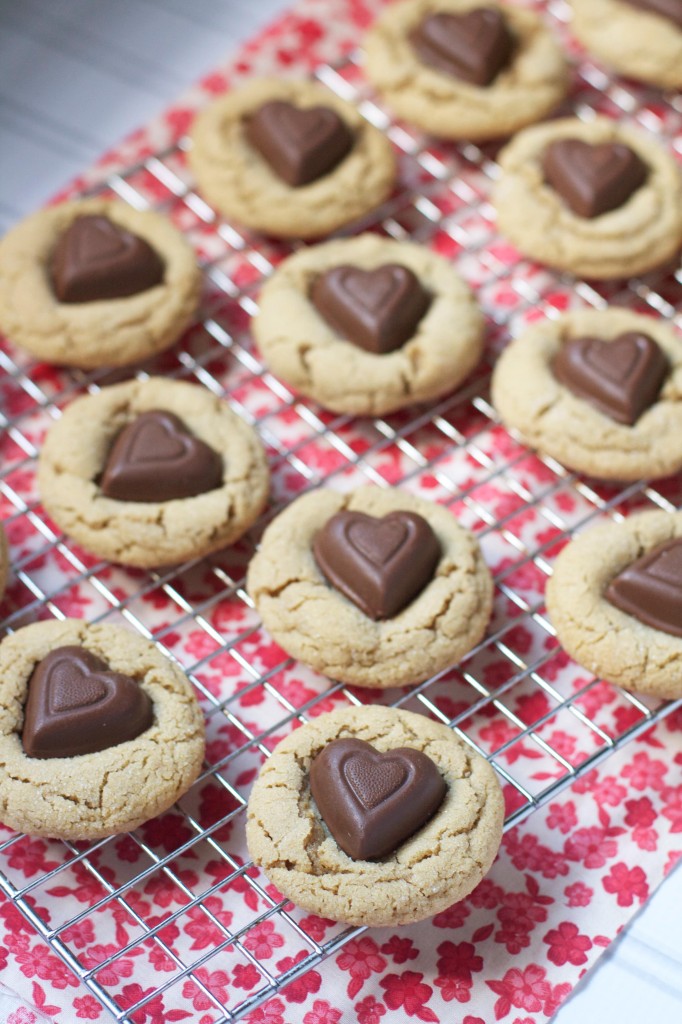 I'm always on the hunt for festive Valentine's Day recipes that don't necessarily require pink and red food coloring to be involved. I'm not opposed to it don't get me wrong, but it's nice to have the option of a more natural looking treat that still packs a festive punch. These cookies are not only a favorite for their winning flavor combo and perfect cookie texture, but they're just so darn cute aren't they?
Similarly to the favorite Christmas variety that uses a chocolate kiss or peanut butter cup, this cookie involves a chocolate heart getting pressed into a warm peanut butter cookie. Any variety/brand of chocolate hearts will do, but I found that using the Reese's brand was perfect as it added even more creamy peanut butter goodness. Freezing the chocolate ahead of time keeps them firm in the warm cookie and once the cookies cool you have a pretty perfect V-day treat.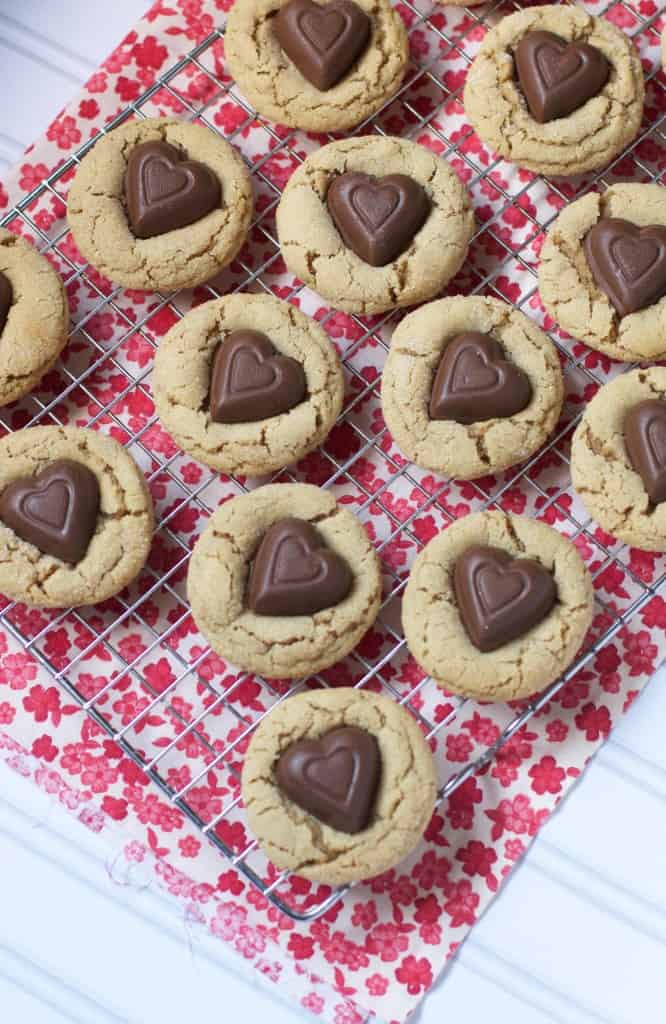 Peanut Butter Sweetheart Cookies
Yield: 24 -30 cookies (depending on size)

Prep Time: 15 minutes

Cook Time: 10 minutes

Total Time: 25 minutes
Ingredients
1 3/4 cups all-purpose flour
1/2 teaspoon salt
1 teaspoon baking soda
1/2 cup butter, softened
1/2 cup white sugar
1/2 cup peanut butter
1/2 cup packed brown sugar
1 egg, beaten
1 teaspoon vanilla extract
2 tablespoons milk
about 30 chocolate hearts, I used the peanut butter filled ones
Instructions
Place the un-wrapped peanut butter cups in the freezer to make them easier to handle. Preheat oven to 375 degrees F (190 degrees C). Mix together the flour, salt and baking soda; set aside.
Cream together the butter, sugar, peanut butter and brown sugar until fluffy. Beat in the egg, vanilla and milk.
Gradually the flour mixture; mix until just combined. Scoop dough into 1 1/2 inch sized portions and roll into balls and then coat in sugar, place on cookie sheet 2-3 inches apart.
Bake at 375 degrees for about 9 minutes. Remove from oven and immediately press a chocolate into each. Transfer to a wire rack to cool.*
Notes
*I like to put the hot cookies into the freezer for a few minutes so the cookie doesn't melt the chocolate too much. Otherwise it can take quite a long time for the chocolate to solidfy again and the cookies won't stack easily. Recipe adapted from: AllRecipes
Nutrition Information:
Yield: 24 Serving Size: 1 grams
Amount Per Serving: Unsaturated Fat: 0g