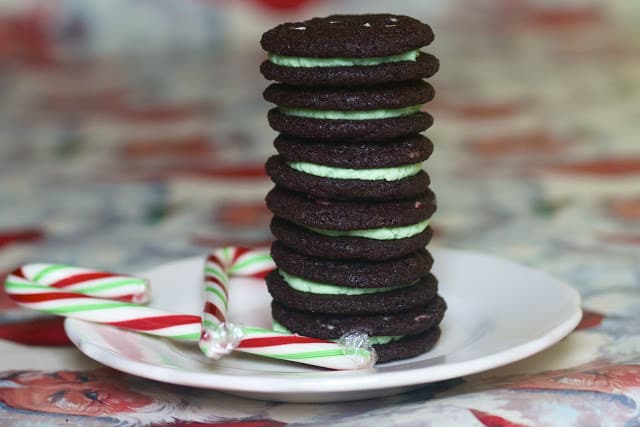 Happy Friday!! Do you know what today is? My first ever Guest Post on a blog!! I couldn't be happier to be posting for the wonderful Chef Dennis at A Culinary Journey. I was lucky to meet Dennis at the Foodbuzz Festival last month and since then I've been looking forward to an opportunity to contribute to his wonderful site.
Can you believe Christmas is almost two weeks away? I can't. I haven't bought a gift or sang a carol! This needs to change. I have however been baking a bazillion cookies! Are you surprised that I'm making yet another version of Homemade Oreos? These are essentially the same recipe as those, but with crushed candy canes on top and a delicious minty filling. So make sure you say Hello to Chef Dennis!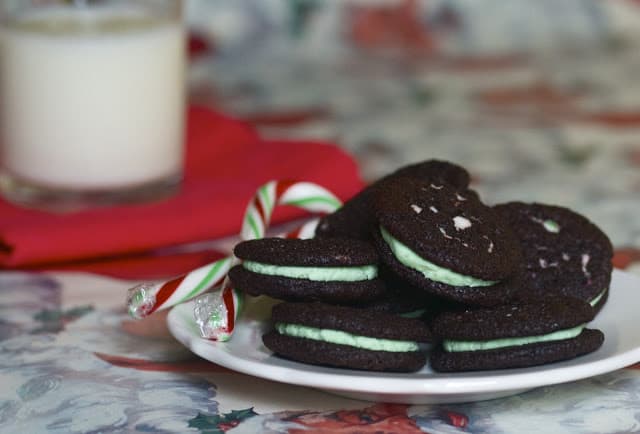 Peppermint Oreos
makes 25-30 sandwich cookies
Ingredients
1 1/4 cups all-purpose flour
1/2 cup unsweetened Dutch process cocoa
1 teaspoon baking soda
1/4 teaspoon baking powder
1/4 teaspoon salt
1 to 1 1/2 cups sugar (depending on how sweet you want the cookies- I used 1 cup.)
1/2 cup plus 2 tablespoons (1 1/4 sticks) room-temperature, unsalted butter
1 large egg
2 Crushed Candy Canes
Filling
1/4 cup (1/2 stick) room-temperature, unsalted butter
1/4 cup vegetable shortening (I used the Spectrum Organics Brand I've mentioned before.)
2 cups sifted confectioners' sugar
A few drops of peppermint extract (the stuff I have is strong so I can't use too much, I'd mix it in gradually until it's the right level of minty-ness)
Green food coloring (optional)
Instructions
1.Set two racks in the middle of the oven. Preheat to 375°F.
2. In a food processor, or bowl of an electric mixer, thoroughly mix the flour, cocoa, baking soda and powder, salt, and sugar. While pulsing, or on low speed, add the butter, and then the egg. Continue processing or mixing until dough comes together in a mass.
3. Take rounded teaspoons of batter and dip the tops in crushed candy canes. Place on a parchment paper-lined baking sheet approximately two inches apart. (These cookies will spread a lot so give them plenty of room!) Bake for 8-11 minutes, rotating once for even baking. Set baking sheets on a rack to cool.
4. To make the cream, place butter and shortening in a mixing bowl, and at low speed, gradually beat in the sugar and mint extract. Turn the mixer on high and beat for 2 to 3 minutes until filling is light and fluffy.
5. To assemble the cookies, in a pastry bag with a 1/2 inch, round tip, pipe cream into the center of one cookie. Place another cookie, equal in size to the first, on top of the cream. Lightly press, to work the filling evenly to the outsides of the cookie. Continue this process until all the cookies have been sandwiched with cream.
Recipe adapted from "Retro Desserts" by Wayne Brachman