Peppery Bacon and Cheddar Scones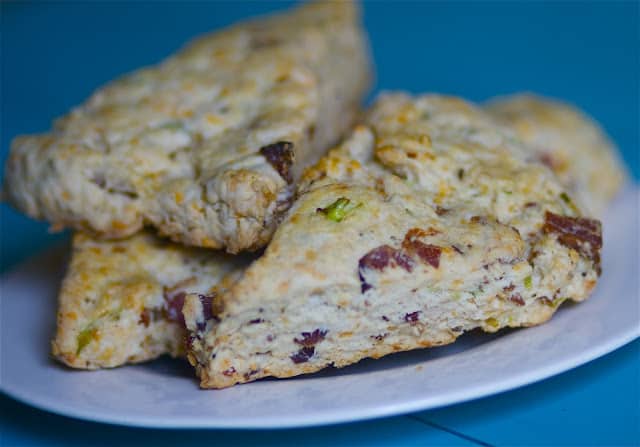 I have a confession to make. I'm not all sweet tooth. Wait- don't get me wrong- I love desserts and I try everything that I bake, but when I want to snack on something 9 outta 10 times I want something salty. I think my favorite "guilty" foods are bacon and french fries over ice cream and cake.
That being said, I love baking way more than cooking. Some of you may understand what I mean- there is something truly therapeutic about it right? Mixing, measuring, watching something bake and turn into a delicious concoction. I love. My point being- that once in awhile I need to combine my salty cravings with my baking addiction. Enter these scones.
I have seen these beauties pop up on several blogs and it's no surprise. They are truly to die for. I mean what's not to love about bacon, freshly ground black pepper, cheddar cheese and thinly sliced scallions? (I can't think of anything.) They are from a wonderful cookbook called The Pastry Queen by Rebecca Rather. If you don't own it- it truly is a worthwhile investment. I've made several of her recipes already and there are many more I'll be making soon.
I brought a batch of these with me to San Francisco this week as a gift for our hosts. They travel well, are an easy grab and go breakfast, and are a great alternative if you don't feel like something sweet for breakfast. (Which I do sometimes I swear!) You can also totally make these your own by changing up the cheese (I think gouda would also be great,) adding some herbs, jalapenos etc. I actually made some Cheddar Herb Scones on my blog way back when that was a version of this recipe. This time, I just went with the original- sometimes you don't need to mess with a good thing.
PS- Have you entered into my Giveaway for a Nambe Cake Stand yet? Check it out if you haven't already!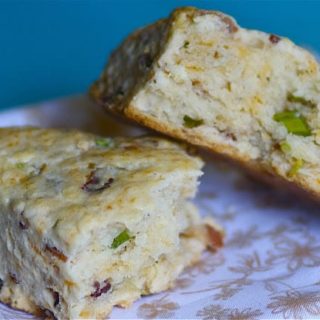 Peppery Bacon and Cheddar Scones
Ingredients
3 cups all purpose flour
1 Tablespoon baking powder
1 teaspoon salt
2-3 teaspoons freshly ground black pepper
1/2 cup 1 stick chilled unsalted butter cut up into small cubes
1 1/2 cups grated cheddar cheese
4 green onions thinly sliced
10 slices bacon, cooked and chopped into 1-inch pieces
3/4 to 1 1/2 cups buttermilk, I was out so I used sour cream thinned out with a little milk.
1 large egg
2 Tablespoons water
Instructions
Preheat the oven to 400 degrees F. In a large bowl, stir together the flour, baking powder, salt and pepper.
Use an electric mixer, a pastry blender or two knives cut in the butter until the mixture is crumbly and studded with flour-butter bits the size of peas. (I used my hands to break up the butter. Always easiest for me.)
Stir in the cheese until just blended.
Add the green onions, bacon and 3/4 cup buttermilk. Mix just until the ingredients are incorporated. If dough is too dry to hold together, add the remaining buttermilk, 1 tablespoon at a time, until the dough can be formed into a ball. Stir as little as possible to ensure a light-textured scone.
Place the dough on a lightly floured surface, and pat it into a ball. Using a well-floured rolling pin, flatten the dough into a circle about 8 inches wide and 1/2 inch thick. Cut the dough into 8 to 10 equal wedges.
Whisk the egg and water together in a small bowl. Brush each wedge with the egg wash. Place the scones on an ungreased baking sheet, and bake for 18 to 20 minutes, or until golden brown and no longer sticky in the middle. Serve warm.
Nutrition Information:
Serving Size:

1 grams
Amount Per Serving:
Unsaturated Fat:

0g
Source:
The Pastry Queen by Rebecca Rather