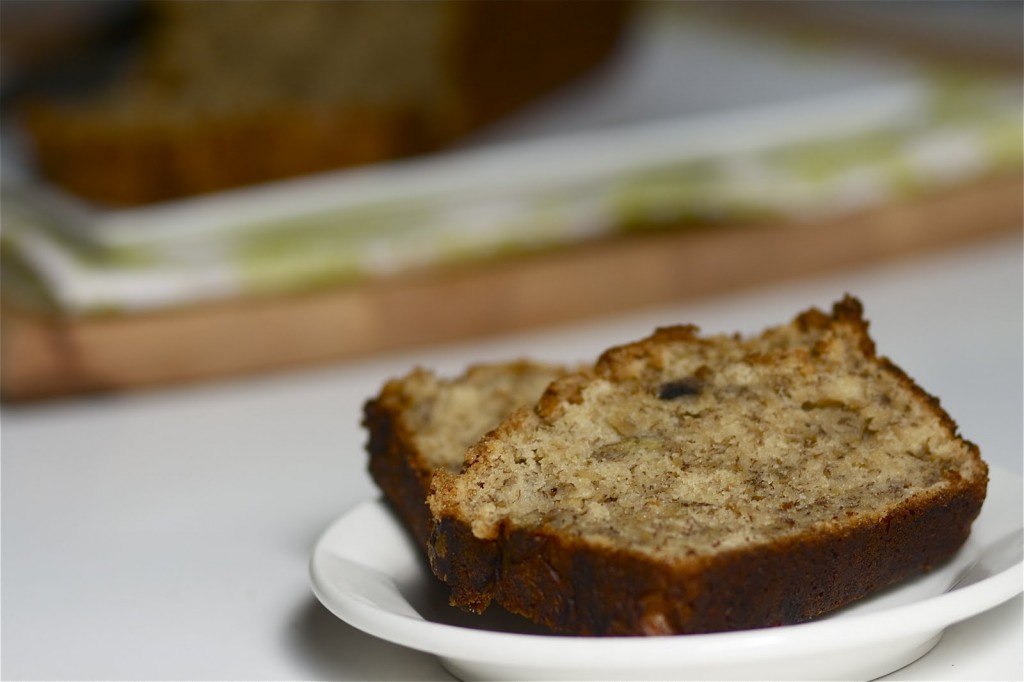 In my short time as a food blogger, (exactly 6 months actually!) I have really loved seeing all the creativity out there when it comes to recipes. It is great to know there is a creative twist on almost everything you could imagine. And I love that. I too love coming up with my own twist on things and letting my creativity flow… Once in awhile, however, you just need a perfect standard recipe. You know- a classic that will be in your family for years and years. And I'm telling you- this Banana Bread is it.
We all need a go to recipe right? Because when it comes to breakfast/snack "quick-breads" a perfect loaf of Banana bread always wins. And I am telling you this one is amazing, full of lots of banana flavor and not even a little dry. Nothing is worse than dry-banana-less Banana Bread am I right?
This recipe (originally from Cooks Illustrated,) contains a step I've never seen before. You warm the bananas, drain their juices, turn the juices into a reduction, and mix that back into the batter. May sound a teeny bit putz-y but it is so worth it. This bread was like no other I've ever made. And I topped it off with a crunchy cinnamon topping which made me love it even more. So bookmark this one in the "recipes I will make very soon" folder. You will be so glad.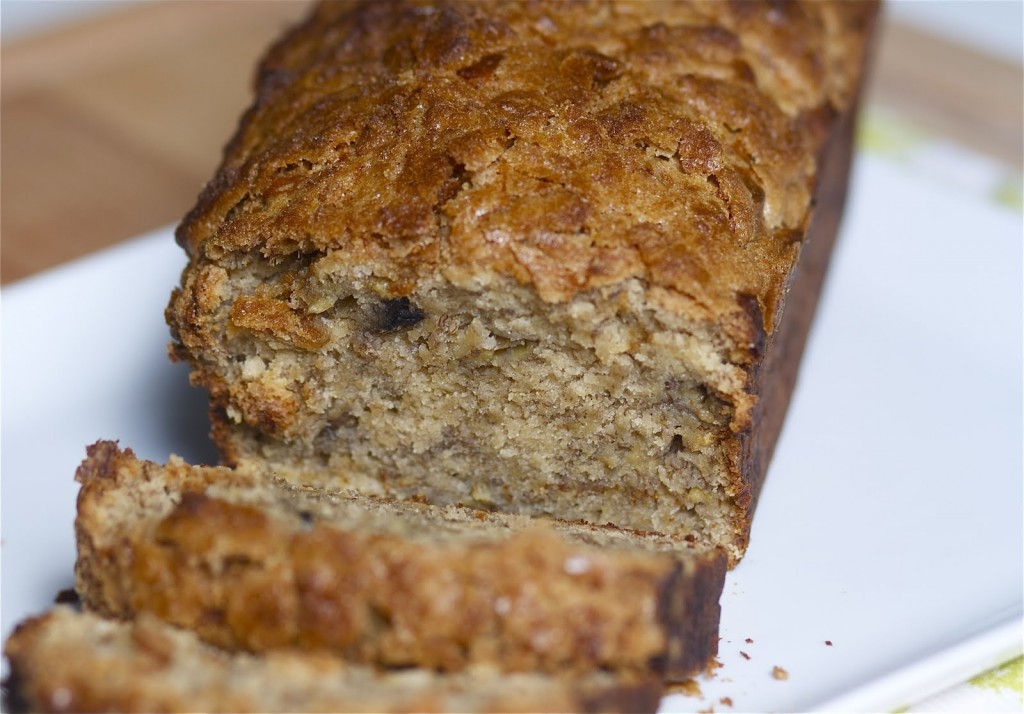 Ingredients
1¾ cups all-purpose flour
1 tsp. baking soda
½ tsp. salt
5 large, very ripe bananas (about 2¼ lbs.), peeled
8 tbsp. unsalted butter, melted and cooled slightly
2 large eggs
¾ cup packed light brown sugar
1 tsp. vanilla extract
Cinnamon Topping:
1/3 cup packed brown sugar
1 tablespoon all-purpose flour
1/8 teaspoon ground cinnamon
1 tablespoon butter
Instructions
Preheat the oven to 350? F. Lightly spray a loaf pan (about 9 x 5 inches) with cooking spray. In a medium bowl, combine the flour, baking soda and salt; whisk together and set aside.
Place 5 bananas in a microwave safe bowl; cover with plastic wrap and make several slits in the wrap to act as steam vents. Microwave on high until the bananas are soft and have released liquid, about 5 minutes. Transfer the bananas to a fine mesh strainer set over a medium bowl and let drain, stirring occasionally, about 15 minutes (you should have ½-¾ cup liquid).
Transfer the reserved banana liquid to a medium saucepan over medium-high heat. Cook until reduced to about ¼ cup, 5-10 minutes. Remove the pan from the heat.
In a large bowl, combine the bananas and the reduced banana liquid. Mash with a potato masher or whisk until fairly smooth. Whisk in the melted butter, eggs, brown sugar and vanilla. Add the dry ingredients to the bowl with the banana mixture. Fold together gently, just until all of the dry ingredients are incorporated. Pour the batter into the prepared pan and smooth with a spatula.
To make crumb topping, mix dry ingredients. Cut in butter until mixture is crumbly. (Use hands to break up the butter if necessary.) Sprinkle generously over the top of the batter.
Bake until a toothpick inserted in the center comes out clean, 55-75 minutes. Transfer to a wire rack and allow to cool at least 15 minutes in the pan before removing. Continue to cool and serve warm or at room temperature.
Nutrition Information:
Serving Size:

1 grams
Amount Per Serving:
Unsaturated Fat:

0g