Perfect Homemade Pizza Crust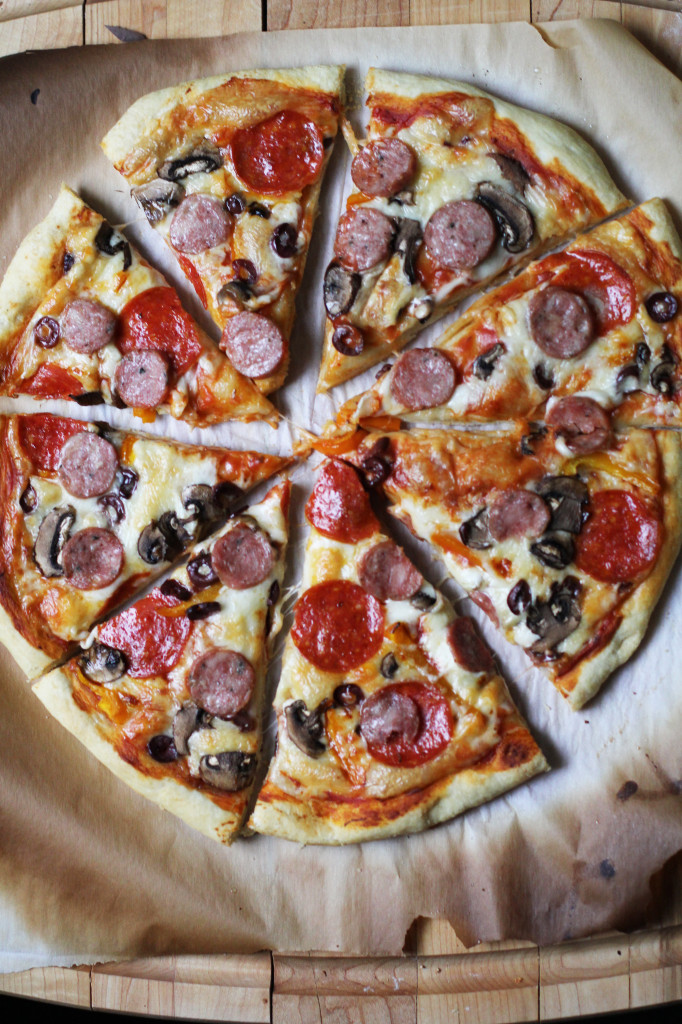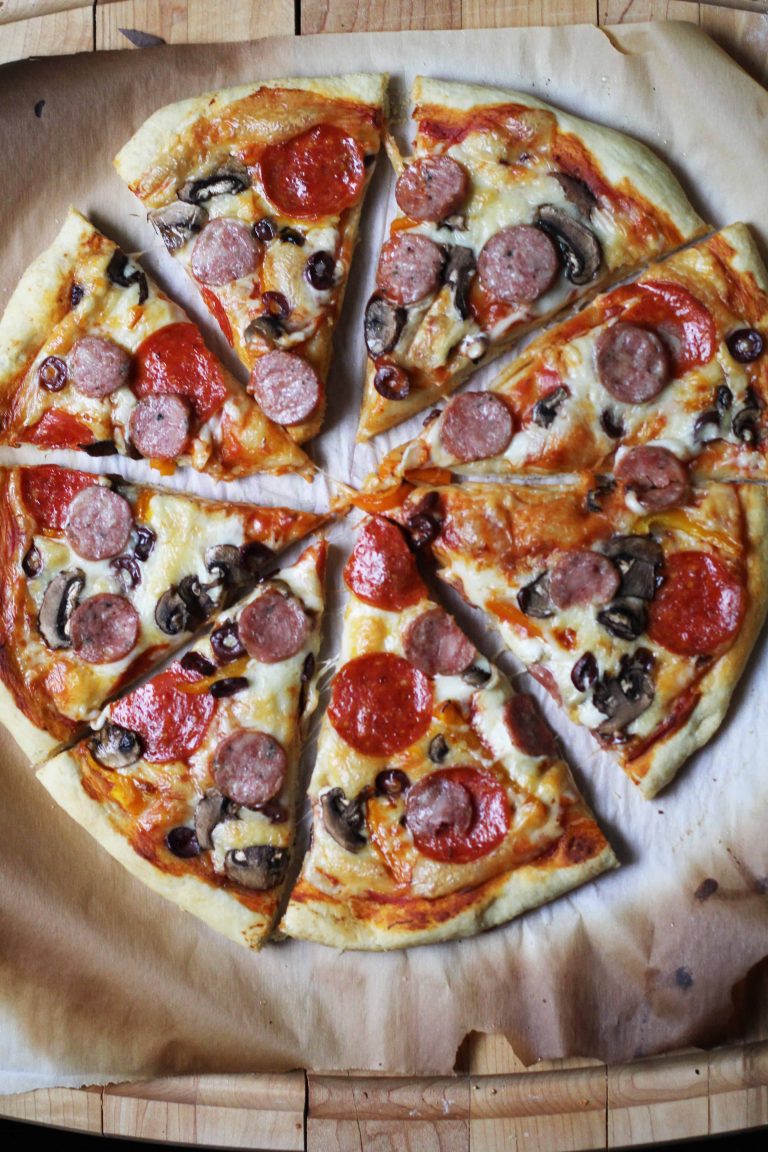 One of my New Years Resolutions was to bake more homemade bread. After mastering pita, I felt like the natural next step is a really delicious, classic pizza crust. Middle of the road- not too thick or too thin, crisp but also chewy… you know- that pizza crust that will house years of pizzas for my family. Is it weird I already have this vision of Friday pizza night becoming a household tradition?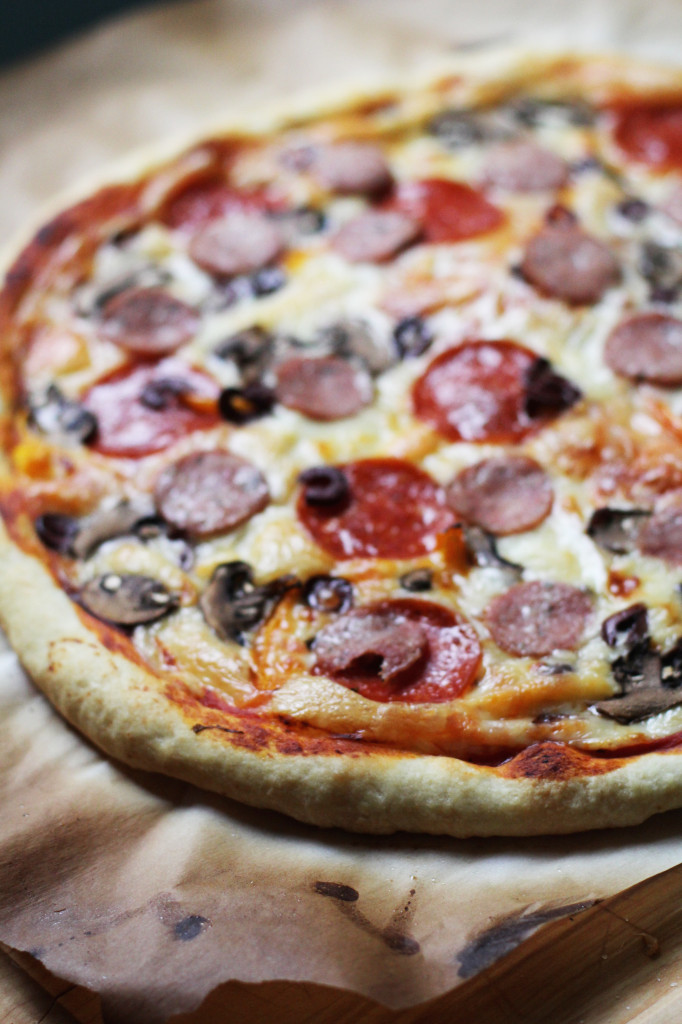 In our current household though, pizza has become a tradition on Sundays instead- football Sundays to be exact. Since my beloved PACKERS are still in the running we've been having a lot of fun having some friends & family over and whipping up a few pizzas throughout the game. You can prep the dough ahead of time and roll out the dough when you're ready to bake them. And I don't think I have to tell you about all the topping options! They are of course endless.
I hope to make fun pizzas a regular thing around these parts which I hope you're on board with. Buffalo Chicken Pizza anyone!?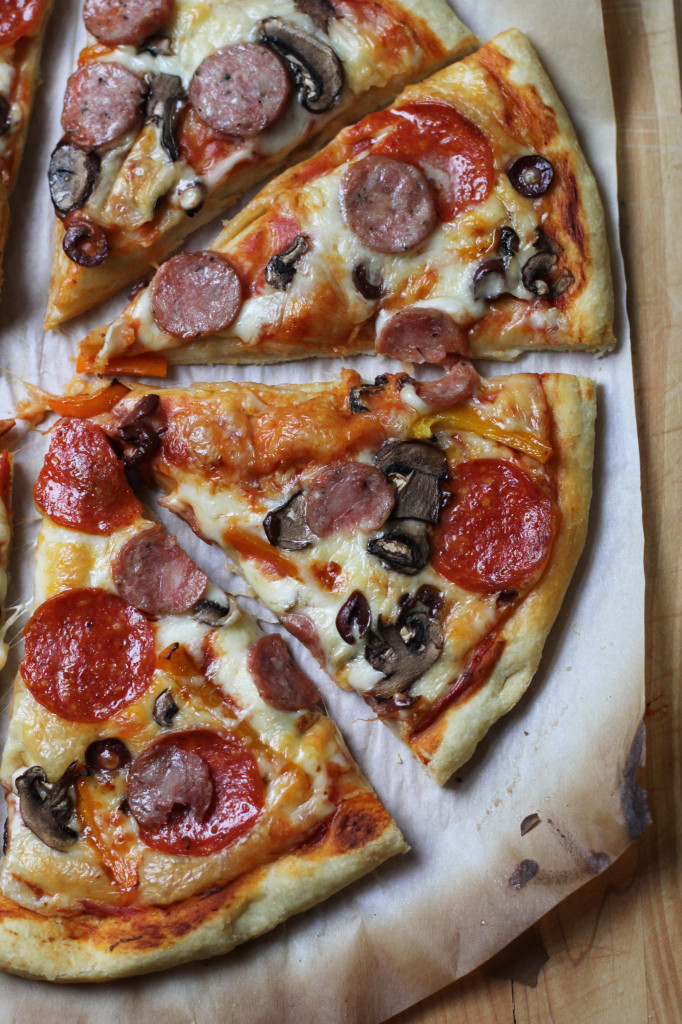 I've made homemade pizza dough a few times before, but this is definitely the best. Super easy, relatively short proof time, and really the perfect consistency. I got the recipe from Annie who has a great post with FAQs and extra info about perfecting this wonderful recipe so make sure to check that out too!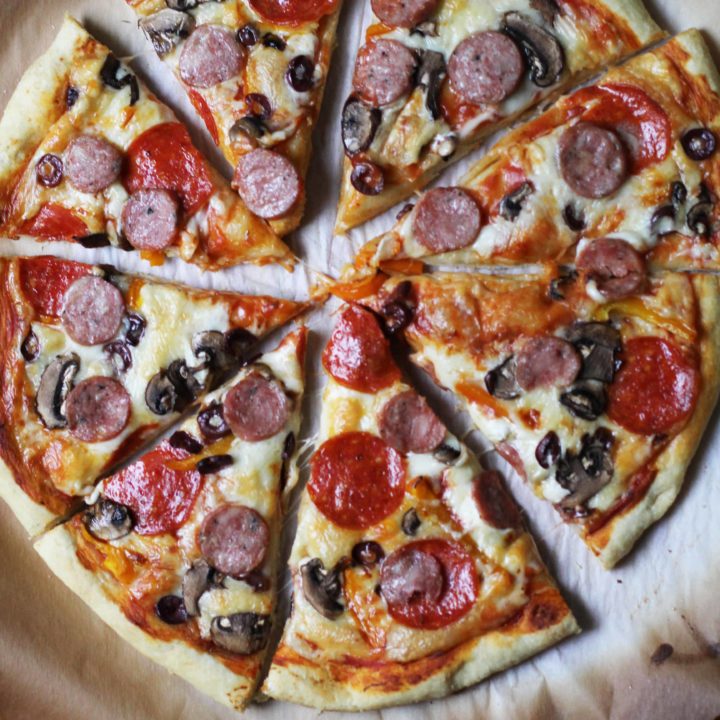 Perfect Homemade Pizza Crust
Yield:
2 medium sized pizzas
Ingredients
2 1/4 tsp. instant yeast
4 cups 22 oz.* bread flour, plus more for dusting
1 1/2 tsp. salt
1 3/4 cup lukewarm water, at room temperature
2 tbsp. extra-virgin olive oil plus extra for handling the dough
Instructions
In the bowl of a stand mixer fitted with the paddle attachment, combine the bread flour, salt, and yeast, mixing briefly to blend.
With the mixer on low speed, pour in the water and olive oil. Mix until the dough mostly comes together and then switch to the dough hook.
Knead on low speed until smooth and elastic, about 5-7 minutes. Oil the bowl and turn the dough once to coat. Cover with plastic wrap and let rise in a warm place until doubled in size, 1½-2 hours.
Punch the dough to deflate it and transfer it to a lightly floured work space.
Divide the dough into two pieces and form each into a smooth, round ball. (If you're going to freeze the dough, wrap it in plastic wrap, then a ziplock bag and pop it into the freezer.)
If you're using the dough right away, cover with a damp cloth. Let the dough relax for at least 10 minutes but no longer than 30 minutes.
To bake, preheat the oven and a pizza stone to 500? F for at least 30 minutes. Place a sheet of parchment paper on your work surface and place your dough ball right in the middle.
Using your olive oil-coated hands, roll and spread the dough until it is thin and shaped. (Form a thin crust ridge around the edge.) I found using a bit of extra oil made it easier to spread and actually make thin.
When your dough shaped on the parchment, add your sauce and toppings. Use a cutting board to help transfer the pizza to the hot stone.
Bake for 10-12 minutes, or until golden and crisp.
Notes
*To keep this recipe precise it's really important that you weigh the flour. It takes the guess work out and will really ensure that it's the right amount. If you are going to freeze the dough it's very important that you do this right after you form it into balls. The yeast is super active and will continue to proof unless it's really cold. You can always stop the proofing in the freezer and then bring it to the fridge when you're ready to use. Recipe adapted from Annie's Eats
Nutrition Information:
Yield:

2
Serving Size:

1 grams
Amount Per Serving:
Unsaturated Fat:

0g