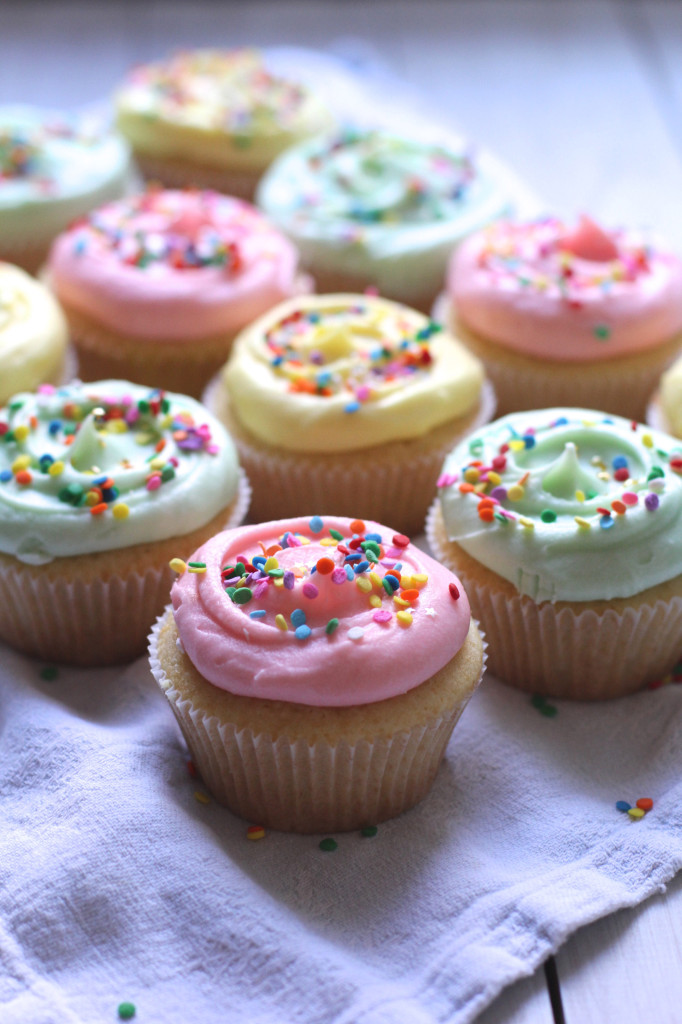 Earlier this week I talked about classic recipes that every home cook needs in their recipe box. If you are a home baker in the era of cupcakes, a Perfect Vanilla Cupcake is a must- have don't you think? I fell in love with simple vanilla cupcakes with a sweet creamy frosting back when I first moved to New York and would roam the city tasting cupcakes from all the bakeries looking for my favorite. My standards were – fine crumb, moist, loaded with pure vanilla flavor and a sweet vanilla frosting that is both creamy and has a bit of a crust (if that makes sense.) I tasted many delicious ones and some just OK ones, but until recently I never baked the one.
These are my perfect vanilla cupcakes and though I've made a lot on this blog it is by far my favorite. It's actually the recipe from Georgetown Cupcakes, which believe it or not, I've never actually been to. (There is one in NYC but I stopped buying cupcakes around the time I started cranking out a 2-3 desserts a week for the blog.) Even though I've made the "official" vanilla cupcake recipes from other bakeries before, they never were quite right. I love this cupcake and I used my new favorite vanilla frosting which made them even better. It adds just a touch of cream cheese- only enough to give the frosting that little punch and keep it super creamy.
So- are you making these over the weekend or what? I would consider it but we're heading to DISNEY WORLD today! Woohoo! Stay tuned to my Instagram feed for some photo updates from the weekend. TGIF!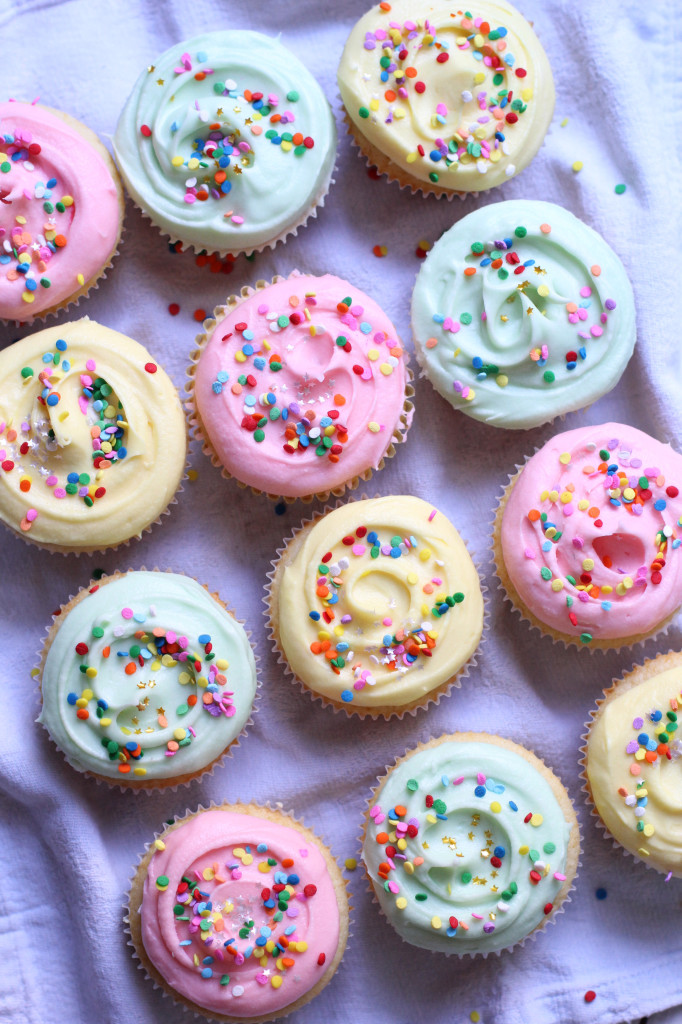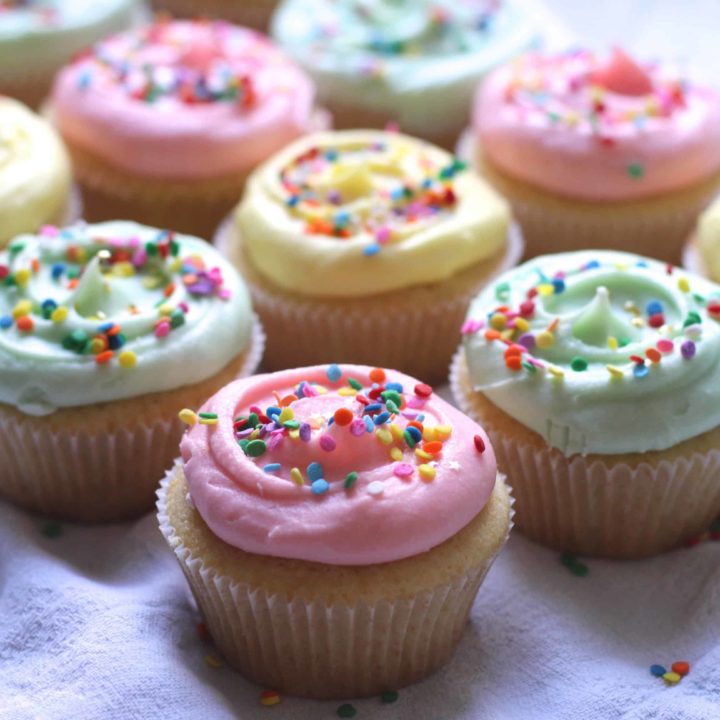 Perfect Vanilla Cupcakes
Ingredients
2 1/2 cups flour
2 1/2 tsp. baking powder
1/4 tsp. salt
1 stick of butter, at room temperature
1 3/4 cups sugar
2 large eggs, at room temperature
2 1/2 tsp. vanilla
1 1/4 cups whole milk, at room temperature
For the Frosting:
2 sticks of unsalted butter, soft
4 oz of cream cheese
3-5 cups of powdered sugar
2 teaspoons vanilla extract
Instructions
Preheat oven to 350F. Line two muffin tins with cupcake liners. Set aside.
In a medium sized bowl whisk together the flour, baking powder and salt.
In the bowl of a stand mixer fitted with a paddle attachment, cream together the butter and sugar until pale and smooth. Mix in the eggs, one at a time.
Stir the vanilla into the milk.
With the mixer on low speed, alternate adding the dry ingredients and the milk, starting and ending with the dry ingredients. Mix until just combined.
Fill liners about 2/3 of the way. Bake for 16-18 minutes or until a toothpick interred into one of the cupcakes comes out clean. Allow cupcakes to cool on a wire rack. Always cool 100% before frosting.
To make the frosting:
Cream together the butter and cream cheese. Mix in the vanilla. Add the powdered sugar, one cup at a time. Start with 3 cups and add more depending on how stiff you want it to be. Add food coloring if desired and frost cooled cupcakes.
Notes
Cupcake recipe from Georgetown Cupcakes
Nutrition Information:
Yield:

20
Serving Size:

1 grams
Amount Per Serving:
Unsaturated Fat:

0g