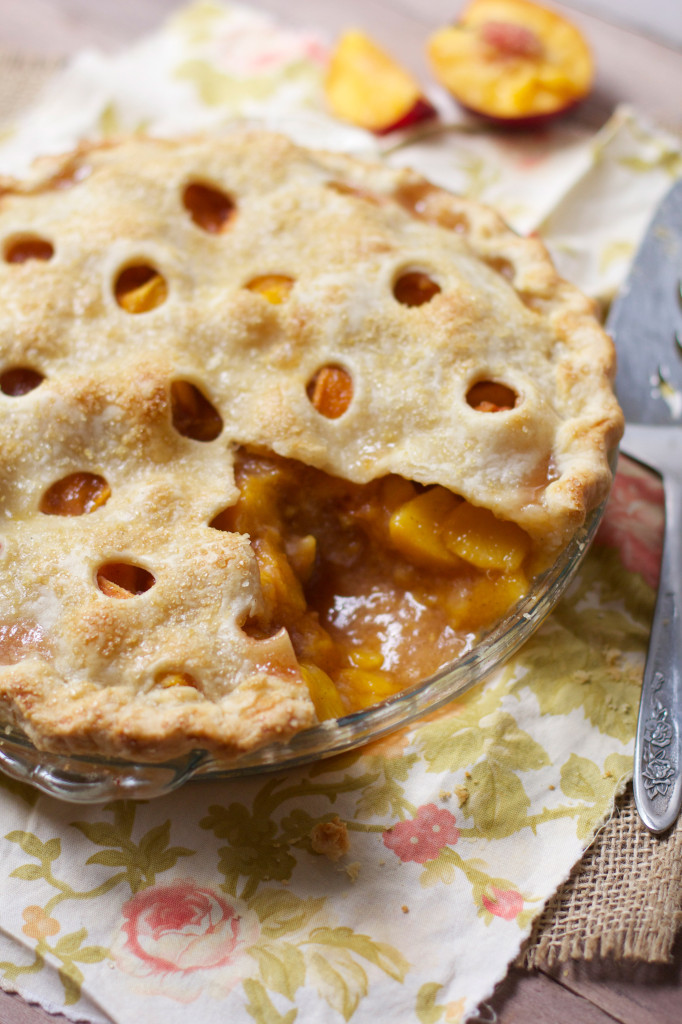 I warned you guys earlier that I was on a bit of a summer fruit baking kick. I have made this lovely peach pie twice now in the last two weeks and it's just amazing. As much as I love the joy of biting into a sweet & juicy peach all summer, there's something about warm baked peaches with flaky crust and a scoop of ice cream that's (maybe) even better.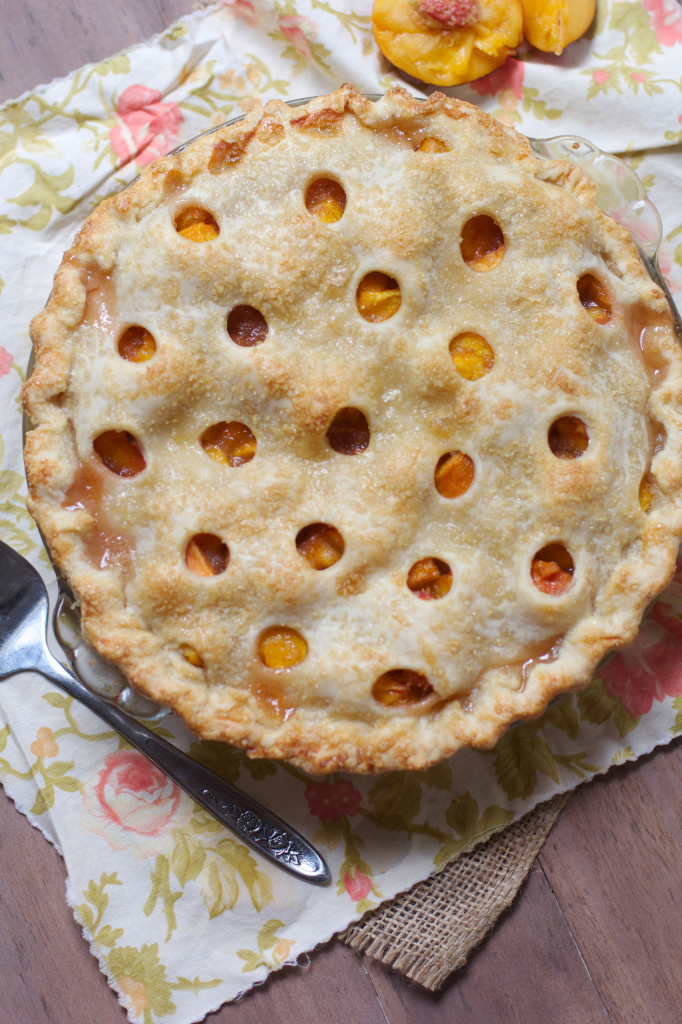 I tried something new with the pie crust decor and the verdict is still out on whether I love it or hate it. Does it kind of remind you of craters in the moon? Or a weird Freddy Kreuger-type mask? Anyway- I'm not 100% sure how I feel about the whole polka dot thing, but the pie itself is amazing and that's all that matters. (I made a fancy lattice crust the second time I made it and that was pretty but took forever!
If I open my pie shop someday, you can bet that you'll find peach pie on the menu all summer long. I actually normally bake my peaches into cobbler, but this was amazing as well. I love how pies are easy to transport, perfect to make ahead, and seem to represent something so classic and all-American. I loved making this for the 4th of July with my young cousin from Jordan, teacher her and my Auntie how to make pie crust and weave a lattice. I'm such a sucker for passing along kitchen secrets!
On a totally un-related note, tomorrow night Andy an I are going to a wedding. It is 4 hours away from my pare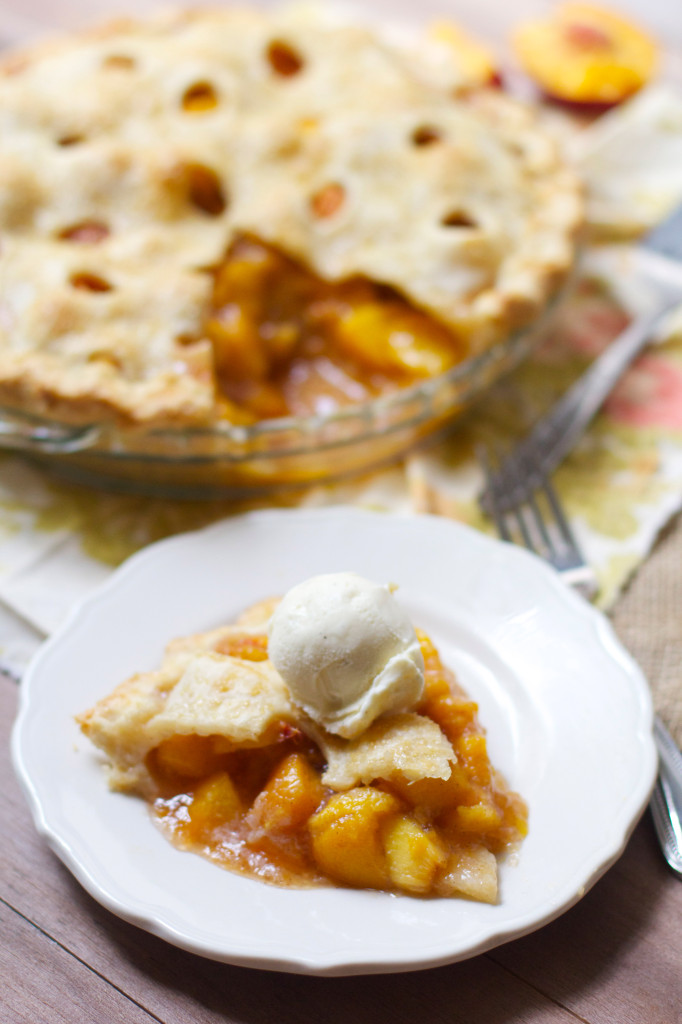 nts' house and we are leaving Hugo-bear with my folks for the night. I am equal parts- scared to be apart from him, excited for 30 hours with my husband, calm that he is in amazing hands, and hopeful that the milk I've been pumping all week is enough. Wish all of us luck! :)
Ingredients
1 double Pie Crust
5-6 cups sliced peaches- peeled and sliced, I got this from 11 medium sized peaches or 8-9 large peaches
1/2 teaspoon cinnamon
1 teaspoon vanilla extract
zest and juice of 1/2 a lemon
scant 1/4 cup of instant tapioca, flour or cornstarch could work in a pinch
1/2-3/4 cup sugar
1 egg for brushing on the crust
coarse sugar for sprinkling
Instructions
In a large bowl, combine the peach slices, cinnamon, vanilla, lemon zest, sugar and tapioca. Toss to combine and set aside.
Roll out one of the pie crust layers and drape inside a 9-inch pie dish. Pour the peaches inside. Roll out the second layer of pie crust and use a small cookie cutter or the end of a large round frosting tip to cut polka dots out of the crust. Drape it over the peaches and crimp the edges. (You could also do a lattice top or a simple double crust, cutting a few slits in the top.)
Brush the crust with beaten egg and sprinkle with coarse sugar. Bake at 425F for 15 minutes and then reduce the heat to 350F and bake for 30-40 minutes more, or until the crust is golden and the peaches are bubbly.
Cool to warm before serving.
Notes
*If you don't want to use instant tapioca I'm sure corn starch or flour would work as a thickener, just possibly not as well, yielding a slightly watery filling.
Nutrition Information:
Serving Size:

1 grams
Amount Per Serving:
Unsaturated Fat:

0g