Pumpkin Buttermilk Bundt Cake

You guys I'm all moved into my new place and I couldn't love it more.
It is so different from where I've lived the last 7+ years and the new energy just feels so amazing. I can really envision a little baby around here and I'm in full on nesting mode.
You can expect an upcoming post with some pictures of the new place once we do some more decorating. But- you'd be amazed at how unpacked and settled we were after only 24 hours. My sisters and mom were unpacking mavens and we barreled through everything that first night. Moving is the crappy part, settling in is the fun part, (for me at least.)
My one mistake was really not sitting or eating much on moving day, which I am still paying for. Not only did we not have our furniture for the part of the day where my mom and I just cleaned everything in preparation, but I was just too anxious to be unpacked to relax.
I think that baby boy went into a bit of a hibernation while I was so active, because the minute I had a chance to just chill on the couch with Andy last night- he was doing karate-esque moves for hours. We actually could see my belly moving around which is both the coolest and most alien thing ever!
Anyway…I couldn't wait too long to bake something in my new beautiful kitchen and it didn't take long for me to decide that this light and fluffy pumpkin cake was the way to go. I'm in full-on pumpkin obsession mode and I wanted to christen the kitchen with the smell of spices wafting through the apartment.
Also- I wanted to make something that dirtied a lot of dishes, just so I could enjoy the moment of just throwing them all in my dishwasher even more. For those of you that have always had one, there is nothing quite like not having one and then taking the burden of hand washing clear away. I feel like the luckiest girl in NYC.
This cake is easy to throw together and the texture is perfection. So tender and soft and fluffy that it almost melts in your mouth. The brown butter icing creates the perfect rich nuttiness that compliments the spices from the cake just right.
What I love the most about this cake though, is that it lasts for several days when sealed air-tight, and only gets better and better as it sits. This is perfect for me as we've had all sorts of friends stop by to check the place out and I love having something delicious to share. (Plus, now that I don't live next door to my sister I have a whole new set of neighbors to share my sweets with!)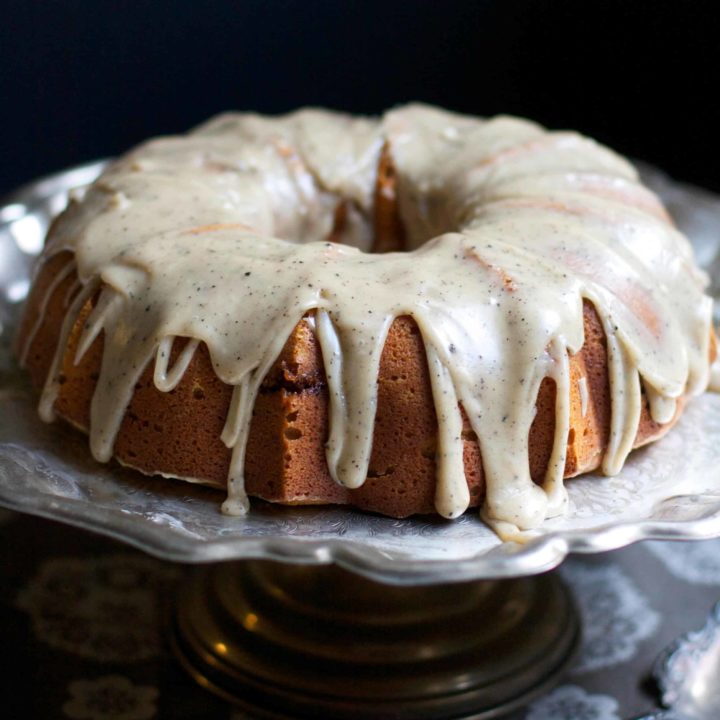 Pumpkin Buttermilk Bundt Cake with Brown Butter Icing
Yield:
1 10 inch bundt cake
Ingredients
For Cake:
2 1/4 cups all-purpose flour
2 teaspoons baking powder
1 teaspoon baking soda
2 1/2 teaspoons cinnamon
1/2 teaspoon nutmeg
1/4 teaspoon ginger
1/4 teaspoon cloves
1/2 teaspoon salt
1 1/4 cups canned solid-pack pumpkin
3/4 cup well-shaken buttermilk
1 teaspoon vanilla
1 1/2 sticks, 3/4 cup unsalted butter, softened
3/4 cup granulated sugar
1/2 cup dark brown sugar, light would be fine too
3 large eggs
Icing:
1 stick of butter, browned
2 cups of powdered sugar, sifted
2 teaspoons vanilla extract
2-4 tablespoons milk
Instructions
Preheat oven to 350F. Spray or generously butter a 10 inch bundt cake pan and dust with flour, set aside.
In a medium-sized bowl, whisk together the flour, spices, baking soda, baking powder and salt.
In another bowl, whisk together the pumpkin, buttermilk and vanilla.
In the bowl of a stand mixer fitted with a paddle attachment, cream the butter and sugars together until light and fluffy, about 3 minutes. Add the eggs one at a time until well combined.
Alternate adding the flour and pumpkin mixtures, mixing on low speed, starting and ending with the flour mixture. Don't overmix.
Spoon batter into prepared pan and smooth top with the back of a spoon. Bake for 45-55 minutes, or until a toothpick inserted comes out clean. Invert and cool for at least 30 minutes on a wire rack before icing.
For the icing:
Pour the browned butter into a bowl and whisk in the 2 cups sifted powdered sugar and vanilla, stirring until smooth. Add the milk, a tablespoon at a time until the desired consistency is achieved.
Drizzle over the cake and serve warm, at room temperature or even cold from the fridge. (This cake tastes even better on days 2 and 3!)
Notes
Cake recipe adapted from: Gourmet Magazine Icing recipe adapted from: Martha Stewart Living
Nutrition Information:
Yield:

1
Serving Size:

1 grams
Amount Per Serving:
Unsaturated Fat:

0g