Pumpkin Caramel Layer Cake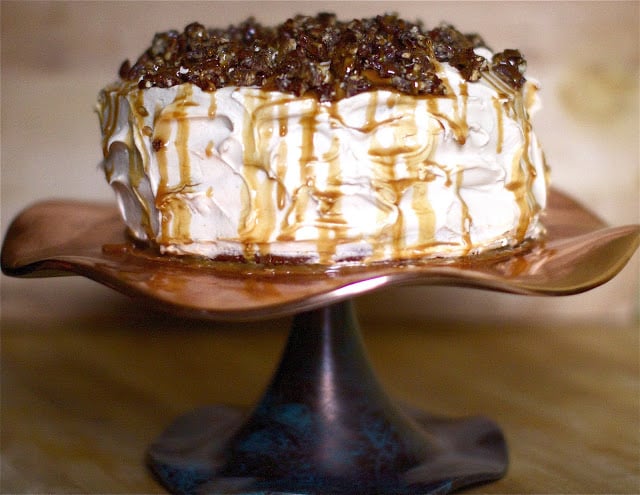 I am brimming with excitement today. Here are the reasons why: 1- This is the best cake I have ever made and I can't wait to share the recipe with you. 2- I leave today for San Francisco! Woohoo! And you know what is waiting for me there? A weekend of fun including the Food Buzz festival and getting to visit Andy's hometown. Yup- I'm a happy girl.
Remember the first time I tried to make a layer cake? Yeah it didn't turn out that well. This one was much different! Now I know that my layers aren't exactly even, and I think I know how to fix it for next time, but is it so bad if I actually kinda like them this way? Sometimes I think a little less than perfect can be the most beautiful.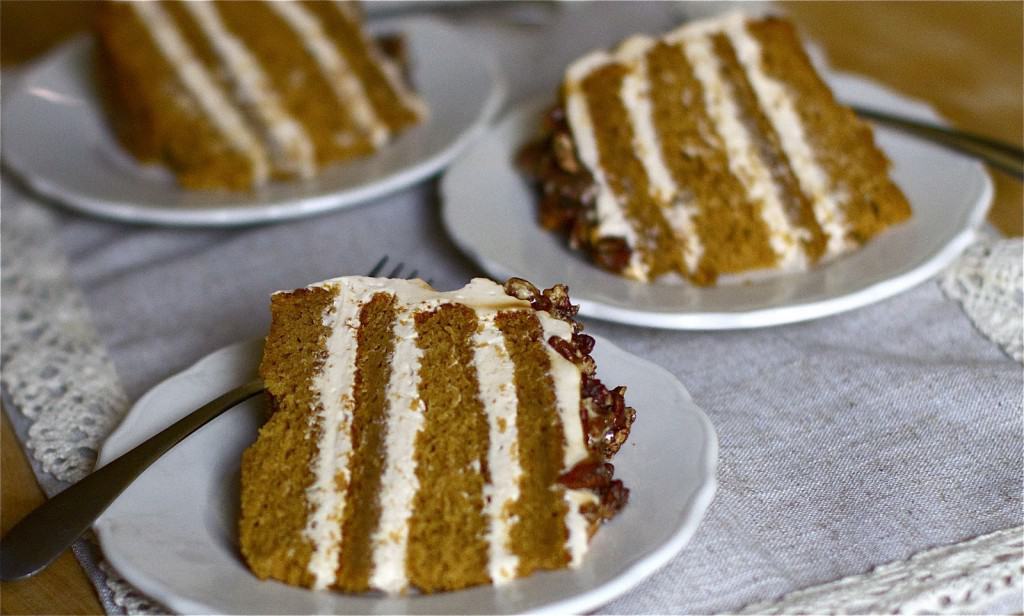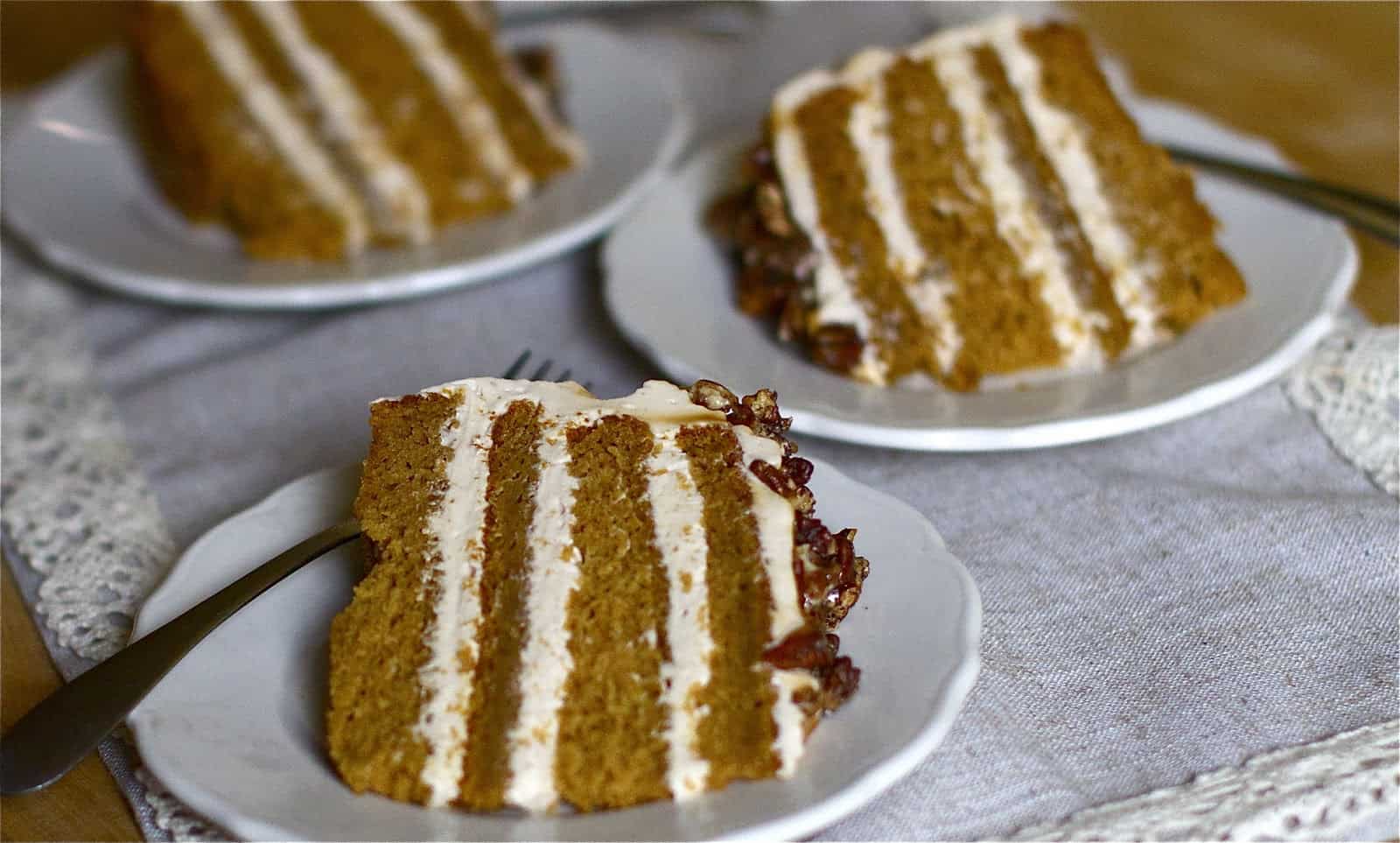 Guys I must say that this is one amazing cake. The frosting you may have seen before. Remember these cupcakes? When I made them back in May I used it on a Coconut Vanilla Bean Cupcake. Now even though they were outstanding, I had bookmarked this pumpkin cake recipe it was originally paired with for sometime in the fall. The frosting comes together like so: make caramel sauce, add cube by cube of cream cheese until the frosting is silky and caramel-y and delicious. Chill for a few hours so it gets nice and spreadable- and there you go. Pair it with the most soft and fluffy pumpkin cake, cinnamon sugar pecans and a drizzle of caramel sauce, and this is a fall dessert at it's best. Trust me!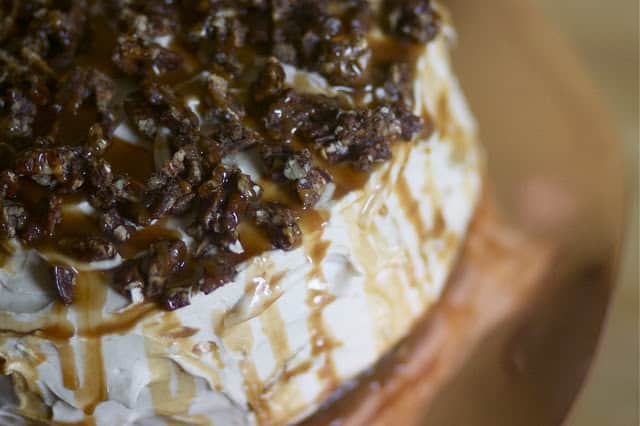 Pumpkin Caramel Layer Cake
Ingredients
Frosting:
1 cup sugar
1/2 cup water
1 1/2 sticks, 6 ounces unsalted butter, softened
2 tablespoons heavy cream
1 pound cream cheese, cut into 2-inch cubes
2 tsp vanilla extract
Cake:
2 cups all-purpose flour
2 1/4 teaspoons baking powder
1 teaspoon salt
1 teaspoon cinnamon
1 teaspoon ground ginger
3/4 teaspoon baking soda
1/2 teaspoon freshly grated nutmeg
1/4 teaspoon ground cloves
1 1/4 cups light brown sugar
4 large eggs
3/4 cup vegetable oil
One 15-ounce can pumpkin puree
1/2 cup whole milk
Cinnamon Pecan Topping:
1 cup crushed pecans
1 egg white
1 teaspoon cinnamon
2 tablespoons sugar
1/4 teaspoon salt
Caramel Sauce for drizzle: I like this recipe
Instructions
In a medium saucepan, combine the sugar and water. Cook over high heat, stirring, until the sugar is dissolved. Using a wet pastry brush, wash down any crystals from the side of the pan. Cook over moderate heat without stirring until a medium-dark amber caramel forms, about 9 minutes. Remove from the heat and immediately stir in the butter and heavy cream. (Don't worry if the butter separates.) Stir in Vanilla extract.
Transfer the caramel to the large bowl and using an electric mixer, beat at low speed until the caramel cools slightly and comes together, about 5 minutes. With the mixer on, beat in the cream cheese, 1 cube at a time and beating well between additions, until silky. Transfer the frosting to a bowl and refrigerate until very firm, at least 6 hours.
Meanwhile:
Preheat the oven to 350°. Butter and flour two 8-inch round cake pans.
In a medium bowl, whisk the flour with the baking powder, salt, cinnamon, ginger, baking soda, nutmeg and cloves.
In a bowl, using an electric mixer, beat the brown sugar and eggs at medium-high speed until fluffy, 3 minutes. Beat in the oil, then beat in the pumpkin puree. Alternately add the dry ingredients and the milk in 3 batches, beating well between additions.
Pour the batter into the prepared pans and smooth the tops. Bake for 40 to 45 minutes, until a toothpick inserted in the center of the cake comes out clean. Let the cakes cool on a rack for 20 minutes. Run a knife around the edges to loosen the cakes, then invert them onto a wire rack to cool completely.
Using a serrated knife, carefully slice each layer of cake in half to make 4 thin cake layers.
Place one layer on a plate and spread with 1 cup of the caramel–cream cheese frosting. Top with the the next 3 layers and repeat. Then, frost the top and side. Top with Candied pecans and Caramel Sauce (optional) Refrigerate the cake for 2 hours before serving.
For the Pecan Topping:
Preheat oven to 350°F. Combine sugar, cinnamon and salt. Whisk egg white until frothy and discard about half. Add the nuts. Toss until well coated. Add dry ingredients and stir well.
Spread nuts on a cookie sheet lined with foil, in a single layer.
Bake for 20 minutes.
Once cool- break the pecans apart and sprinkle on top of the cake.
Notes
*The cake can be refrigerated in an airtight container for up to 2 days. Serve cold or at room temperature.
Nutrition Information:
Serving Size:

1 grams
Amount Per Serving:
Unsaturated Fat:

0g
Adapted from: Food and Wine