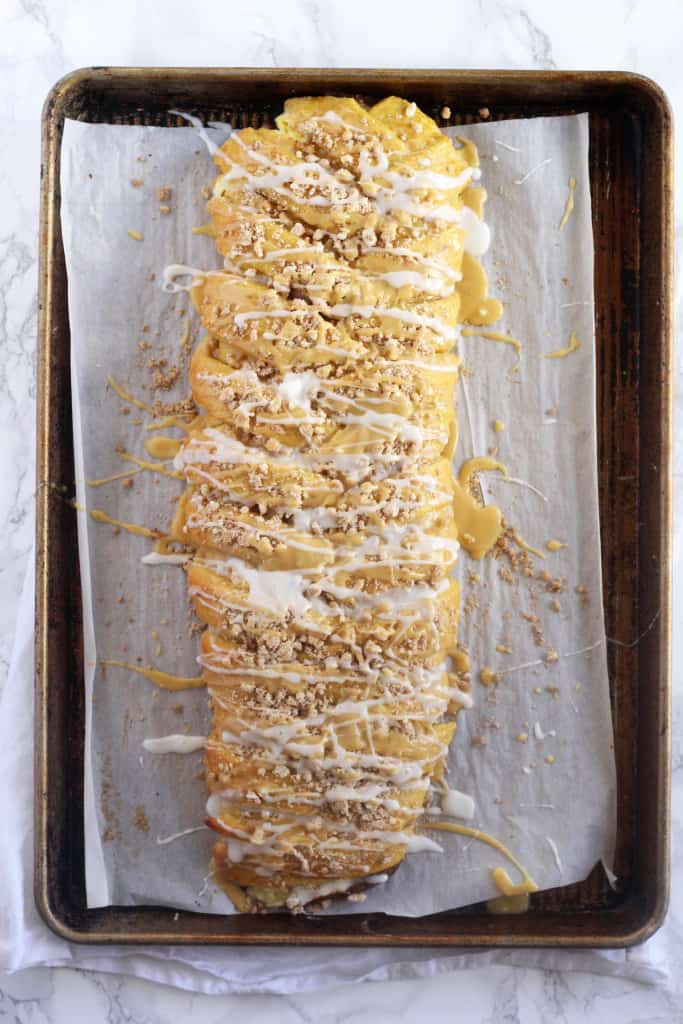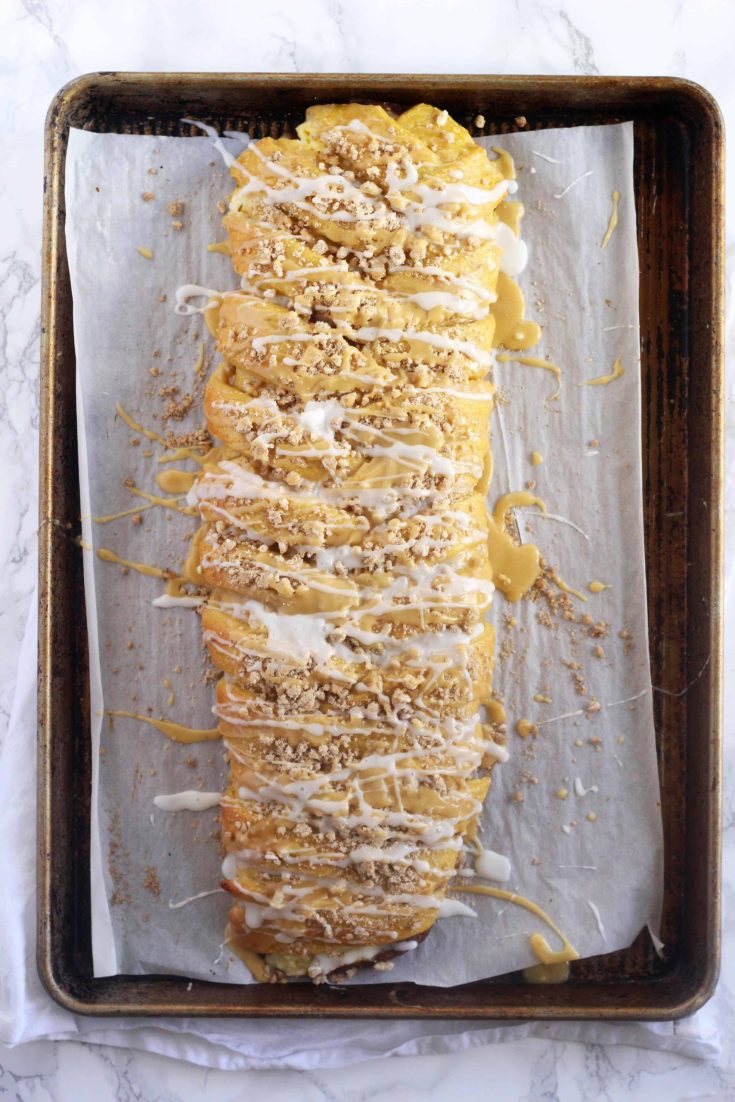 A beautiful, decadent, over-the-top pumpkin pastry is a wonderful way to tackle the Mondays don't you think? Not just a run-of-the-mill here… I'm talking tender and sweet pumpkin dough, pumpkin spice and cream cheese fillings, crumbly streusel toppings, and then both pumpkin spice and vanilla glaze drizzled on top. Sounds pretty darn good doesn't it? Well I can assure you this was better than just good, it was almost heavenly. Paired with a warm cup of coffee (or cold, because my coffee always ends up cold,) this is just blustery fall morning perfection.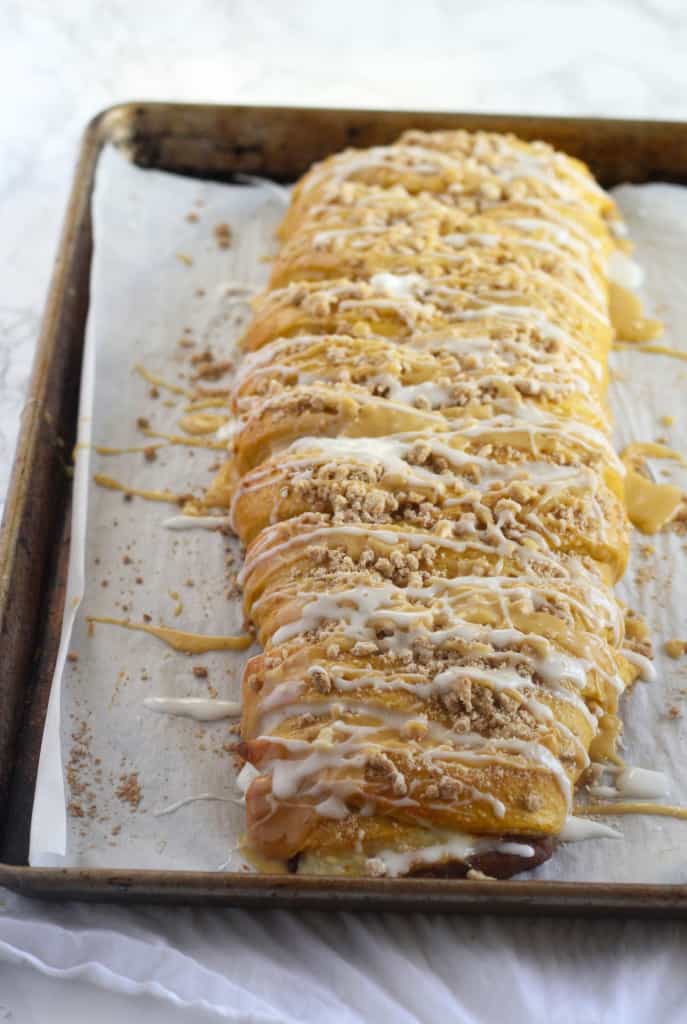 Would you believe it if I told you this was actually quite easy? There are a few steps involved to mix together the different fillings and toppings, but once that is done this whole thing can be thrown together in no time. The base of it all, the lightly spiced, yeasted pumpkin dough comes together quickly and then rests on your counter while you prep the fillings. While the braid proofs, you stir up the streusel topping that gets sprinkled on right before baking. Then, fresh out of the oven, drizzle on the glaze, slice this baby up and enjoy it warm, room temperature, or cold. I imagine serving this for a Thanksgiving weekend brunch with some crispy, salty, bacon & eggs on the side.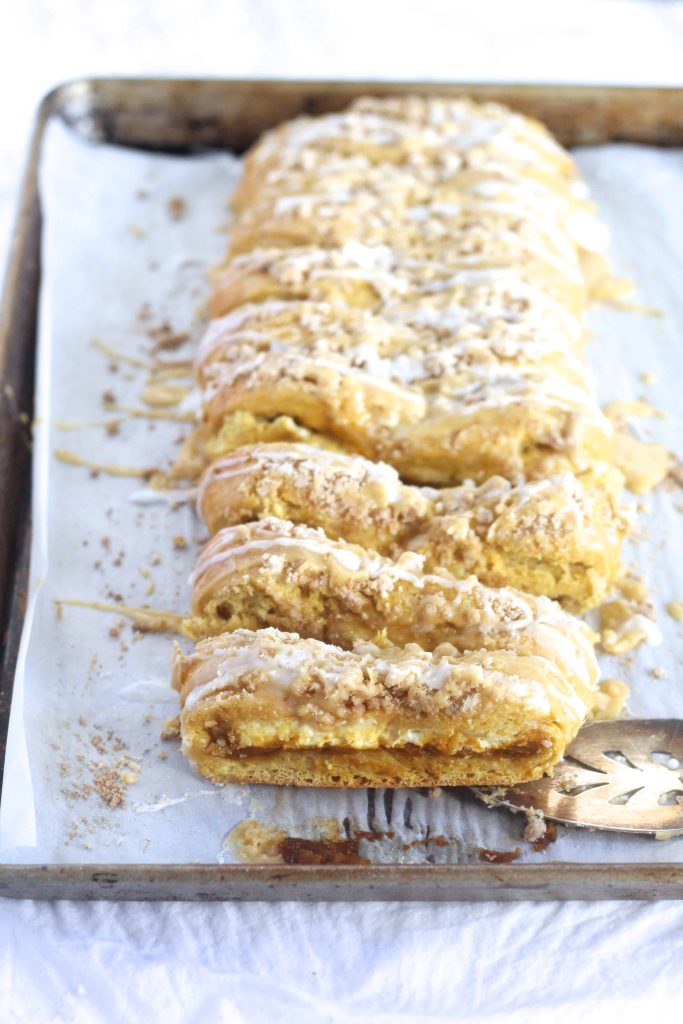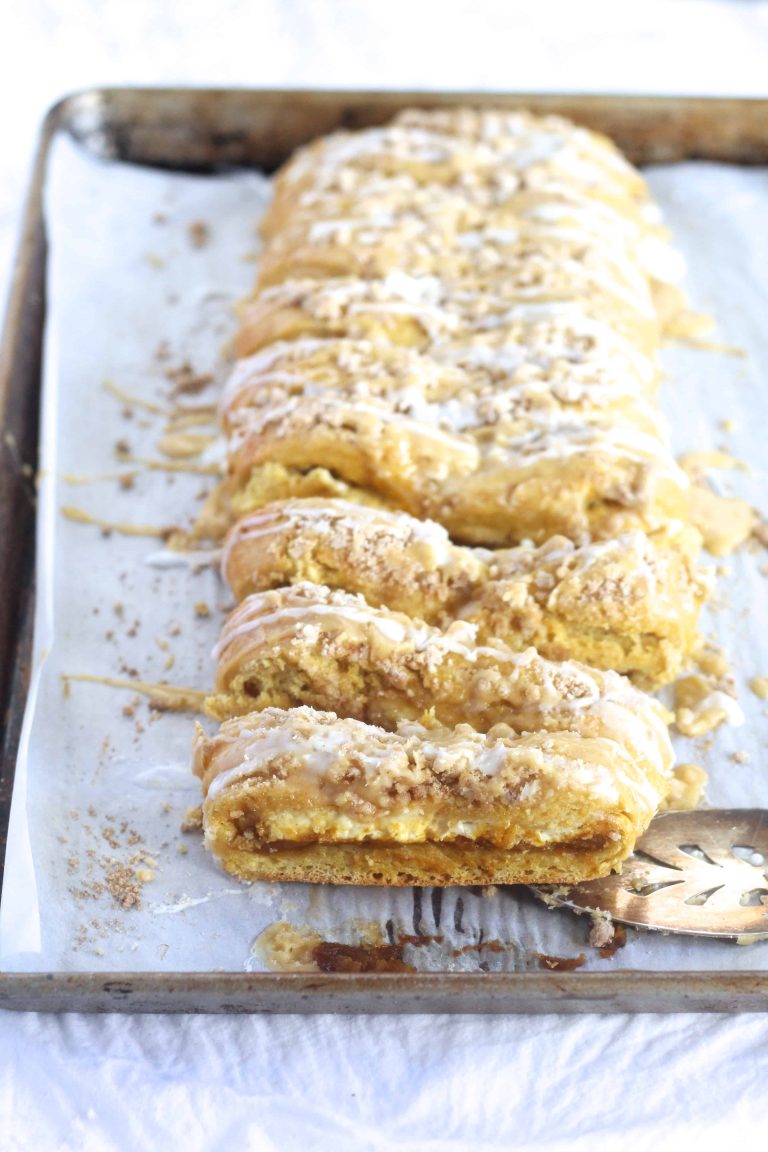 I developed this recipe for Red Star Yeast, a brand I have been hoping to work with for years, as their yeast is something I use in my kitchen regularly. (Seriously you should see the massive bag from Costco I have in the freezer!) There is something truly satisfying about adding yeast to some flour and then watching the dough turn into something wonderful, and this recipe is just that.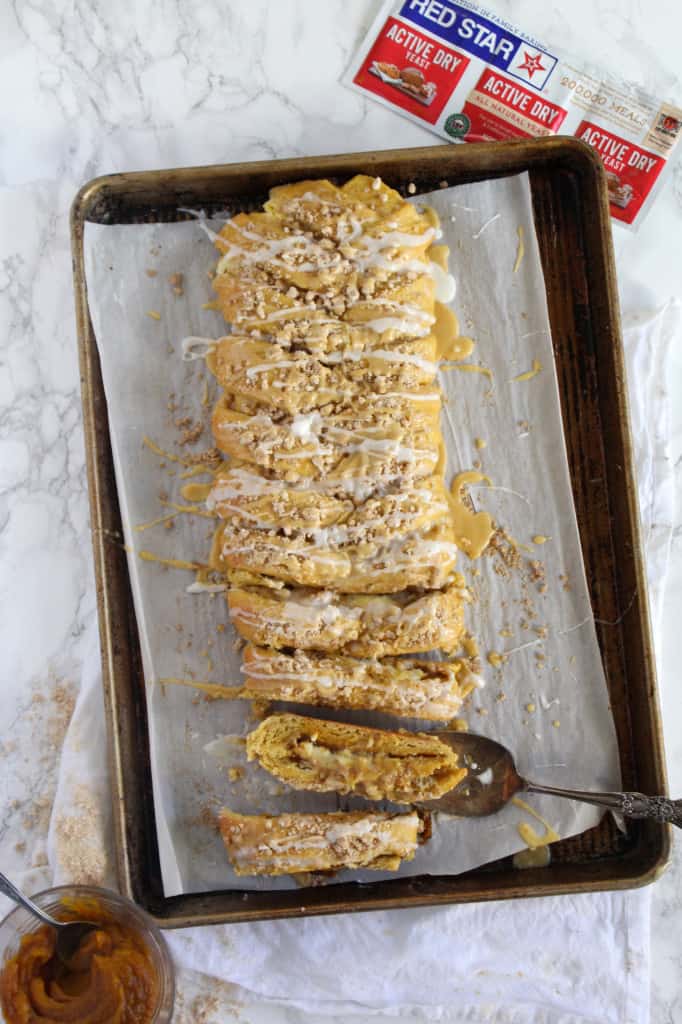 This recipe was developed in partnership with Red Star Yeast but the thoughts and opinions expressed are always 100% my own. Check out their Facebook page for more baking inspiration.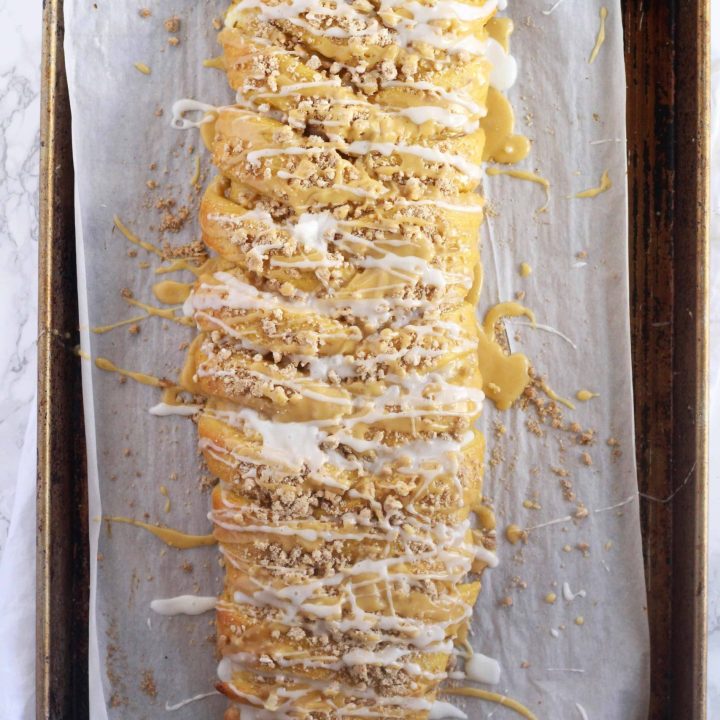 Pumpkin Cheesecake Braid
Ingredients
For the dough:
½ cup milk
¼ cup butter
3¼ cups all-purpose flour
1 (.25 ounce) package Red Star Active Dry Yeast
1 tablespoon white sugar
1 teaspoon pumpkin pie spice
½ teaspoon salt
½ cup pumpkin pureé
1 egg
For the pumpkin filling:
1 cup pumpkin puree
2 tablespoons brown sugar
1/2 teaspoon pumpkin pie spice
For the cheesecake filling:
6 oz. cream cheese, softened
1 egg
2 tablespoons white sugar
1/2 teaspoon vanilla extract
For the topping:
2 tablespoons brown sugar
2 tablespoons all-purpose flour
1/2 teaspoon ground cinnamon
1 tablespoon butter
1 egg- beaten
For the glazes*
1-2 cups powdered sugar
2-3 tablespoons of milk or cream
1/2 teaspoon vanilla extract
Instructions
In a small saucepan or in the microwave, heat together the milk and butter until the butter is melted and the milk is simmering. Set aside.
In a large mixing bowl combine the flour, yeast, sugar, pumpkin pie spice and salt. Stir together to combine.
Make a well in the dry ingredients and add the 1/2 cup pumpkin, egg, and milk mixture. Use an electric mixer to combine all the ingredients, then switch to a dough hook if you have one to knead and work the dough. (You may also do this by hand.)
When the dough is smooth and soft. Form a ball and cover with a clean, damp, dish cloth. Allow dough to rest while you prep your fillings.
For the Pumpkin Filling:
Stir together the pumpkin, brown sugar, and spices. Set aside.
For the Cream Cheese Filling:
Cream together the cream cheese and egg, then add the sugar and vanilla and mix until smooth and lump-free. Set aside.
To assemble:
On a clean surface, sprinkle some flour and roll out your dough into a 10x15 triangle (or thereabouts.) Use a butter knife to mark the dough into 3 vertical sections. Using a paring knife or pastry wheel, cut equal, diagonal strips on both sides of the dough- leaving the center section empty.
Spread the pumpkin filling in an even layer in the middle of the dough, reserving a couple tablespoons to use for the glaze.
Gently spread the cream cheese filling on top of the pumpkin layer.
Criss cross the cut strips, overlapping one with the other. (This old post has good photos to outline this process.)
Cover the braid with plastic wrap or a clean towel and proof for 45 minutes or until doubled and puffy. Preheat oven to 350F.
For the streusal:
Whisk together the flour, brown sugar, and cinnamon. Break the butter into small pieces with your fingers and work the whole thing together until crumbs form.
Spread the beaten egg on the entire surface of the braid and then sprinkle with the steusal.
Bake for 17-20 minutes, or until the dough is golden.
For the glazes:
For the pumpkin glaze whisk together the remaining pumpkin filling with 1 cup of powdered sugar and enough milk to form a thick, smooth glaze.
For the vanilla glaze, mix 1/2 cup of powdered sugar with the vanilla and a splash of milk, again whisking until smooth and thick. Add more powdered sugar if needed.
Drizzle both glazes over the top of the braid, allowing to cool slightly before slicing and enjoying!
Notes
*You'll be using some of the pumpkin filling for the pumpkin glaze