Pumpkin Cinnamon Roll Cake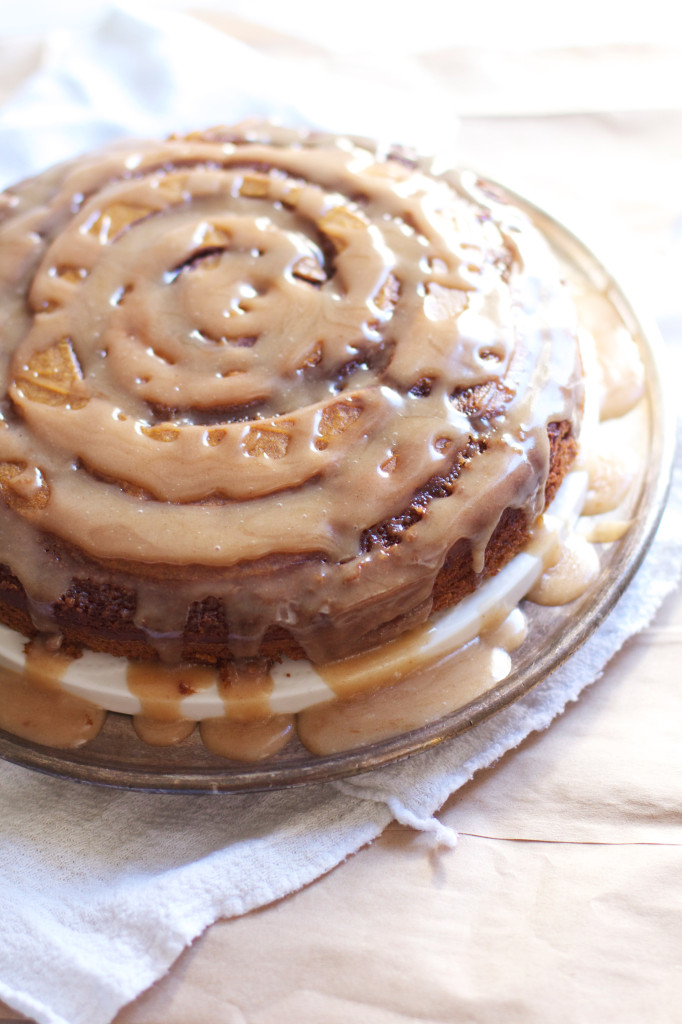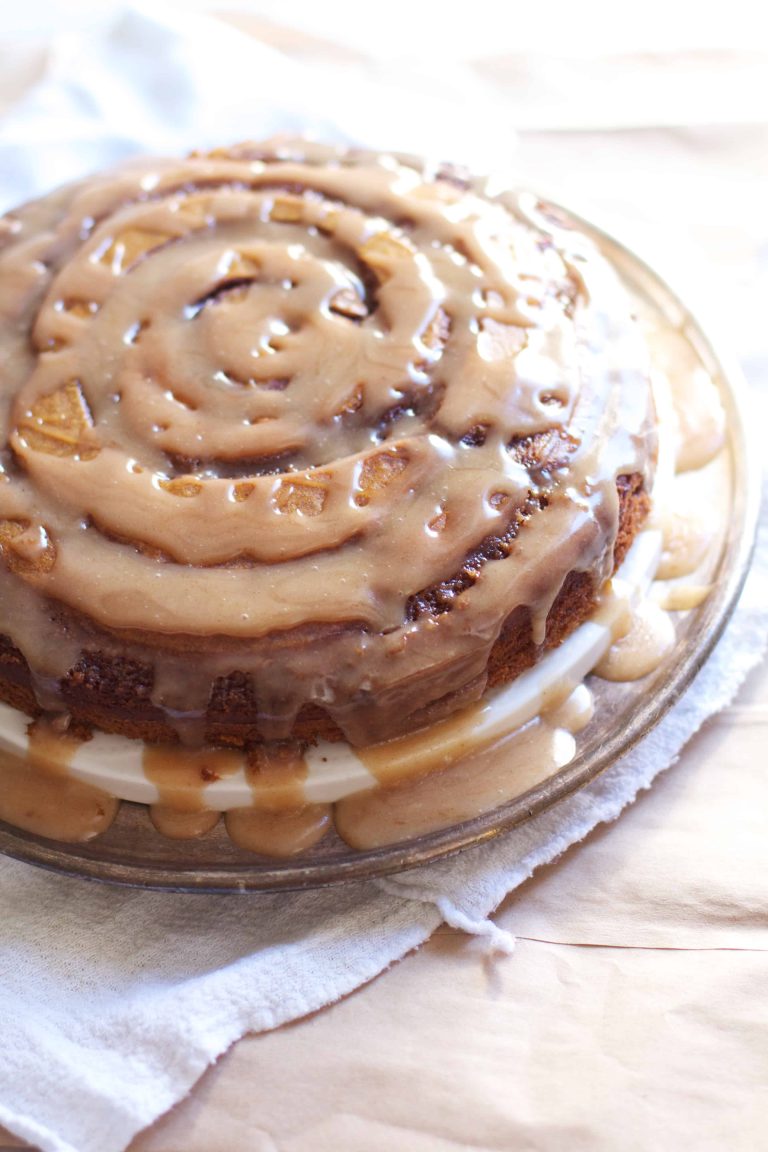 Sometimes I struggle with what to write about in these blog posts. I know what I made was delicious, but have a hard time filling the page beyond that. Lucky for me, today leaves me with no shortage of things to say. Why you ask? Because in addition to this delicious cake, today is about celebrating my friend Joanne. It's a Virtual Bridal Shower and you are all invited!!
If you don't know Joanne you are truly missing out. Go check out her blog Eats Well With Others immediately and fall in love with her witty banter and hundreds of amazing recipes. Her pages are full of mouth-watering vegetarian dishes as well and truly scrumptious desserts. If you scroll back far enough into the archives, you may even catch the early stories of her romance with her fiancé who she affectionately calls "the.boy."
I'm lucky to be friends with Joanne in real life too. We both live in NYC but I got to meet her and Lauren 4 years ago in San Francisco at a food blog conference. (Incidentally the night after I got engaged!!) Since then we've made a point of all getting together and I'm so lucky to have her as a real life AND blogging friend. I also couldn't be more excited to get to attend her wedding later this month!!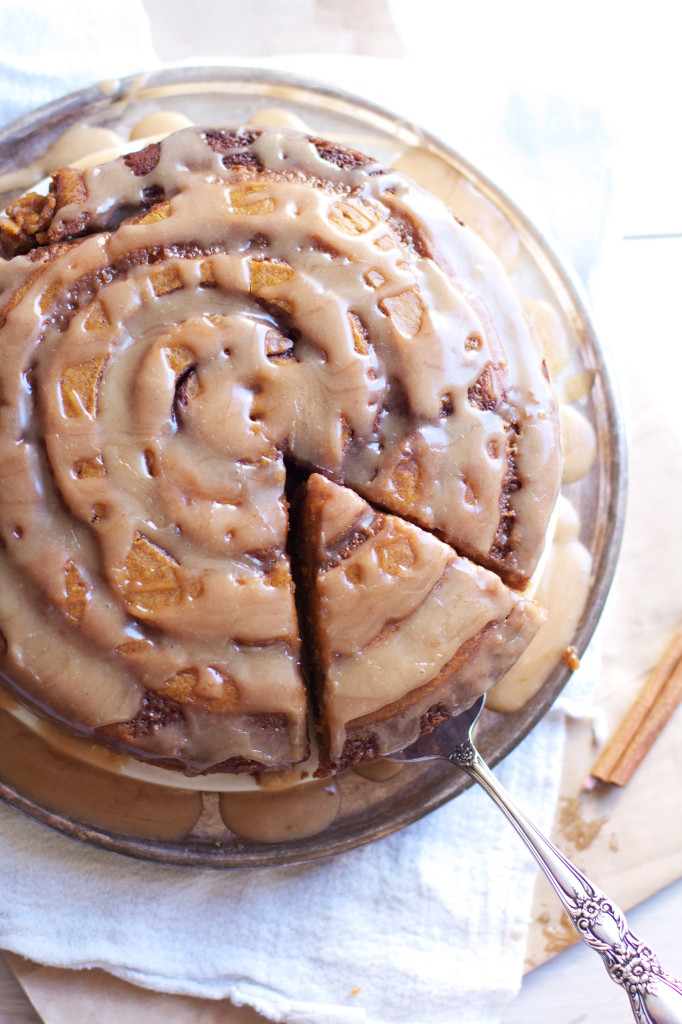 I'll get to this cake in a second, but first I just have to reiterate what a good friend Joanne is. This was proven to me a few weeks ago when she accompanied Hugo & me to a food blog conference in PA. She calmly stood by while the following things occurred: My meltdown right before getting into our rental car because Hugo was crying, His meltdown on the drive home during which Joanne stuck her hand back from shotgun (for a good 45 mins,) to show him videos on her phone (the only way he would calm down.) Also, two nights in a hotel with a baby which may have involved a couple late night wake-ups and me shushing him in the bathroom. Through all of this- Joanne was so kind, so sweet, and so patient with both of us. I love her for this and for so many other things. I'm so excited for you to get married Joanne! Enjoy this virtual shower!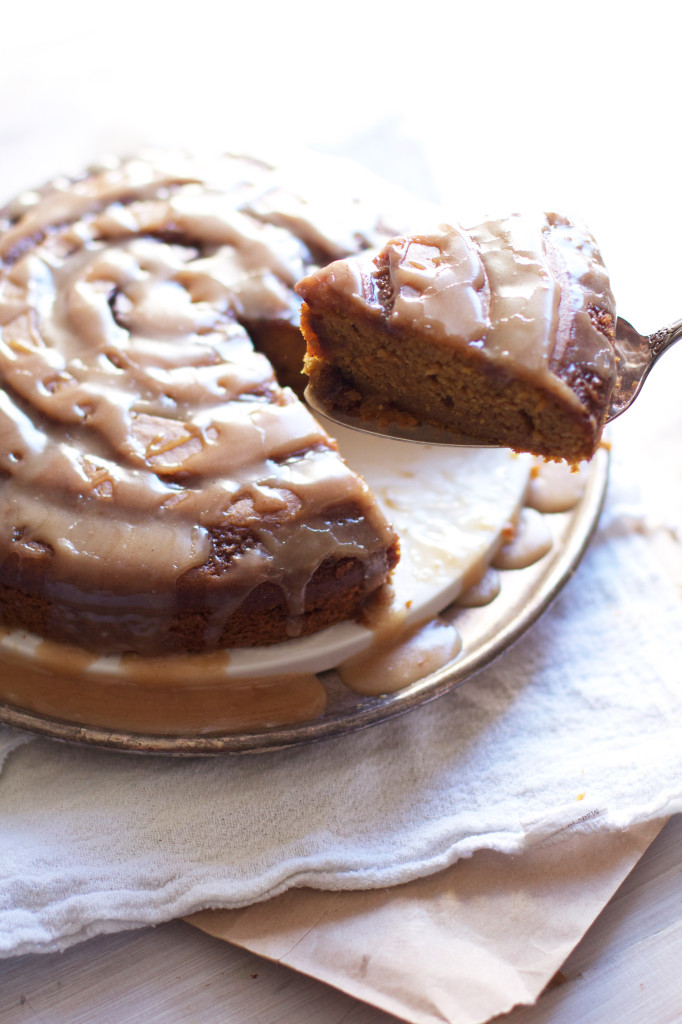 Ok this cake though…Oh man did it turn out well. I starts with my favorite pumpkin cake recipe which is velvety smooth and just melts in your mouth. Before baking I swirled some cinnamon roll filling into the top which got all gooey and caramelized as it baked. This is finished with a buttery cinnamon glaze that kinda melts into all the crevices and makes this whole thing pretty darn perfect if I do say so myself.
It would be great for a sweet addition to a holiday brunch spread, but it holds it own as an after-dinner dessert as well. I am seriously obsessed with this pumpkin cake recipe. (You may notice I have used it many times around here, but I have never found one better!) So whether or not you make it in this form, or cupcakes, or a loaf cake whatever- trust me- it's top notch! I know that Joanne is as pumpkin-obsessed as I am so I hope she loves this too!
Several of Joanne's Best Blogging Friends joined in to celebrate her upcoming nuptials today- Check out all their wonderful posts as part of her Autumn-themed Shower!
Cocktails:
Pumpkin Spice White Russian – Nutmeg Nanny
Warm Apple Pie Cocktail – Miss In The Kitchen
Bourbon Apple Cider Cocktail– Cook Like A Champion
Snacks/Savory:
Baked Brie with Honey and Sliced Almonds – The Lemon Bowl
Butternut Squash and Apple Galette – Warm Vanilla Sugar
Roasted Pumpkin Crostini – Annie's Eats
Kale Salad with Maple Butternut Squash and Pomegranate Dressing – Blahnik Baker
Lemony-Pasta Stuffed Zucchini – Very Culinary
Pumpkin Dip with Apple Chips– Meadows Cooks
Sweet:
Pumpkin Cinnamon Roll Cake – The Baker Chick
Peanut Butter Fudge Pie with Salted Peanut Butter Caramel– Taste and Tell
Caramel Apple Upside Down Cake – The Girl in the Little Red Kitchen
Snickerdoodle Bundt Cake – Chocolate and Carrots
Roasted Butternut Squash Pie with Brown Sugar Marshmallow Topping – Keep It Sweet
Caramel Corn Chocolate Chip Cookies – The Cooking Actress
Caramel Cranberry Apple Galette – Bakeaholic Mama
Coconut Pecan Tarts – Bake or Break
Cranberry Margarita Cupcakes – Baker by Nature
Gingerbread Truffles – Dinners Dishes and Desserts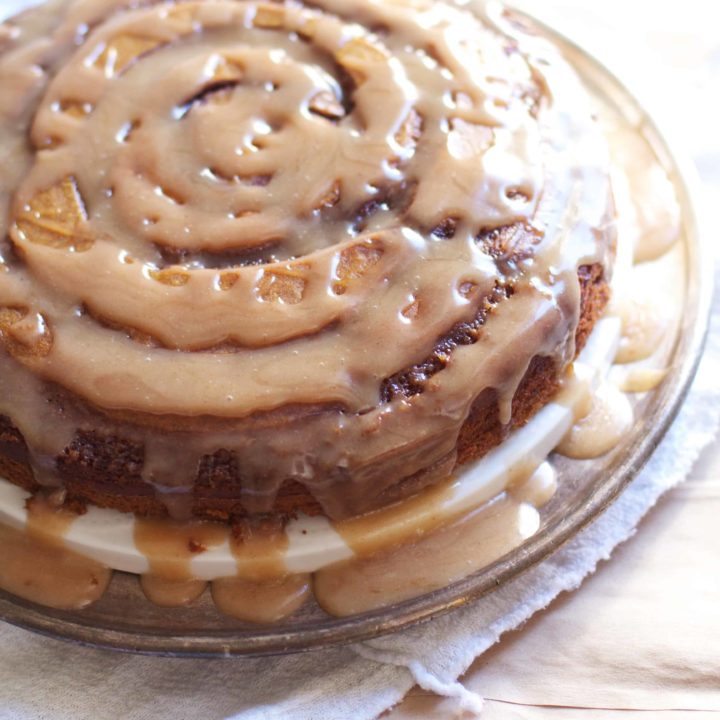 Pumpkin Cinnamon Roll Cake
Ingredients
1 cup all-purpose flour
1 teaspoon baking powder
1/2 teaspoon baking soda
1/2 teaspoon salt
1/2 teaspoon cinnamon
1/2 teaspoon ground ginger
1/4 teaspoon freshly grated nutmeg
1/8 teaspoon ground cloves
3/8 cup light brown sugar
2 large eggs
3/8 cup vegetable oil
One cup pumpkin puree
1/4 cup whole milk
Cinnamon Swirl:
2 tablespoons melted butter
2 tablespoons brown sugar
1 heaping teaspoon ground cinnamon
Icing:
2 tablespoons melted butter
3-4 tablespoons powdered sugar
1 teaspoon ground cinnamon
1-2 teaspoons milk if needed
Instructions
Preheat the oven to 350F. Grease or spray a n 8 or 9 inch round cake pan and line the bottom with parchment, set aside.
In a medium bowl combine the flour, baking powder, baking soda, salt, and spices. Whisk together and set aside.
In the bowl of a stand mixer fitted with a paddle attachment, beat the eggs and brown sugar for 2-3 minutes or until fluffy. Add the oil and pumpkin, beating until smooth.
Gradually mix in the dry ingredients in 3 batches alternating with milk, starting and ending with the dry ingredients. Don't over-mix!
Pour the batter into the pan smooth with an off-set spatula.
Stir together the filling ingredients. Carefully pour filling into a piping bag, or a glass measuring cup with a spout. Swirl the filling onto the top of the cake. (I used an injector tip which allowed me to kinda dig it into the batter so the filling went further down than the surface.)
Bake for about 25-30 minutes, or until baked through and a toothpick inserted into the center comes out clean.
For the Glaze:
Whisk together the melted butter and powdered sugar until smooth. (Start with 3T and add the 4th if it seems runny. Stir in the cinnamon and milk if needed. You want the glaze to easily spill of the spoon and not be too thick.
Drizzle the glaze over the warm cake and serve immediately.
Notes
Base cake recipe adapted from Food & Wine
Nutrition Information:
Yield:

1
Serving Size:

1 grams
Amount Per Serving:
Unsaturated Fat:

0g