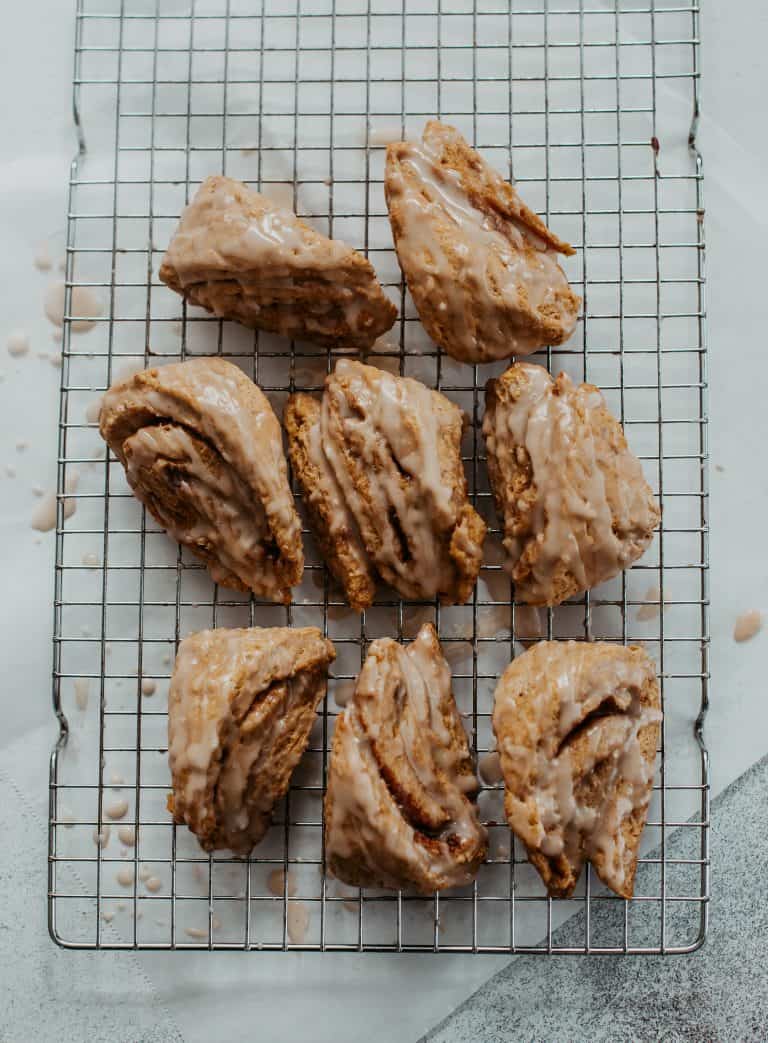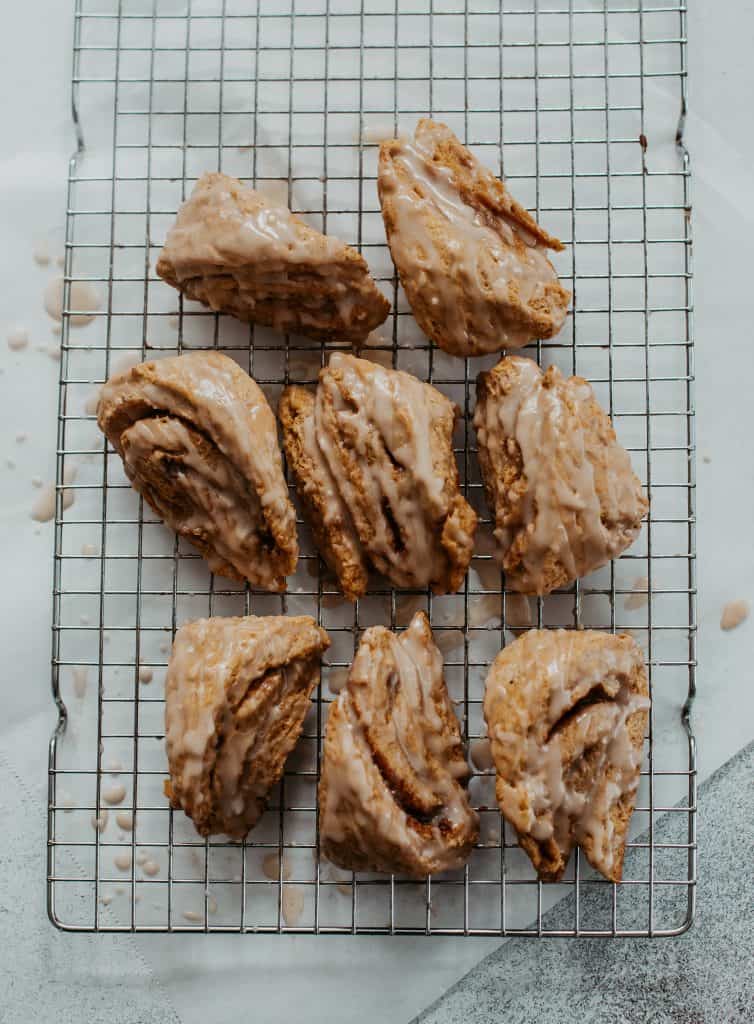 The holidays are weird this year. Well everything is weird this year, but I for one am struggling to find my identity without cooking and baking for large groups of people.
Since the beginning of the pandemic in March, I've gotten by with a little help from baking. I started with croissants, cookies, anything I could spend the day making and then bag up and drop off on neighbor's porches.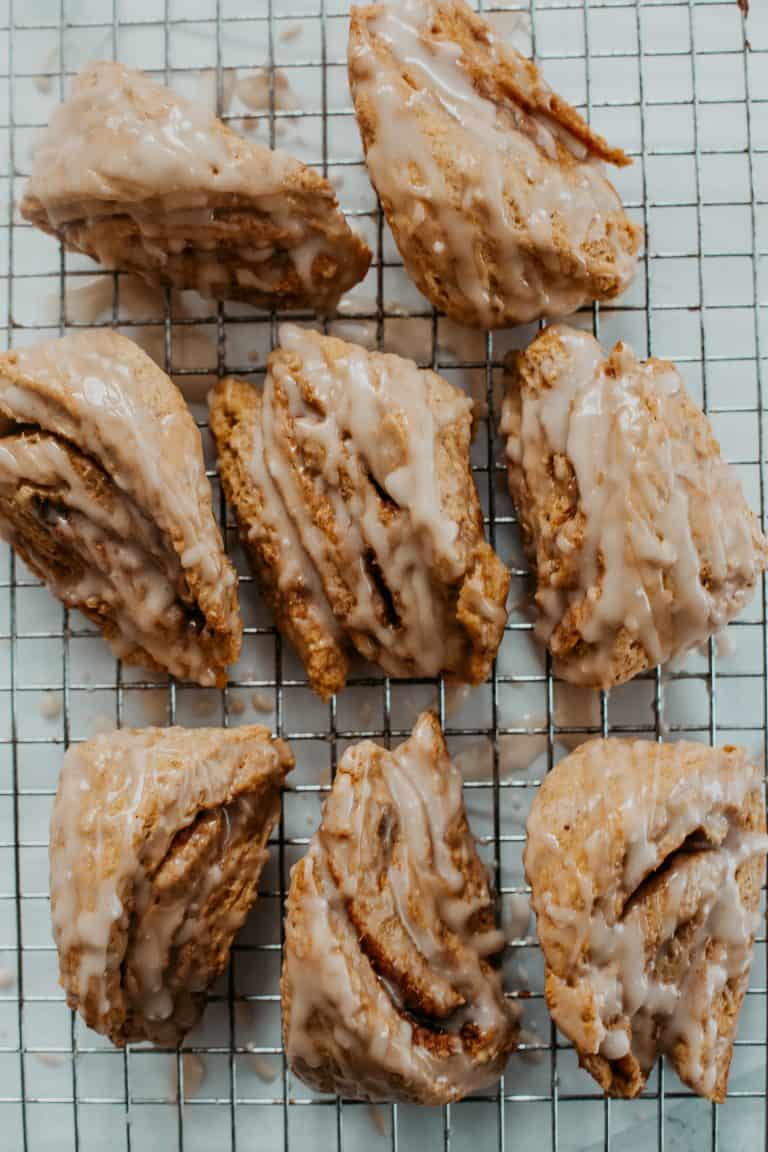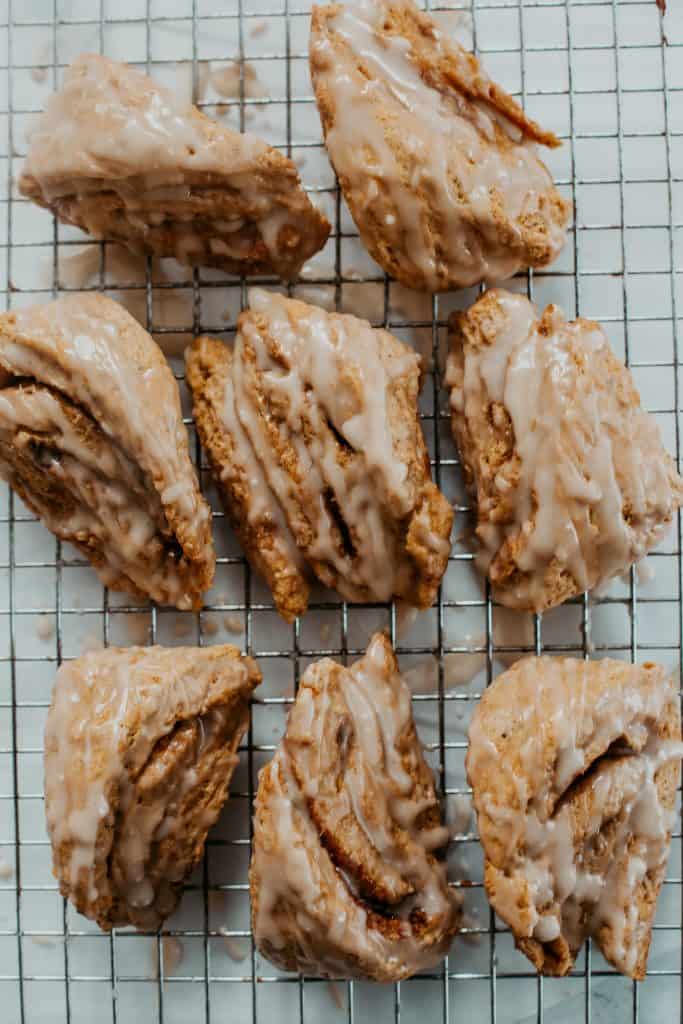 Have you done anything like that the last few months? If not I highly recommend it. It checks so many wellness boxes for me.
-spend time making something beautiful and delicious – check!
-get outside (delivering treats to neighbors!) -check!
-connect with people safely in an isolating time- check!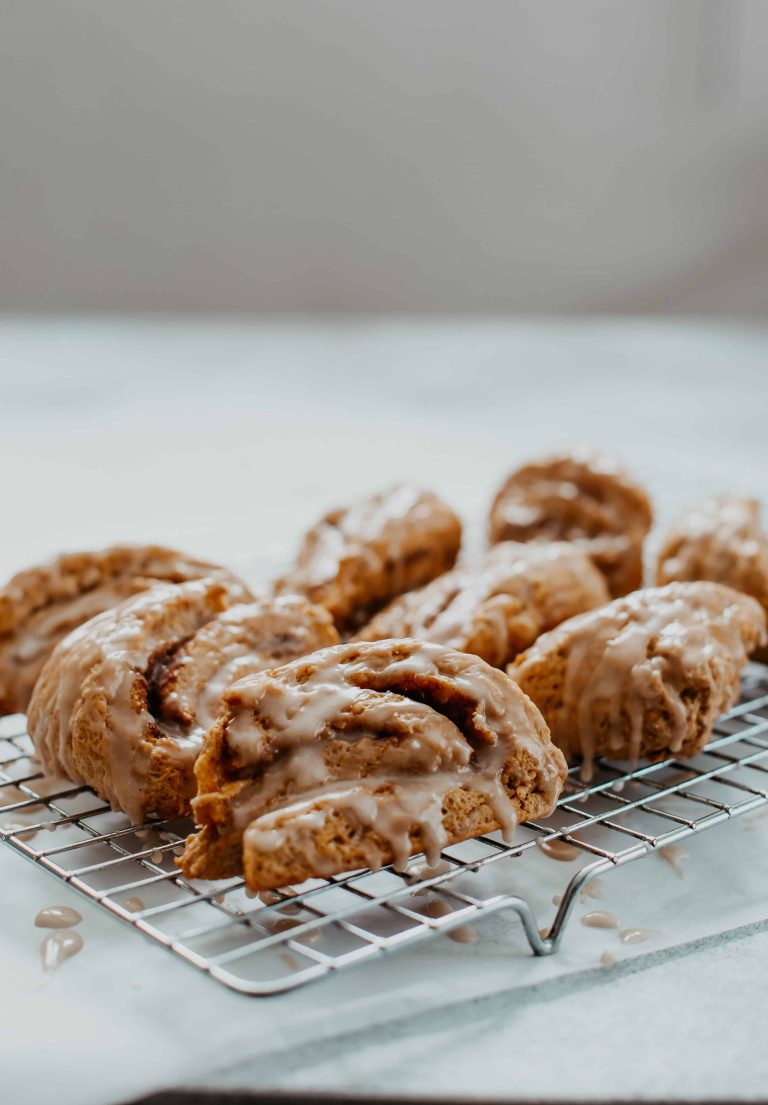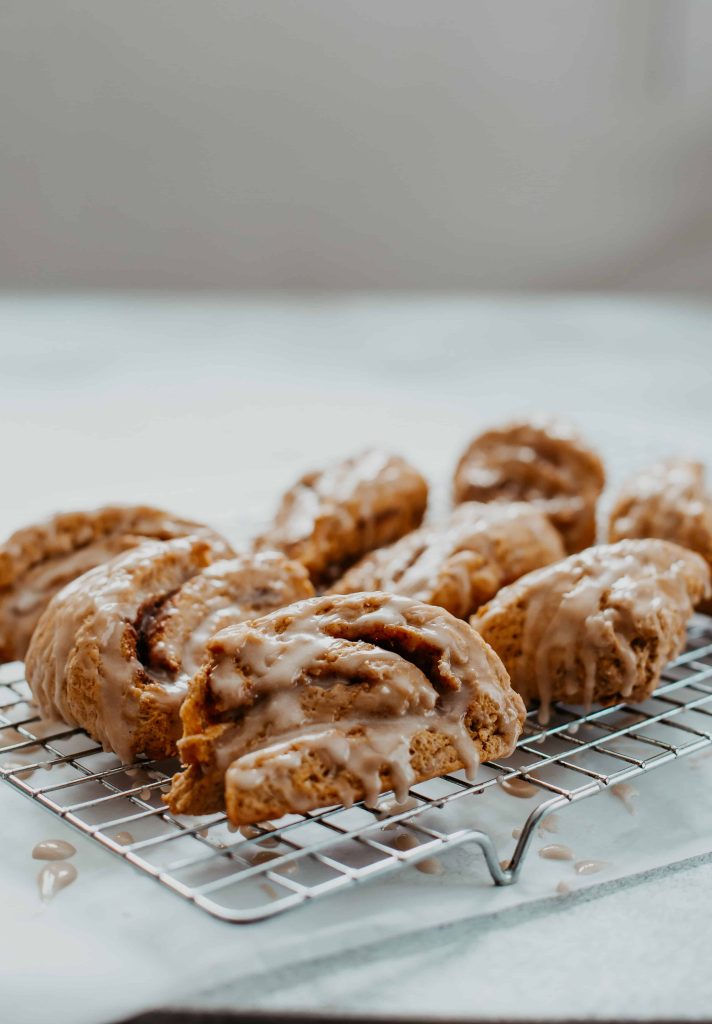 These Pumpkin Cinnamon Roll Scones are easy, beautiful, and the perfect treat to enjoy or share on a crisp fall day.
The simple scone dough is rolled into a rectangle, sprinkled with cinnamon sugar, folded, cut, and baked to perfection.
On top goes a simple maple glaze and there you have it- the perfect thing for a crisp fall day with a cup of tea am I right?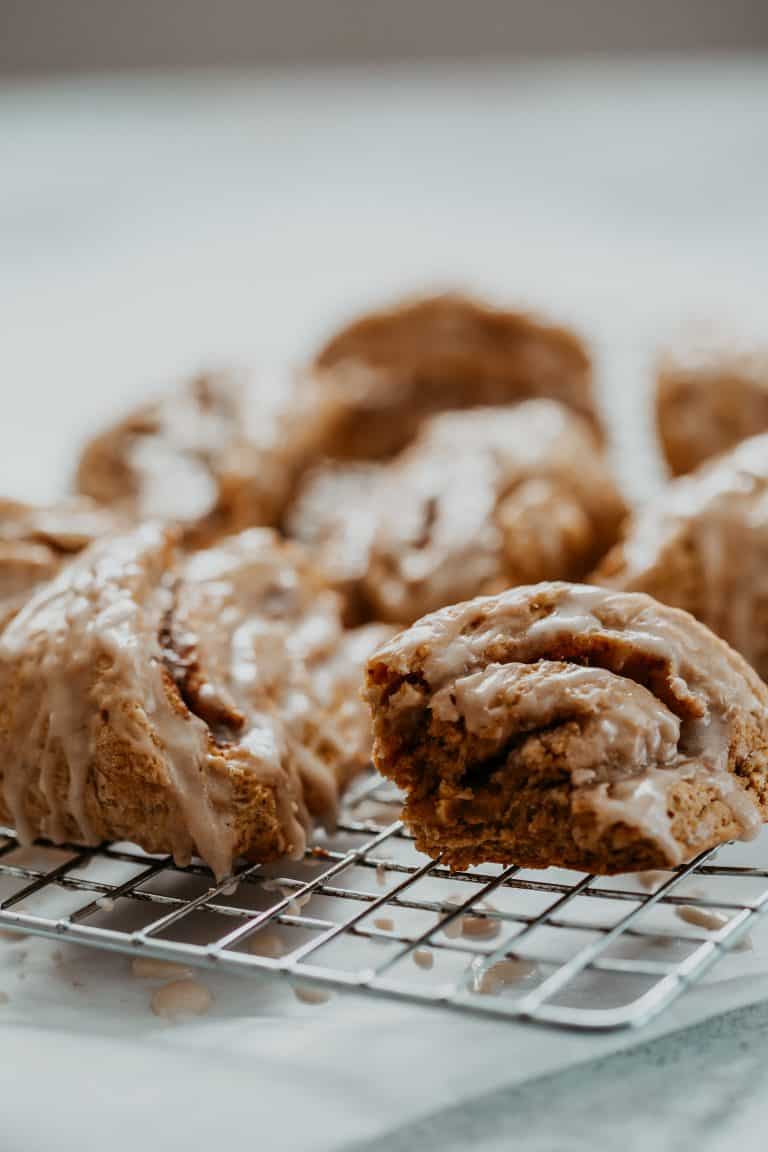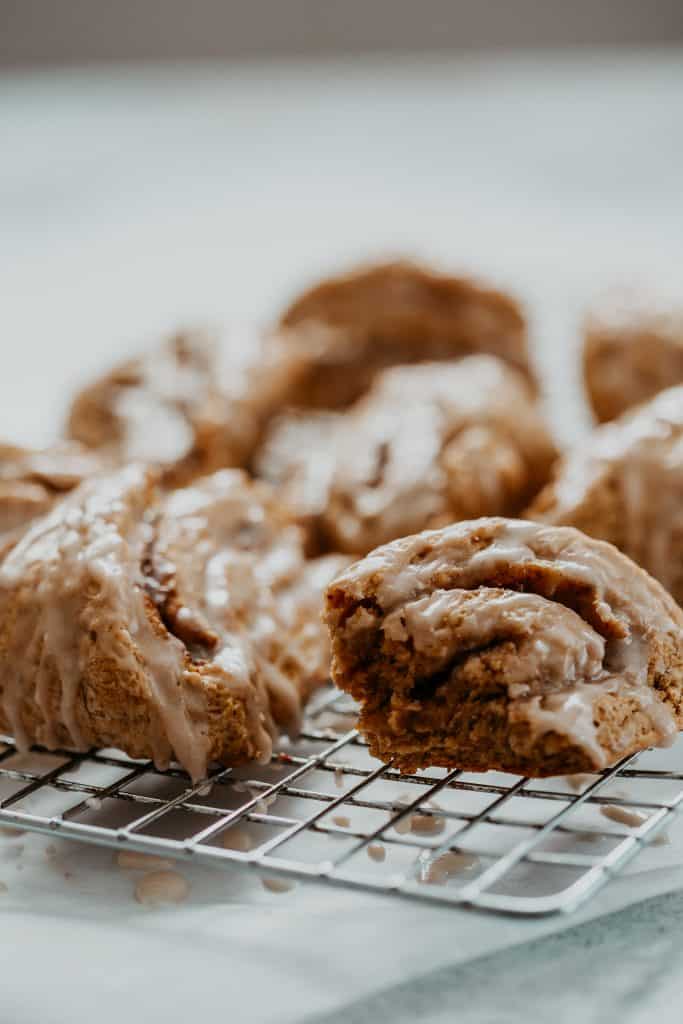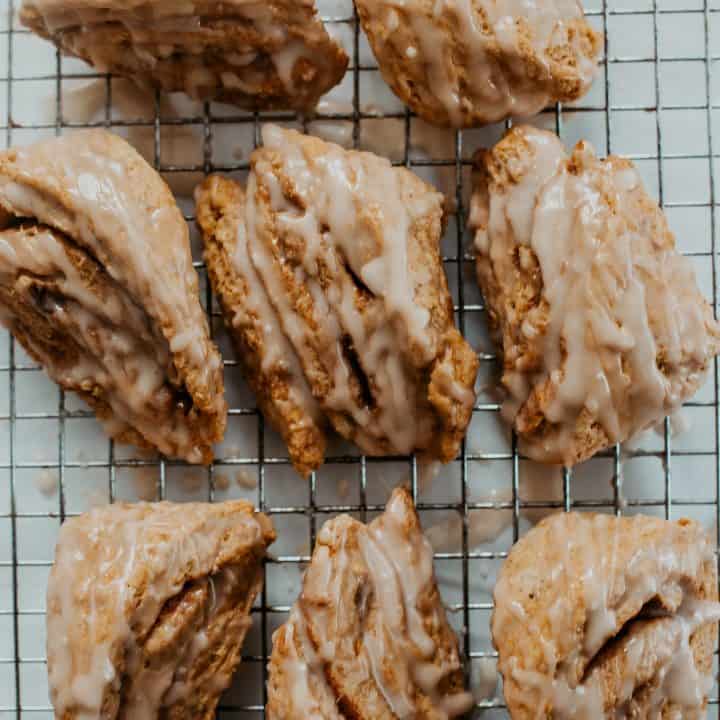 Pumpkin Cinnamon Roll Scones
Tender pumpkin spice scones with a cinnamon sugar later and a sweet maple glaze.
Ingredients
2 cups (240 g) all-purpose flour
¼ cup ( 50g) white sugar
1 tablespoon baking powder
½ teaspoon salt
½ teaspoon ground cinnamon
½ teaspoon ground nutmeg
¼ teaspoon ground cloves
¼ teaspoon ground ginger
8 tablespoons (4 oz.) cold butter, cut into chunks
½ cup (113 grams) pumpkin pureé
1/4 cup (4oz.) heavy cream
For the glaze:
1 cup (120 g) powdered sugar
1 tablespoon pure maple syrup
1-2 tablespoons heavy cream
Instructions
In a large bowl combine the flour, sugar, baking powder, salt, and spices.
Add the cold butter chunks and use your hands to smash each cube flat. Continue tossing the dough gently making sure all the pieces are smashed. (you could also use a pastry cutter or two knives to break the butter up.)
Make a well in the middle of the bowl and add the pumpkin and cream. Use a spatula or wooden spoon to moisten the ingredients and then use floured hands to knead everything into a scraggly dough.
Turn the dough onto a floured surface and knead a few times until it comes together and the dry bits
Flatten the dough into a rectangle and roll out to about 9x13, trying to keep it as smooth and even as possible. Make sure the surface is floured and your dough isn't sticky.
Combine the cinnamon and sugar and sprinkle it evenly over the dough.
Fold the top 1/4 over, and then fold 2 more times until you have a long and thin rectangle of dough.
Cleanly cut the dough once down the middle, then into quarters, and finally each quarter diagonally to make 8 scones.
Transfer them to a cookie sheet and pop it into the freezer while the oven preheats to 375F. (You can place them on a plate if a cookie sheet won't fit.)
Bake for 18-20 minutes or until golden with the tops feeling firm. Cool on a wire rack.
Prepare the glaze by stirring all the ingredients together. Drizzle over the warm scones and enjoy!