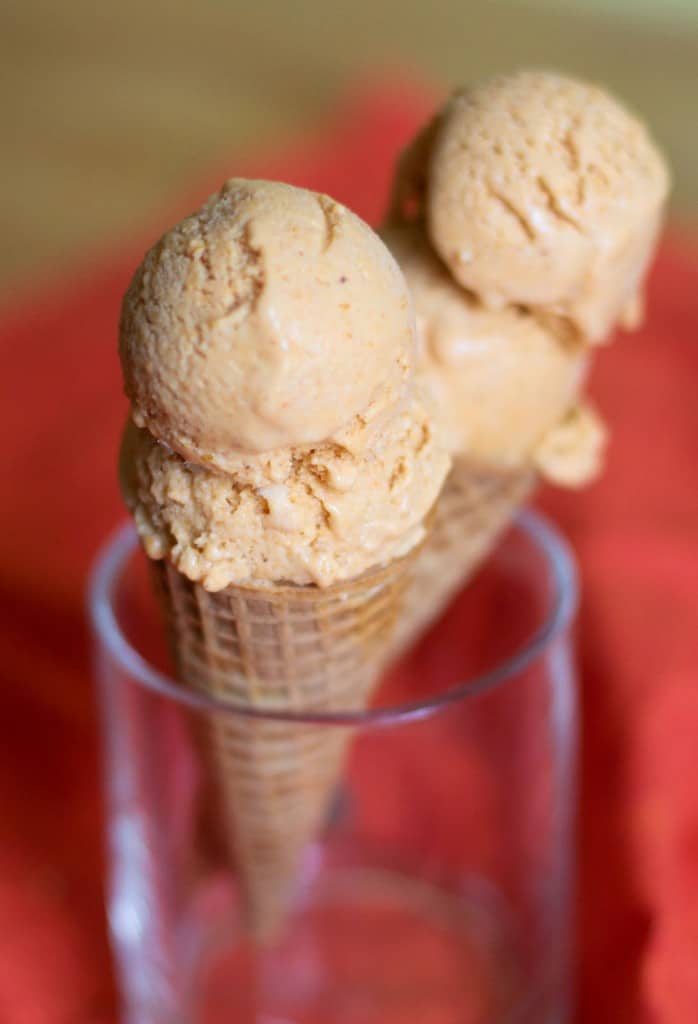 Yeah yeah you read that right. Pumpkin. I know that in terms of seasonal food trends, pumpkin is so "out" until September at the very earliest. Right now it's all about berries and peaches and cherries and other things that fill up are markets in July. BUT- I am sorry to say I'm a teeny bit over summer. Well actually- I'm pretty much all the way over it. My kitchen is the only room of the apartment that doesn't get a touch of AC so lately it's been just awful. While normally standing and baking brings me loads of joy, lately I just want to get in and out as soon as possible. So, I started thinking ahead..to crisp fall mornings, football games, and crunchy leaves….and what do you know -I had to have pumpkin ice cream.
You know it makes sense if you think about it. July is National Ice Cream month, and this ice cream is still cold and refreshing, even if the flavors are "fall and winter." I thought about making pumpkin ice cream all last fall but it just never felt right. I wanted to be turning on my oven to cozy up my kitchen more than eat something icy and cool. So- since I had saved one can of pumpkin puree for such emergencies, I made this delicious treat happen.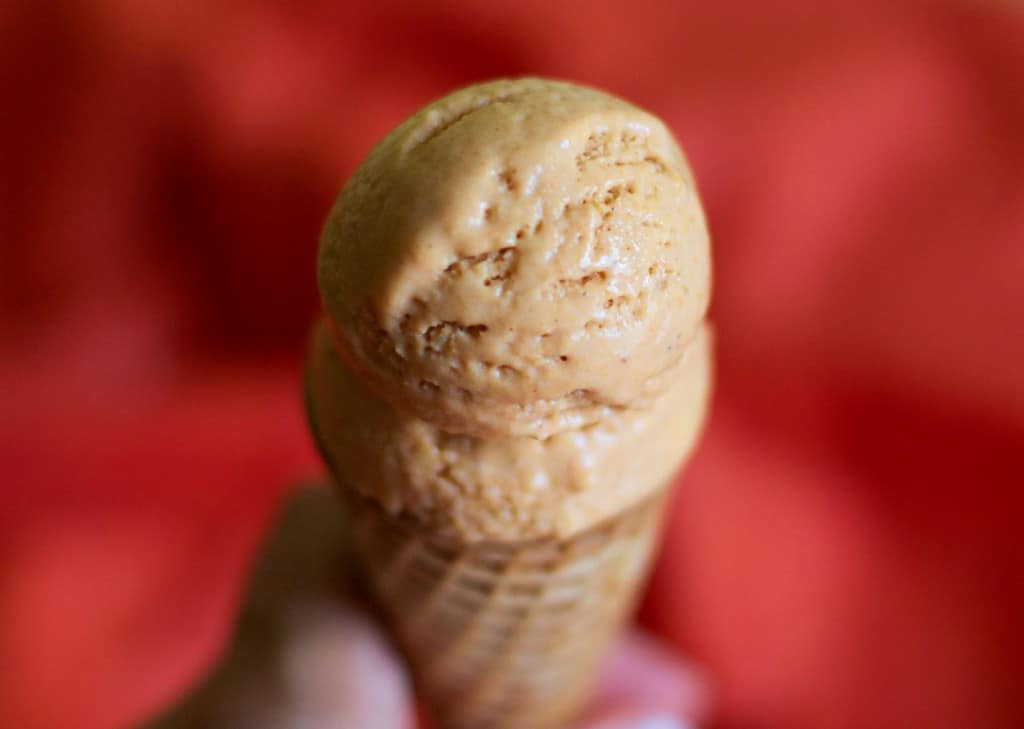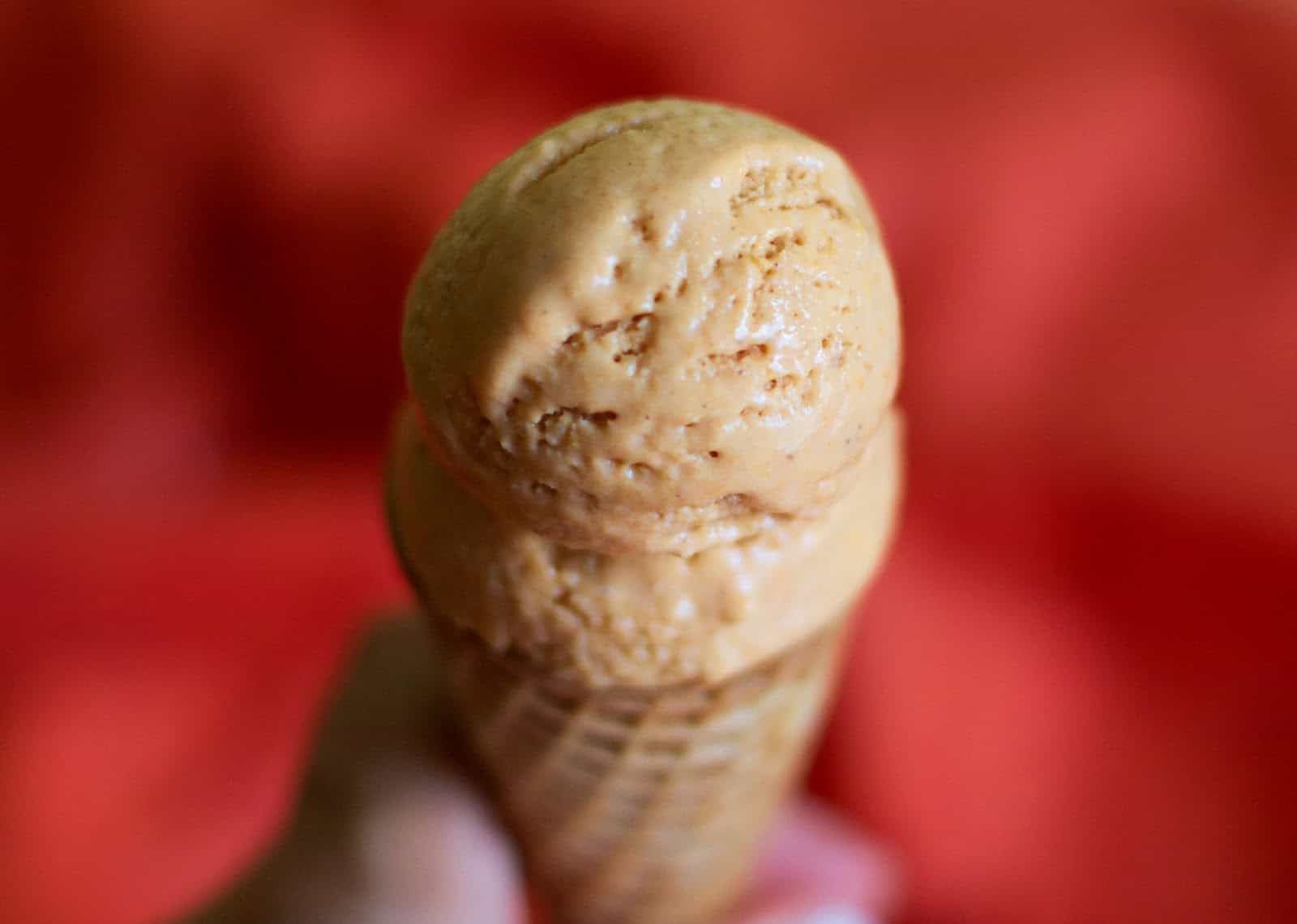 This is really more like pumpkin pie ice cream than anything else. The flavor, and texture really reminded me of that silky smooth pie filling that I love so much. It is full of spices and plenty of pumpkin so there is not question what you are having. And the recipe isn't overly sweet which means I had this for breakfast yesterday. Oops!
Ingredients
1 cup pumpkin puree
1 tsp. vanilla extract
2 cups half and half
3/4 cup firmly packed dark brown sugar
5 egg yolks
1/2 tsp. ground cinnamon
1/2 tsp. ground ginger
1/4 tsp. salt
Pinch of freshly grated nutmeg
1 Tbs. bourbon, optional
Instructions
In a bowl, whisk together the pumpkin puree and vanilla. Stick it in the freezer to let it chill a bit while you make the custard.
In a heavy 2-quart saucepan over medium heat, combine 1 1/2 cups of the half and half and 1/2 cup of the brown sugar. Cook until bubbles form around the edges of the pan, about 5 minutes.
Meanwhile, in a bowl, combine the egg yolks, cinnamon, ginger, salt, nutmeg, the remaining 1/2 cup half and half and the remaining 1/4 cup brown sugar. Whisk until smooth and the sugar begins to dissolve.
Remove the cream mixture from the heat. Gradually whisk about 1/2 cup of the hot cream mixture into the egg mixture until smooth.
Pour the egg mixture back into the pan. Cook over medium heat, stirring constantly with a wooden spoon and keeping the custard at a low simmer, until it is thick enough to coat the back of the spoon and leaves a clear trail when a finger is drawn through it, 4 to 6 minutes. Do not allow the custard to boil.
Strain through a fine-mesh sieve into a bowl.
Place the bowl in a larger bowl partially filled with ice water, stirring occasionally until cooled.
Whisk the pumpkin mixture into the custard. Cover with plastic wrap, pressing it directly on the surface of the custard to prevent a skin from forming.
Refrigerate until chilled, at least 3 hours or up to 24 hours.??Transfer the custard to an ice cream maker and freeze according to the manufacturer's instructions.
Add the bourbon during the last minute of churning.
Cover and freeze until firm, at least 3 hours or up to 3 days, before serving.
Notes
I find that half and half works really well to make creamy but not too heavy ice cream. This recipe called for all heavy cream- but I'm very glad I made the adjustment- this would have been to rich for summer otherwise.
Nutrition Information:
Serving Size:

1 grams
Amount Per Serving:
Unsaturated Fat:

0g
Recipe adapted slightly from Williams Sonoma