Pumpkin-Maple Whoopie Pies and Maine Part 2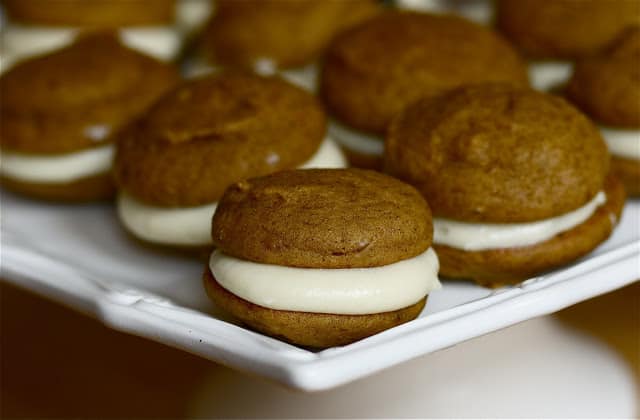 Did you guys know that Whoopie Pies are the official state dessert of Maine? And that the largest whoopie pie EVER was created earlier this year (in Maine,) weighing over 1000 lbs? Well I didn't either until I spent the last month in Maine. See I've been noticing Whoopie Pies everywhere and it finally clicked- one visit to Wikipedia later and I knew what was what.
Lucky for me, I love Whoopie Pies AND I'd already planned to share this recipe with you. I figured nothing could be more perfect. Acctually- that's only partially true. The official type of Maine Whoopie Pies are made with a marshmallow fluff filling which isn't my favorite. I find it a little sticky and fake tasting. I much prefer these pumpkin ones with it's rich cream cheese filling. I only tried them a few times, and sorry Maine, I still prefer the ones I made in my lil' kitchen.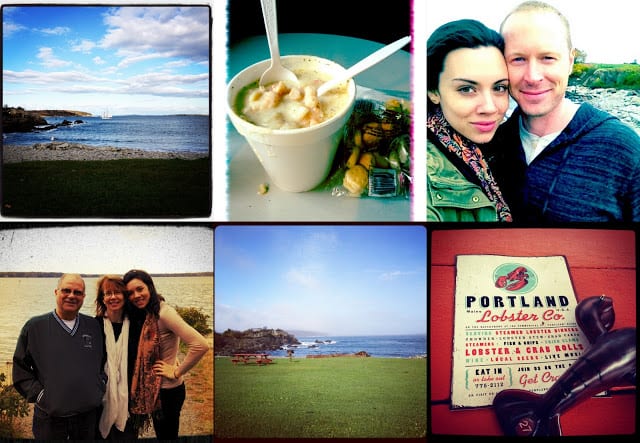 Cape Elizabeth, Seafood Chowder, Andy's Visit, My Mom & Dad, Beautiful Maine Day, Waiting for Lobster.
Today I am heading back to New York and I can't wait. I had a good time in Maine but you have no idea how excited I am for my bed, my kitchen, my sisters, my boyfriend, my friends, my DVR and my city. I am all caught up on posts though so this week I am going to be baking up a STORM! Anyone in the New York area want to take some treats off my hands? (For real.) I will have something new for you on Wednesday but until then, here's is my 5th Pumpkin Recipe so far this season (and I have at least one more coming… what can I say? it is my favorite thing.)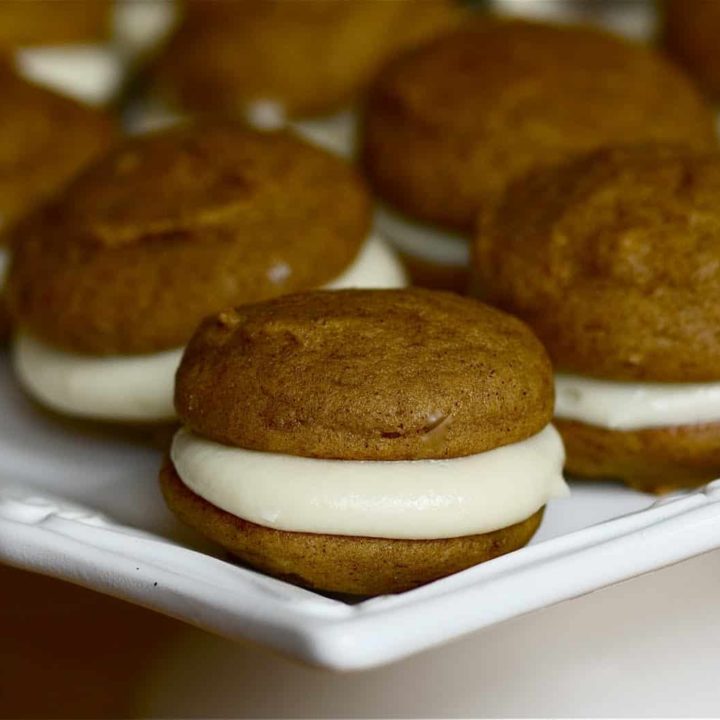 Pumpkin-Maple Whoopie Pies
Ingredients
3 cups all-purpose flour
1 tsp. salt
1 tsp. baking soda
1 tsp. baking powder
2 tbsp. cinnamon
1 tsp. ground ginger
½ tsp. ground nutmeg
1 cup granulated sugar
1 cup dark brown sugar, firmly packed
1 cup canola oil
3 cups chilled pumpkin puree
2 large eggs
1 tsp. vanilla extract
For the maple cream cheese filling:
3 cups powdered sugar
½ cup unsalted butter, at room temperature
8 oz. cream cheese, at room temperature
3 tbsp. maple syrup
1 tsp. vanilla extract
Instructions
To make the cookie portion, preheat the oven to 350° F. Line a baking sheets with parchment paper. In a large bowl, whisk together the flour, salt, baking soda, baking powder and spices. Set aside. In a separate bowl, whisk sugars and oil together. Add the pumpkin puree and whisk to combine thoroughly. Add the eggs and vanilla and whisk until combined. Sprinkle the flour mixture over the pumpkin mixture and whisk until completely combined.
Use a small ice cream scoop with a release mechanism to drop a heaping tablespoon of dough onto the baking sheet, about 1 inch apart. Bake for 10-12 minutes, until the cookies are just starting to crack on top and a toothpick inserted into the center of a cookie comes out clean. Remove from the oven and let the cookies cool on the pan for about 10 minutes.
Transfer to a wire rack to cool completely. Repeat with remaining dough.
To make the filling, in a large bowl use an electric mixture and beat the butter until smooth with no visible lumps. Add the cream cheese and beat until combined. Add the powdered sugar, maple syrup and vanilla and beat until smooth. Be careful not to overbeat the filling or it will lose structure.
To assemble, turn half of the cooled cookies upside down. Pipe filling onto the flat side of the overturned cookies. Place another cookie, flat side down, on top of the filling. Press down slightly so that the filling spreads to the edges of the cookie. Repeat until all the cookies are used. Refrigerate for at least 30 minutes to firm before serving.
Nutrition Information:
Yield:

32
Serving Size:

1 grams
Amount Per Serving:
Unsaturated Fat:

0g
Source: Annie's Eats Via Culinary Concoctions of Peabody