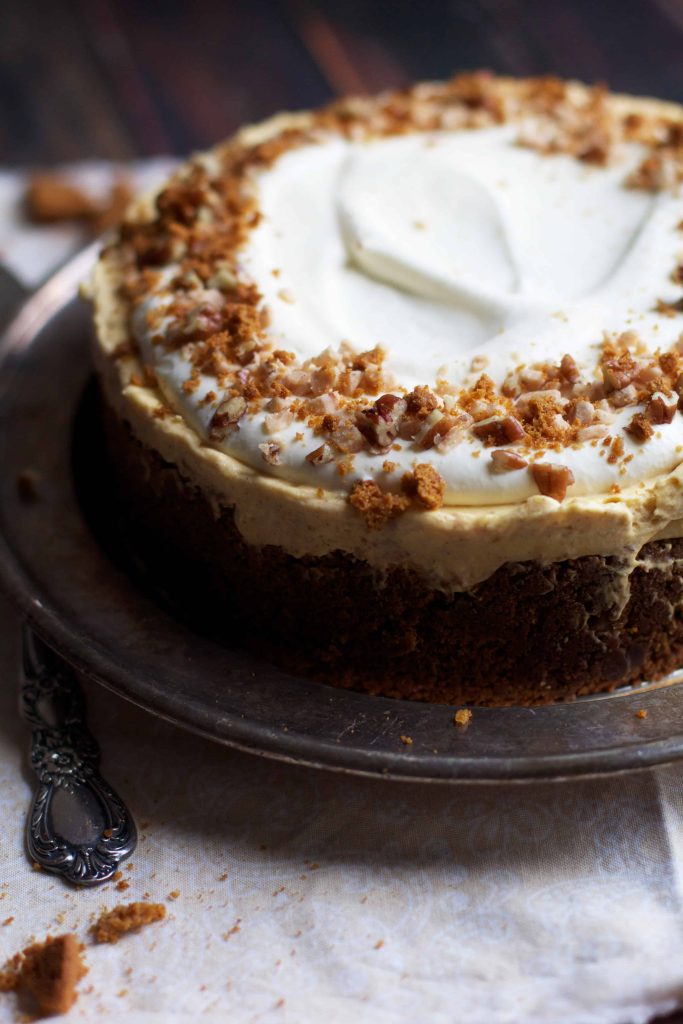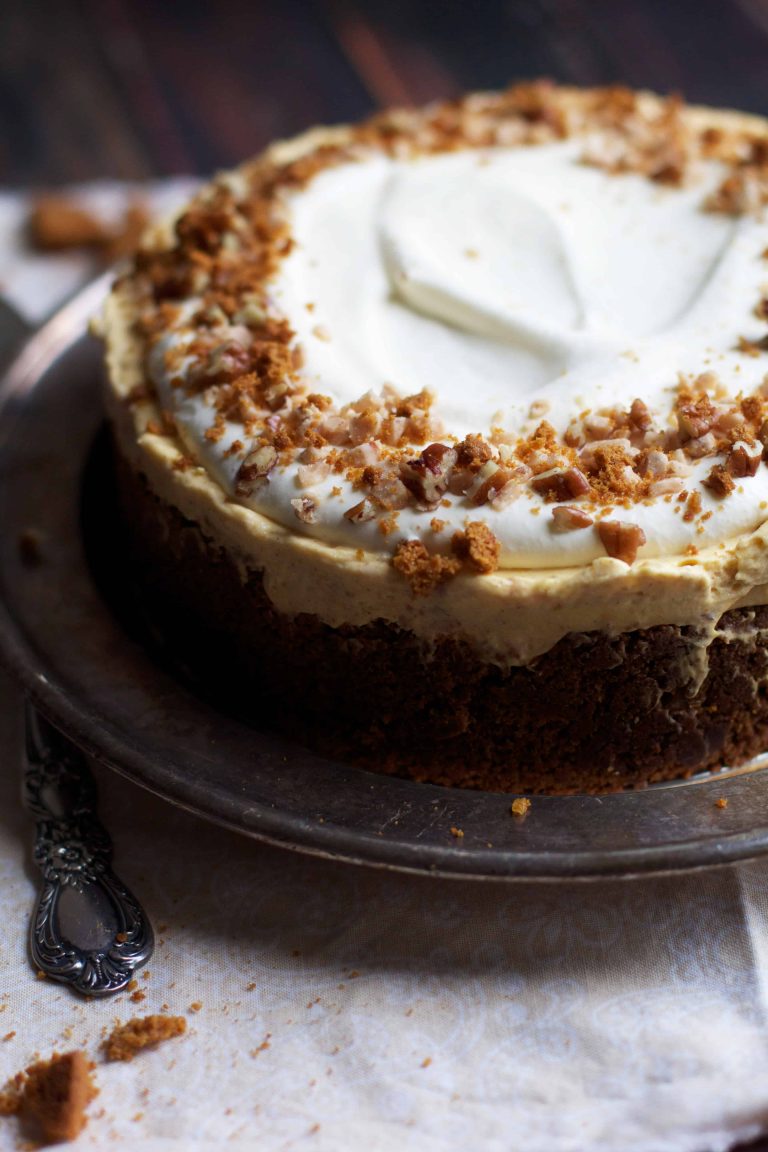 Every year, I love coming up with show-stopping desserts that can hold their own with all the other more traditional standards we know and love. Usually I choose something involving pumpkin, because it's just my favorite and people seem to expect it. After the huge success that was this Sweet and Salty Peanut Butter Mousse Torte, I have been dying to try to recreate it with some fall flavors and man oh man did I succeed!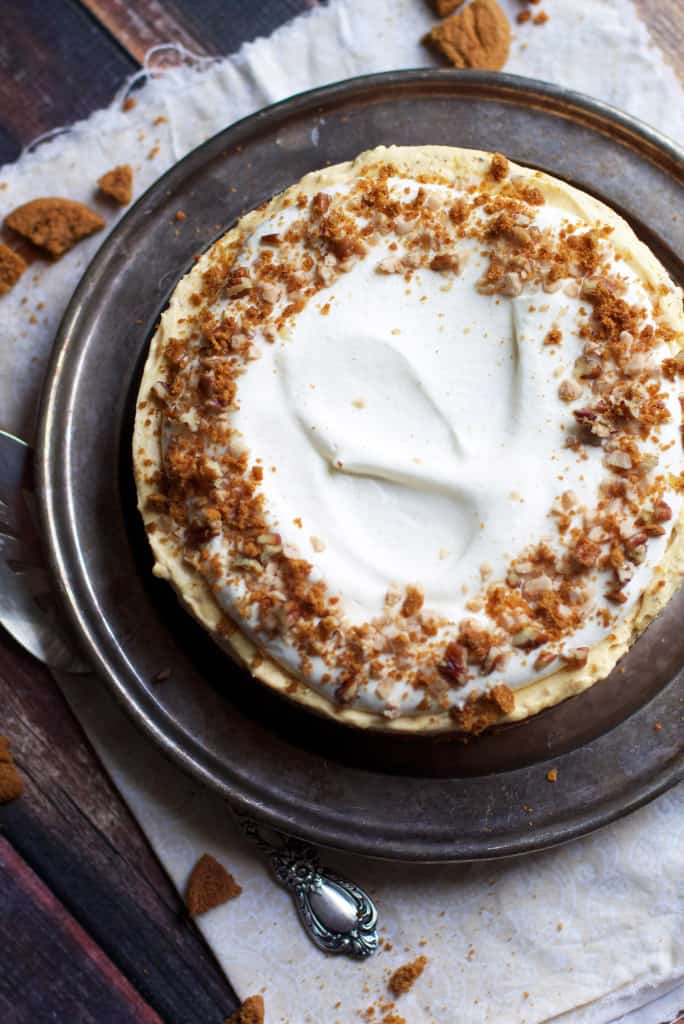 This no-bake dessert starts with a gingersnap crust (which you do actually bake for a few minutes,) and is full of creamy, light as air pumpkin mousse that is studded with crunchy bits of toffee and pecans. Topped with some fresh whipped cream and and a few more crunchy morsels, this dessert is oh so good. Creamy, dreamy, pumpkin-spice heaven. This is the type of treat you may find yourself hunched over licking the knife that cut the slice you already ate because it's just that good.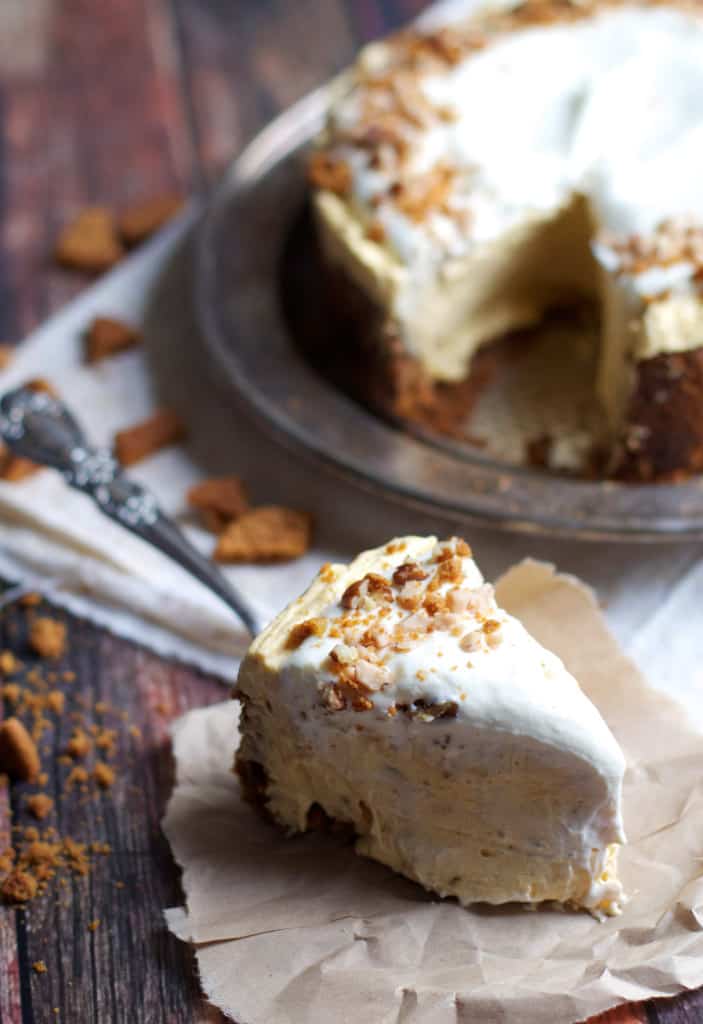 As the holiday get-togethers start piling up and my usual status of "dessert bringer" is handed out, this beauty will surely make an appearance. I love the standard apple and pumpkin pie just as much as anyone, but this is a show-stopper if I ever saw one!
Happy Friday and Happy Halloween! Have a wonderful and safe weekend! :)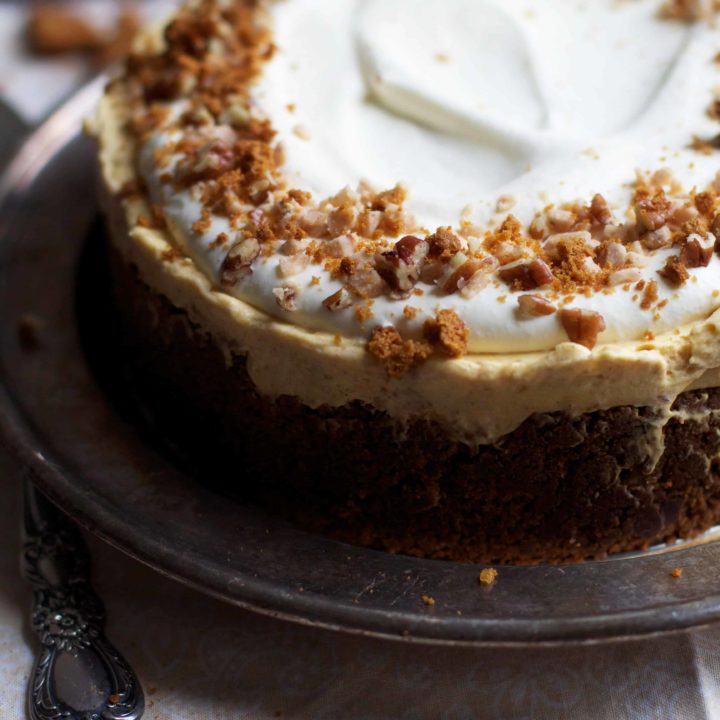 Pumpkin Mousse Torte
Ingredients
For the crust:
30-40 ginger snap cookies- crushed into crumbs
3 tablespoons of butter, melted
pinch of salt
For the filling:
1 1/2 cups heavy cream
12 oz cream cheese, softened
1 cup pumpkin puree
1 1/2 teaspoons pumpkin pie spice
1 1/4 cup powdered sugar
1/4 cup chopped pecans*
1/4 cup toffee bits
an extra pinch of cookie crumbs, pecans & toffee for garnish
Instructions
For the Crust:
Preheat the oven to 350F. In a large bowl, stir together the cookie crumbs, melted butter and salt. Stir to moisten and then press into the bottom of a 7-inch spring form pan OR a 9 inch pie dish.
Freeze crust for 10 minutes and then bake for 10 minutes. Allow to cool on a wire rack while you prep the filling.
For the filling
Whip the heavy cream in a stand mixer with a whisk attachment until medium-stiff peaks form. Scrape the whipped cream into a separate bowl and wipe the mixer bowl out. (No need to wash it.)
Switch to the paddle attachment and beat the cream cheese until smooth and creamy. Add the pumpkin, pumpkin pie spice, and powdered sugar, mixing until smooth.
Remove the bowl from the mixer and gradually fold in about 2/3 of the whipped cream, saving the rest for the topping. Mixture will be thick and creamy.
Fold in the chopped pecans and toffee bits. Spread the filling into the cooled crust. Cover with plastic wrap and chill overnight or until filling has firmed up.
To serve:
Spread the remaining whipped cream over the torte and garnish with a crushed gingersnap, chopped pecans, or toffee. (You can stir in a teaspoon of powdered sugar to the whipped cream but I chose to leave mine unsweetened.)
Chill until right before serving
Notes
*You can totally leave the pecans out if you're not into nuts. They add a nice element but the toffee on its own would be great too! Recipe loosely based on this Chocolate Peanut Butter Torte from Annie's Eats
Nutrition Information:
Serving Size:

8 grams
Amount Per Serving:
Unsaturated Fat:

0g