Pumpkin Parkerhouse Rolls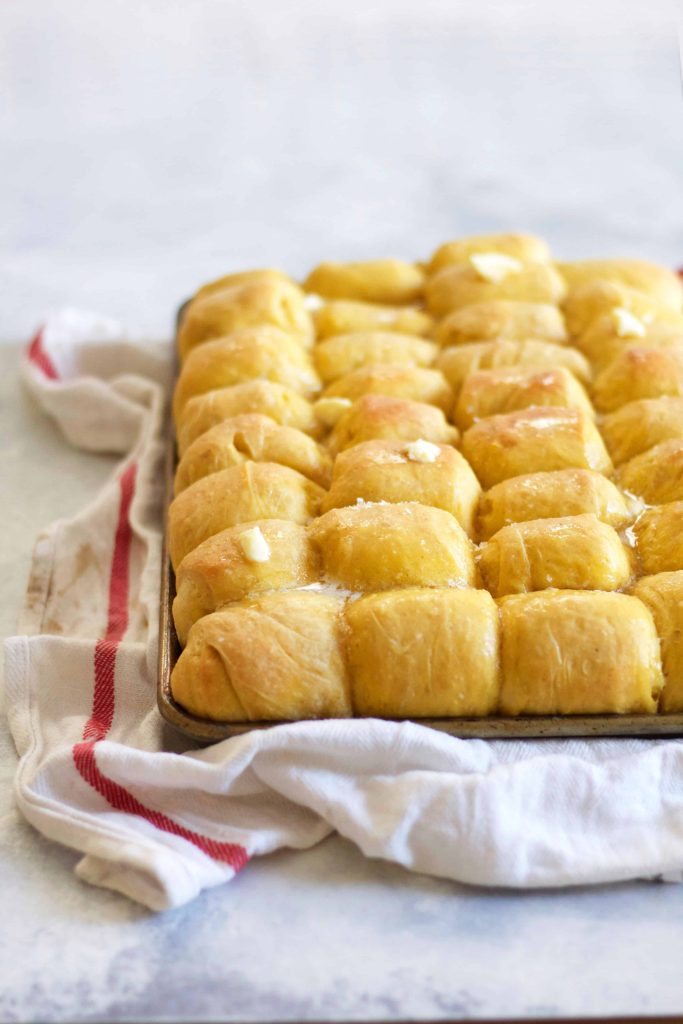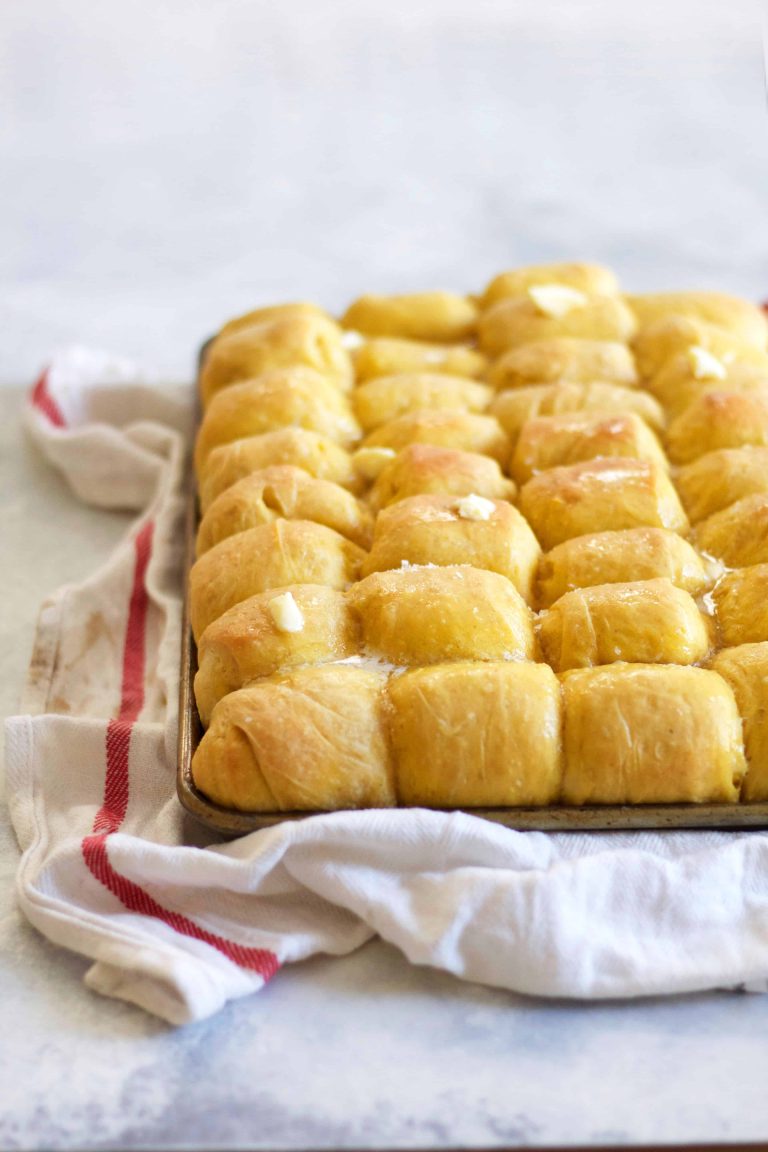 Every single year Thanksgiving creeps up on me more than any other holiday. Anyone else feel me on this one? Maybe it's just the hustle and bustle of Halloween with small kids, and then once we get through that it's November and there are 3 weeks until my favorite food holiday ever. So- I'm working hard to get some good recipes cranked out to inspire you in the next couple weeks, starting with these rolls.
I love making homemade rolls for Thanksgiving, especially since they are always the best fresh, and when else can a whole pan of 2 dozen rolls get polished off in one sitting? (I mean I could eat at least 3 of these in one sitting so maybe it wouldn't be that hard after all?)
These rolls come together easily, and the most time consuming part is waiting for them to proof. I plan to make the dough and let it proof in a warm oven while working on pie crusts and other Thanksgiving dishes. You can actually stop right after shaping the rolls, cover and pop the tray in the fridge, finishing up the proofing on the day you want to serve them, ensuring they are warm perfection with little prep work needed day of.
I like dinner rolls to be buttery and salty, but if you want to play up the subtle sweetness and spice of these rolls, you could brush on some honey butter or drizzle with melted butter and maple syrup. If you're like me though, pats of butter and a sprinkle of flakey sea salt was just the thing for these pillowy rolls.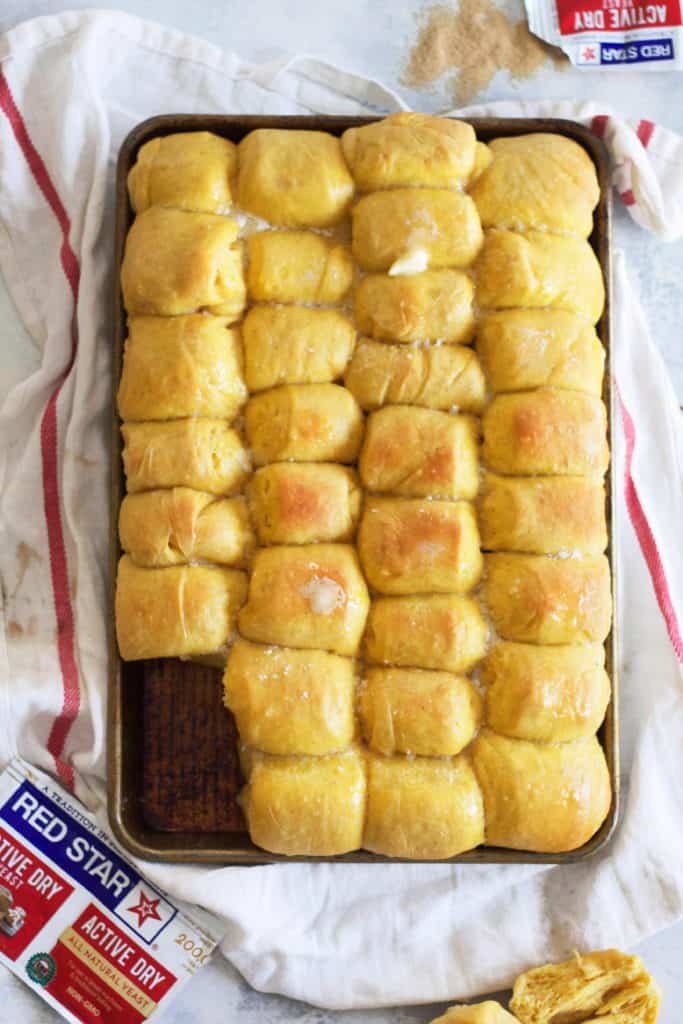 Parkerhouse rolls are unique because they are brushed with butter and then folded up, ensuring that perfect inside pocket for more butter, gravy, or a little Thanksgiving leftover sandwich. I'm usually a stickler about forming totally uniform rolls, but I kinda liked the rustic look of these crammed together on the pan, layered like bricks. The finished result was perfect- a spiced, fluffy roll with a hint of pumpkin and loads of Thanksgiving potential.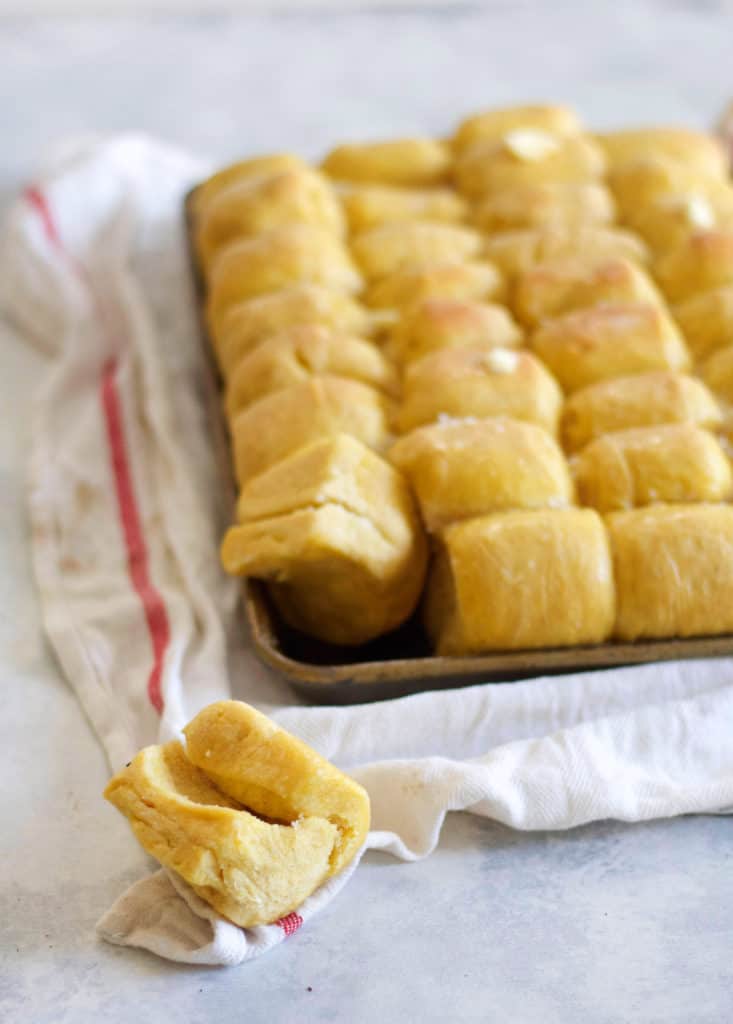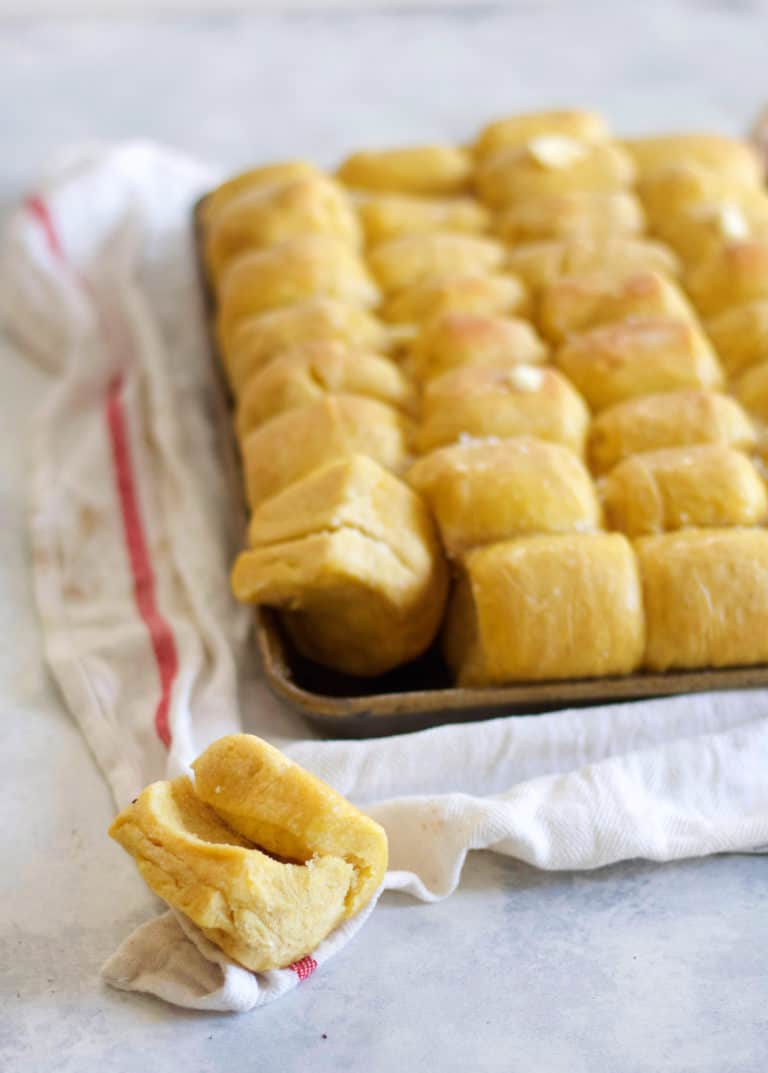 This post is sponsored by Red Star Yeast All thoughts and opinions are always 100% my own.
Follow RSY on Instagram, Pintrest & Facebook for lots of baking inspiration!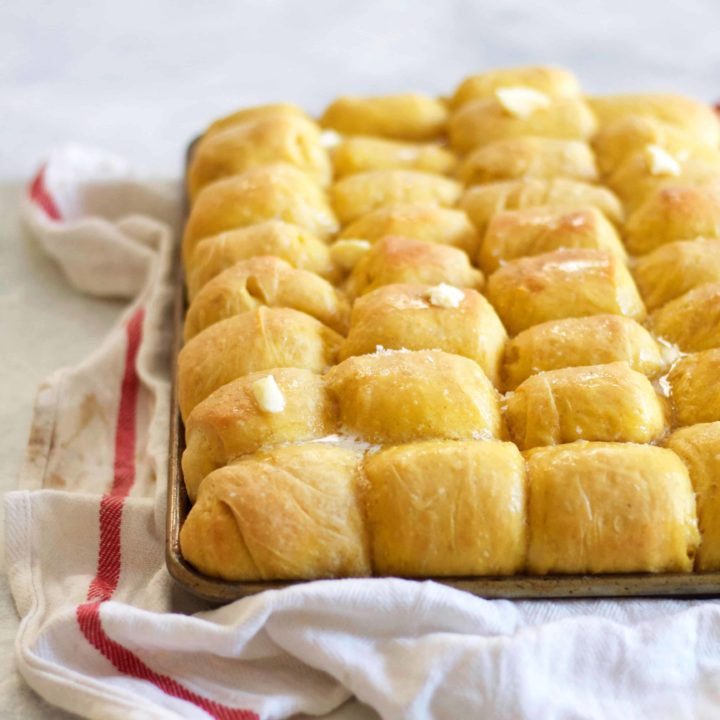 Pumpkin Parkerhouse Rolls
Ingredients
1½ cups milk
6 tablespoons butter, cut into small pieces, plus an additional 4 tablespoons butter for brushing
1/3 cup brown sugar
1 package or 2 1/4 teaspoons Red Star Active Dry Yeast
½ cup warm water
2 large eggs, lightly beaten
1½ teaspoons salt
1 1/2 tablespoons pumpkin pie spice
1/2 cup pumpkin pureé
6-8 cups all-purpose flour
Sea salt, honey, or maple syrup for topping/drizzling.
Instructions
Warm up the milk with the butter on the stovetop or in the microwave until butter is melted. Set aside and allow to cool slightly.
In the bowl of a stand mixer fitted with a paddle attachment, combine the yeast, brown sugar, salt, spices, and 4 cups of flour. Stir to combine. Add the eggs, pumpkin, water, and milk/butter mixture. Mix on medium-low speed until combined, and then switch to the dough hook.
Add the rest of the flour, 1/2 cup at a time until the dough is less sticky and starts to pull away from the bowl. Knead until dough is soft and smooth. (I used 7.5 cups of flour total.)
Oil a large bowl, place dough inside and clover with plastic wrap or a clean, damp towel. Allow dough to proof in a warm space for about an hour, or until dough as doubled in size.
Punch down dough and roll out onto a floured surface to a large 12x16 inch rectangle (or so.) Divide the dough into equal rectangles, about 2x4 in size. (I divided mine into 32, but you could do 24-36 depending on how big you want them.
Brush the rectangles with 2 tablespoons of melted butter, and fold in half, leaving a 1-inch gap on the bottom. Arrange rolls, flat side up on a quarter sheet pan or a 9x13 baking dish. Overlap them brick style as you fold the remaining rolls.
Cover rolls and proof for 20-30 minutes more OR pop the whole pan in the fridge, bringing back out to room temp for 20-30 mins before baking.
When rolls are done proofing, uncover and bake at 350F for 20-24 minutes, or until rolls are golden brown.
Top with melted butter and sea salt, honey butter, or a drizzle of maple syrup. Serve warm.