Pumpkin Salted Caramel Whoopie Pies
I apologize that things have been a bit slow around here lately. Fall is my favorite time to bake and be in the kitchen, and I have so many great ideas for the next few weeks, but we move in 2 weeks and I kinda feel like my life is in shambles. I just realized I have actually never really moved before! I moved in here when I was 23 and before that it was just suitcases of my only possessions and moving in and out of my college apartment which didn't really involve much stuff. Now- we have a whole wedding registry of things plus 7+ years of furniture accumulation. We've been purging as much as possible, but there is still a ton of things. We are getting our boxes this weekend, starting to pack things we don't use a lot, any tips on that by the way? Do I pack up all my dishes except for one set? I already told Andy that my baking supplies need to be last so my itty-bitty kitchen can get a little bit of action. There may be a small lapse in posts while I transition into my nicer kitchen, but I promise once I'm there you will never get me out of it! I have my first dishwasher people!!!
Anyway- onto these whoopie pies…
You may or may not remember I made a similar version a couple years ago when my blog was a baby. Since then, Andy has claimed that they are one of his favorite things I've ever baked- which has obviously been a nice reminder that they needed to make a reappearance. Really- in my eyes, these whoopie pies are like a deconstructed cupcake with the frosting in the middle. The "cookie" portion is so light and fluffy and biting in is really like heaven. They are super tender and soft full of the best spices , and the salted caramel cream cheese filling just puts them over the top.
I am so glad that I saved a can of pumpkin from last year, because my local grocery store seems to think that pumpkin is not in season until October- come on! Oh- and another reason I love these is that they can be stacked and transported unlike pumpkin cupcakes or frosted cookies. We brought these to a dinner party and there were raves all around. I promise I won't make Andy wait another two years until I make these again!!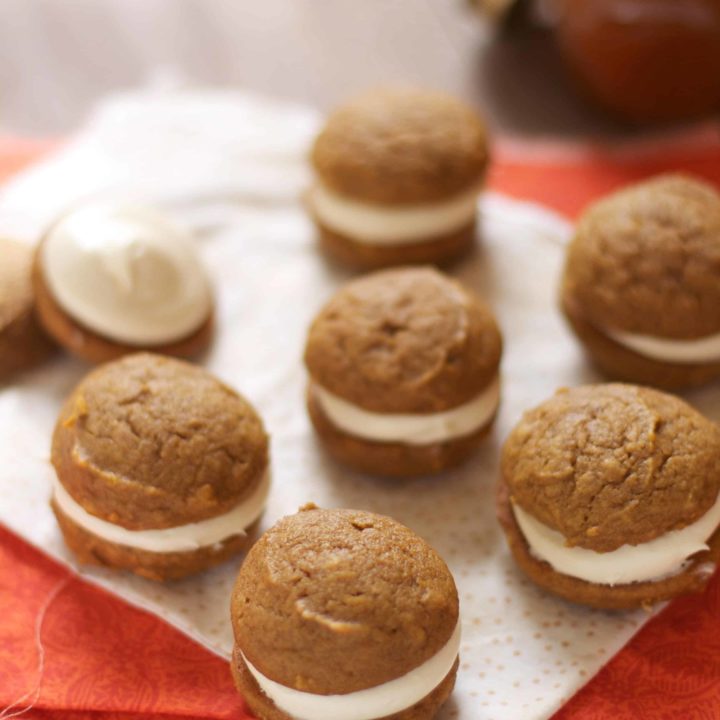 Pumpkin Salted Caramel Whoopie Pies
Yield:
30 sandwich cookies
Ingredients
3 cups all-purpose flour
1 tsp. salt
1 tsp. baking soda
1 tsp. baking powder
2 tbsp. cinnamon
1 tsp. ground ginger
½ tsp. ground nutmeg
1 cup granulated sugar
1 cup dark brown sugar, firmly packed
1 cup canola oil
3 cups pumpkin puree
2 large eggs
1 tsp. vanilla extract
For the Filling:
3-4 cups powdered sugar
½ cup unsalted butter, at room temperature
8 oz. cream cheese, at room temperature
4 tbsp. Salted Caramel Sauce
1 tsp. vanilla extract
Instructions
To make the cookie portion, preheat the oven to 350° F. Line a baking sheet with parchment or a sil-pat and set aside.
In a medium bowl, whisk together the flour, salt, baking soda, baking powder and spices. Set aside.
In a large bowl, whisk sugars and oil together. Add the pumpkin puree and whisk to combine thoroughly. Add the eggs and vanilla and mix until smooth and well-combined. Gradually mix the flour mixture into the pumpkin mixture, stirring until just combined.
Use a small ice cream scoop to drop a heaping tablespoon of dough onto the baking sheet, about 1 inch apart.
Bake for 10-12 minutes, until the cookies are just starting to crack on top and a toothpick inserted into the center of a cookie comes out clean. Remove from the oven and let the cookies cool on the pan for 5-10 minutes.
Transfer to a wire rack to cool completely. Repeat with remaining dough.
For the filling:
In a large bowl use an electric mixture and beat the butter and cream cheese until smooth. Add the powdered sugar, caramel sauce and vanilla and beat until smooth. You can add the rest of the powdered sugar at this point if you want a firmer filling. (It depends on the thickness of the caramel sauce you use.)
To assemble pipe filling onto the flat side of one of the cookies and place another cookie, flat side down, on top of the filling. Press down slightly so that the filling spreads to the edges. Repeat until all the cookies are used. Refrigerate for at least a half hour before serving to allow the filling to firm up a bit.
Nutrition Information:
Yield:

30
Serving Size:

1 grams
Amount Per Serving:
Unsaturated Fat:

0g
Adapted from: Annie's Eats Via Culinary Concoctions of Peabody