Pumpkin Spice Granola- and Giveaway Winner Announced!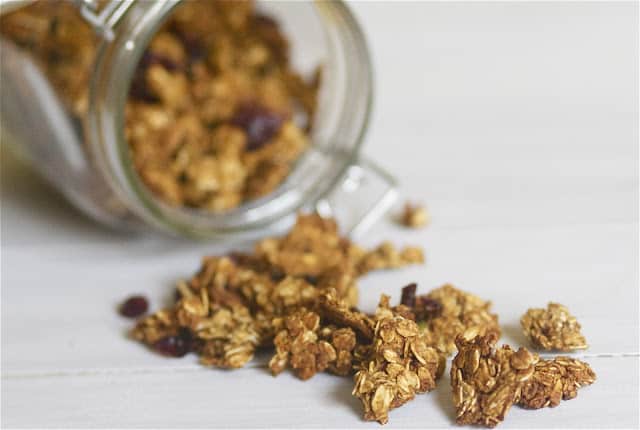 I rarely eat breakfast. I know I'm supposed to and that it's the most important meal of the day, but I never do. I'm rarely hungry till about 1 PM when I'm out and about and end up grabbing something bad for me at a bodega. So….yeah…..breakfast is a good idea huh? I am going to try to eat breakfast more. And the first step to me doing that is to make things that are so tasty that I wake up out of excitement to eat them. I mean that's a little much……but this granola is pretty amazing.
Several days after I made this granola my apartment still smelled like pumpkin pie when I opened the door. That in itself is a good reason to make this, but it's also tasty, totally healthy, and the perfect fall-like breakfast to eat on a crisp morning. It takes under and hour to throw together and even less than that to make your home smell awesome!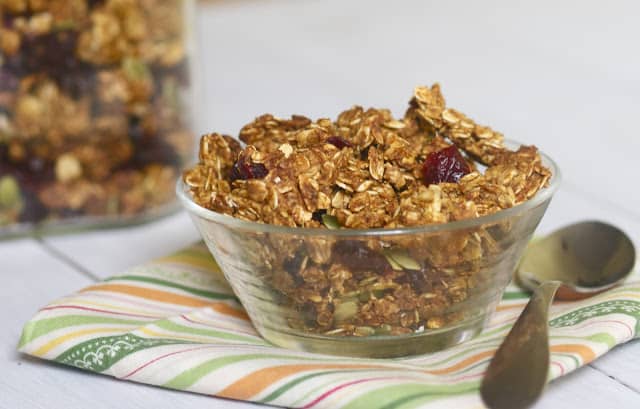 Thank you all so much for the sweet engagement wishes. I am so excited to start planning! The only decisions we have made so far is that the wedding will be in Milwaukee (way easier on my family and our budget,) and I am hoping for next October (I am a sucker for the fall.) Other than that- I have to wait until Thanksgiving week when I can go look at some venues with Andy and my parents. I am crossing my fingers that I can find a rustic, loft-like, exposed brick-type space. Anyone from Wisconsin know anything amazing?
Pumpkin Spice Granola- and Giveaway Winner Announced!
Ingredients
5 cups rolled oats
?1 1/2 teaspoons cinnamon
?1/2 teaspoon ginger
?1/4 teaspoon nutmeg
1/8 teaspoon cloves
?3/4 tsp. salt?
3/4 cup brown sugar
3/4 cup pumpkin puree?
1/4 cup applesauce?
1/4 cup maple syrup, agave would work too
?1 teaspoon vanilla extract?
3/4 cup dried cranberries?
1/2 cup pepitas, optional
Instructions
Preheat the oven to 325° F. Line a large baking sheet with parchment paper and set aside.
In a large bowl, combine oats, spices, and salt. Mix well.
In a medium bowl, whisk together brown sugar, pumpkin puree, applesauce, maple syrup or agave and vanilla extract. Whisk until smooth. Pour wet ingredients into oat mixture and stir until the oats are evenly coated. They will be moist. Evenly spread the mixture onto the prepared baking sheet.
Bake for 20 minutes. Remove pan from the oven and stir. Bake for an additional 20-25 minutes or until the granola is golden and crisp. Remove from the oven and stir in dried cranberries and pepitas. Let cool completely. Store in an airtight container.
Serve with Milk or Yogurt, or enjoy plain!
Nutrition Information:
Serving Size:

1 grams
Amount Per Serving:
Unsaturated Fat:

0g