Pumpkin Streusel Coffee Cake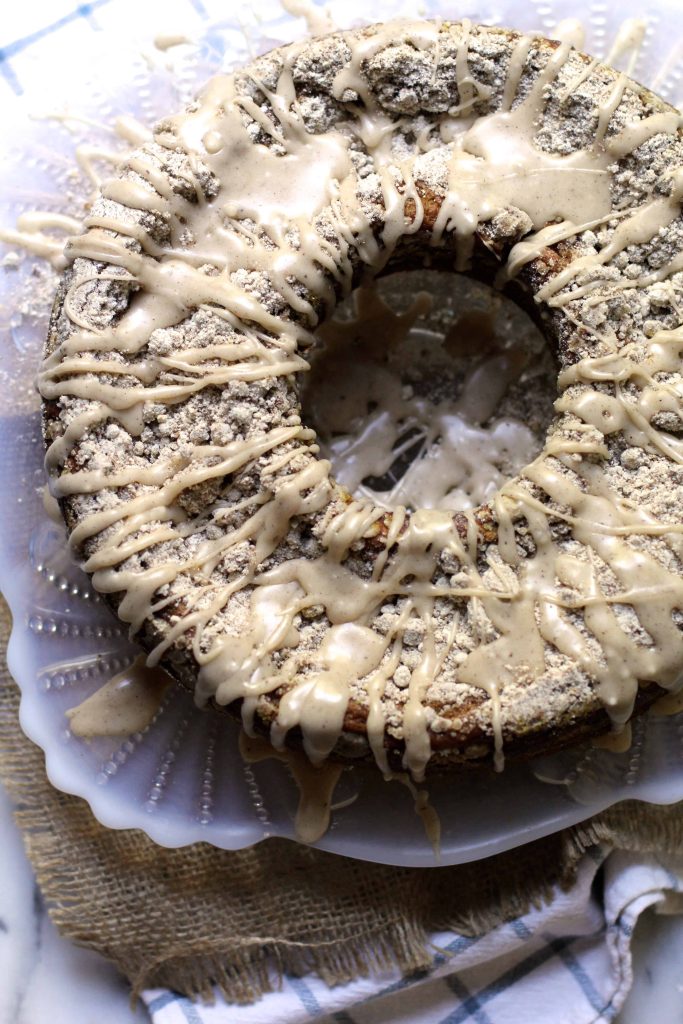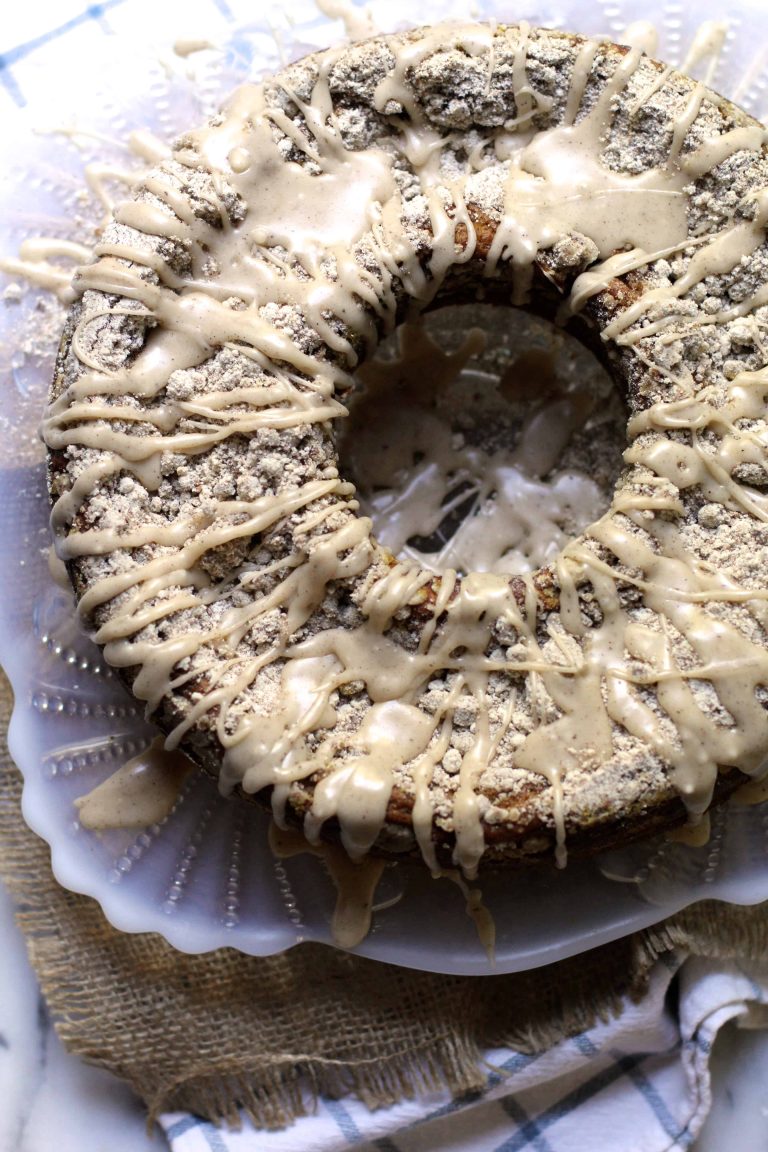 Somehow I have been trying to get this recipe posted for an entire week and it just.has.not.happened. Every single night, 7:30 hits- Hugo goes to sleep, and I also feel like I have been run over by a truck. This pregnancy is taking everything out of me you guys. I hate to complain here, you know I want to keep it all sugary sweet and delicious all the time. But man I a struggling to get anything done ever. I have so many great ideas for fall recipes and it just seems harder and harder to get off the couch the minute that I am free motherly duties. ALL YOU MOM BLOGGERS OUT THERE- how the heck do you do it? Seriously what am I missing here?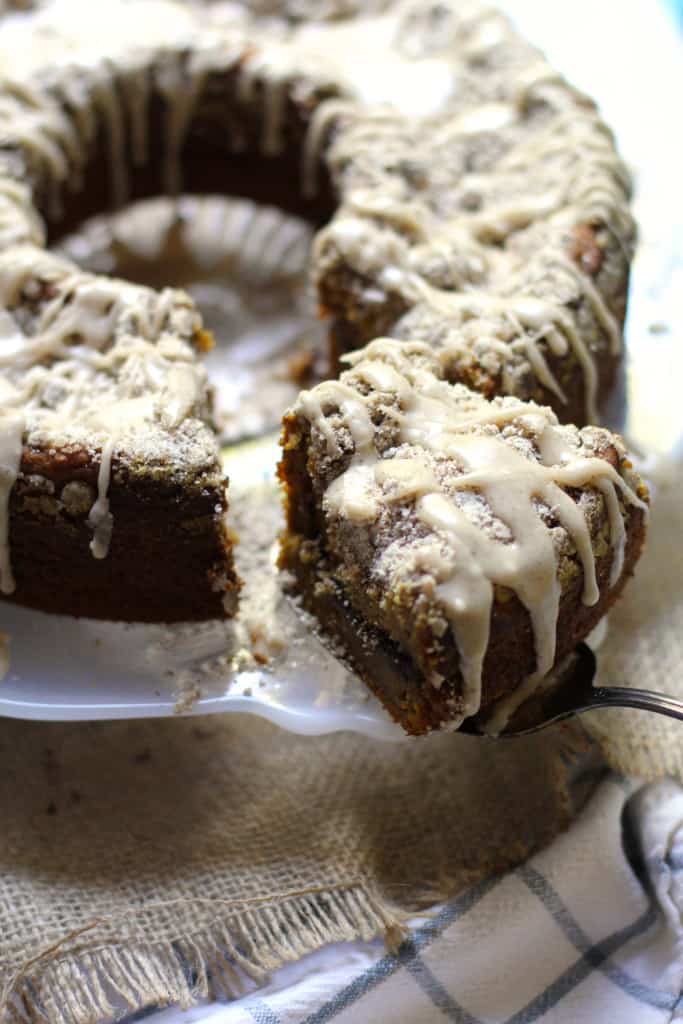 Anyway- what I am missing in this moment is this cake which as you can imagine is long gone since I made it a week ago! It was the yummiest pairing with a warm cup of coffee and I totally brought hunks of it wrapped in foil to the playground to give to all my Mom friends, (whatever I like to win people over with baked goods.)
The cake itself is my favorite pumpkin cake recipe, which is so full of pumpkin that it has an almost custard-like texture. It's just so moist and delicious- almost like pumpkin pie in cake form. Inside the cake is the most decadent cinnamon sugar layer that is gooey and all cinnamon-roll-like. A crumb topping finishes the whole thing off and leaves us with one perfect fall treat. Even in my exhausted stupor, seeing the pics of this all over makes me desperate to make it again!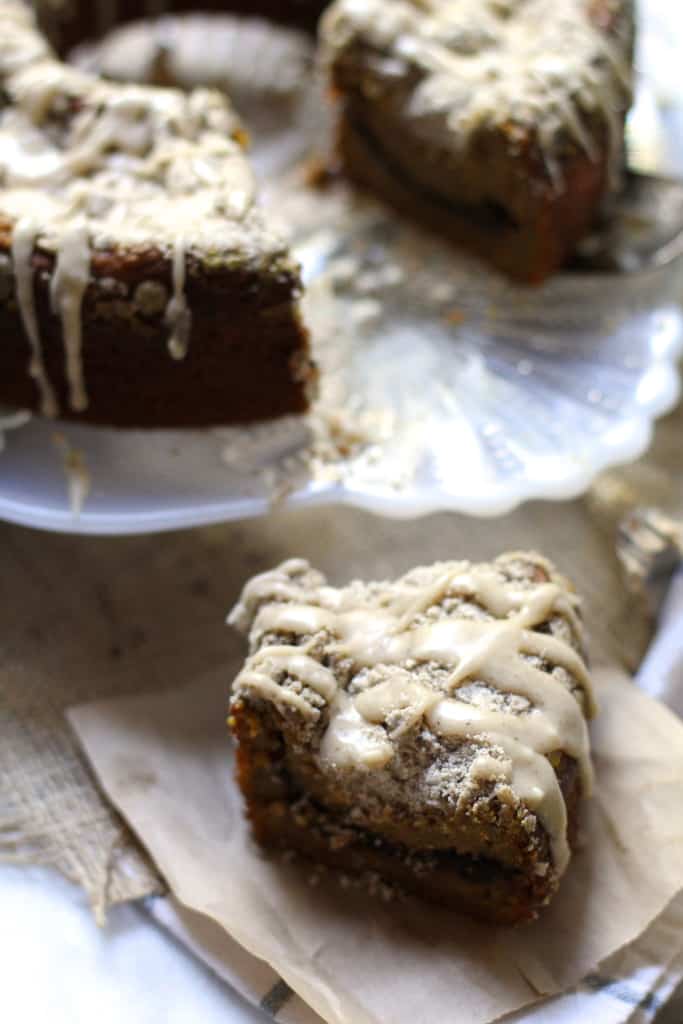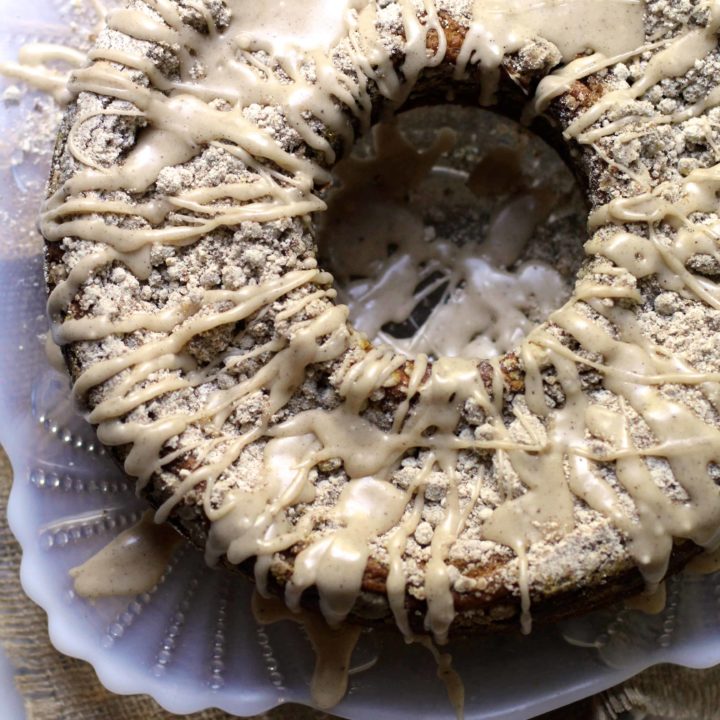 Pumpkin Streusel Coffee Cake
Yield:
1 - 10 inch cakes.
Ingredients
For the Cake:
2 cups all-purpose flour
2 1/4 teaspoons baking powder
1 teaspoon salt
1 teaspoon cinnamon
1 teaspoon ground ginger
3/4 teaspoon baking soda
1/2 teaspoon freshly grated nutmeg
1/4 teaspoon ground cloves
1 1/4 cups light brown sugar
4 large eggs
3/4 cup vegetable oil
One 15-ounce can pumpkin puree
1/2 cup whole milk
For the Cinnamon Filling:
1 cup brown sugar, light or dark
1 1/2 tablespoons ground cinnamon
1 teaspoon unsweetened cocoa powder, for color not for taste- you can leave it out if you want.
For the Crumb Topping:
2 cups of flour
2/3 cup brown sugar
1 tablespoon cinnamon
6 tablespoons butter, melted
For the Glaze:
6 tablespoons of butter
1 1/2 cups of powdered sugar
2-3 tablespoons of milk
Instructions
First prepare the filling:
In a small bowl stir together the brown sugar, cinnamon & cocoa if using. Set aside.
Next prep the crumb topping:
Melt the butter in a heat proof bowl and stir in the flour, sugar and cinnamon until crumbs form. Set aside.
For the cake:
Preheat oven to 350F. Butter and flour a 10-inch ring pan, or a 9x13 pan. Set aside.
In a medium bowl, whisk the flour with the baking powder, salt, cinnamon, ginger, baking soda, nutmeg and cloves.
In another bowl, using an electric mixer, beat the brown sugar and eggs at medium-high speed until fluffy, about 3 minutes. Beat in the oil, then beat in the pumpkin puree. Alternately add the dry ingredients and the milk in 3 batches, beating well between additions.
Pour half the batter into the prepared pan. Sprinkle the filling over the batter- trying to avoid the edges. Pour the second half of the batter over the filling. Sprinkle the crumb topping over the batter.
Bake for 50-60 minutes, or until a toothpick inserted into the center of the cake comes out clean.
For the Glaze:
While the cake is cooling prep the glaze. Melt the butter in a small saucepan, swirling the pan, barely stirring but keeping an eye on it until it gets toasty brown. Remove from the heat and let it cool slightly.
Whisk in the powdered sugar and add the milk- a few drops at a time, whisking until the glaze is smooth and creamy.
Drizzle glaze over the cooled cake and serve room temperature, chilled or warm- all are delicious!
Nutrition Information:
Yield:

1
Serving Size:

1 grams
Amount Per Serving:
Unsaturated Fat:

0g