Raspberry Cheesecake Ice Cream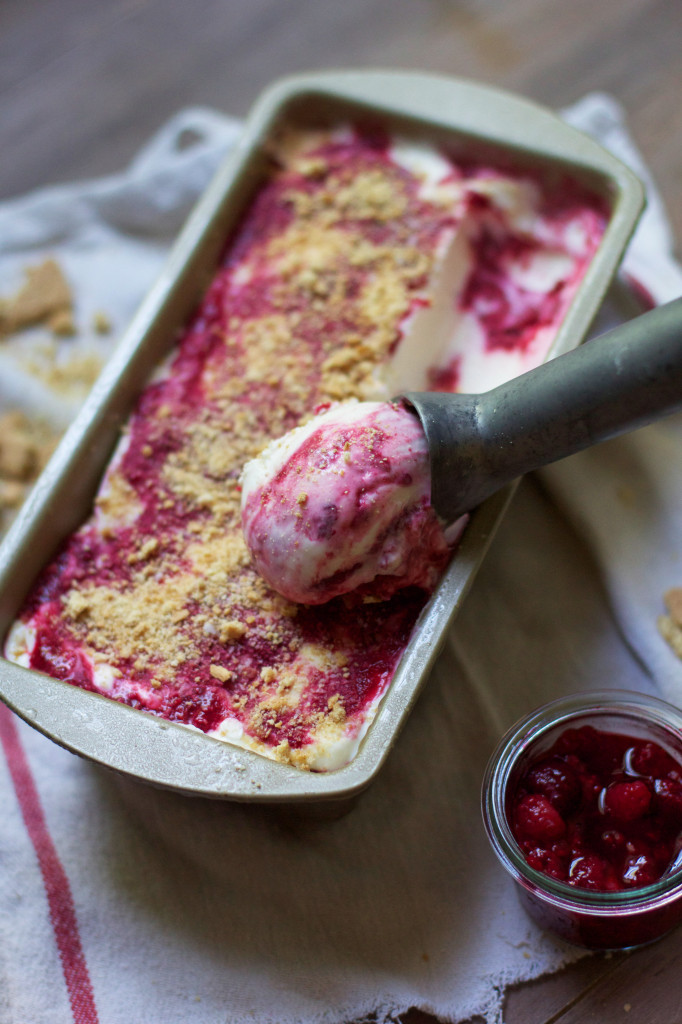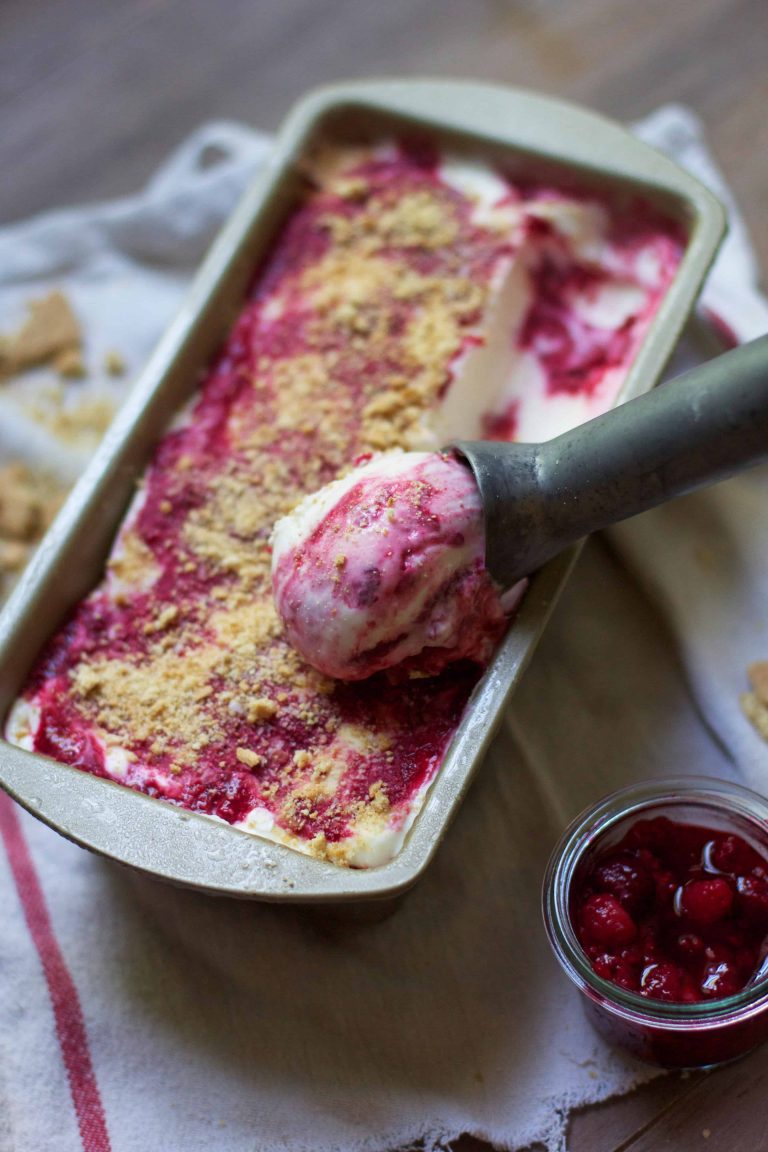 Last week I visited my family in Wisconsin as I mentioned, and I ate an excessive amount of ice cream. I mean what else do you do in the Dairy State when your parents live 5 minutes away from the best frozen custard on the planet? I also made 2 batches of my favorite Salted Caramel Sauce which is just begging to be drizzled over some ice cream. Needless to say, I ate my weight in ice cream and couldn't be happier.
I churned up this beauty right before leaving town and it kept Andy feeling loved the whole time he was home alone without me & Hugo. (Who got his first TWO teeth this weekend by the way- how has time gone by so quickly!?) In a way I'm glad there is no more left in the freezer because I need a small break!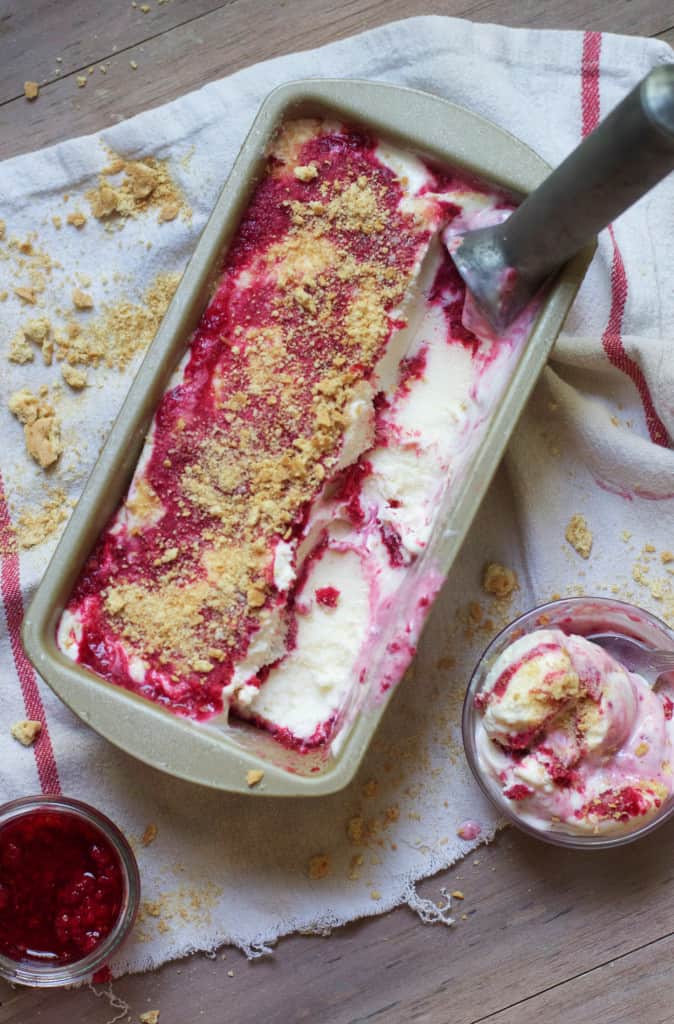 This ice cream is outstanding- a creamy cheesecake base with a raspberry swirl and graham cracker crumbs. It is refreshing, tart and rich at the same time. Of course you can mix it up and do a swirl of blueberries or strawberries instead. There's something about the tart raspberries that I'm extra crazy about though- so good!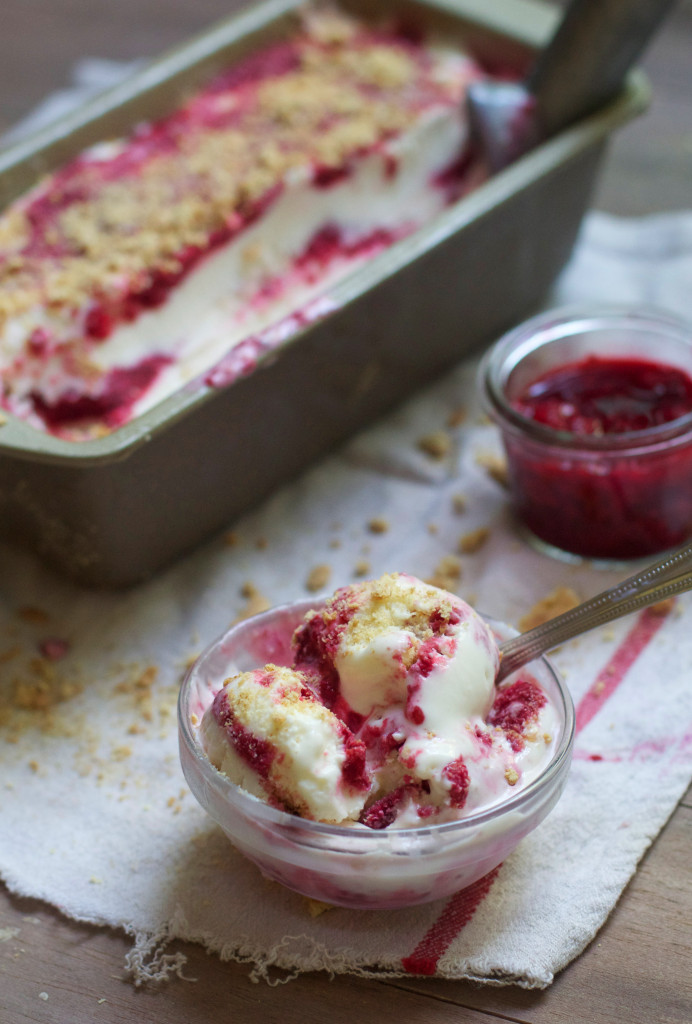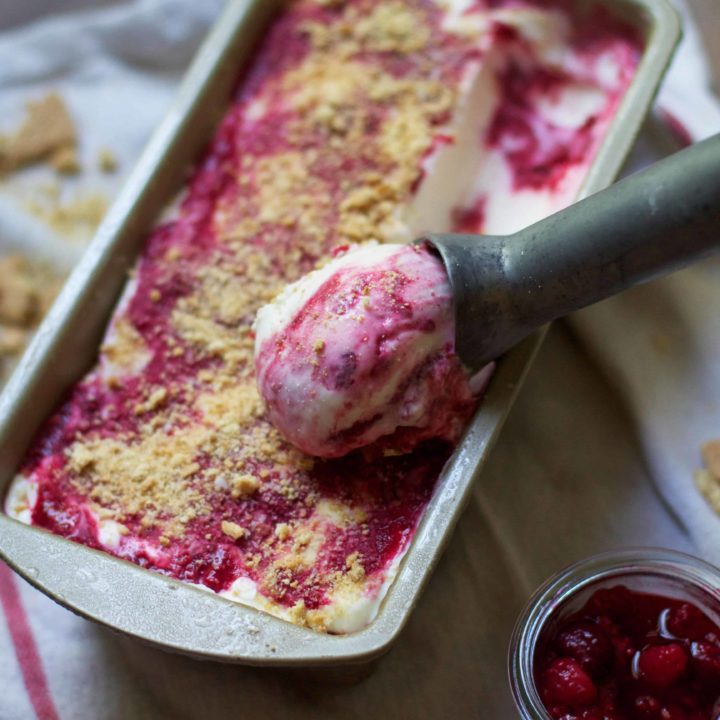 Raspberry Cheesecake Ice Cream
Ingredients
8 oz cream cheese, cut into pieces
zest of 1 lemon
1 cup sour cream
1/2 cup half-and-half
2/3 cup sugar
1/8 teaspoon salt
1/4 cup crushed graham crackers
Raspberry Sauce:
1 cup raspberries, fresh or frozen
3 to 4 tablespoons sugar
a few drops of lemon juice
1 tablespoon vodka
Instructions
For the Ice Cream:
In the bowl of a food processor, combine the cream cheese, zest, sour cream, half & half, sugar and salt. Pureé until smooth. Chill thoroughly before churning- (I prefer overnight.)
While you're waiting for the ice cream to chill you can prepare the raspberry sauce by smashing the raspberries a bit and and combining them with the sugar and vodka. Store in the fridge until the ice cream is ready.
Once chilled, churn the ice cream according to your maker's instructions and layer in a container with the raspberry sauce and the graham crackers. Freeze for a few hours to firm up.
Notes
Recipe Adapted from: The Perfect Scoop by David Lebovitz.
Nutrition Information:
Serving Size:

1 grams
Amount Per Serving:
Unsaturated Fat:

0g