Raspberry & Cream Crepe Cake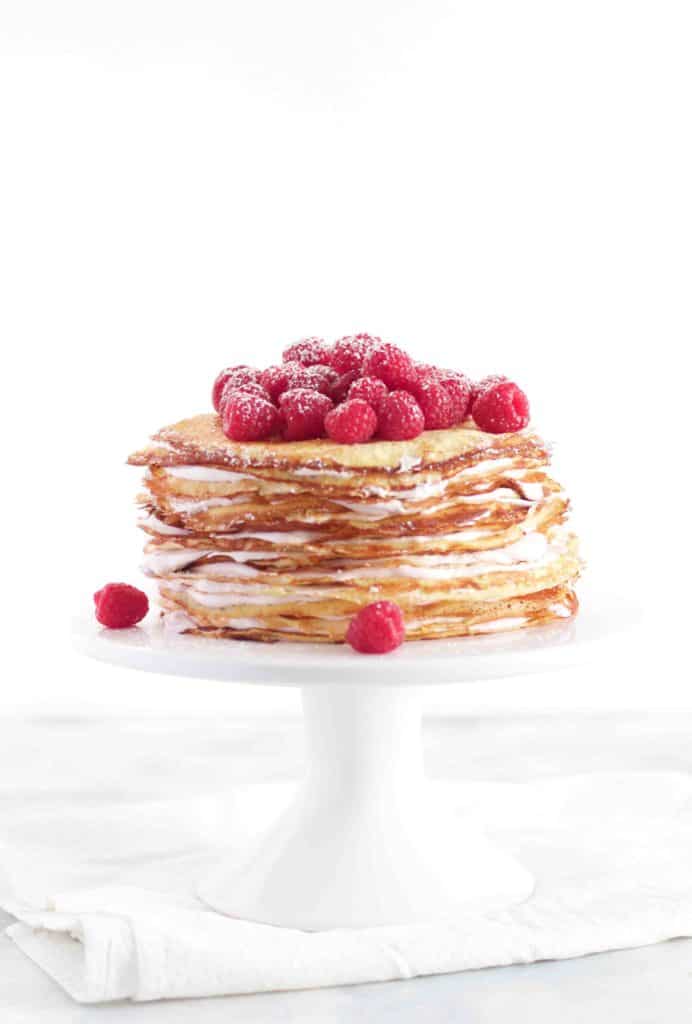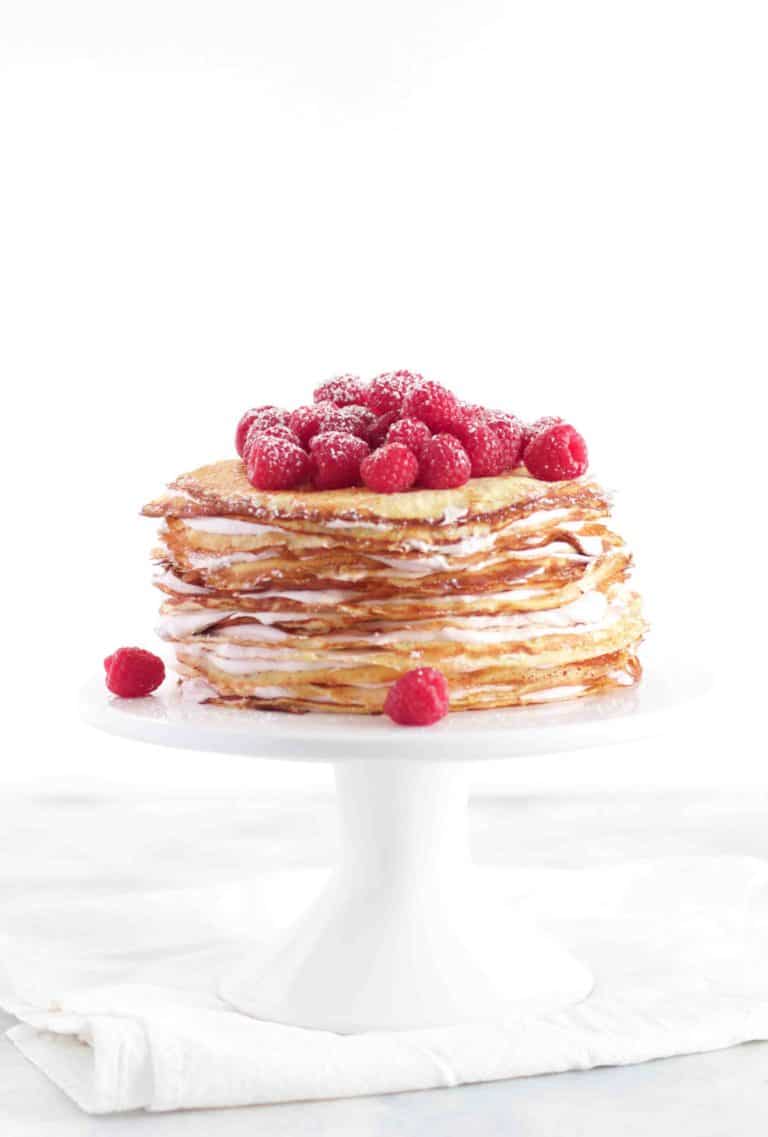 I'll pick a fresh and light dessert over a rich and super sweet one any day. It satisfies my sweet tooth without making me feel like I overdid it.
If you're in this camp too, and haven't yet made crepe cake, you must change that. Crepe cakes have all the show stopping drama of a fancy layer cake with no actual baking and super easy prep. They are light, airy and so delicious. Seriously go make some crepe batter and trust me on this one.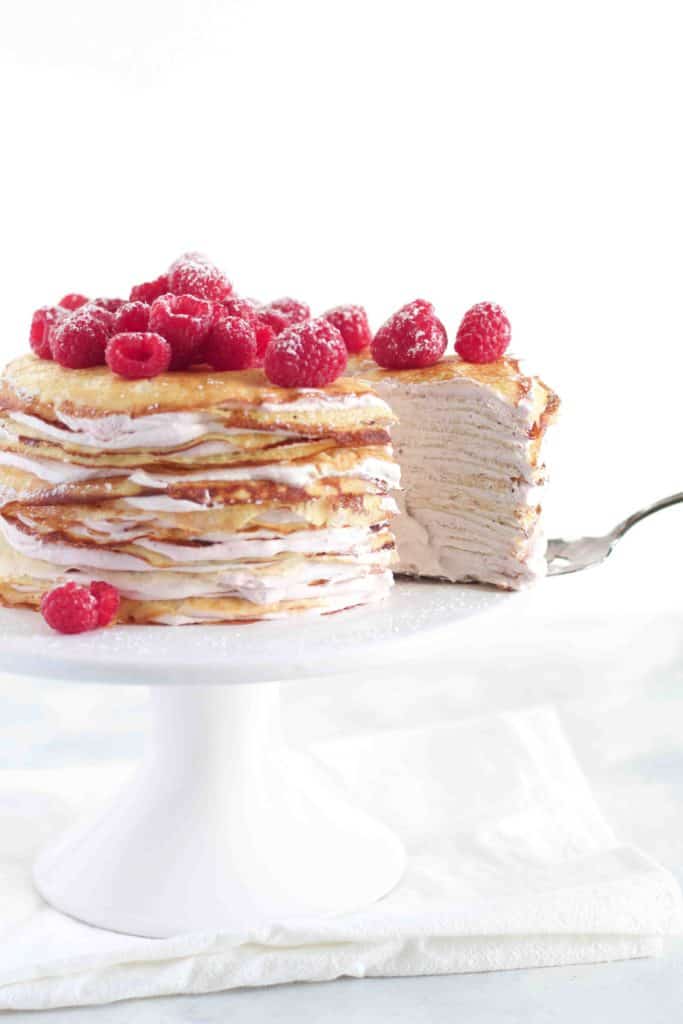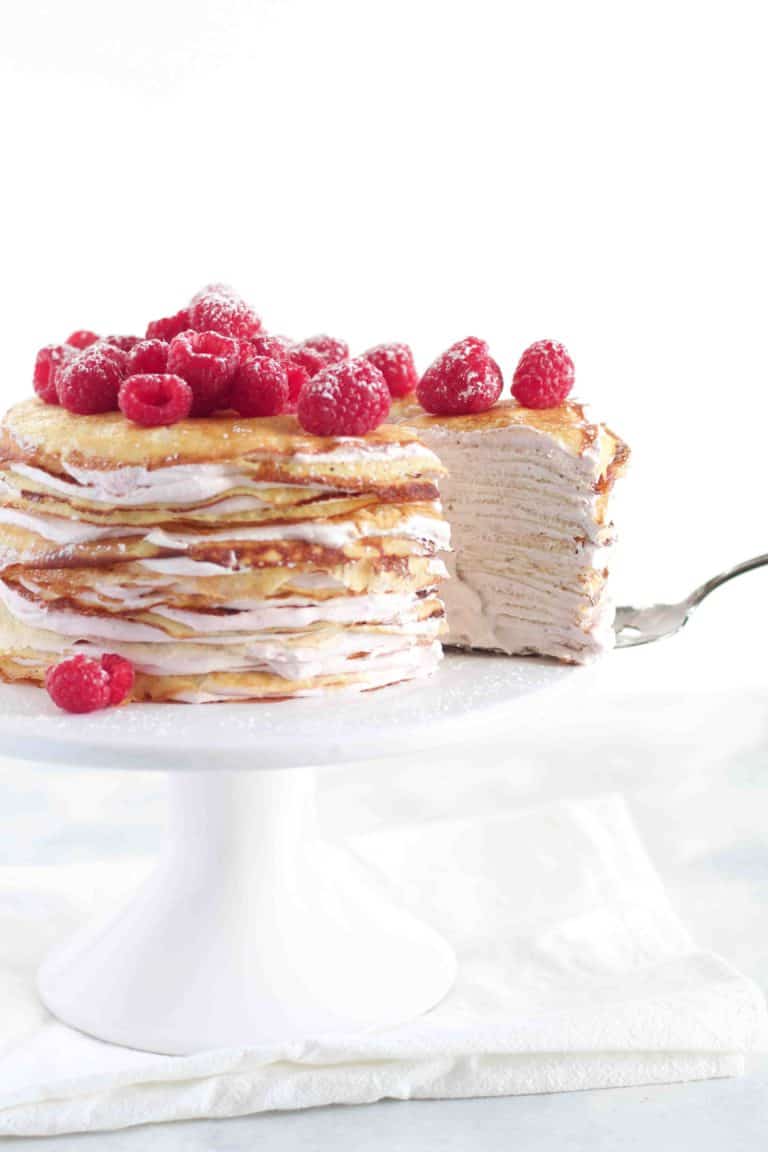 I've posted a couple crepe cakes before, (this Creme Brulee Crepe Cake is to die for,) but I wanted something subtly pink for Vday week in case anyone was looking for a show-stopping dessert for the special occasion.
Raspberry pureé (I made from frozen berries so don't worry if you can't find fresh,) is folded into a pastry cream/whipped cream mixture that is layered in between crepes. That's really it. Make some crepes, (not as hard as you may think,) fold together the filling, and you're good to go.
Let the whole cake chill for a couple hours to set and that's all it takes.
The raspberry pureé makes the filling a nice pale pink color, but if you want a more vibrant filling, use freeze dried raspberries instead.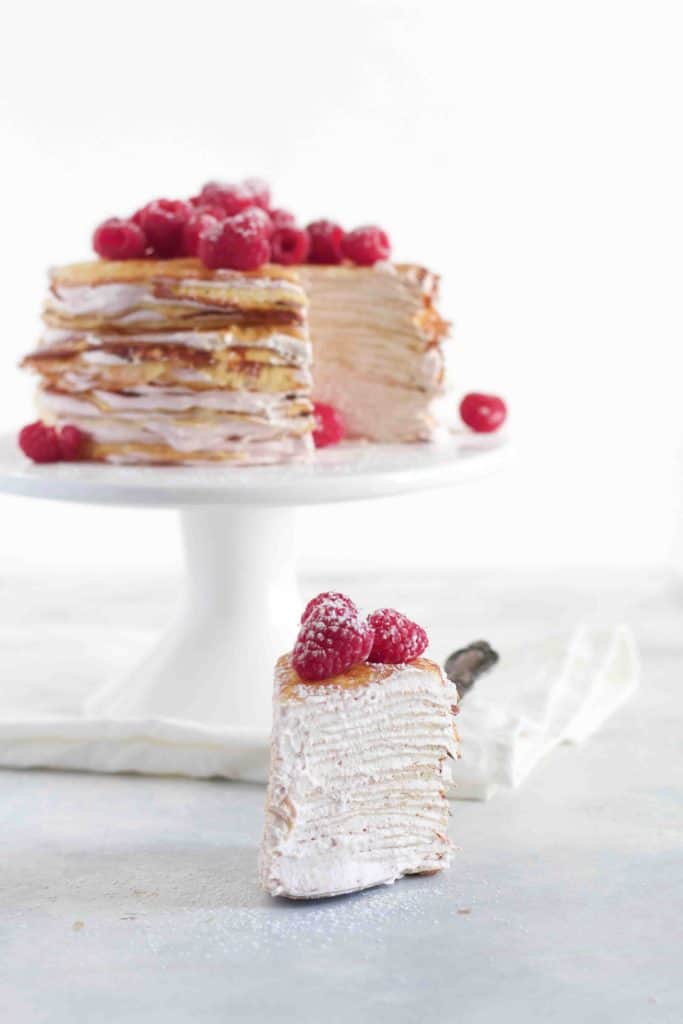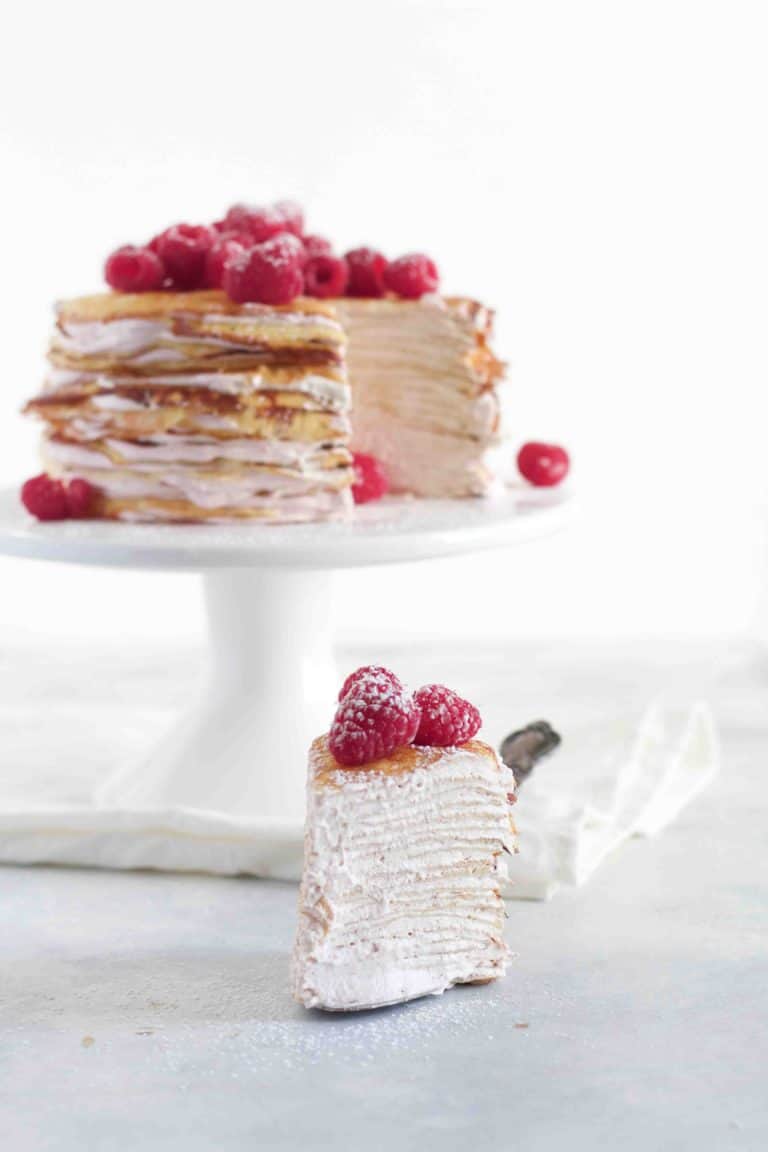 You could also get ambitious and do an ombré thing like I did with these Ombre Raspberry Lemon Sugar Cookies. Using the raspberry powder will yield a much brighter pink color for your filling.
Note: Even though this cake comes together quickly, you want to allow a few hours for the various parts to set and chill. The pastry cream and the crepe filling need some time in the fridge before using, and the whole cake needs an hour in the fridge to set. (Otherwise all the layers will slide around when you try to cut it.) Plan ahead to allow for these steps!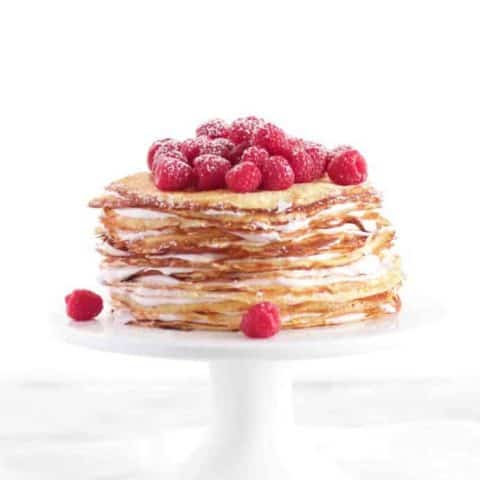 Raspberry and Cream Crepe Cake
Ingredients
For the Crepes:
6 tablespoons butter, melted
3 cups milk
6 eggs
1½ cups all-purpose flour
7 tablespoons sugar
Pinch salt
For the Filling:
1 egg
1 tablespoon all-purpose flour
3 tablespoons sugar
1 tablespoon cornstarch
1 cup milk
1 teaspoon pure vanilla extract
1 teaspoon hot water
2/3 cup raspberry pureé, strained (see note)
2 cups heavy whipping cream
fresh raspberries and powdered sugar to garnish (optional)
Instructions
First make the Crepe Batter:
In a small pan, warm the milk until steaming; remove from heat and set aside to allow to cool slightly.
In a large bowl using your electric mixer at a low speed or a whisk, mix together the eggs, flour, sugar, and salt. Slowly add in the warm milk and melted butter. Pour the batter into a tightly-sealed container to refrigerate for at least 2 hours (or overnight.)
For the Filling:
In a small bowl, add egg, flour, sugar, and cornstarch; whisk until smooth.
In a saucepan over low heat, bring milk almost to a boil (simmer). Immediately remove from heat and slowly whisk it into the egg mixture.
Return all ingredients to the saucepan, and whisk constantly for about 5 minutes, until thickened and bubbly like lava.
Remove from the heat. Add vanilla extract and hot water; stir until dissolved into the mixture.
Refrigerate mixture until thick and cool (you can speed this up in the freezer or by resting the pastry cream in an ice bath.)
To make the crepes:
Remove the prepared Crepe Batter from the refrigerator and bring to room temperature:
Prepare some sheets of parchment paper for cooling the finished crepes. (You don't want to stack them directly on each other, but with a layer of parchment between they will be OK.)
Use a nonstick pan over medium-low heat. (I didn't have to spray mine since it's very non-stick- but you may need to.) Pour about 3 tablespoons of the crepe batter into the pan, and swirl to cover the surface of the pan. Cook approximately 1 minute or just until the bottom of the crepe becomes lightly browned. Use a spatula to help lift the edge, and then use your clean fingers to gently and carefully turn the crepe over and continue cooking for another 15-20 seconds. Remove the cooked crepe and place on parchment to cool.
Repeat this process until you have 20 perfect crepes. (If their sizes are slightly different that is OK, but you want them to be round without tears.)
To assemble:
When the pastry cream is cold and firm, make whipped cream by beating the heavy cream until stiff peaks form, Fold in the pastry cream and the raspberry puree (If the pastry cream seems too solid before you add it to the whipped cream, beat it with your mixers for a minute to loosen it up.)
Place one prepared crepe on a large cake plate.
With a small spatula, completely cover the crepe with a thin layer of the pastry cream mixture (about ¼ cup).
Cover with another dry crepe and repeat covering with the Pastry Crème until you have reached 20 layers. Save the nicest looking crepe for the 20th (top) layer. If your layers seem uneven or your cake seems tilted at all, adjust your filling to even it out.
Refrigerate the prepared cake for 1-2 hours. Top with fresh raspberries and a sprinkle of powdered sugar if desired.
Notes
You can use fresh or frozen raspberries, I used about 1 1/2 cups to get my 1/2 cup of puree. If you don't mind the look and texture of seeds you can skip straining the pureé, but I wanted something smooth.

Recipe adapted from Ellen Easton's version of the famous Lady M cake via: What's Cooking America
Recommended Products
As an Amazon Associate and member of other affiliate programs, I earn from qualifying purchases.