Red Velvet Cheesecake Bundt Cake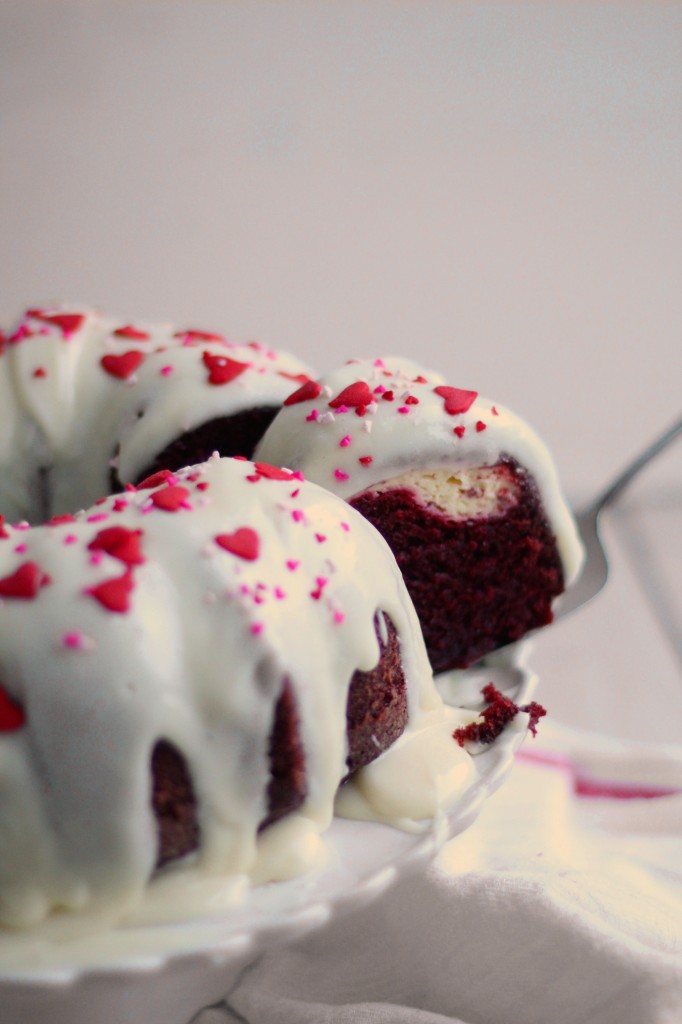 I was just caught by my husband eating this cake in the dark kitchen. We have this running joke about my leftover baked goods. I say I don't want any more and that he should portion off how much he wants and I'll get rid of the rest…. every single time I end up being caught red handed taking a few bites of his portion. What can I say?? It's dang good and even better after sitting in the fridge overnight.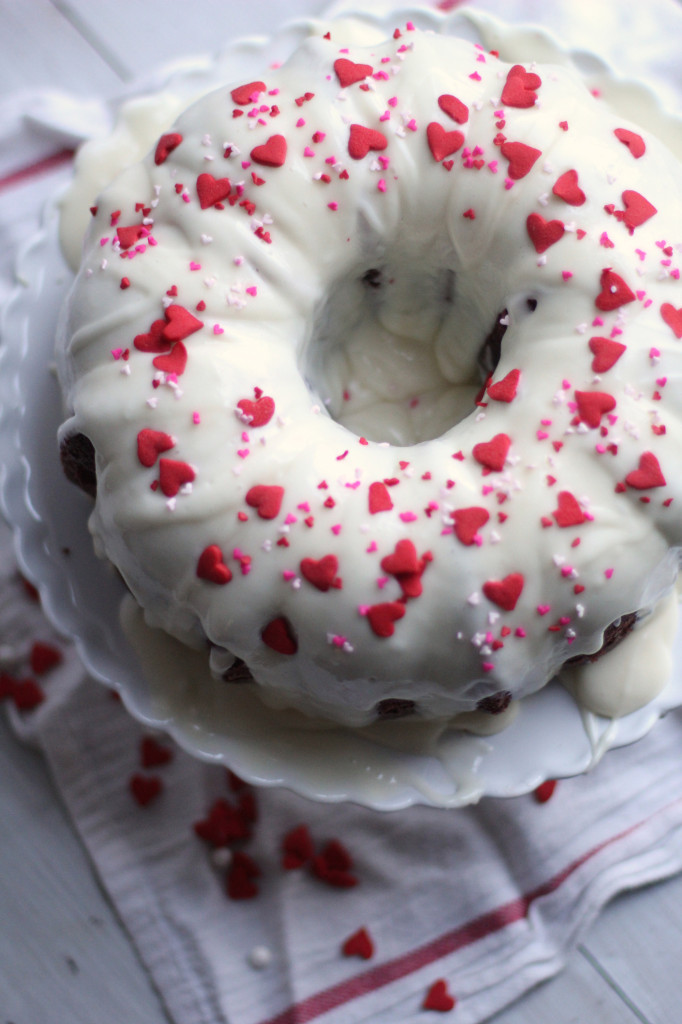 I thought with Valentine's Day right around the corner, I needed to whip up a deep red, cocoa-y, cream chees-y bundt cake that was both festive and delicious. This cake right here is all of that and more. And by more I mean there's a ribbon cheesecake through out the cake making it even better. Moist red velvet cake, cheesecake ribbon, cream cheese icing… pretty much the best thing ever.
My Valentine loved this cake… (well the part that I actually saved for him..) I can almost guarantee that any Red Velvet lovers in your life will too! <3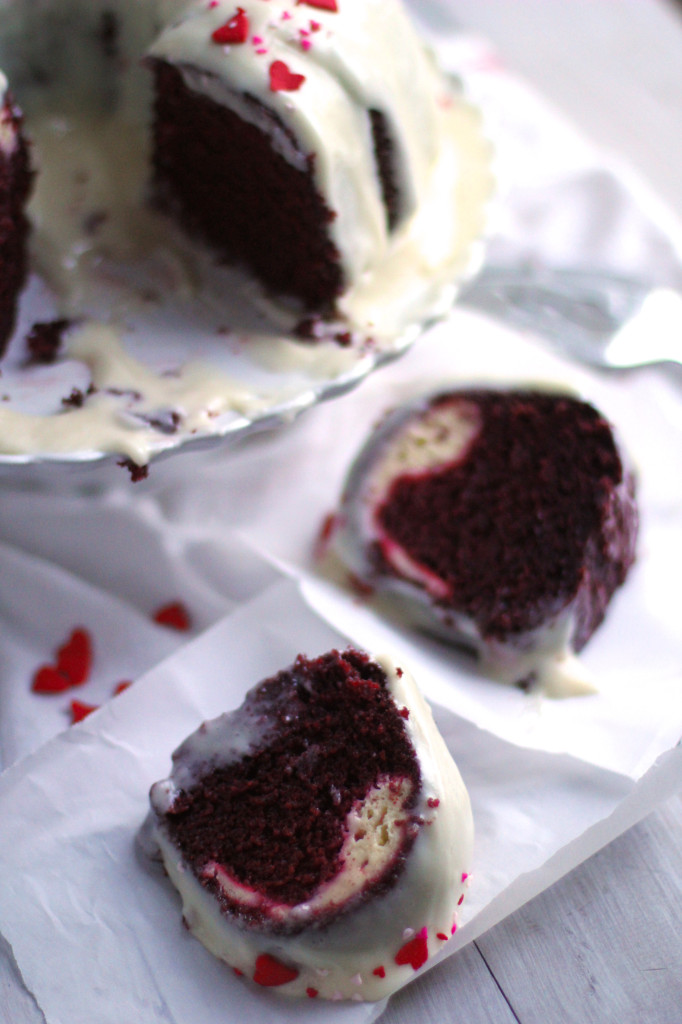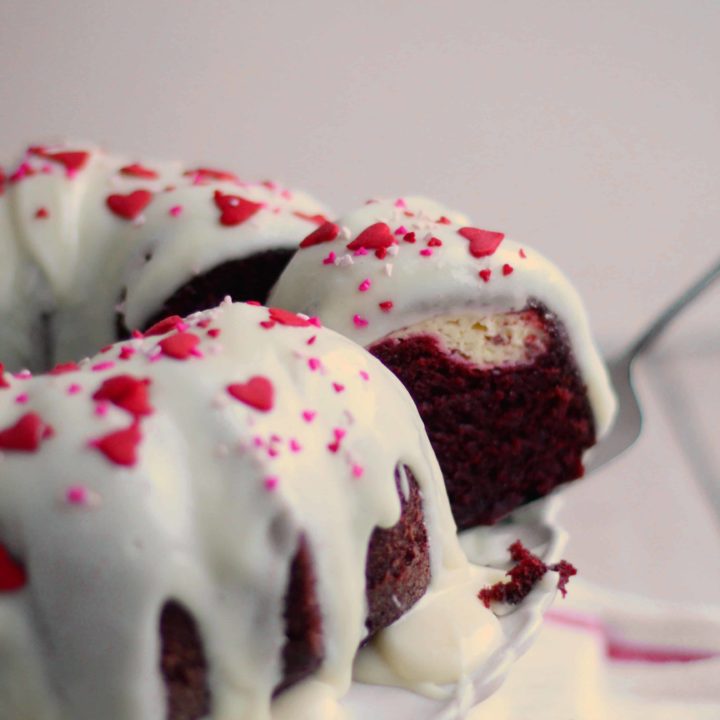 Red Velvet Cheesecake Bundt Cake
Yield: 1 9-10 inch bundt cake
Ingredients
For the Cake:
2 oz. red food coloring
1 cup buttermilk
1 teaspoon white vinegar
1 teaspoon vanilla extract
1 cup vegetable oil
2 cups white sugar
2 eggs
3-4 tablespoons unsweetened cocoa powder*
1 teaspoon salt
2 1/2 cups all-purpose flour, sifted
1 1/2 teaspoons baking soda
For the Cheesecake Filling:
8 oz cream cheese, softened
1/4 cup white sugar
1 egg
For the Icing:
6 oz cream cheese, softened
2 oz butter, softened
2 cups powdered sugar
1 teaspoon vanilla extract
2-3 tablespoons milk
Instructions
For the Cake:
Preheat oven to 350F. Heavily grease a 9-10 inch bundt pan and dust with flour.
In a small bowl or glass measuring cup combine the buttermilk, red food coloring, vinegar, and vanilla. Set aside.
In a large bowl fitted with a paddle attachment, beat together the oil and sugar. Add the eggs one at a time and beat on high until smooth and creamy.
Sift together the flour, cocoa, salt and baking soda in a medium sized bowl.
Alternate adding the dry ingredients and the buttermilk mixture starting and ending with dry ingredients. Mix until just combined, ensuring the batter is smooth but not over-mixed.
For the Cheesecake filling:
Beat together the cream cheese, egg and sugar until smooth.
To assemble:
Fill the bundt pan with about 3/4 of the red velvet batter. Dollop the cheesecake mixture all over, keeping it away from the edges. Top with the remaining cake batter.
Bake for 50-60 minutes, or until a toothpick inserted into the cake comes out clean.
For the Icing:
In a large bowl cream together the butter and cream cheese. Add the powdered sugar and beat until smooth. Add the vanilla extract and 1 tablespoon of milk. Add more milk gradually until your desired icing consistency is reached. I liked mine thick but easy to pour on the cake.
Frost the cooled cake and serve room temperature or chilled!
Notes
Recipe loosely adapted from All Recipes * I used a full 4 tablespoons of cocoa and my cake was a dark rich red. I wanted to amp up the chocolate flavor so I went with that...If you want it to be a bug more vibrant you could to 3 tablespoons as well.
Nutrition Information:
Yield: 1 Serving Size: 1 grams
Amount Per Serving: Unsaturated Fat: 0g