Red Velvet Cupcakes for Two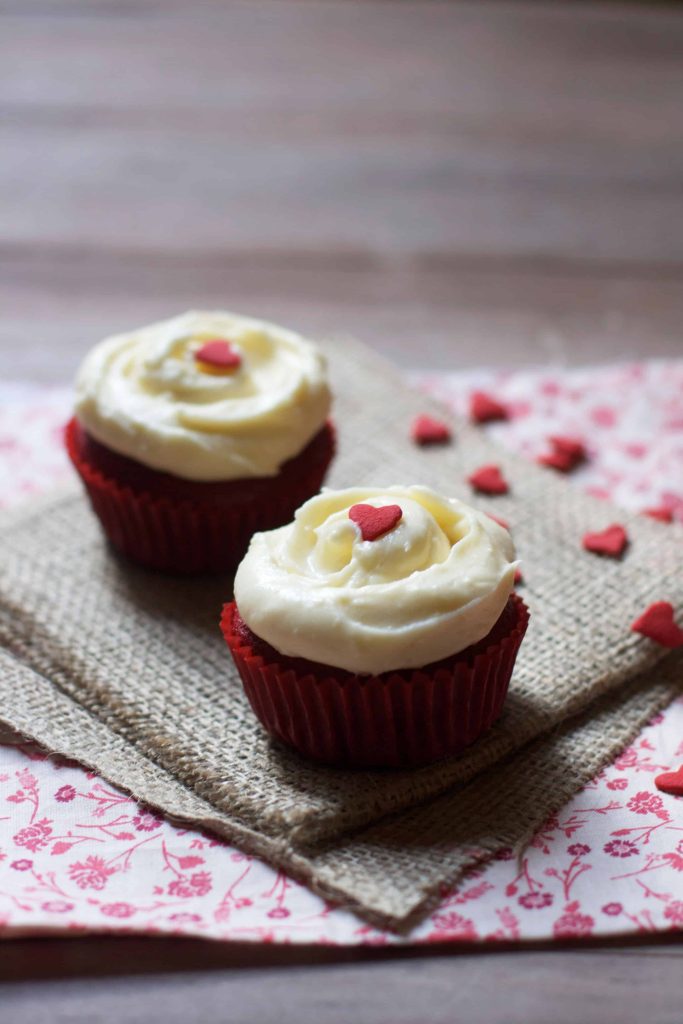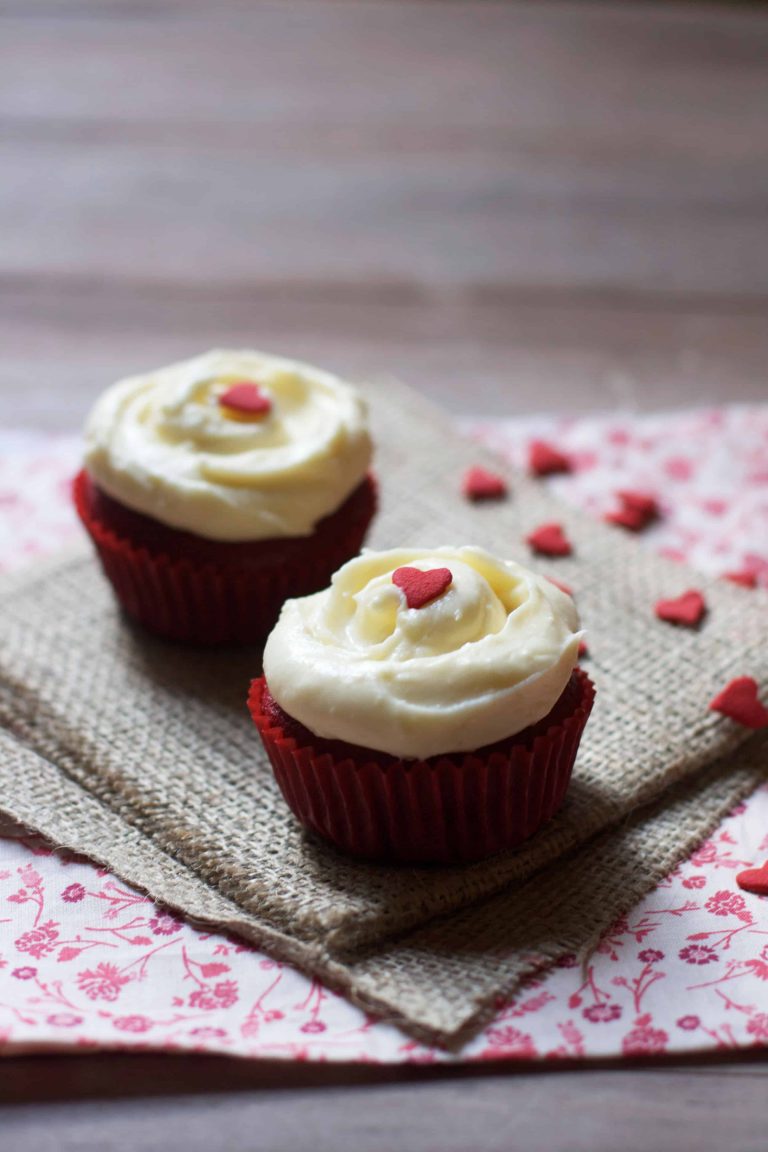 Even though many people (me included,) have a love/hate relationship with Valentine's Day, I can't resist the over-load of sugary sweets. I mean any holiday that values chocolates,truffles and cute desserts is a reason for a dessert-girl to celebrate right? (Not to mention lots of pink, hearts and flowers!) In fact, I think it's the perfect opportunity to whip out all my red-velvet skills for a holiday that has been rubbing red and pink on our faces since New Years. Right?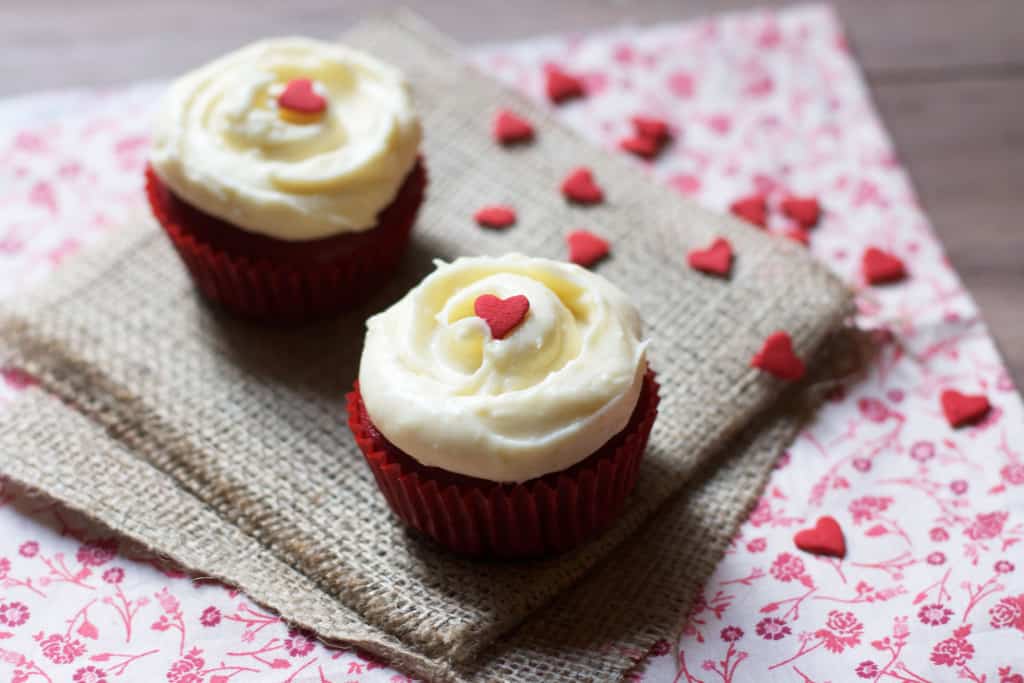 In my constant search for recipes that can be scaled down for small batches, I've created what I consider a perfect dessert for you and your loved one/roommate/mom. Because really- who needs a dozen red velvet cupcakes for dessert when you're cooking a romantic meal for two? (Ok who am I kidding, I could eat both of these in one sitting…but at least I'm attempting at learning portion control.) I'm extra proud of this recipe because for the first time I developed the whole thing up myself. With lots of help from recipe testers (including Tracey, Lauren, Krissy and Samantha,) I've finally worked the kinks out and created what I consider a really delicious, well-portioned treat. The little cakes have a perfect touch of cocoa, are sweet without being over-poweringly so, and the tangy cream cheese frosting is (literally) the icing on the cake!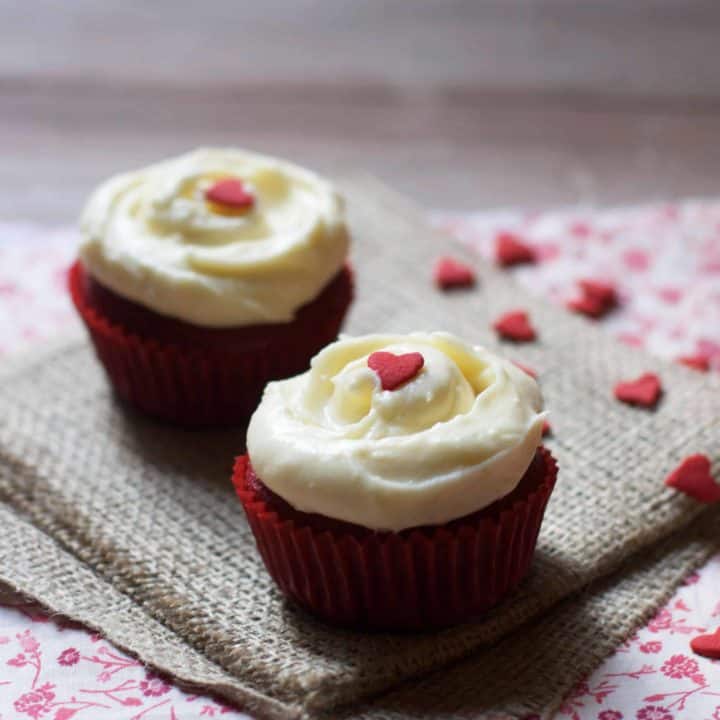 Red Velvet Cupcakes for Two
Ingredients
1 tablespoon butter, melted
2 tablespoons and 1 teaspoon white sugar
1 tablespoon sour cream
1/2 teaspoon white vinegar
1/2 teaspoon vanilla extract
3/4 teaspoon red food coloring
1 egg white*
3 tablespoons and 2 teaspoons all purpose flour
3/4 teaspoon cocoa powder
1/2 teaspoon baking powder
pinch of salt.
cream cheese frosting for two:
2 oz. cream cheese- softened
2 tablespoons of butter- softened
1/2-3/4 cup powdered sugar
1/4 tsp vanilla extract.
Instructions
Preheat oven to 325 degrees. Line 2 muffin tins with cupcake liners.
In a small bowl, sift together the flour, cocoa, baking powder and salt.
In a second small bowl or spouted measuring cup, combine the melted butter and sugar. Stir until well-combined.
Add the sour cream, vanilla, vinegar, food coloring and egg white, and mix until smooth and creamy.
Gradually add the dry ingredients to the butter mixture and stir till combined- being careful not to over-mix.
Divide batter between two cupcake liners Bake for 15-18 minutes or until a tester comes out clean. Allow to cool before frosting.
For the Frosting:
Beat the butter and cream cheese together until smooth and creamy. add the vanilla and powdered sugar, 1/4 cup at a time and mix until frosting is free of lumps, creamy and spreadable.
Notes
*From a medium or large egg. If using a jumbo or extra large egg, don't use the entire white, it will change the texture of the cake.
Nutrition Information:
Yield:

2
Serving Size:

1 grams
Amount Per Serving:
Unsaturated Fat:

0g