Red Velvet Truffles….and Life.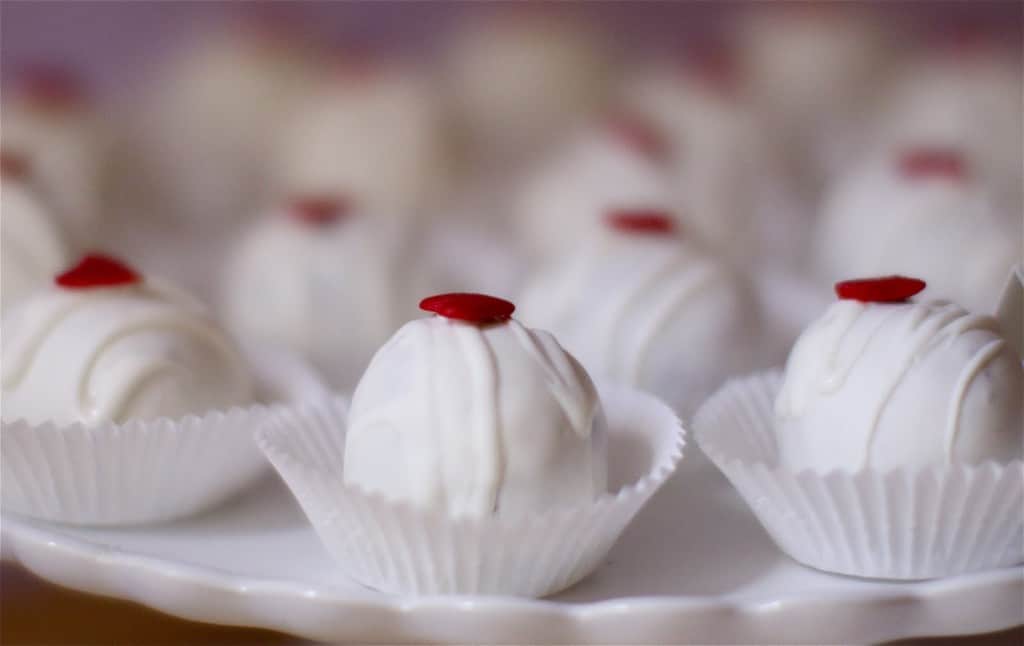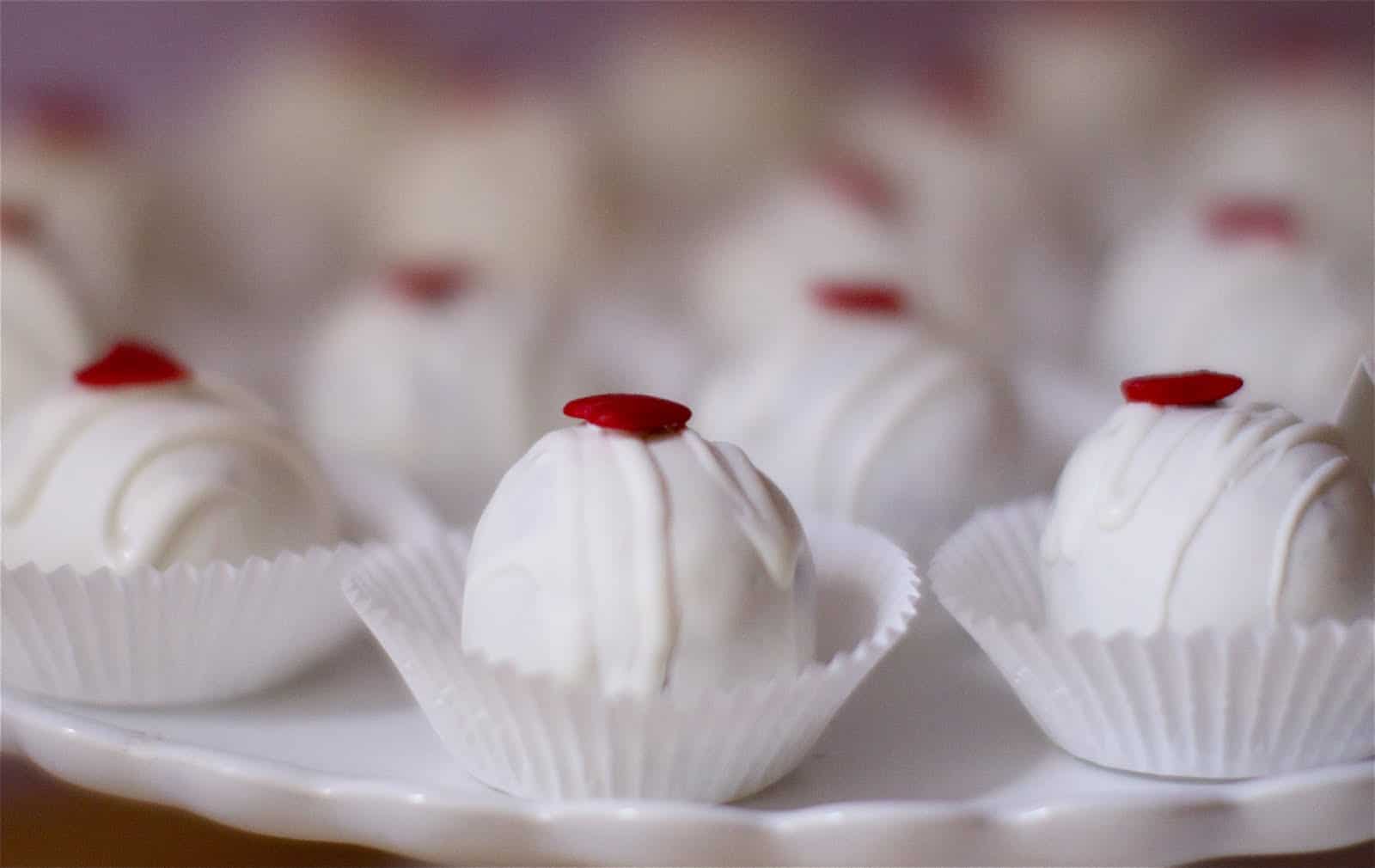 I have had a hard few days friends. My sweet and dear Grandmother (who we called Tata,) had a severe stroke over the weekend and passed away yesterday morning. It came as a bit of a shock to all of us because she seemed to be just fine up until her stroke. She was 85 and lived a full and amazing life, (was a nun for 10 years, a politician's wife, a certified hypo-therapist and a talented painter/artist among other things,) but nonetheless I already miss her terribly.
I'm not heading to Wisconsin for the service until Saturday, and it has been hard to continue life as normal. I really don't feel like doing anything but sitting and eating ice cream, (still have those 3 pints of Ben and Jerry's in the freezer.) Tata, however, was so supportive of my blog and pretty much everything I did that I know she'd want me to keep going. The last time I saw her which was only a couple weeks ago, I brought a huge batch of these chocolate chip cookies which she was so delighted to take home with her. So for Tata, I want to try to keep the blog going this week.
I still feel a little too drained to create and bake something new, but since I still have 9 recipes from the dessert party that I haven't shared, I hope you guys are OK with getting a couple more of those until I get my mojo back.
Since Tata's birthday was in February, I thought the Red Velvet truffles would be a good one to share in her honor. Tata loved birthdays and I know she felt so special and loved that the family threw her a special 85th birthday party this year. My Sisters, Brother-In-Law and I actually wrote her a song that we performed at her party. She told me that she watched the YouTube clip constantly and shared it with all her friends at the retirement center that she lived in. I'm so glad that in the last few months of her life she heard over and over how much we loved her.
On to the truffles. They were so delicious and easy to make and I know they'd be a hit in any flavor combination. I think I'll try lemon or pumpkin next, but really anything that can be a cake can be a truffle. Now lets keep it real- these are also pretty much just cake balls, but they seemed more truffle-y to me and truffles just sounds nicer than balls doesn't it? :) Since I was making 11 other desserts for this party, I used a cake mix for this. I did, however, make my own cream cheese frosting as I personally cringe at all the awful stuff in those cans of frosting. Next time I was for sure make cake from scratch even though you just end up mashing it up anyway. Enjoy! And thanks for listening to what's on my mind today. Sometimes it's hard to just write about food. :)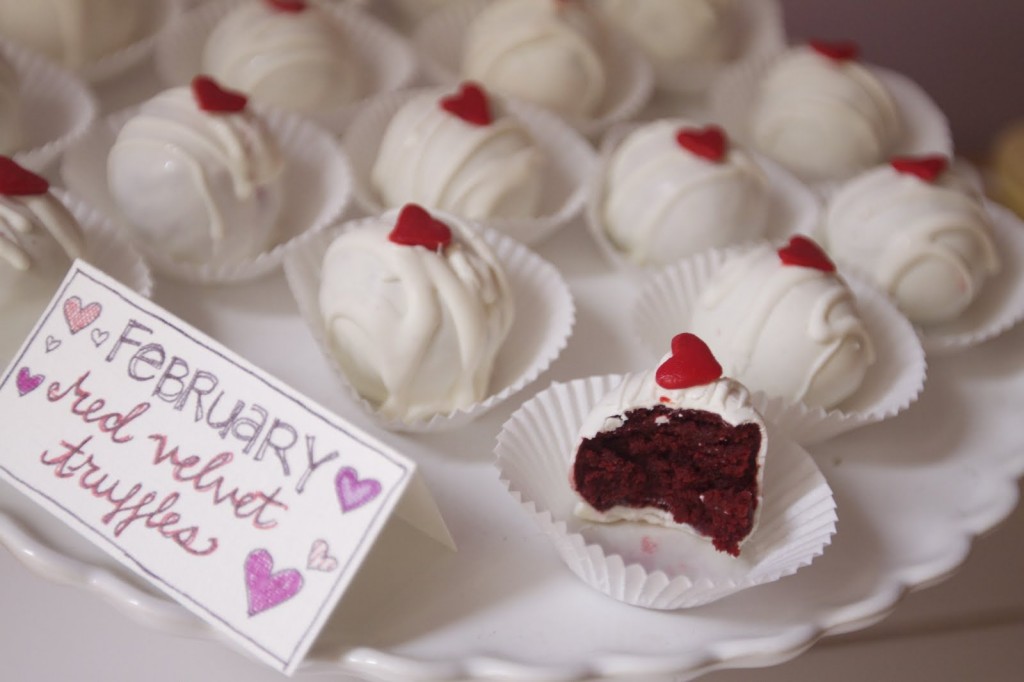 Red Velvet Truffles
Print Recipe
1 box red velvet cake mix (cook as directed on box for 13 X 9 cake)
2 cups cream cheese frosting (recipe below)
1 package white chocolate bars or melting chocolate
1. After cake is cooked and cooled completely, crumble into large bowl.
2. Mix thoroughly with cream cheese frosting. (It may be easier to use fingers to mix together, but be warned it will get messy.)
3. Roll mixture into quarter size balls and lay on cookie sheet. (I used a tablespoon to measure the amount and then rounded it into a ball.)
4. Chill for several hours. (I froze mine for an hour or so and that was fine.)
5. Melt chocolate in a metal bowl over a saucepan of simmering water. (don't let the water touch the bowl.)
6. Roll balls in chocolate and lay on wax paper until firm. (Use a spoon to dip and roll in chocolate and then tap off extra.)
7. When the first layer has hardened, you can drizzle a little more over the top for decor. Or- you could drizzle a different color of chocolate. Put any sprinkles or decorations on when chocolate is still wet, use more as "glue" if needed.
8. I made these early and refrigerated them overnight and they were great!
Cream Cheese Frosting
Makes 3 cups. I know you only need 2 for the recipe, so try really really hard to find a way to use the rest :)
2 (8 ounce) packages cream cheese, softened
1/2 cup butter, softened
2 cups sifted confectioners' sugar
1 teaspoon vanilla extract
Directions
In a medium bowl, cream together the cream cheese and butter until creamy. Mix in the vanilla, then gradually stir in the confectioners' sugar. Store leftover frosting in the fridge.
Cake Truffles adapted from: Bakerella