Roasted Plum and Raspberry Smoothie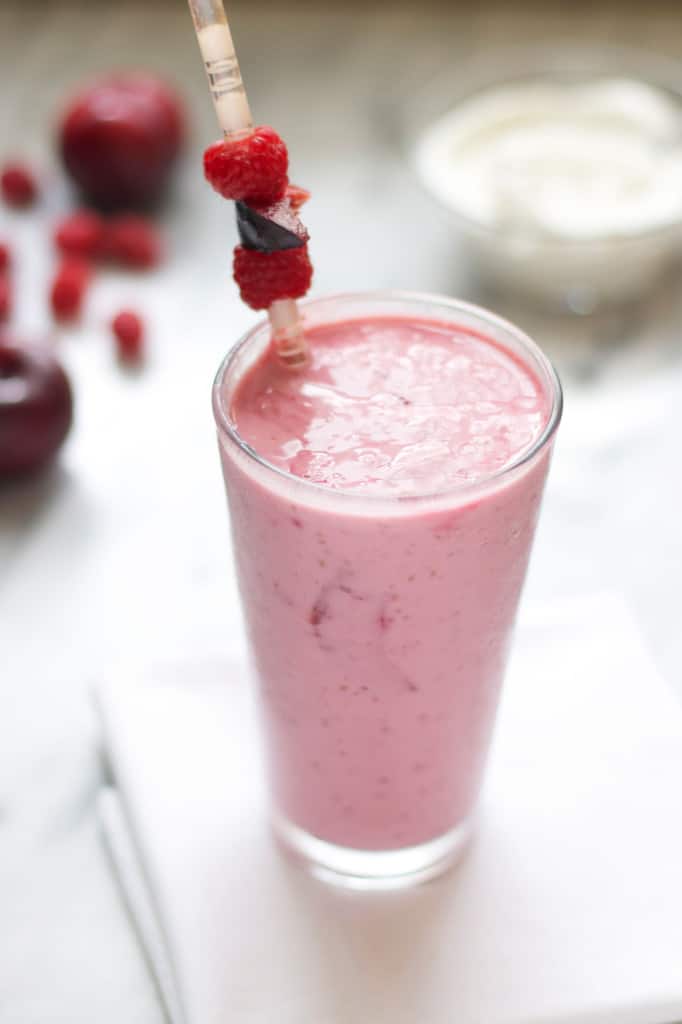 I've been craving sweets a little less than usual lately, but one thing I have been just dying over is summer fruit. As I mentioned in Tuesday's post- I stocked my fridge with the stuff after getting back from LA. I've been snacking on it constantly, but realized I may have been a little over-zealous at Trader Joes with my fruit buying. We leave Wednesday for a 4th of July trip to visit Andy's family, and so I know I needed to use some of this perfect fruit pronto.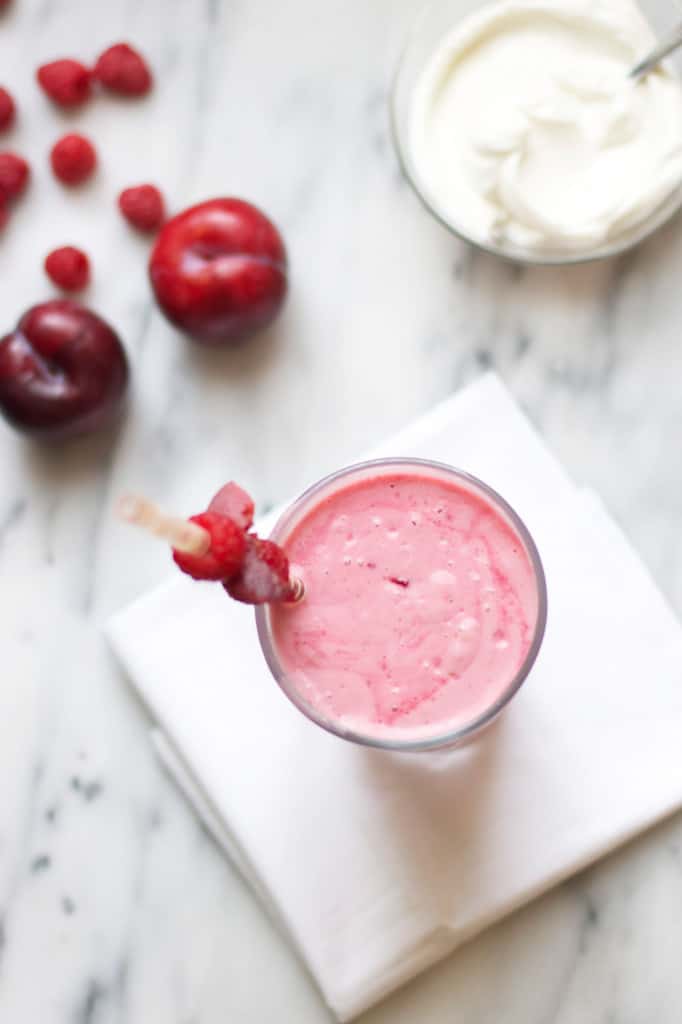 After these pancakes I've been loving the idea of roasting fruit- which is where this delicious smoothie came to be. Full of greek yogurt, fruit and honey, I consider it one of the healthiest things I've made and yet oh so delicious. It isn't overly sweet and the flavors of the fruit really shine.
Is the weather by you as muggy and yucky as it is here in NY? I'm hoping some rain will cool things down so I can bake this weekend, but this was just perfect the other day when all I wanted was something cool and refreshing, (though I did have to turn the oven on to roast the fruit!) Happy Weekend! :)
Roasted Plum and Raspberry Smoothie
Ingredients
1 cup raspberries
2 plums- sliced/pitted
3 tablespoons honey
1 cup vanilla greek yogurt*
1 cup ice cubes
Instructions
Preheat oven to 400 F. In an 8x8 pan lined with foil, arrange the berries and plum slices evenly, and drizzle with 2 tablespoons of the honey.
Roast for 15-20 minutes, or until the fruit is super soft and juicy. Let cool in the fridge for about 10-15 minutes.
In a blender, combine the yogurt, fruit (and all the juices,) ice and the remaining tablespoon of honey. Blend until smooth, adding more honey if desired.
Notes
* If you are using plain greek yogurt, add extra honey and some vanilla extract for extra flavor.
Nutrition Information:
Yield:

2
Serving Size:

1 grams
Amount Per Serving:
Unsaturated Fat:

0g