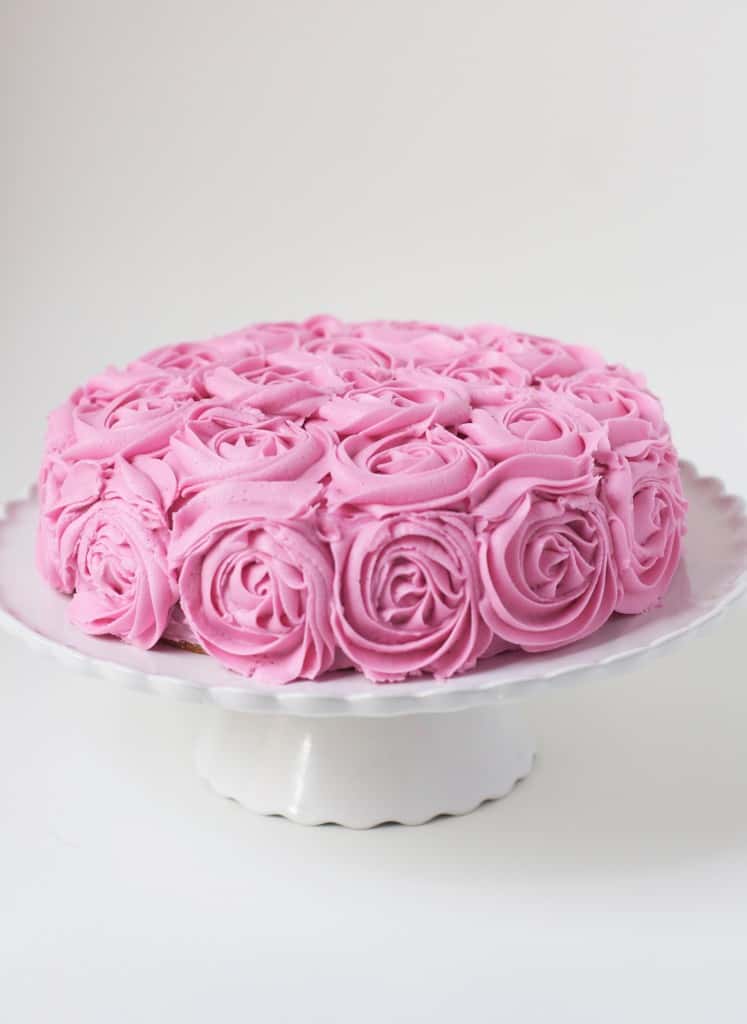 Three years ago (tomorrow), without a clue to be had, I hit publish for the first post ever on The Baker Chick. I knew I enjoyed reading other people's blogs and I loved baking, so I figured why not have a blog of my own? Did I have any idea what it would really involve? Nope. Did I know anything about food photography? Not a thing- (as you can tell from perusing those early posts.) I did know that I wanted a new creative outlet and from the get go I loved having this blog and all that it involved. Over the last three years I have learned a ton, both as a baker and as a member of the blogging community. I'm not good at social media, I still have a long way to go on my photos, and my blog certainly isn't the most popular one out there, but I sure do love it. I am still so incredibly grateful that anyone finds what I have to share relevant and for that I thank YOU!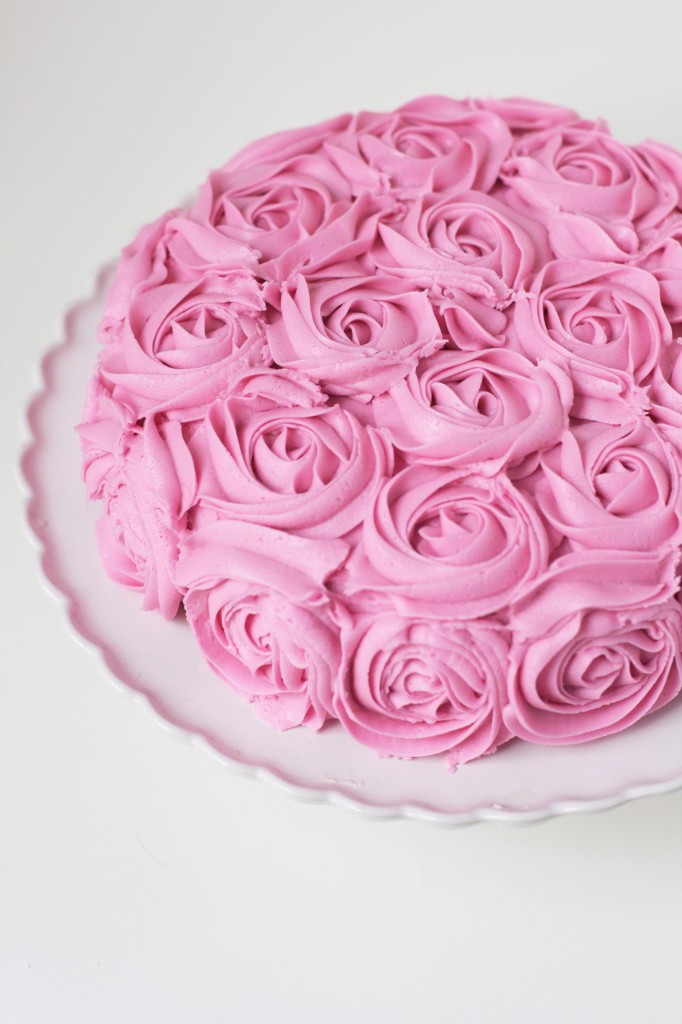 To celebrate the occasion, I thought I'd challenge myself to try a new-to-me technique that has been on my baking bucket list for ages. I've decorated cupcakes and cookies with roses in the past (and it's really pretty easy,) but I always found these lovely cakes a bit daunting. Well- I'm all about challenging myself this year so I thought it was time to give the old rose cake a try! Dare I say its WAY easier than I thought it would be? I was convinced this looked awful but the roses are actually super forgiving and and even the not-so-perfect ones end up looking lovely in the end. (Thank you Amanda for your helpful tutorial on the technique!) Underneath the rosy frosting can be any cake you'd like. I thought of using this Easy One-bowl Chocolate Cake just because it's so simple, but in the end decided on a new-to-me yellow cake recipe. A good, moist yellow cake is a must in any baker's recipe archive and since I didn't have one I thought this would be a good opportunity to try. Man oh man is this recipe good! In my opinion it is the ultimate yellow cake recipe that I will surely be using for birthday cakes for years to come. It is full of flavor with the perfect texture and crumb. It was excellent with this vanilla buttercream but of course a simple chocolate frosting would be yummy as well.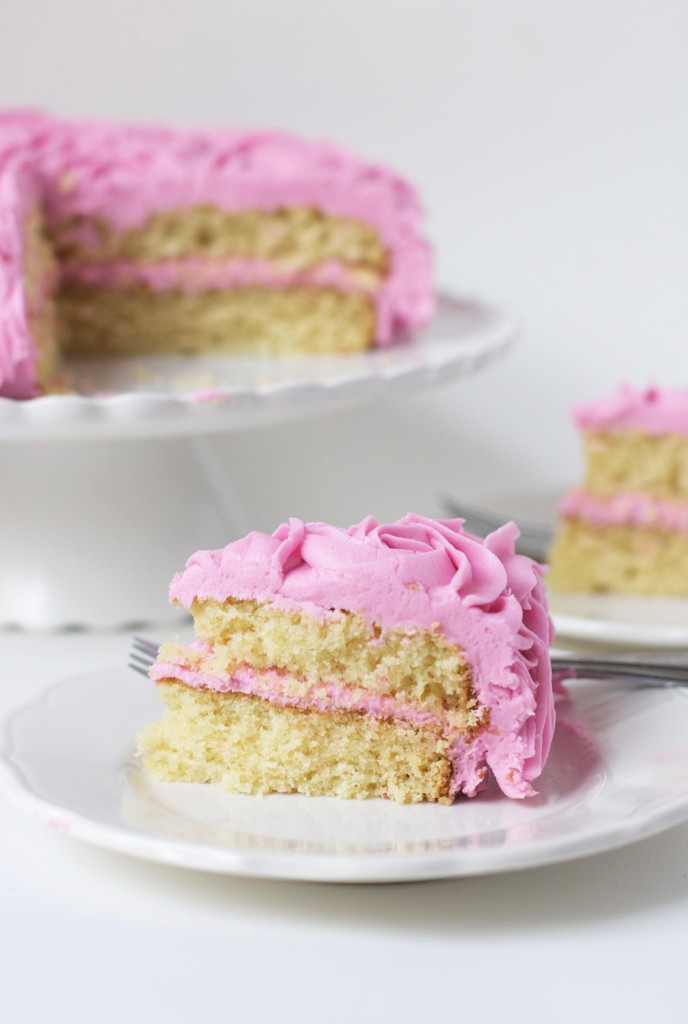 This lovely rose frosting can be done with any flavor combo of your liking and trust me when I say that if you can pipe a circle you can do it! I can promise this is hardly my last time experimenting with the technique because it looks like you're an expert cake decorator when you're really not. (Like me!) Thank you my dear readers for 3 wonderful years, I hope that I can continue to have good ideas of things to share- sweet treats of course, and now also a spattering of savory recipes and updates on being a Mama. I love you!! To further express my gratitude- I'm giving one reader a $50 Amazon gift card! In the past I gifted a few of my favorite kitchen things, but this year I'm letting you do the choosing.
To enter- Simply leave a comment below! Feel free to give me some feedback and what you'd like to see more/less of in this next year.
1 entry per person. Enter now through 2/19 at 11:59 pm. US/Canada only. A winner will be randomly chosen and notified by email. :)
Rose-Frosted Yellow Cake
Yield:
2 8 or 9 inch round cakes*
Ingredients
4 cups plus 2 tablespoons cake flour, not self-rising
2 teaspoons baking powder
1 1/2 teaspoons baking soda
1 teaspoon table salt
2 sticks unsalted butter, softened
2 cups sugar
2 teaspoons pure vanilla extract
4 large eggs, at room temperature
2 cups buttermilk, room temperature
For the frosting:
6-8 cups of powdered sugar
1 cup unsalted butter, 2 sticks
2 tsp vanilla extract
1/2 cup - 3/4 cup milk
Instructions
Preheat oven to 350°F. Butter two 9-inch round cake pans and line with circles of parchment paper, then butter parchment. (Alternately, you can use a cooking spray, either with just butter or butter and flour to speed this process up.)
Sift together flour, baking powder, baking soda, and salt in a medium bowl. In a large mixing bowl, beat butter and sugar in a large bowl with an electric mixer at medium speed until pale and fluffy, then beat in vanilla. Add eggs 1 at a time, beating well and scraping down the bowl after each addition. Add flour mixture in three batches, alternating with buttermilk, starting and ending with flour. Mix until each addition is just incorporated.
Spread batter evenly in cake pans, then tap or drop pan on counter to eliminate air bubbles.
Bake until golden and a wooden pick inserted in center of cake comes out clean, 35 to 40 minutes. Cool in pan on a rack 10 minutes, then run a knife around edge of pan. Invert onto rack and discard parchment, then cool completely, about 1 hour.
For the Frosting:
Cream butter until smooth and creamy. Add 6 cups of the powdered sugar an mix until thick and dry. Add vanilla extract and gradually add the milk, one tablespoon at a time. Add the remaining powdered sugar and any additional milk as needed until mixture is thick, creamy and slightly stiff.
Frost cake as desired. For rose frosting- check out the tutorial from I am Baker
Notes
The cake pictured above is made from 1- 8 inch round cake sliced in half and filled, frosted. (I made 2 cakes, one rose frosted and one frosted more smoothly.) You could either half the recipe or make one super large cake. Cake recipe from Smitten Kitchen Frosting from I am Baker
Nutrition Information:
Yield:

2
Serving Size:

1 grams
Amount Per Serving:
Unsaturated Fat:

0g