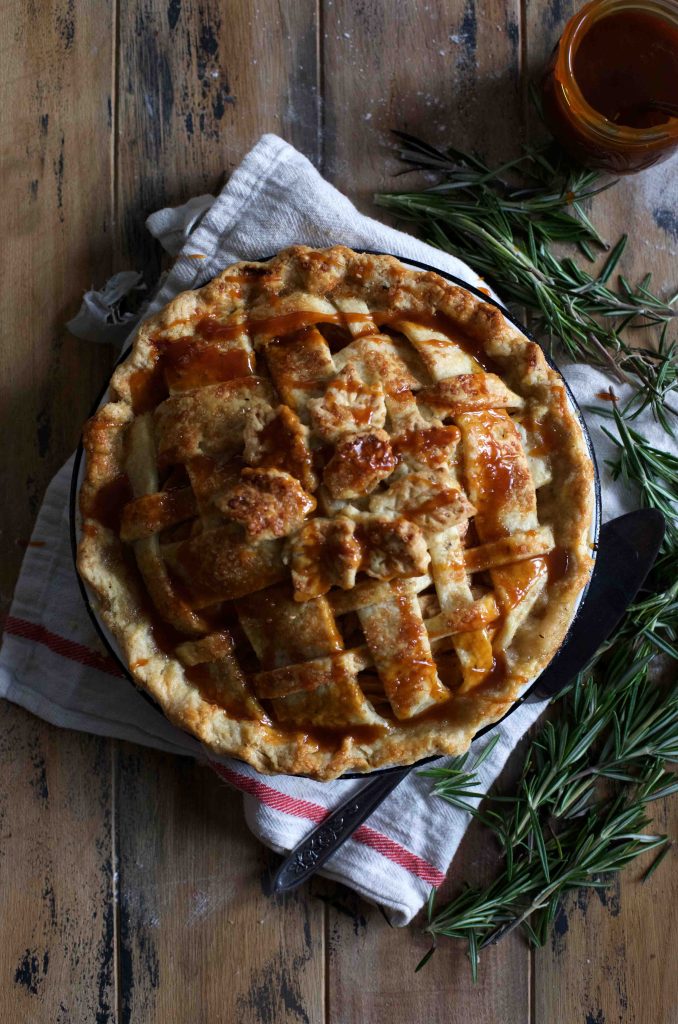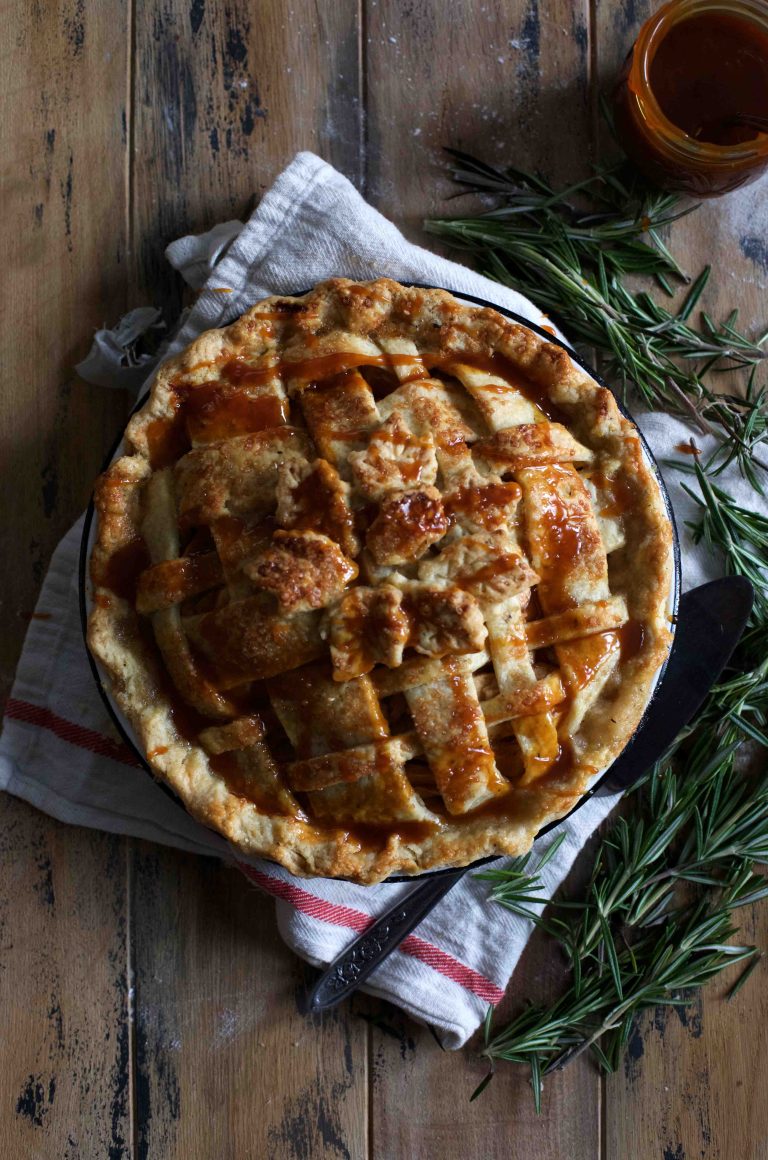 If Thanksgiving 2018 came and went without me sharing a new pie recipe I just couldn't bear it, so here I am in the nick of time with another one for you.
It's hard to come up with new ideas after 8 years of blogging, but I've been tossing the idea of this combo for awhile. Rosemary is one of my all-time favorite herbs, and I have loved in in both sweet and savory dishes. It just adds that something you know??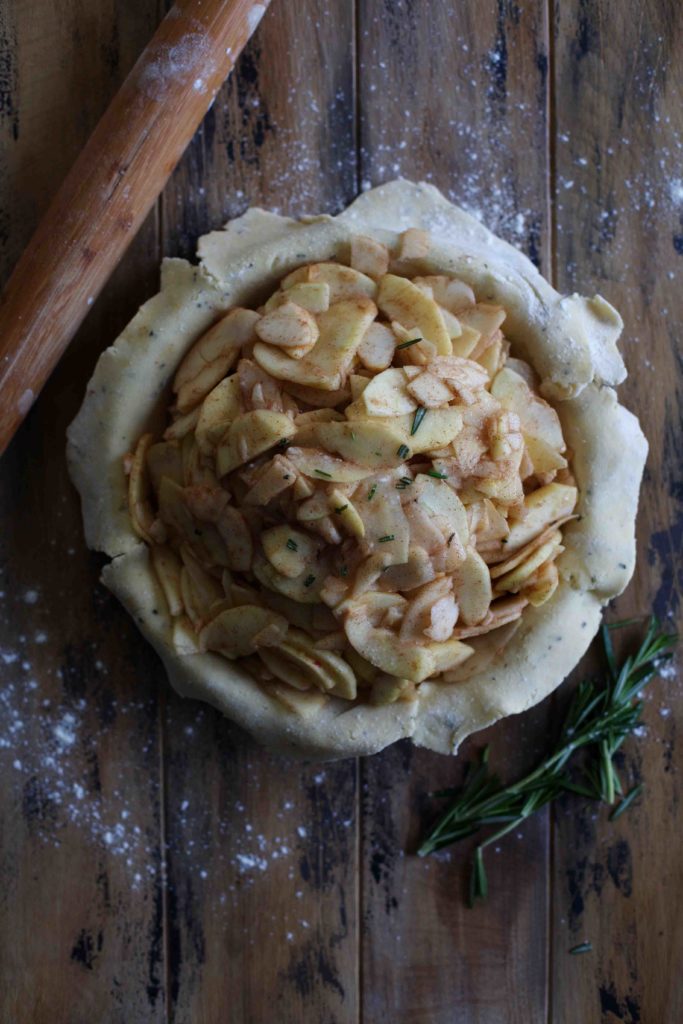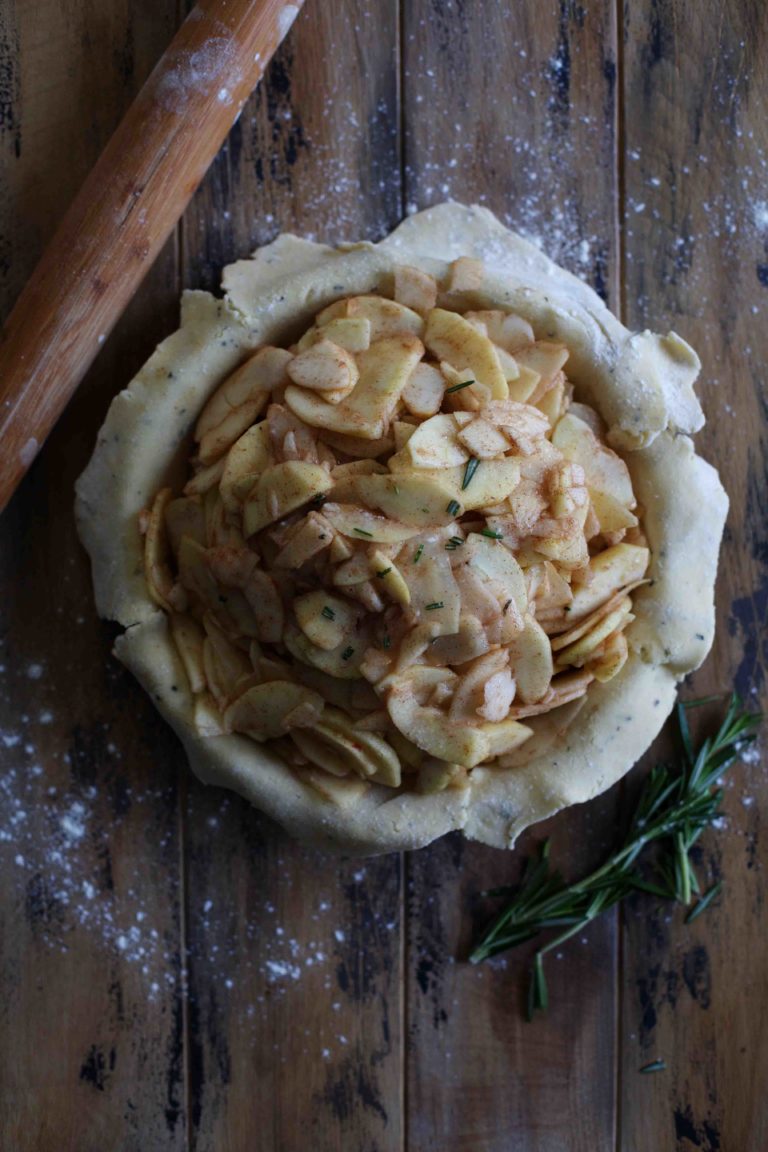 The rosemary is integrated into the pie in two ways- a simple syrup that the apples are tossed in, and it's chopped up and worked into the crust as well. I think this is the perfect amount- you notice it, but it's not overpowering in the least.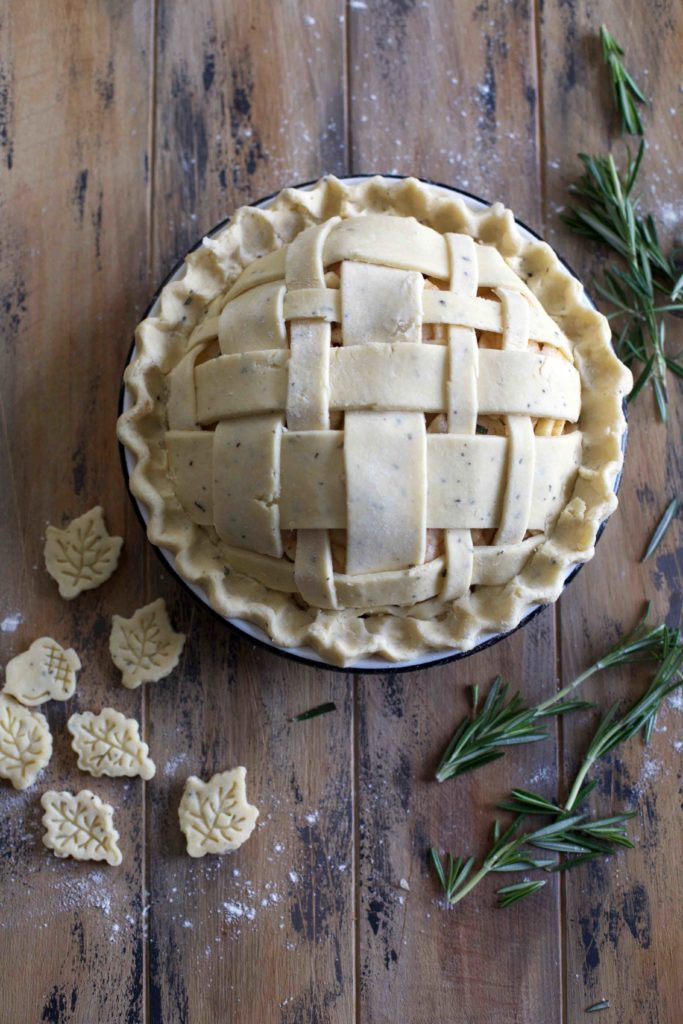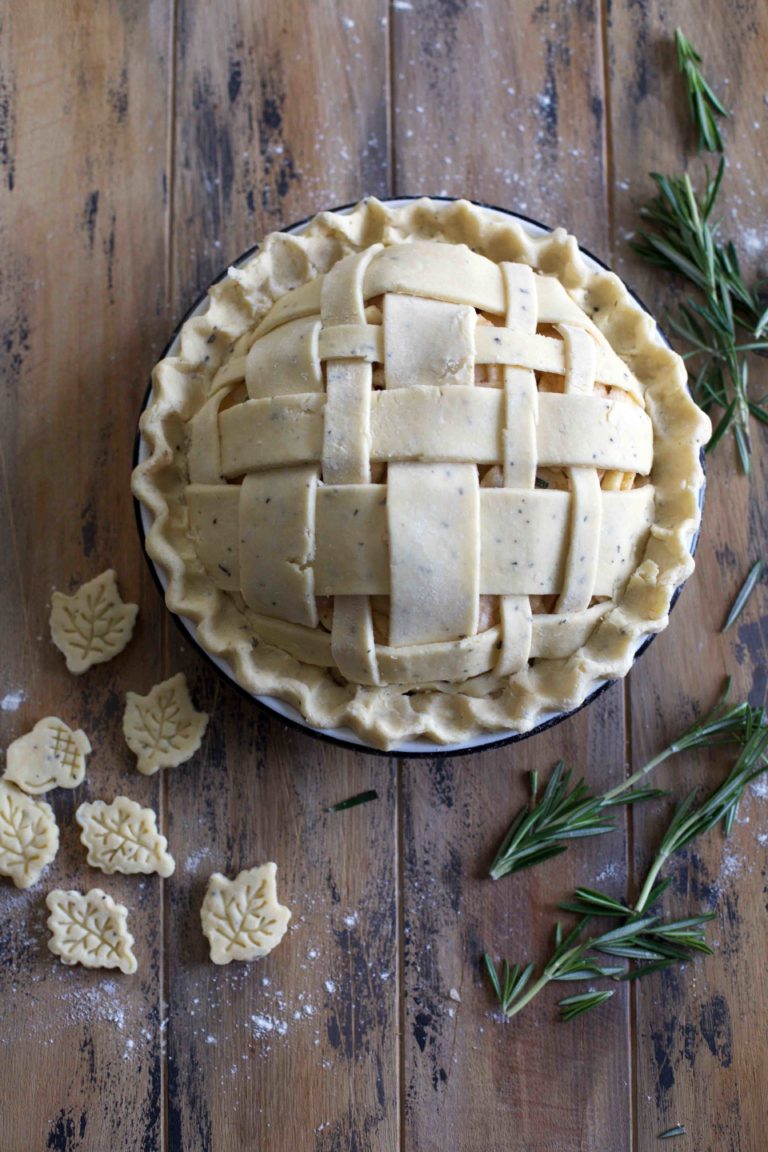 PS- Those little leaf cutters are from Williams Sonoma years ago- and I only use them for Thanksgiving pies, but aren't they the cutest!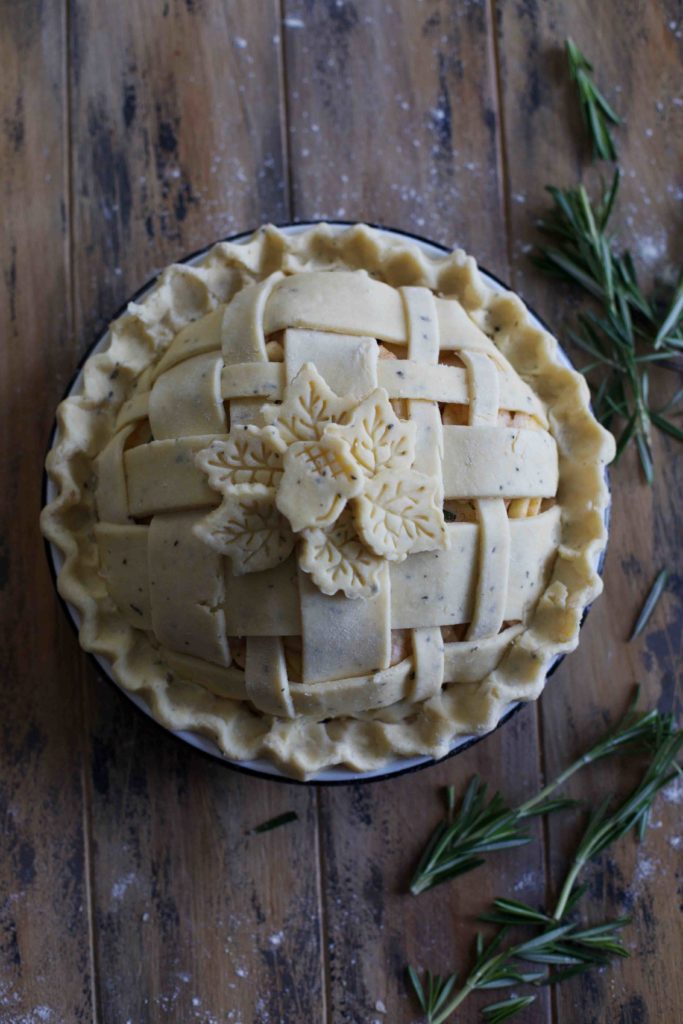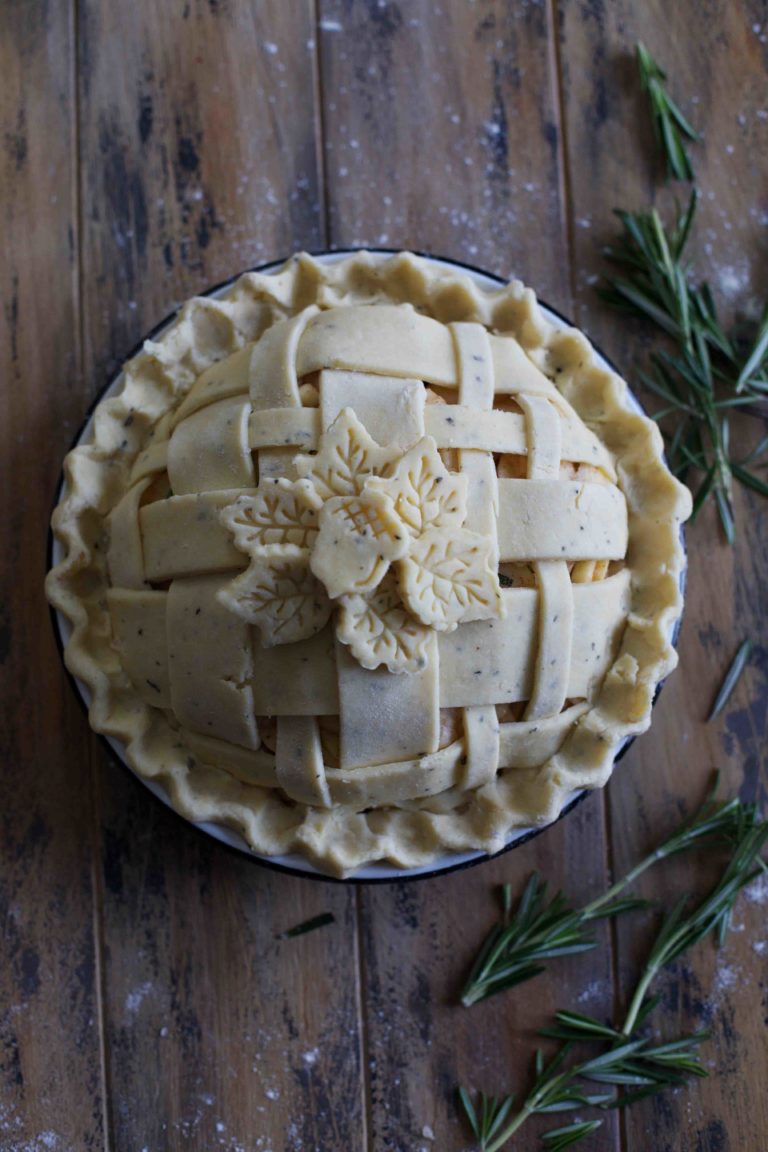 I had some leftover caramel sauce from when I made this Pumpkin Salted Caramel Layer cake, so I drizzled it on top of the pie, but that's totally optional. I think some simple whipped cream would be wonderful with this pie too.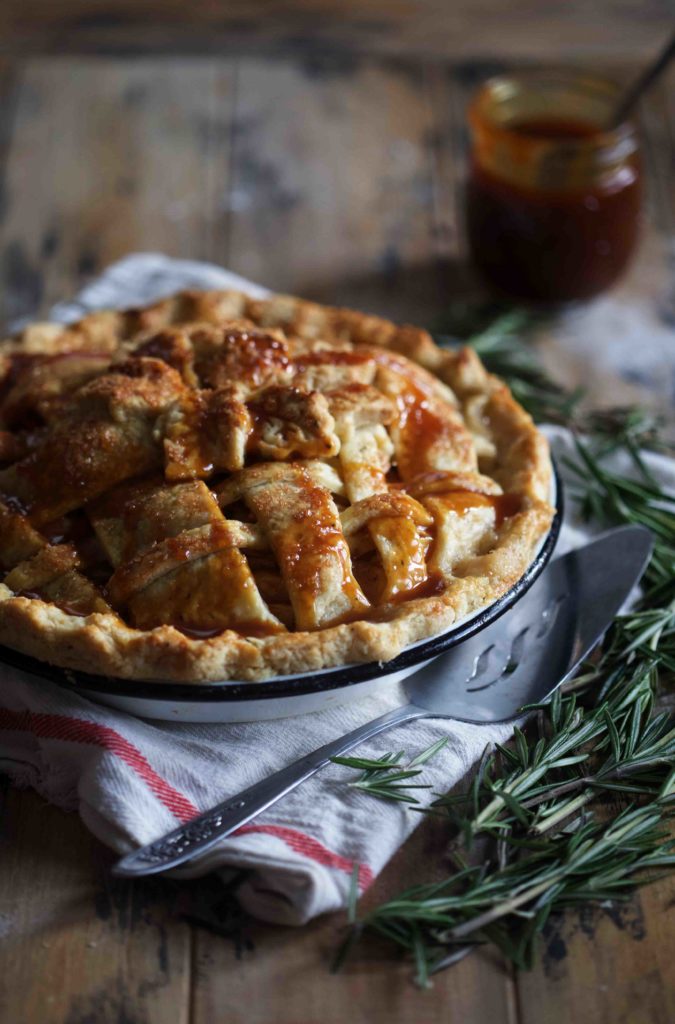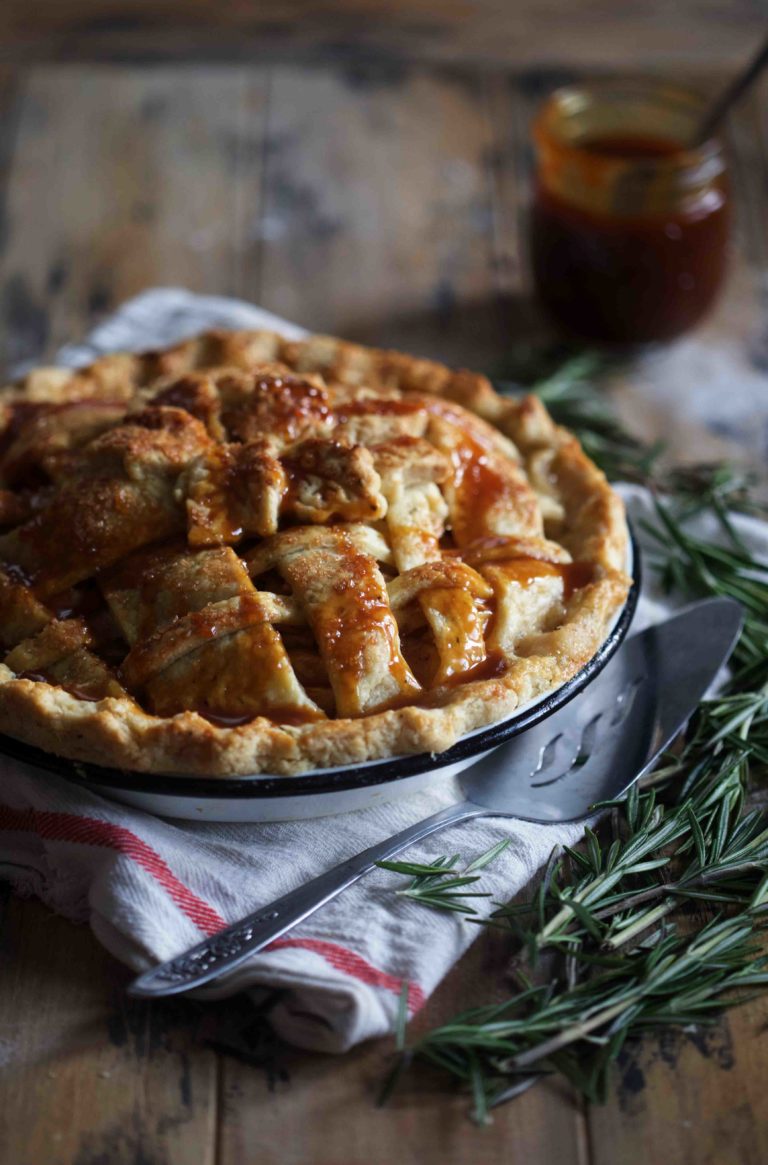 So there you have it- one more pie recipe you can switch out for your traditional apple pie if you want something surprisingly wonderful.
You can use any pie crust recipe you like and just add the rosemary to the flour, and that's really all I did- I used my favorite Perfect Pie Crust recipe that I've been making for years and just added the chopped rosemary in and it was perfect. I also have started adding both vinegar and ice water which is a game changer. This crust was flakey and perfect!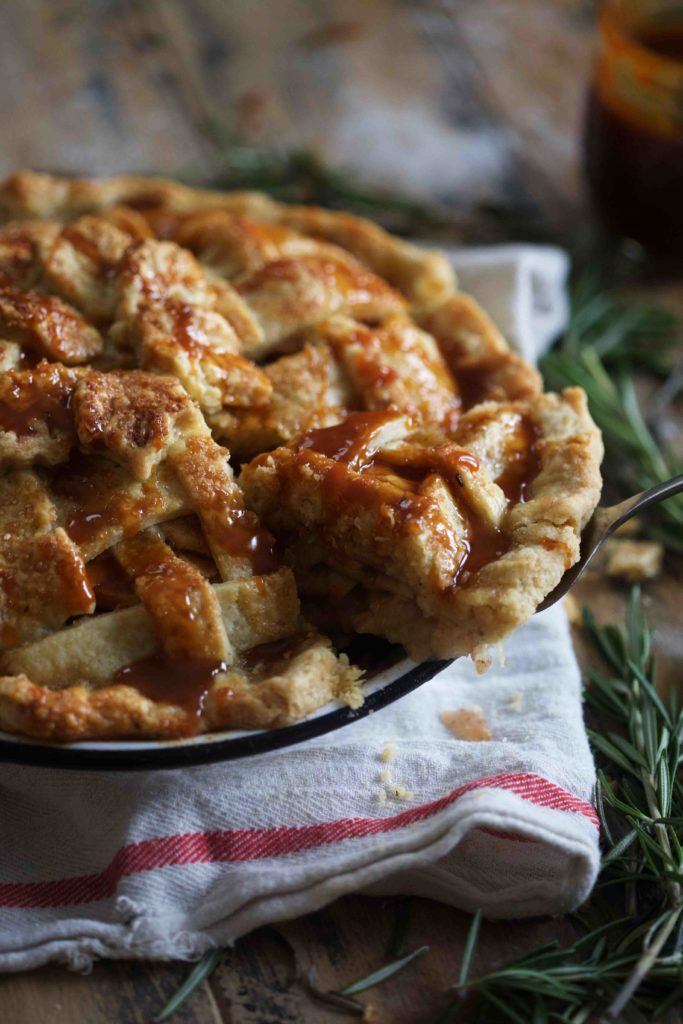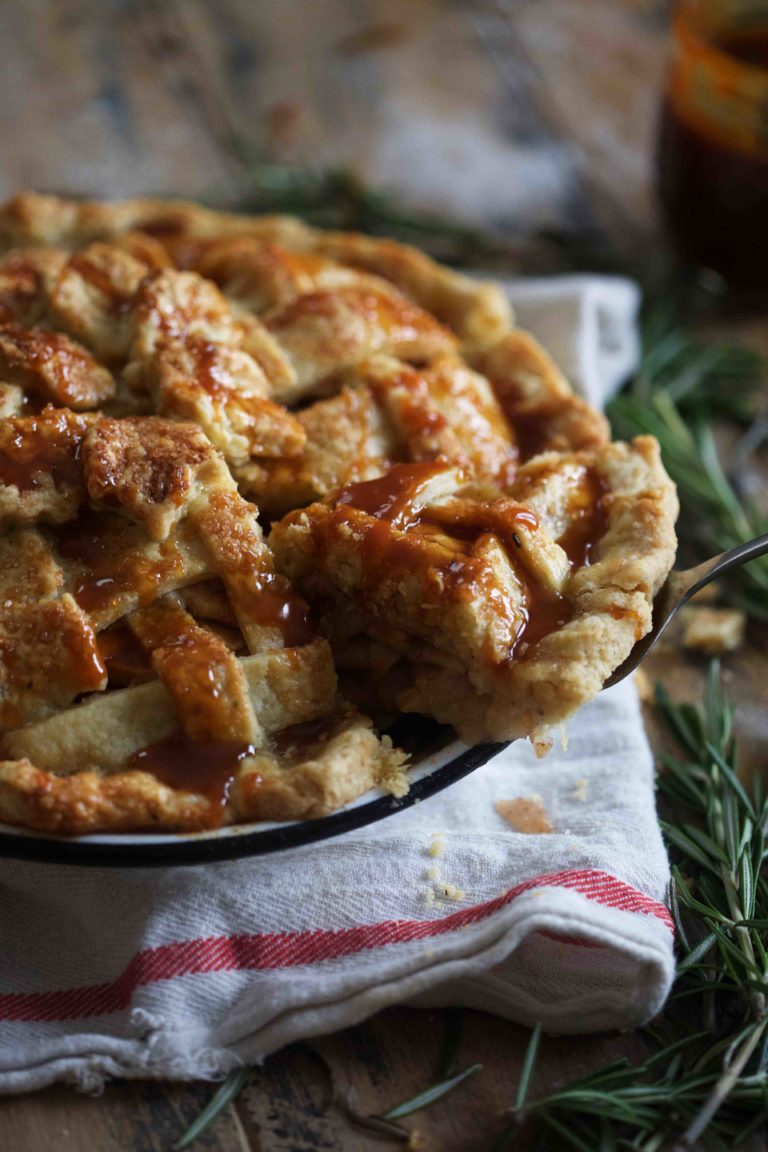 I wish you all a Happy Thanksgiving full of wonderful friends, family and food! Thanks for making my recipes for your feasts, it means the world to me!
And here it is: The recipe for Rosemary Apple Pie!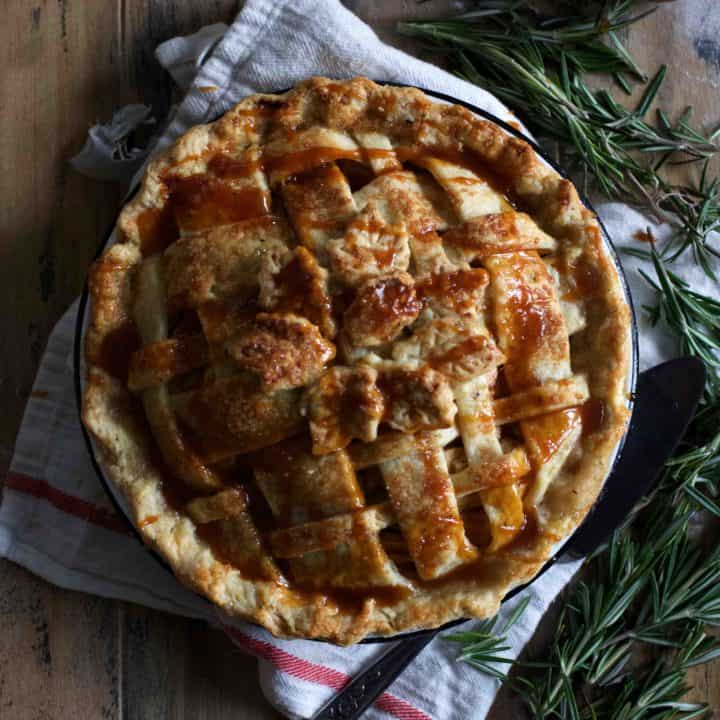 Rosemary Apple Pie
Total Time:
1 hour
30 minutes
A twist on a traditional apple pie with a subtle hint of herbal rosemary.
Ingredients
For the crust:
2 sticks (1 cup) of cold butter, cut into chunks
2 1/2 cups all purpose flour
1 teaspoon salt
1 teaspoon sugar
1 tablespoon finely chopped rosemary
1/4 cup ice water
2 tablespoons white vinegar
For the filling:
6-7 cups peeled and sliced apples
lemon juice
2 sprigs of rosemary
1/2 cup white sugar
2 teaspoons ground cinnamon
1 teaspoon of flour
2 tablespoons of butter
1 egg
raw sugar for sprinkling (optional)
Instructions
For the crust:
In a large bowl (or the bowl of a food processor,) combine the flour, salt, sugar, and rosemary. Stir together or pulse in the food processor until well- combined.
Add the butter chunks and cut into the flour with a pastry cutter, two knives, or use your hands to spread and work the butter into the flour until it forms chunks no bigger than peas. (If using a food processor, pulse until the butter is broken down to small pieces.)
Mix the ice water and vinegar together, and add it to the dry mixture gradually, mixing and folding with your hands until the dough comes together in a cohesive ball. (Don't get too moist, just enough to form a disk.)
If using food processor, stream the water/vinegar in while processing.
Turn dough onto a sheet of plastic wrap and divide into 2 equal pieces. Form 2 disks and wrap well- chilling for a minimum of 60 minutes.
For the filling:
In a small saucepan, combine the rosemary sprigs, 1/2 cup of water, and 1/2 cup of sugar. Cook until sugar melts and rosemary loses color, about 5 minutes. Then turn to low and let the rosemary steep into the syrup a few minutes more. Remove from heat and set aside.
In a large bowl, toss the apples with lemon juice, the cinnamon, flour, and rosemary syrup. toss well and set aside while you roll out the pie dough.
To assemble and bake:
When the dough has chilled enough, roll out one sheet to about 12 inches diameter and drape inside your 9-inch pie dish.
Fill with the apple mixture and dot with the 2 T butter, cut into small cubes.
Roll out the other disk of pie dough, and either cut strips for a lattice crust, or just keep it simple and drape it over the top as is.
Crimp/trim the edges and if you are doing a traditional double crust, cut a couple slits in the top for steam to escape.
Brush the crush with beaten egg and sprinkle with sugar.
Pop the whole pie into the fridge or freezer until ready to bake. (I suggest doing this for a few minutes or until the crust feels cold and hard to the touch. This will help it keep it's shape while you bake it.)
Preheat oven to 400F. Bake on a cookie sheet (for leaky juices,) for 15 minutes, and then reduce heat to 350F and bake for another 45-60 minutes, or until the crust is deep golden and insides are bubbly. Cool slightly before serving.
Notes
I like a mix of apples, here I used golden delicious, cortland, and honeycrisp because that's what I had on hand.