Salted Brown Butter Krispie Treats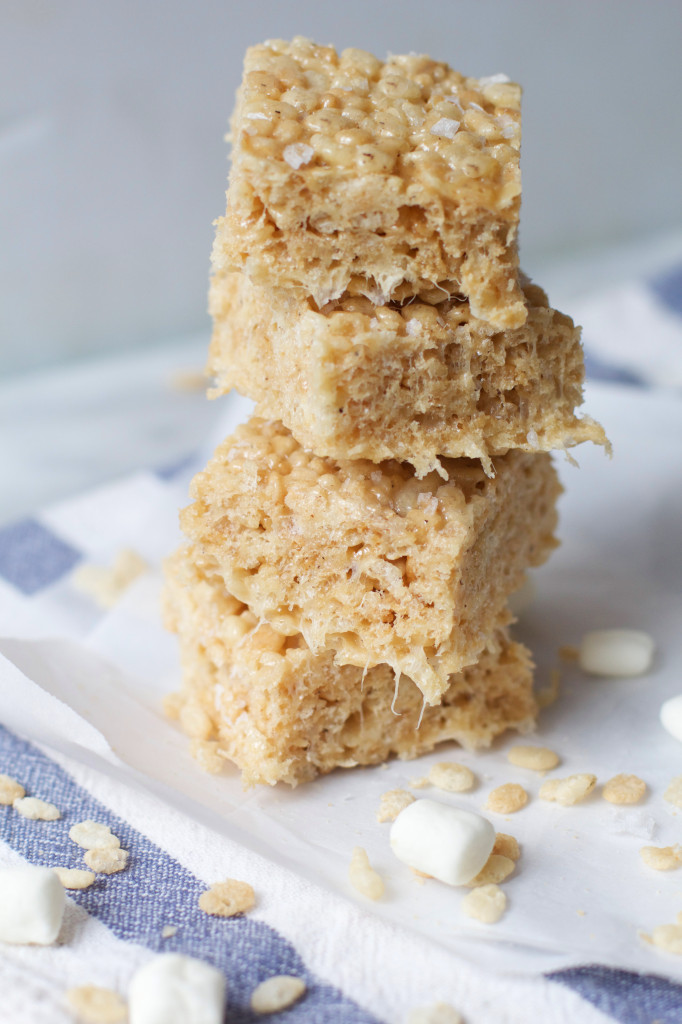 Oh the Rice Krispie Treat. Bake sale classic, childhood favorite, crisp, chewy, gooey all in one- it's hard to improve upon isn't it? Well- last when I was traveling to Disney I spotted fancy one in the LaGuardia Airport: "Brown Butter Sea Salt Krispie Treat." I almost bought it, but then Andy talked me out of it (I had already gotten pastries for the plane,) reminding me I could probably make it myself right? So I left that adventure for the first day we got him and here we are.
These are very close to classic Rice Krispie Treats, but totally upped a notch. The brown butter really makes a huge difference, giving a toasty almost nutty flavor. I'm sure you can imagine how great the bits of flakey sea salt sprinkled on top are too- I sure do love that sweet & salty combo! Plus these are just the easiest things on the planet to make- truly 10 minutes from start to finish and someone just so satisfying at the same time. Make them this weekend- and get ready to up your rice krispie game! (Plus they're made with cereal so….breakfast?)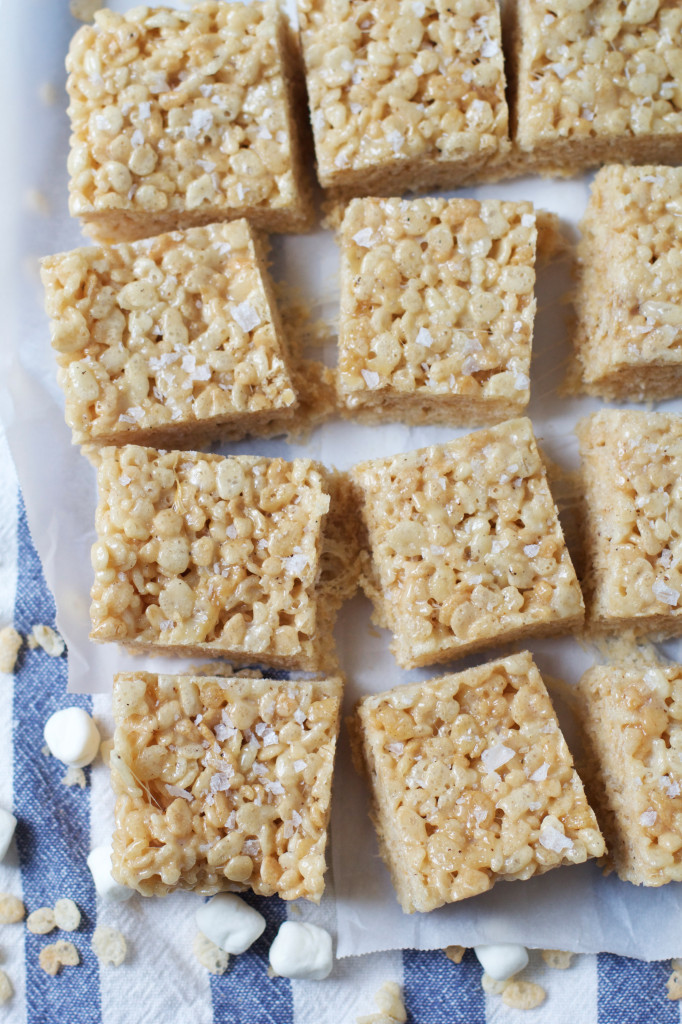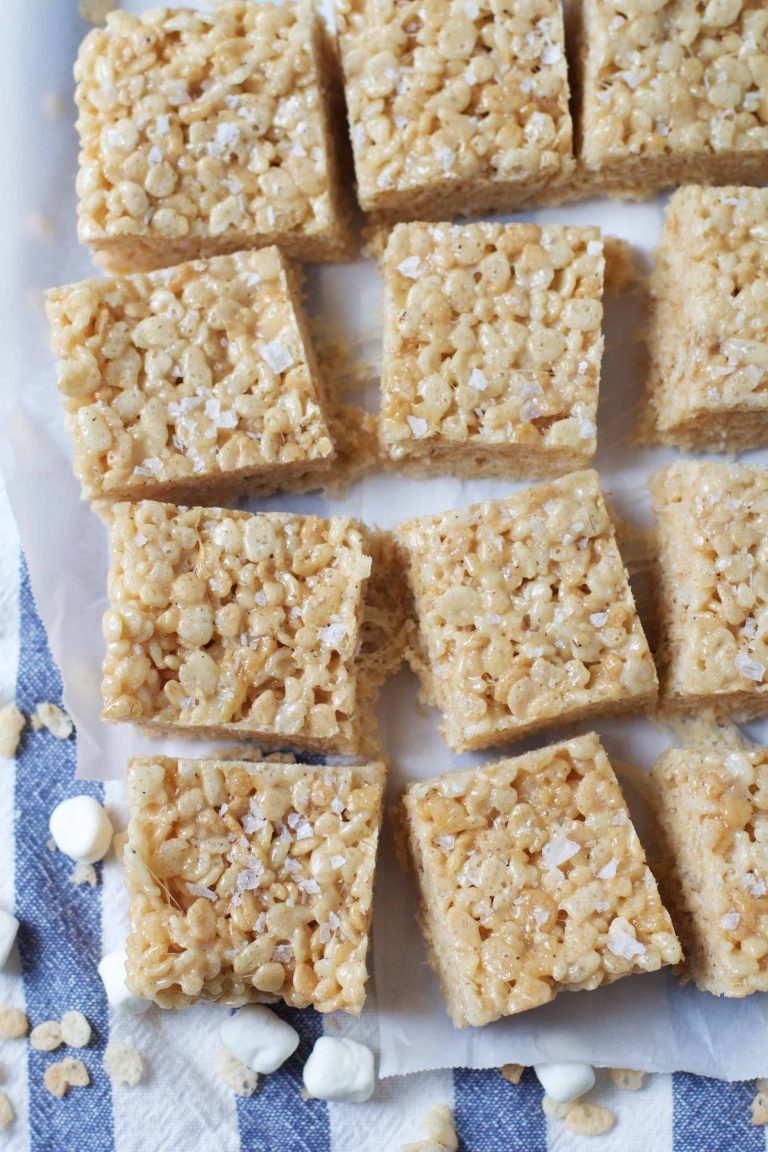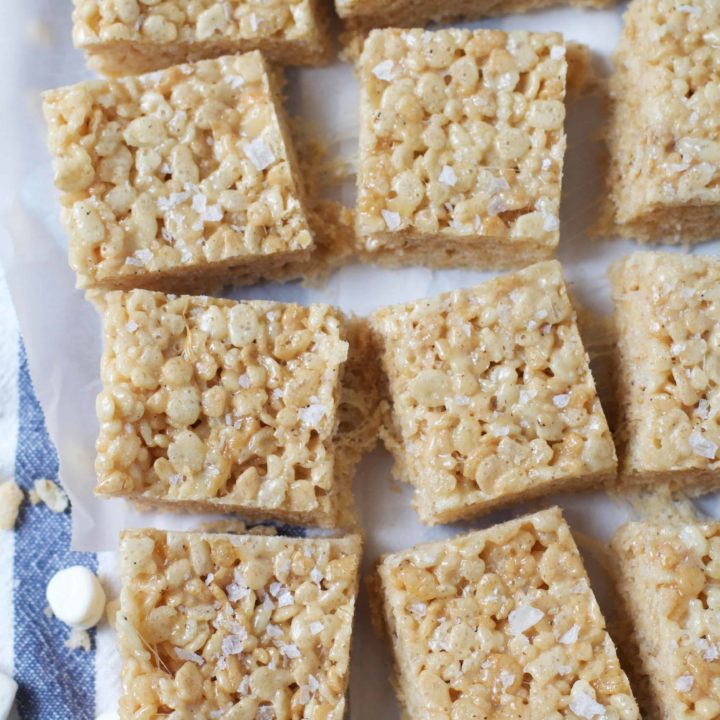 Salted Brown Butter Krispie
Ingredients
1 stick of unsalted butter
1- 10 oz bag of marshmallows
5 cups of rice krispies cereal
flaky sea salt
Instructions
In a large pot brown the butter by letting it melt and then bubble and turn a dark golden brown.
Reduce the heat to low and stir in the marshmallows until just melted.
Remove from heat. Stir in the cereal, carefully coating all of it with the brown butter/marshmallow mixture.
Press the mixture into a buttered 8x8 pan, using the back of a spatula to gently press it down to make it smooth and flat. Sprinkle with the flaky sea salt.
Allow to cool at room temperature and then cut into bars. Store in an airtight container- these are best to be enjoyed within 24 hours of making!
Notes
1- Use a fresh bag of marshmallows, stale old ones will make the bars tough and chewy. 2-It's important that you don't overcook the marshmallow butter mixture. If the heat is too high it will start to caramelize the sugar in the marshmallows with which also make the bars tough.
Nutrition Information:
Yield: 16 Serving Size: 1 grams
Amount Per Serving: Unsaturated Fat: 0g