Salted Caramel Apple Crisp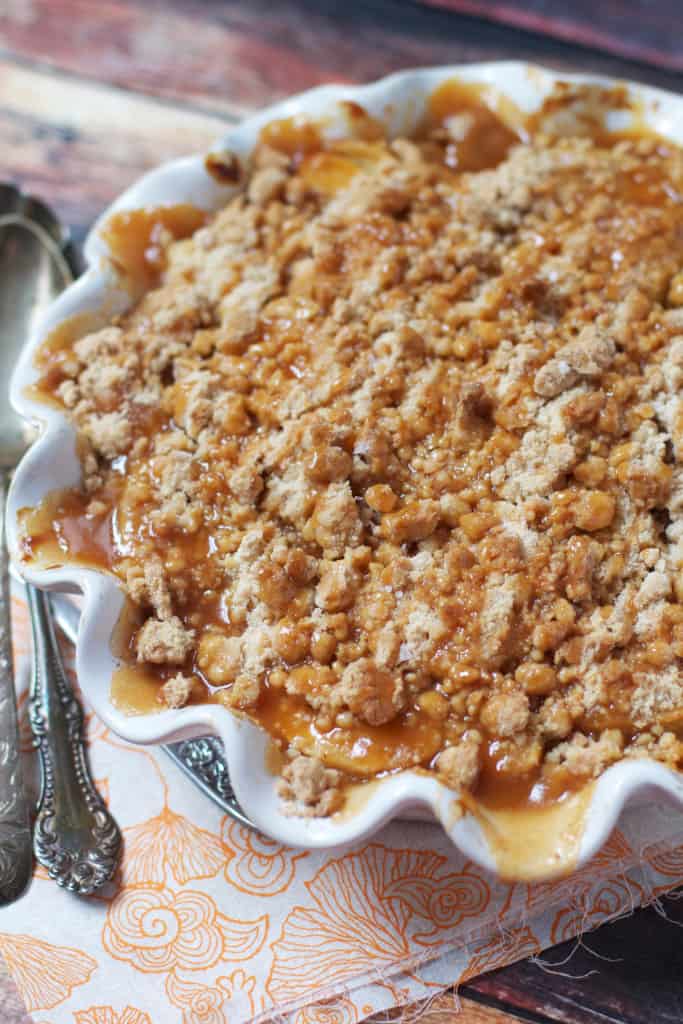 I know that it's currently hotter than it actually was most of the summer, but I can't wait any longer to start sharing some fall-ish recipes.
It's like the minute September hits, my taste buds automatically need apple and pumpkin and spice. Even if summer produce is still in season, mentally I prefer anything and everything fall.
I love this crisp. Not only because it has the words salted caramel in it, but because its so easy and super delicious. Now I just adore making pies as I've made pretty clear around here. (I even confessed my dream of opening my own pie shop someday,) but the fact that this baby is crust-less, therefore making it that much easier to throw together is a huge perk.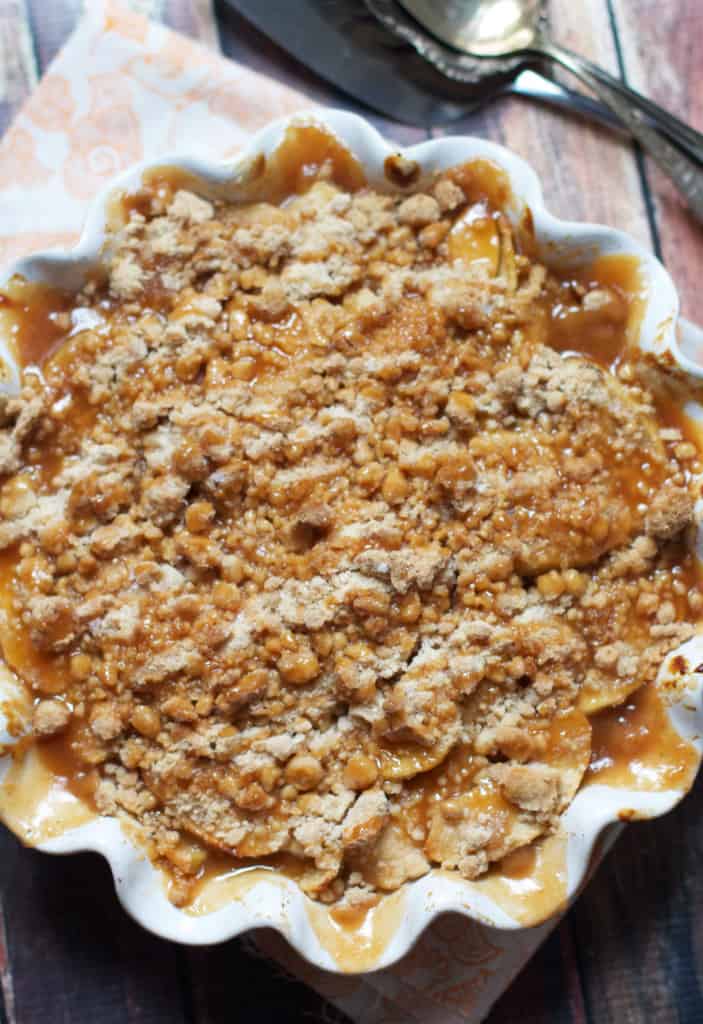 The apples are tossed with some sugar and spices and they are cooked with a few other ingredients to make the mixture warm and caramelized. The mixture gets tossed into a dish and topped with a super crispy crumble topping.
After baking, I drizzled some caramel sauce on top, mostly because I always have it around and I thought it would be pretty. Of course it was an amazing touch, but feel free to skip the caramel drizzle if you are pressed on time. Vanilla Ice Cream though, is hardly optional and I consider it a must to serve this with.
Are we Ok with fall recipes happening folks? Because I for one can't get enough!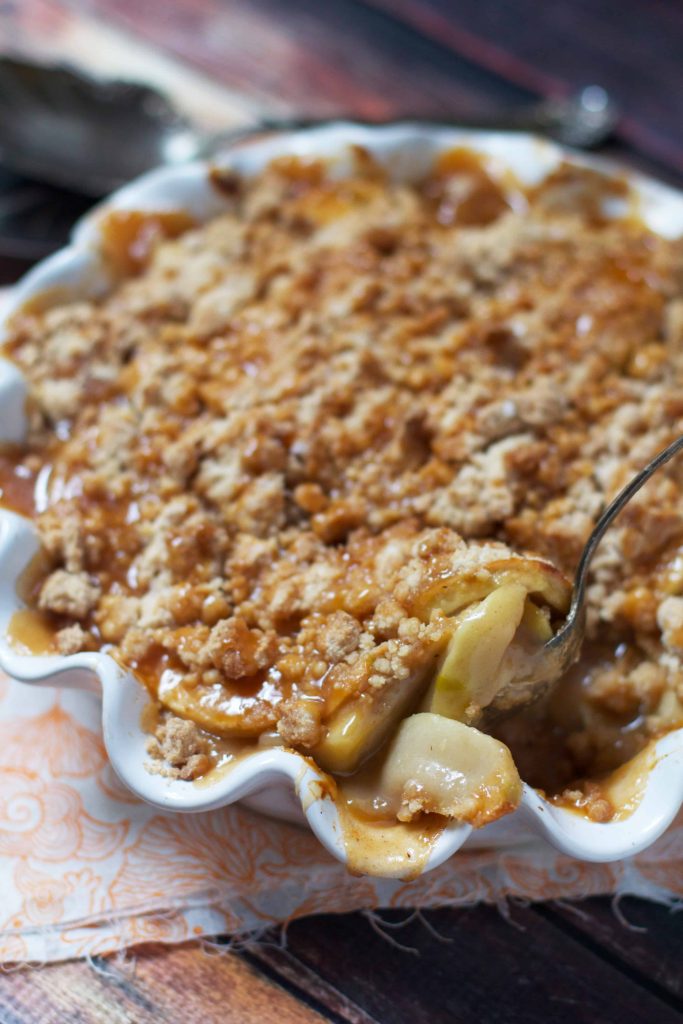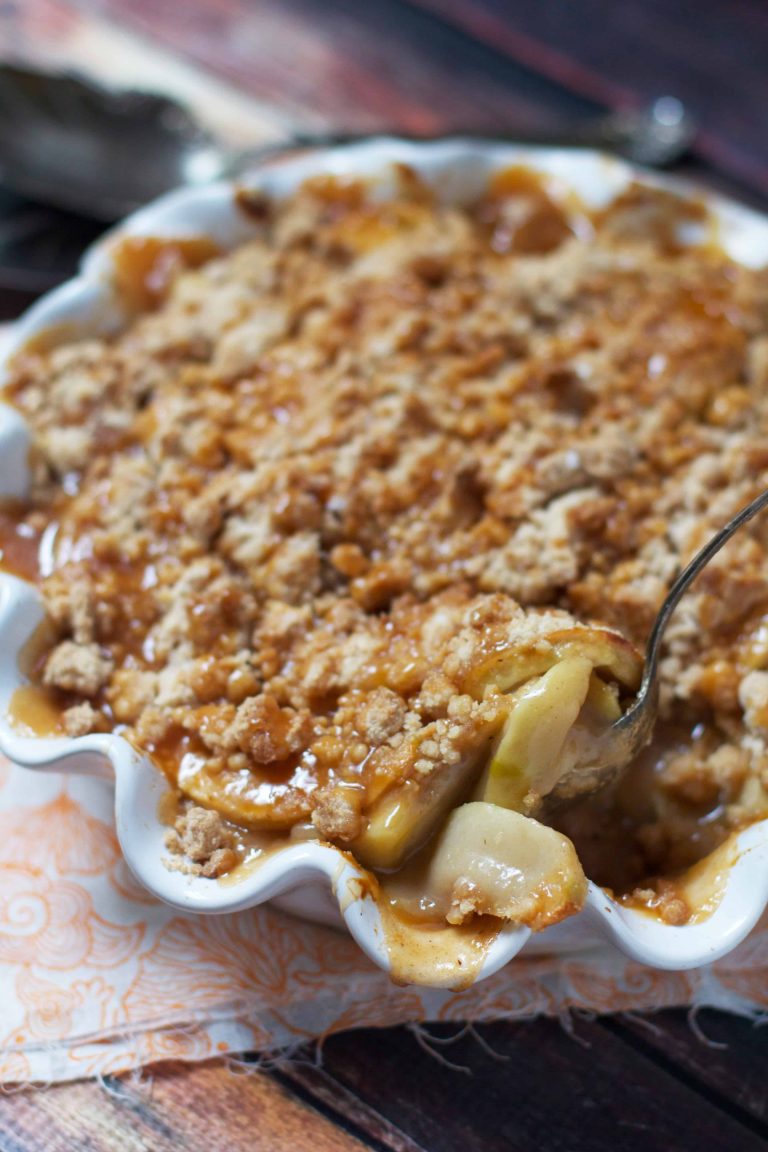 Salted Caramel Apple Crisp
Ingredients
For the filling:
6 -7 cups tart apples, peeled and sliced (I prefer Granny Smith)
1/2 cup packed light brown sugar
1/2 cup white sugar
1/4 cup all-purpose flour
1 teaspoon cinnamon
1/4 teaspoon nutmeg
1 1/2 teaspoons sea salt
1 teaspoon vanilla
4 tablespoons heavy cream
4 tablespoons butter
For the topping:
1 cup flour
1/3 cup brown sugar
1/2 tablespoon cinnamon
3 tablespoons butter, melted
Caramel Sauce
Instructions
Preheat oven to 375F. In a large pot over medium-high heat, (I used a 5qt dutch oven but anything large works,) combine all the filling ingredients. Toss well to evenly mix the ingredients and stir a bit while the butter melts.
Cook for 8-10 minutes or until apples are a little soft and the liquid has turned golden.
Turn filling into an 8x8 inch pan or 9 inch pie dish and set aside while you prep the topping.
For the Topping:
Stir the flour, sugar and cinnamon together in a medium-sized bowl. Stir in the melted butter until large crumbs form.
Sprinkle the crumble over the apples and bake for 30-40 minutes or until golden and crispy.
Nutrition Information:
Yield:

8
Serving Size:

1 grams
Amount Per Serving:
Unsaturated Fat:

0g