Salted Caramel Frosted Sugar Cookies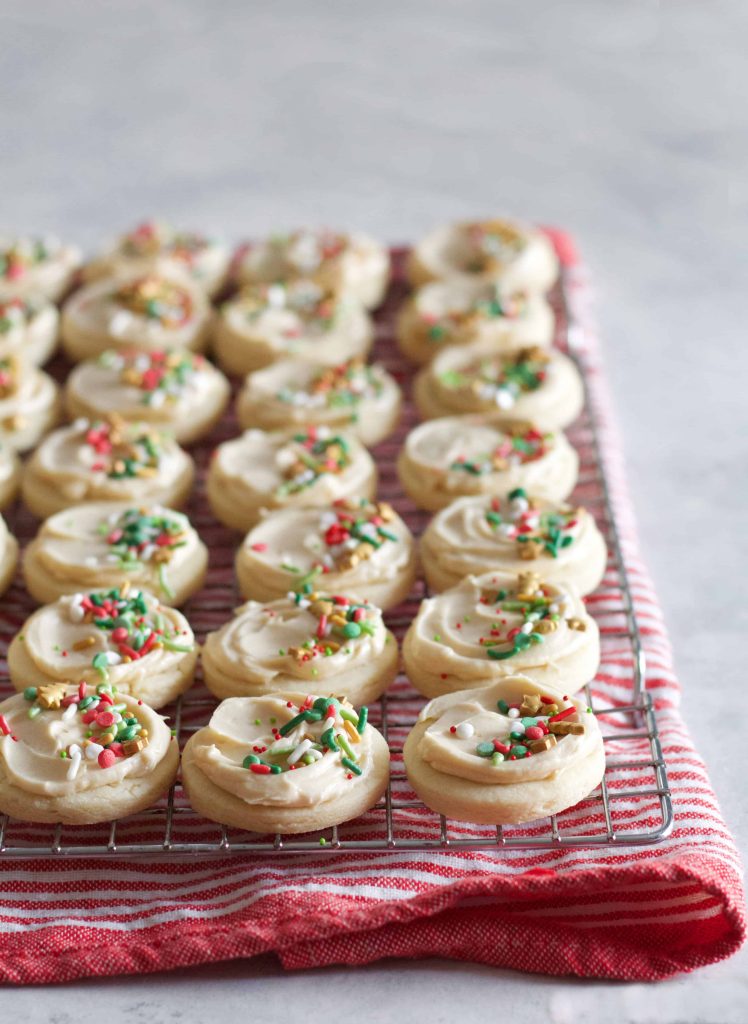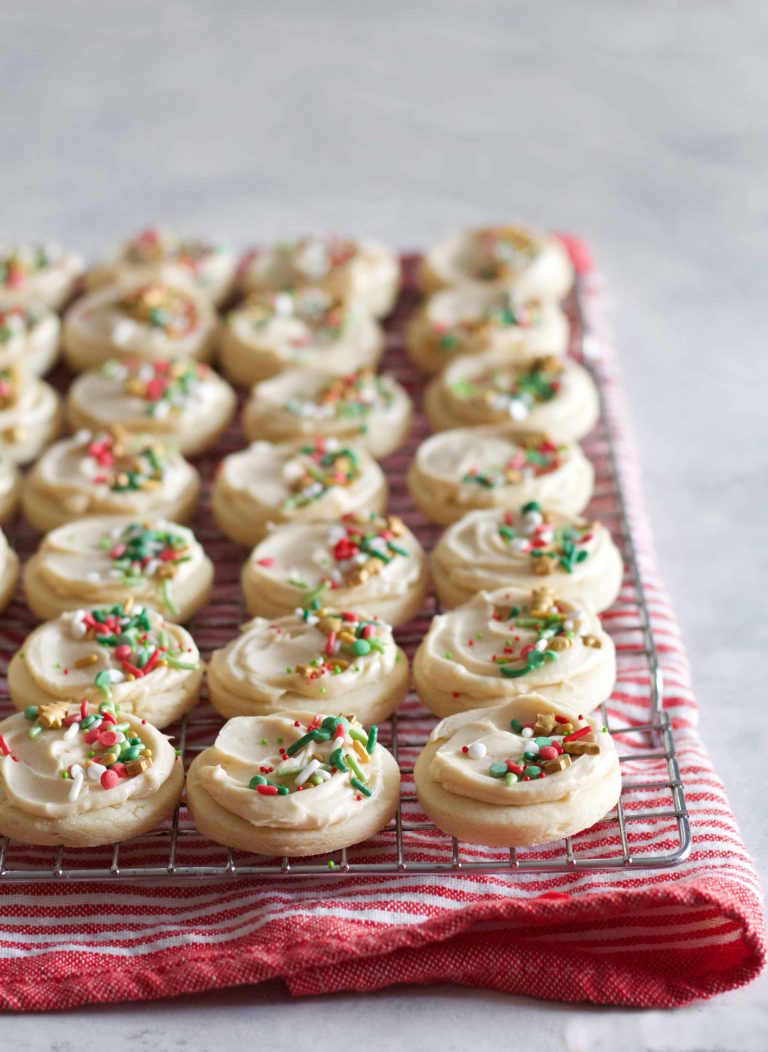 I decided 5 days ago that I wanted to start a tradition of giving my kids a homemade gift each year.
A good idea in theory, but I've been burning the midnight oil as they say, working into the wee hours of the night to finish these projects while the kids are asleep.
I promise to share the finished product on Instagram this week, but in the meantime, please accept my apology for this rushed post that I just HAD to get out there before Christmas because these cookies deserve it.
I've made them for several holiday seasons because they fulfill my desire to make sugar cookie cut outs, while topping them with salted caramel cream cheese frosting, something I love on pretty much anything.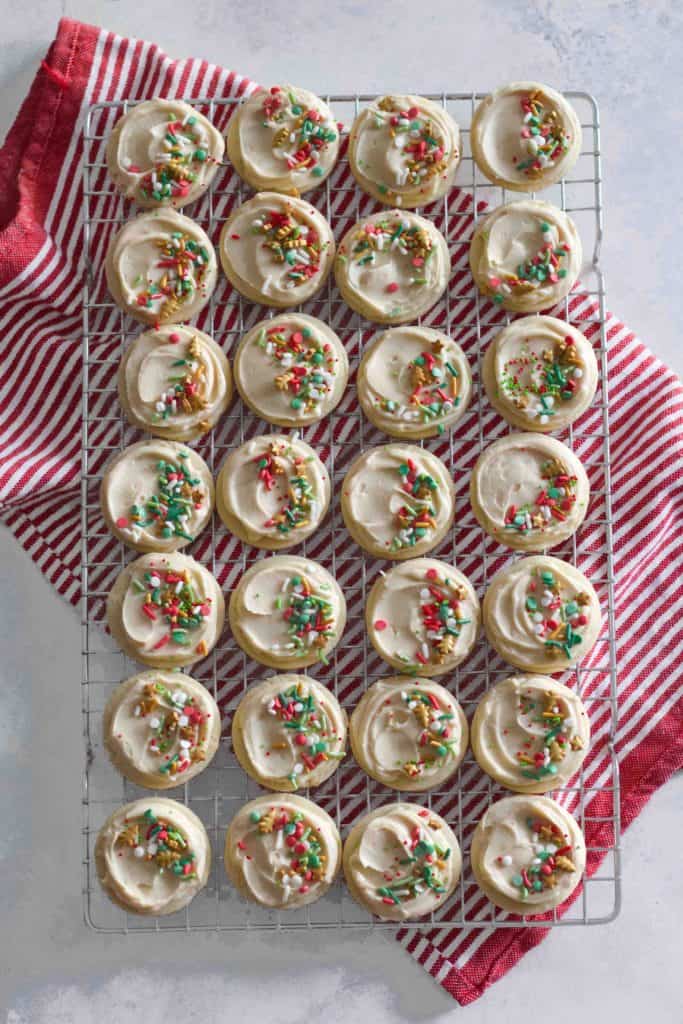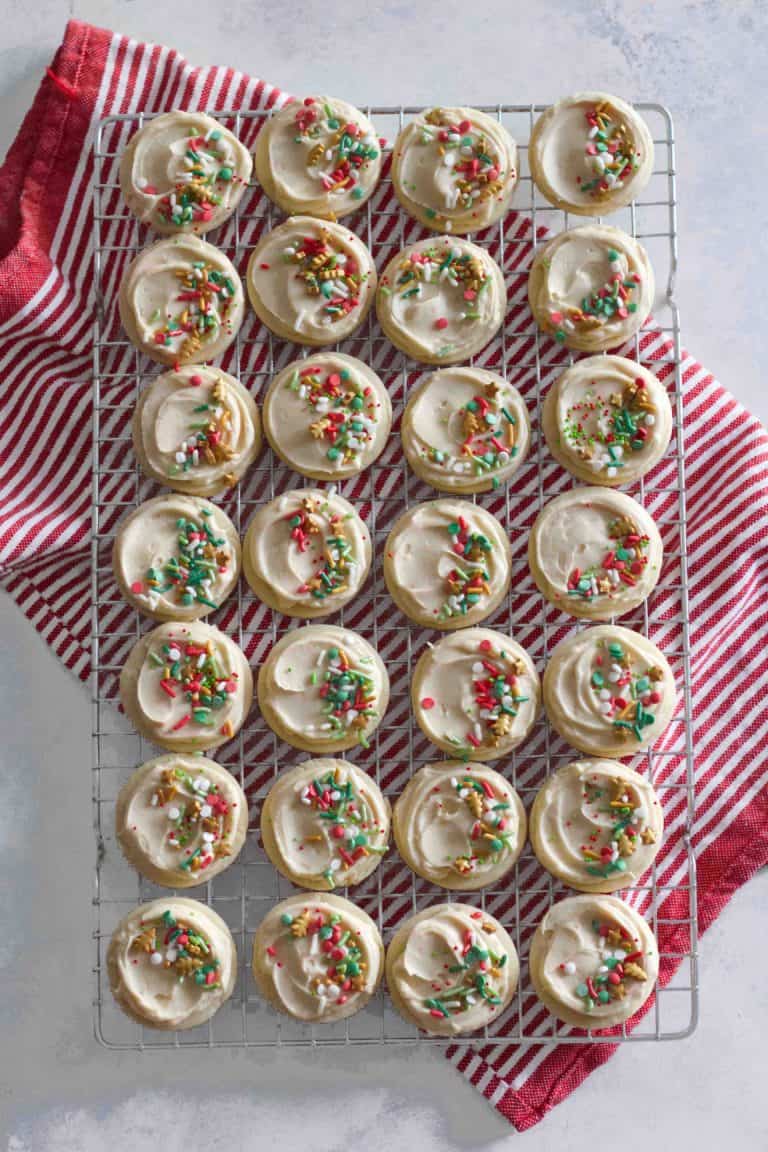 I make these into small 2 inch round cookies, swirl on the frosting, and pile on a dollop of sprinkles. Hugo loves to help add (eat,) sprinkles so it give him a few to decorate himself and we're good. (Plus we also always do gingerbread men so I feel ok keeping these simple.)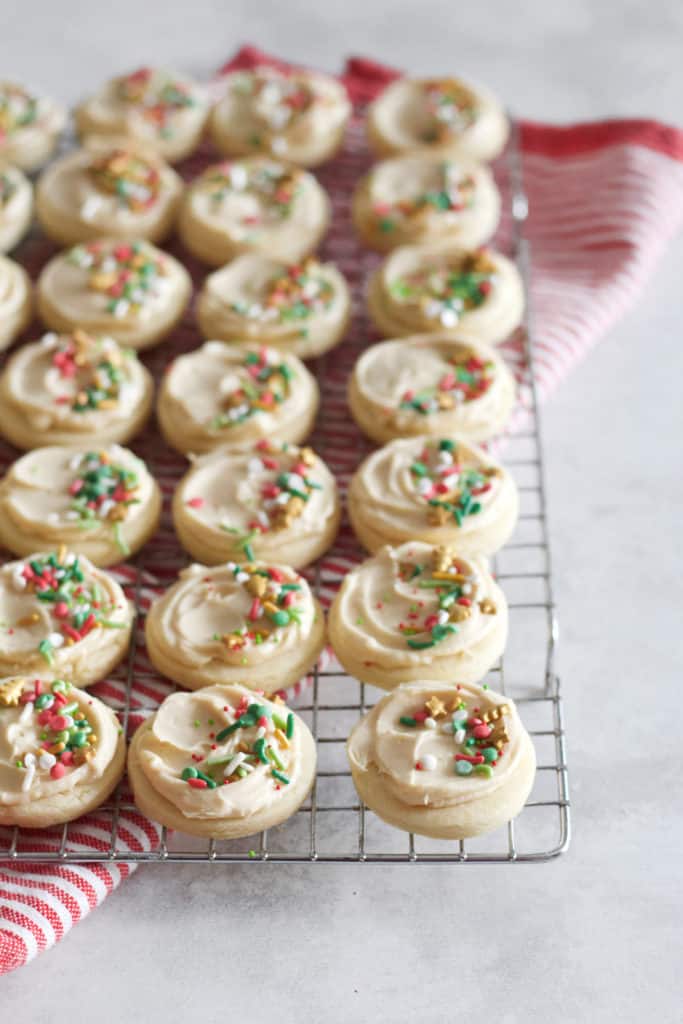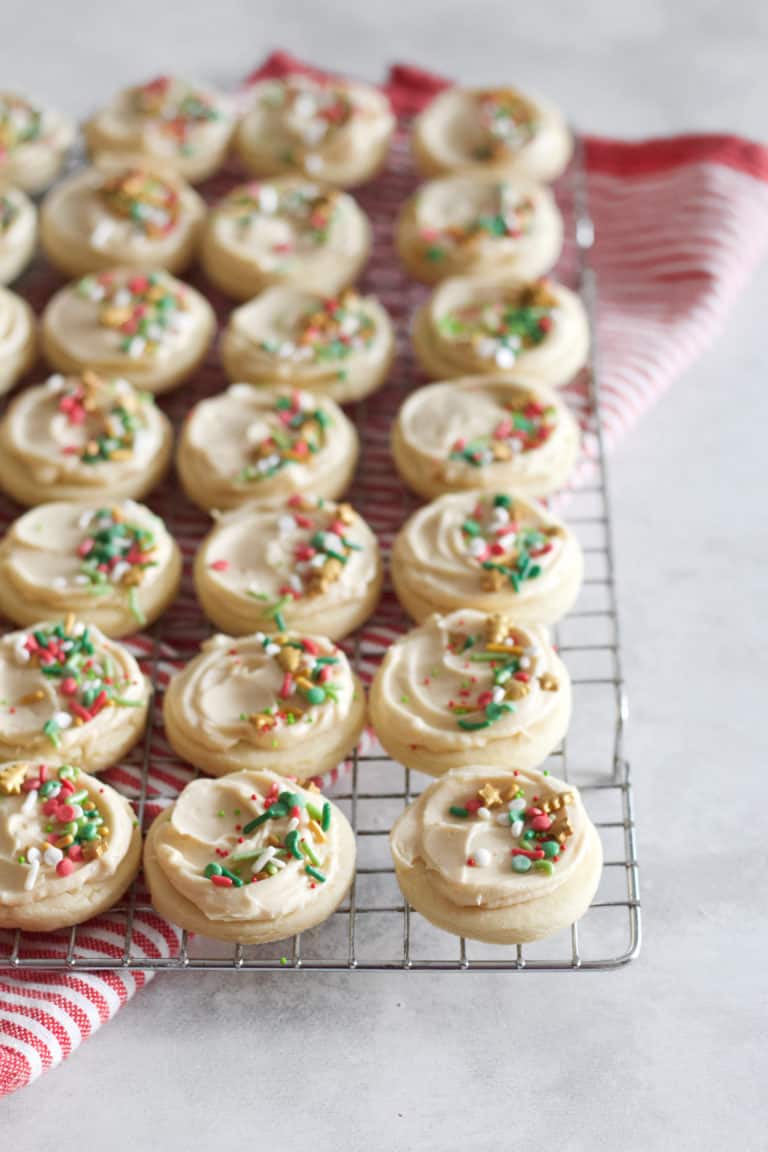 The frosting hardens just enough to be able to stack them a little if needed for boxes/trays, and keeping them chilled until 20 mins or so before serving helps with this as well.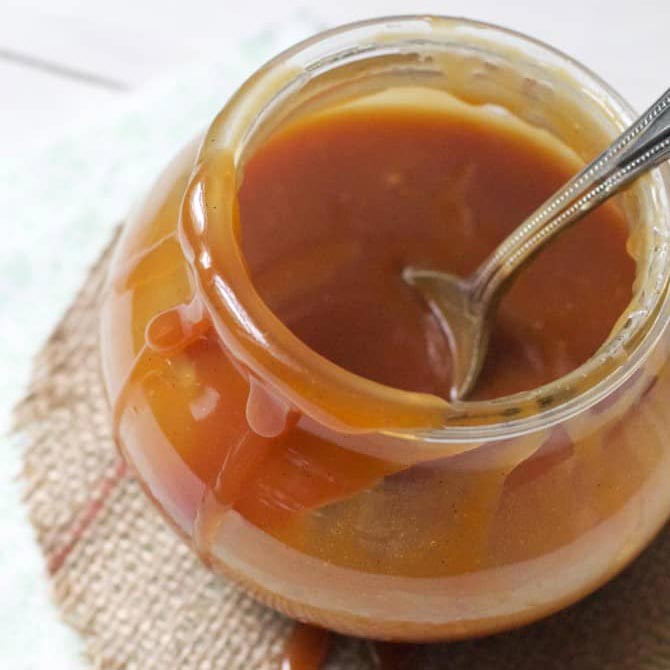 If your holiday baking isn't wrapped up and you want one more idea- these are adorable and fabulous!
Note: the base recipe of the cookies is my favorite from Bake at 350. I just barely adapted it- using unsalted butter and leaving out the almond extract. I included it below, but if you like sugar cookies or beautiful treats in general- her blog is the place to go. She's so talented!!!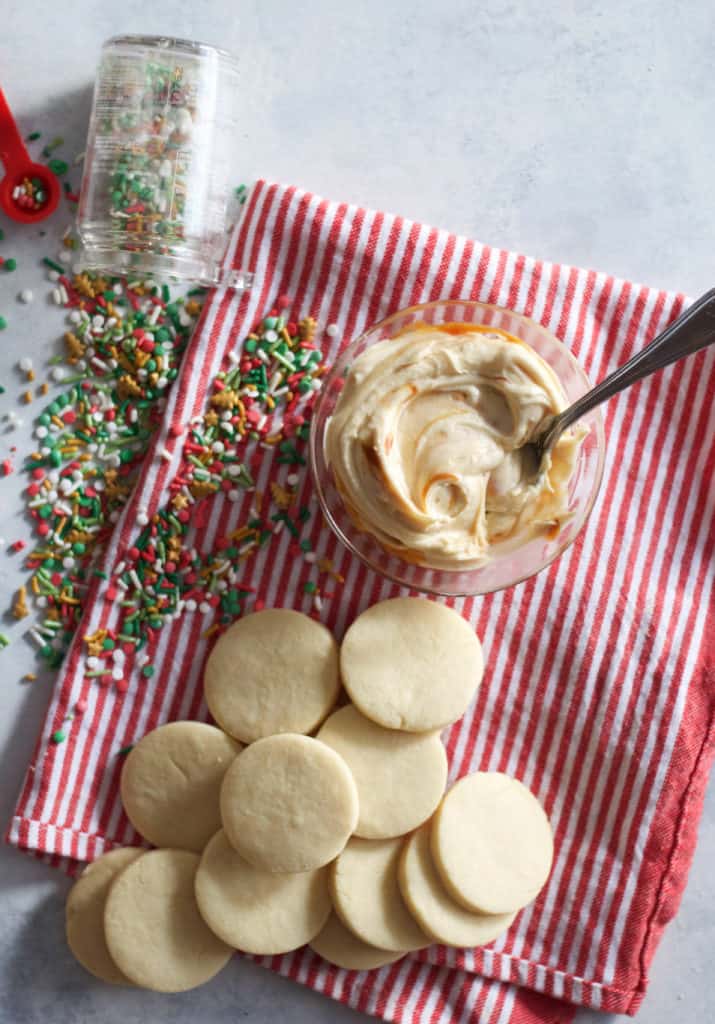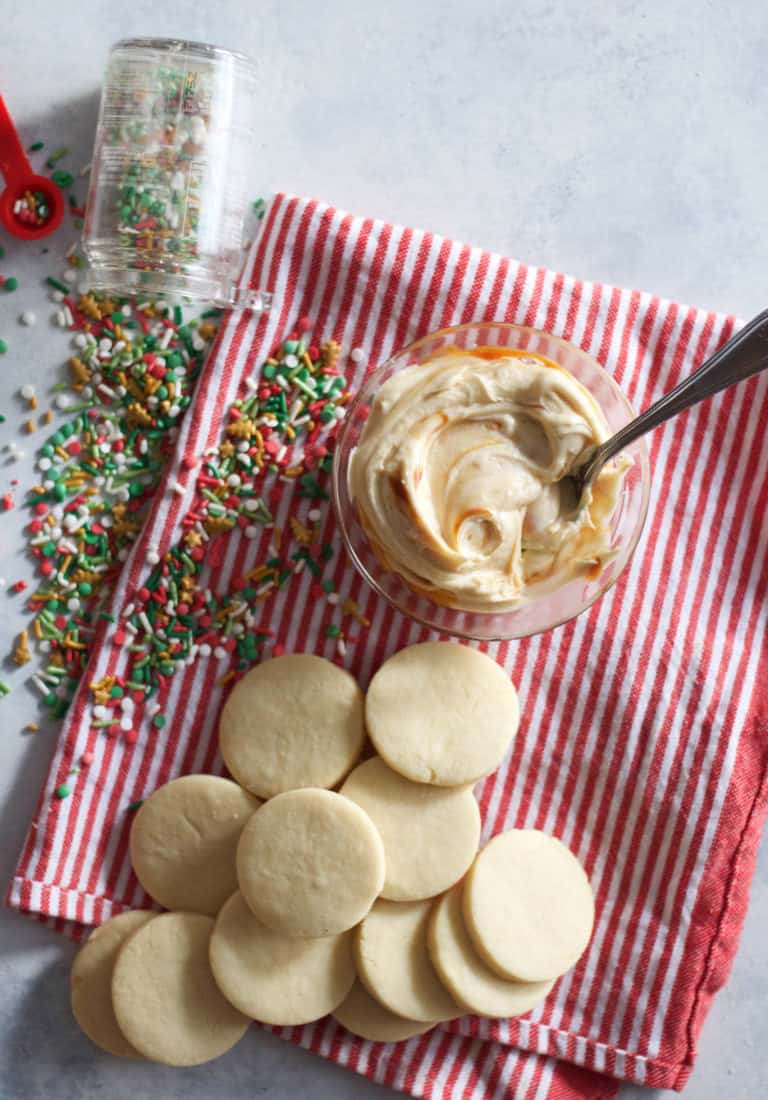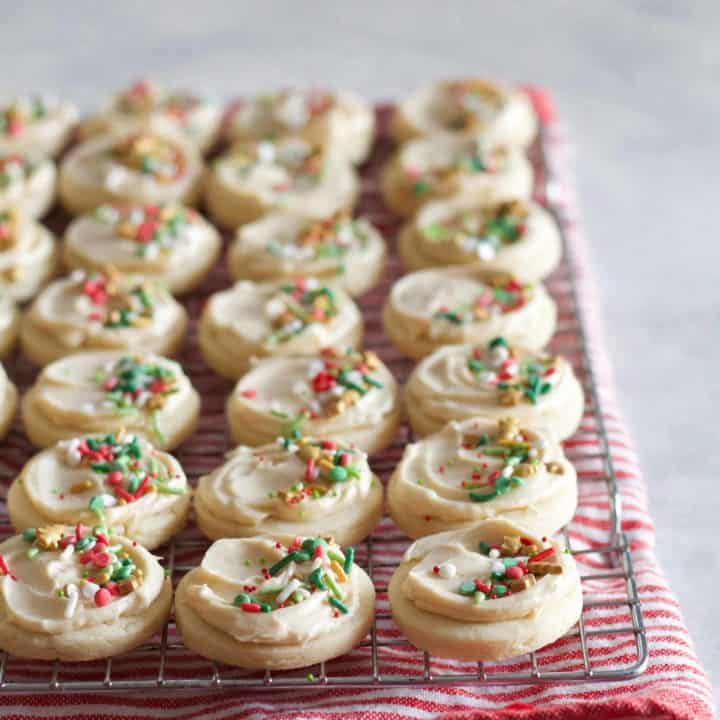 Salted Caramel Frosted Sugar Cookies
Yield:
3 dozen small cookies
Ingredients
3 cups unbleached, all-purpose flour
2 teaspoons baking powder
1/2 teaspoon salt
1 cup sugar
2 sticks unsalted butter, cold & cut into chunks
1 egg
1 teaspoon pure vanilla extract
For the frosting:
4 oz cream cheese, softened
2 tablespoons butter, softened
3-4 cups powdered sugar
1/4 cup caramel sauce*
big pinch of flakey sea salt
Instructions
Preheat oven to 350F.
Line cookie sheets with parchment or silicone liners. Set aside.
Stir the flour, baking powder and salt together in a small bowl. Set aside.
In the bowl of a stand mixer (or large bowl and a hand mixer,) cream together the butter and sugar until light and fluffy. Add the egg and vanilla, mixing until smooth and creamy.
Sprinkle the dry ingredients into the bowl and mix on low until just combined.
The dough will be crumbly, so knead it together a bit with your hands if necessary.
Roll the dough to 1/2 inch thickness and cut out with circles or whatever you'd like.
Arrange on cookie sheets and pop in the freezer for 5-10 mins. Bake for 10-12 minutes.
For the frosting:
Cream together the cream cheese and butter until smooth and fluffy. Add the powdered sugar, 1/2 cup at a time, until thick and slightly stiff. Fold in the caramel sauce. Spread frosting on cookies and top with sprinkles if desired.
Notes
* You can use store bought caramel if you don't care to make it.

Base cookie recipe adapted from Bake at 350