Salted Caramel Hot Chocolate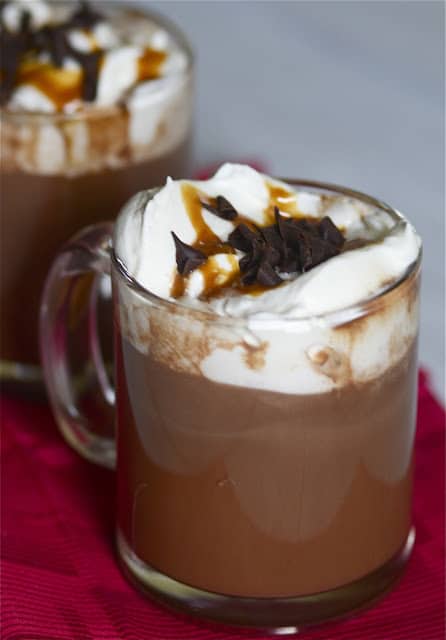 TGIF Everyone! Weeks after Holidays are always the longest right? This week has been hectic, busy and fun and I'm glad it's almost over. The highlight was last night when I got to see my dear friend Laura in Opening Night of her new Broadway Show Bonnie and Clyde!!! It was an outstanding show, she was sensational and it was a lovely NYC night. (Uncle Jesse AND Mr. Big in the audience what?)
All I want to do is crawl into a ball and hibernate for a few days, but before I do, I have to leave you with this wonderful recipe. Have you had the Salted Caramel Hot Chocolate at Starbucks? When I discovered it last year I was in love, and have wanted to find a way to recreate it ever since. There were a few recipes around the web for various versions, but nothing seemed quite right to me. I didn't want to use flavor syrup, I wanted REAL caramels and REAL chocolate. This concoction pairs both of those- and in my option it's the perfect warm drink to cozy up with on a cold wintery day!
**Since the combo is rich enough as is, I decided to use mostly skim milk, but you can use whatever you have!
Salted Caramel Hot Chocolate
Ingredients
12 Caramels unwrapped, I used Kraft brand.
4 oz chopped Dark Chocolate
1 3/4 cup Milk
1/4 cup Half & Half
1 tsp. Sea Salt
Garnish, Optional
Fresh Whipped Cream
Chocolate Shavings
Caramel Drizzle
Instructions
In a medium saucepan over medium high heat, combine caramels and half and half. Stir until caramel are melted and smooth. Add chocolate and milk and whisk together until chocolate is melted and mixture is warmed and smooth. Whisk in sea salt.
Serve immediately and garnish with whipped cream, caramel, chocolate shavings and a sprinkle of sea salt.
Nutrition Information:
Yield:

2
Serving Size:

1 grams
Amount Per Serving:
Unsaturated Fat:

0g